If you haven't seen the thread over in the Skyscrapers section, the much anticipated overhaul of the city development plan has finally been released and it has not been a disappointment.
It's estimated that over $500 million worth of investment will now pour into the city now these changes have taken place, ofcourse that figure is debatable but at least this now gives the developers the flexibly to build in our city. There will also be the encouragement of mixed use developments, better use of heritage buildings, better design, overhaul on carpark requirements, limiting multi-storey carparking stations and a huge removal of red tape.
Before this overhaul, most of the restrictions were around the 50-80 metre mark with the highest being 103 metres in centre core. Now there is unlimited/CASA height limits for most of the entire CBD core, which will definitely mean that our tallest building Westpac House (132 metres) days are finally numbered.
If you go back a decade ago, the failed Capital City Tower was approved by CASA at 200 metres. So this gives an idea of what heights will be allowed by CASA.
Here are some diagrams and information that have been released by the South Australian Government and posted by Howie / Ben over at Adelaide's main development forum -
Sensational-Adelaide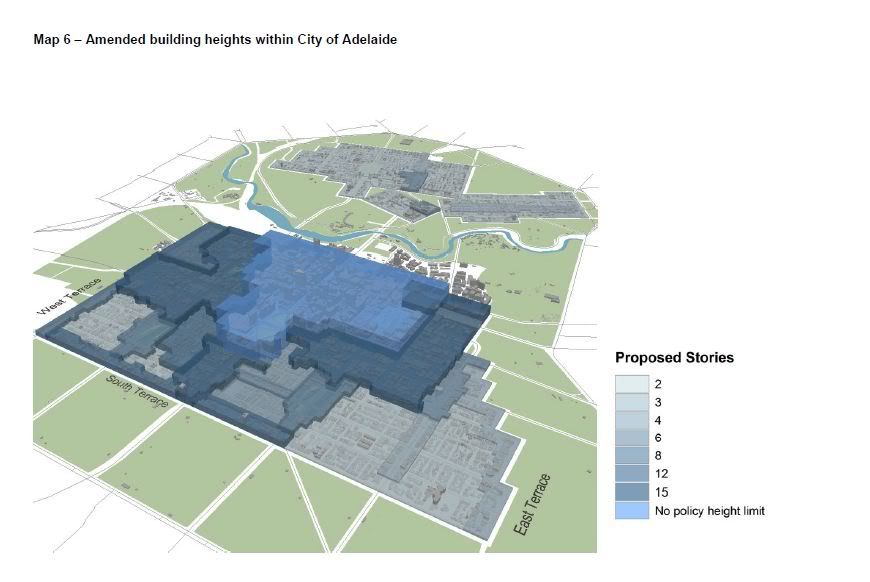 Light blue area - Unlimited/ CASA Height Limits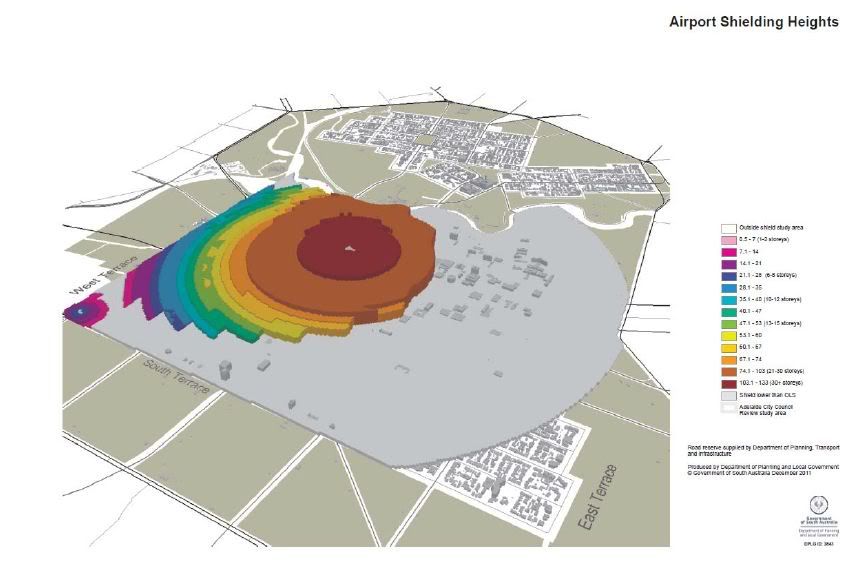 Quote:
Central Business Area
King William Street (currently 11-29 stories)- Airport Heights in in the Central Business area and 15 for the rest.
Morphett Street (currently 3-15 stories)- 6 storeys at street face with 15 storeys setback
Pulteney Street (currently 4-15 stories)- Airport Heights in the Central Business area and 15 for the rest.
Grote/Wakefield Street (currently 4-20 stories)- Airport Heights in Central Business area and 15 for the rest.
Currie/Grenfell Street (currently 6-29 stories)- Airport Heights in Central Business area and 15 for the rest.
Franklin/Flinders Street (currently 7-20 stories)- Airport Heights in Central Business area and 15 for the rest.


Main Streets
Rundle Mall (Currently 6 storeys) -> Airport Heights, 6 storeys on the Mall.
Rundle Street (Currently 4-6 storeys) -> street face character retained with 6 to 12 storeys setback
Hindley Street (Currently 3-8 storeys) -> 6 storeys at street face with 15 storeys setback
Gouger Street (Currently 5-8 storeys) -> 6 storeys at street face with 15 storeys setback
Sturt/Halifax Street (Currently 4-5 storeys) -> 6 + catalyst sites
O'Connell Street (Currently 3 storeys) -> 6 storeys (south of tynte street) + catalyst sites.

*catalyst sites are allowed to exceed height limits.


City Edges
South Terrace (currently 6-7 storeys) -> 10 storeys
North Terrace (currently 6-20 storeys) -> Airport heights in business area and 15 for the rest
West Terrace (currently 5-8 storeys) -> 8 storeys at street face with 15 storeys setback
Hindmarsh Square (currently 12 storeys) -> Airport heights
Light Square (currently 12 storeys) -> 15 storeys
Hurtle/Whitmore Square (currently 4 storeys) -> 8 storeys
Victoria Square -> Airport heights