The Vancouver development thread is littered with snippets of Wal-Mart news that I, for the sake of polemic, have taken the liberty of collecting. [With credit to rt_0891 for the first three articles, and jer4893 for the picture]
–––––
Vancouver Wal-Mart plan is opened up to public scrutiny
John Colebourn
The Province
June 12, 2005
Vancouver residents will get a chance this week to tell the city's politicians what they think of a proposal for a new Wal-Mart near Main Street and Marine Drive.
Plans for the 16,000-square-metre "big box" store have alrealdy raised concerns from merchants and residents of the South Vancouver area worried about the increased traffic and threat to their businesses.
Coun. Anne Roberts, who led a pre-election campaign against Wal-Mart's plan, has said the location is the problem, arguing that it would eat up valuable industrial land and damage neighbourhood shopping areas.
On Friday, Roberts said "once it's been referred over to a public hearing process, we can't comment on it."
Deming Smith, speaking for a group called Building Better Neighourhoods, told The Province the store would attact an extra 18,000 vehicles along Marine Drive daily, and that the traffic would "make it a pedestrian nightmare."
The land that Wal-Mart has optioned is currently industrial land. A company spokesman said that Wal-Mart will have to pay retail-level rates of about $30 a square foot if rezoning is allowed.
A public hearing on the plan will be held Tuesday at 7:30 p.m. at Vancouver City Hall, 453 West 12th Ave.
–––––
Signs but no sticks as big-box debate opens
Frank Luba
The Province
Tuesday, June 21, 2005
Both sides weighed in on the big-box debate last night as public hearings opened on the controversial Wal-Mart store proposed for Southeast Marine Drive in Vancouver.
Citizens waiting to get into the meeting had to line up before they were admitted at 7 p.m. They were allowed to bring their signs but warned they couldn't bring in the sticks on which those signs were mounted.
Arbutus-area resident Emily Sion, 77, was among those lining up and being warned.
She was a property owner in downtown Chilliwack before that city's big- box outlets were built out near the Trans-Canada Highway.
"It was a nice little downtown, people coming and going," she recalled. "It was warm.
"They put the big boxes on the edge of town and everybody got in their cars and went out there," she said. "The heart of the city died."
She doesn't want that to happen to Vancouver's shopping streets.
But Vancouver Eastside resident Myrtle Knull sees Wal-Mart differently.
Here husband used to drive her around to do their shopping. But since he died two years ago, the 81-year-old has had problems shopping.
"I have family but they're spread all around," she explained.
She has gone to the Lougheed Mall Wal-Mart but the trip requires taking three buses and the SkyTrain.
"That's a day's safari, as far as I'm concerned," she said.
Knull doesn't buy the argument she can get everything she needs at local merchants or the existing big-box outlet, Oakridge Mall.
"For me to go to Oakridge, it's much too pricey," she explained.
Before the hearing began, Vancouver Mayor Larry Campbell advised everyone that the meeting would only go to 10:30 p.m. but that tonight's continuation, starting at 7:30, would go on for as long as it would take.
"Bring your jammies," he warned.
–––––
Vancouver council rejects Wal-Mart
Backers call decision political after surprise 8-3 vote kills plan for big-box store
Frances Bula Sound Off
Vancouver Sun
Wednesday, June 29, 2005
VANCOUVER - It was a shock to everyone.
The "green" Wal-Mart designed especially for Vancouver was turned down overwhelmingly by Vancouver city council Tuesday, after developers spent four years working on it and opponents spent just as long battling against it.
Only Mayor Larry Campbell and his two political opponents from the Non-Partisan Association supported the big-box store proposal for a former car dealership site on Southeast Marine Drive at Main.
In a rare display of unity on a controversial issue, both factions of the centre-left Coalition of Progressive Electors voted together in opposing the project -- a move that came as a surprise to the more left-wing COPE Classic bloc.
Everyone also voted the same way in voting down a giant Canadian Tire store planned for a site nearby.
The surprise decision made people like Louise Seto, a southeast Vancouver resident who led a campaign against both big-box stores, ecstatic.
"I think they really validated the whole vision of the city. They put the teeth behind the words," she said.
But those who had worked on the Wal-Mart and Canadian Tire applications were dismayed by the decision, which many had believed would be much closer than the 8-3 split that emerged Tuesday.
Architect Peter Busby, a renowned sustainability advocate who designed a Wal-Mart concept with windmills on the roof, natural light, and significant energy efficiency, said he was tremendously disappointed.
"Vancouver lost an important opportunity. It became political. It wasn't about the design. It wasn't about the land use."
Wal-Mart's local development consultant, Darren Kwiatkowski of First-Pro Shopping, described himself as "flabbergasted and stunned" that council rejected it after the proposal had been supported by both staff and the city's urban design panel.
Although he said it's too early to say what Wal-Mart might do, it won't necessarily just give up.
"They own the land. And because of the support from the community and the experts, they will do what they can to carry on."
This isn't the first Wal-Mart that's ever been turned down in the world or even in the Lower Mainland. Surrey turned down one proposal a few years ago, although its councillors eventually approved a store in a nearby location.
However, the issue became hugely symbolic in Vancouver as a battle between saving local neighbourhoods and free enterprise.
It's likely to become a defining issue in the elections coming up in November.
Those opposed to it said it would undermine everything the city has tried to achieve to preserve local neighbourhood centres and create livability in the city and that it would bring traffic congestion and pollution to the area.
Coun. Anne Roberts, who has led the charge against Wal-Mart in the city since before she was elected, said south Vancouver "is not a throw-away zone for big-box retail."
Coun. Jim Green said it just didn't make business sense to him.
"The whole thing that is going to make us have a better business community here is our uniqueness."
Two councillors, Tim Louis and Ellen Woodsworth, were the only ones to tackle the thorny issue of Wal-Mart's corporate practices.
In his usual no-holds-barred style, Louis called the company "one of the world's largest corporate criminals," which allows suppliers to exploit child labour and which donates money to the Bush regime in the United States.
Louis scoffed at the store's environmental design.
"A munitions factory with a windmill is still a munitions factory," he said.
Councillors Peter Ladner and Sam Sullivan argued that the city had created a highway-oriented retail zone specifically to accommodate businesses like this and that it was a slap in the face to business to allow companies to spend thousands of dollars in good faith on proposals that were turned down for ideological reasons.
Campbell said he believed Vancouver could have accomplished more by pushing Wal-Mart to be green, and perhaps creating the first unionized store, than by shutting it out of the city.
People had expected that some of the COPE councillors who typically support Campbell, the COPE Lite faction that includes Tim Stevenson, Raymond Louie and Green, would support the proposal.
It was that belief that encouraged Wal-Mart developers to keep working with the council.
But none of them did, something that Ladner believes is likely tied to their need for money from union groups for the coming municipal election. Unions like the Canadian Union of Public Employees and the Vancouver and District Labour Council have typically donated substantial sums of money and played key roles.
But Green said that has nothing to do with it.
He said he's as likely to get donations from business groups as unions and that "I have never gone for a vote over the interests of money people."
[email protected]
A LOOK AT WHERE BOTH SIDES STAND
AGAINST
Anne Roberts: "I want to start by congratulating Wal-Mart for . . . a very innovative design. But it does not overcome a fundamental flaw, which is that it is a retail development that is based on the use of the car."
Raymond Louie: "We control land use every day. I do believe it is appropriate to support our local shopping areas."
Ellen Woodsworth: "It creates one job by destroying three jobs."
Jim Green: "What we're trying to do is create a livable city."
Tim Louis: "I am pleased to be voting in favour of keeping Vancouver free of one of the world's largest corporate criminals."
FOR
Larry Campbell: "The way we can solve [problems with Wal-Mart's practices] is by working with them, not by banning them. This could well be the first unionized Wal-Mart in the world."
Sam Sullivan: "It's not the job of city council to decide how businesses should operate."
Peter Ladner: "I'm not crazy about the things that Wal-Mart does, but I don't think we should take the freedom of choice away from others."
–––––
–––––
Quote:
Originally Posted by mr.x
thank god Walmart was voted down.
Quote:
Originally Posted by *Jarrod
Quote:
Originally Posted by mr.x
thank god Walmart was voted down.
yeah, there is no need for one in vancouver. if people want to go to one, they can go to one in the 'burbs since the 'burbs are really not that far away. it's not gonna take all day to get to one. and walmart is shit. but i guess it is good for the lower income people, but where they were putting it, it just doesn't fit.
btw, the same thing is happening in campbell river. but here's the thing, the people in campbell river wanted it soo badly, walmart wanted to put the store on the inland island highway, but the city said no, so they wanted to put it downtown where the city wanted it, but there wasn't enough land because someone wasn't willing to sell their property. so walmart finds this area near the river and now there is all this bitching and moaning and stuff like that. bah!!!!!!!!!!!!!!!!!!!!!!!!!!!!! it just hurts my head to think about it. i'll leave now
–––––
Campbell River turns down Wal-Mart
Fiona Anderson
Vancouver Sun, with file from Canadian Press
Wednesday, July 06, 2005
Campbell River city council has voted unanimously against zoning for a new 110,000-square-foot Wal-Mart store, the second time in a week that the big-box chain has been rejected by a B.C. municipality.
But while the debate last week in Vancouver centred on community acceptance of yet another large retailer, the issue in Campbell River was solely about location of the proposed store.
"What we have heard loud and clear all along is that Wal-Mart is very welcome in Campbell River, just not on this site," Kevin Groh, spokesman for Wal-Mart Canada, said in an interview.
The proposed location for the new outlet in Campbell River was next to an estuary. Wal-Mart had tried to appease some of its opponents by moving the store back an extra 35 metres from the top of the riverbank, adding more storm-water treatment facilities, reducing the parking spots, and relocating the main entrance of the store away from a recreational trail. But this was not enough. After more than 300 people spoke at last week's 17 hours of public hearings, all six council members turned down the rezoning application during Monday night's council meeting.
"We are disappointed that a plan and a site that we thought was fairly widely supported, including by the municipality, was turned down as resoundingly as it was," Groh said.
Wal-Mart has been actively looking for a suitable site for its store in Campbell River for about six years, and will continue to seek a location.
"We haven't changed our opinion of Campbell River as a market, and clearly we need to rethink how we are going to enter the market," Groh said.
In fact, Wal-Mart has already been contacted by Campbell River about finding an alternative location, Groh said.
The decision against the Vancouver Wal-Mart was a "completely different animal," Groh said.
In both Campbell River and Vancouver, Wal-Mart had broad customer and community support. However, in Campbell River the councillors seemed to be listening to the constituents, whereas Groh questioned whether the same was true for Vancouver.
"In Vancouver, we know we had broad support, but the issue was blurred by individual issues and frankly went well beyond the bounds of land use to the point that it became a political issue that did not really resemble a planning issue," Groh said.
Wal-Mart is convinced that there is support for a store in Vancouver, but will be taking some time before deciding how to proceed.
Vancouver city council voted 8-3 against the Vancouver Wal-Mart proposed for Southeast Marine Drive at Main Street last week.
Wal-Mart currently has 27 stores in B.C., with another store opening in Surrey in 2006.
–––––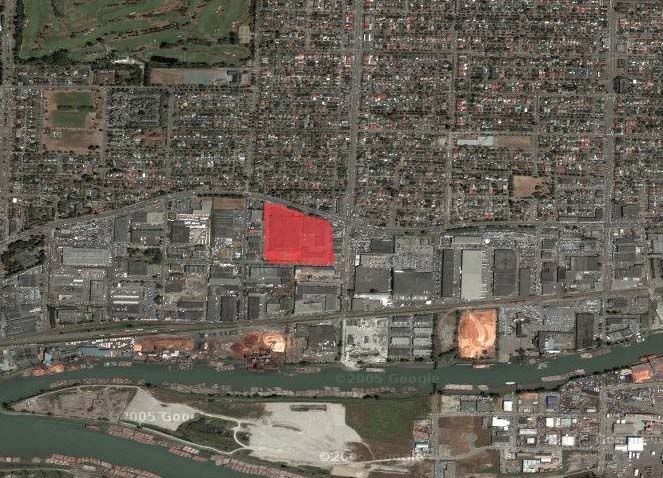 the red shading is the area that Wal-Mart "wouldn't fit."
That assesment is, of course, total scrote. The COPE solution to big box retail is as hard line as a republicans view of teen pregnancy. Reality be damned! If you want cheap stuff you'll have to drive further to get it, and pollute more. I have never been in a Wal-Mart, Costco, or any other cubular-format retailer, and unless I go blind, that statement will remain true. I am not so much of a bigot, though, that I would take the option away from other people.