The Amnat Jaroen province is proud to celebrate the 20th anniversary on 1st December 2013
We are inviting one and all to come celebrate the past, the present and the future of Amnat Jaroen. Please come and be a part of this historic event. "The Amnat Jaroen World Musiq Festival" is going to be a once in life time experience with bands and groups coming from all four corners of Thailand and the great bands from many countries.
We would have the wide range of activities such as
1. The 20th anniversary celebration (The Amnat Jaroen World Musiq Festival) on November 29th – December 1st located in the 80th anniversary of his majesty (The King Park) by Todd Tongdee, LE Musiq team and Amnat Jaroen provincial Administration. Performances by more than 10 ethnic musiq & cultural groups from throughout North-Eastern Thailand. In addition, the "Amnat Jaroen Musiq Festival" will be featuring groups for Myanmar, the United Sates and many more!
2. The Amnat Jaroen Red Coss Fair. December 1st - 10th, 2013 full-on concerts by such renowned Tai-World Musiq Artists as P Saderd, Potato, Pongsit Kumphee, Sek Loso and more!
3. The Activities of the local arts & culture, ethnic musiq and cultural groups from Amnat Jaroen and throughout Thailand at the Amnat Jaroen City Hall
Amnat Jaroen may like the other small provinces in Thailand. Small but great and rich with the culture, agriculture, the traditional arts. This is the place of nature, faith and miracle
We hope to see you there
[IMG]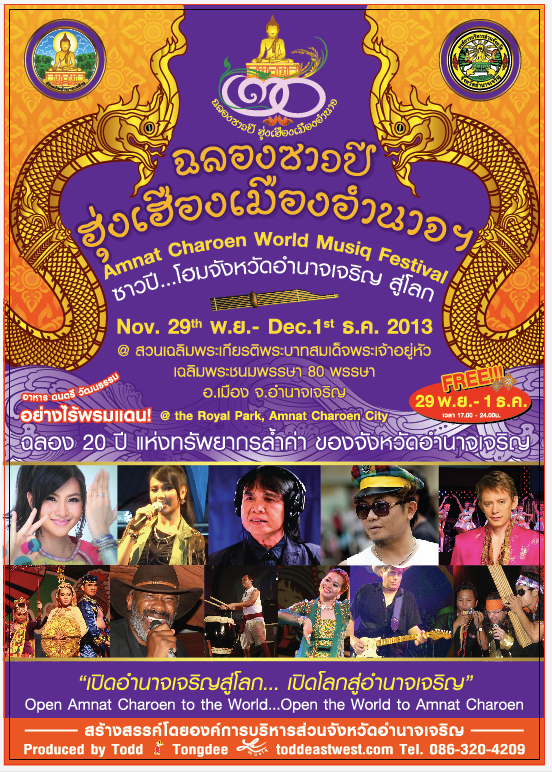 [/IMG]