Quote:
Originally Posted by
hunser
Mega developments in New York City:

- Hudson Yards
- Manhattan West
- Lower Manhattan / WTC
- Midtown / Midtown East Rezoning
- 57th Street
- LIC
- Jersey City
- Atlantic Yards
- Hunter's Point South
- Downtown Brooklyn
- Riverside

---> about 30 supertalls.
---> about 10 towers between 900 and 1000ft.
---> about 20 towers between 600 and 800ft.

Welcome to the new New York.
that just made my day (well , at least the rest of it )
Just imagine Vanderbuilt,432 park ave, Tower Verre, 217 west 57th street(Condo Tower) -> Billionaires Row, Nordstrom, etc.
Quote:
Originally Posted by
McSky
Well, even if the render of this tower is not final, I thought it would be interesting to see the four supertall towers of 57th Street together. Hard to scale them due to the different angles, but here they are:
Here they are from west to east, with a different render for One57: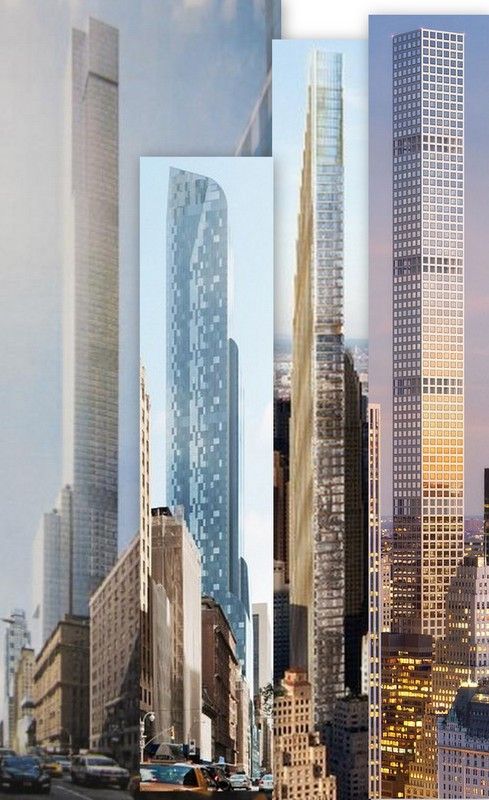 I might have made One57 a little too tall in these. Once a final render for the GG+AS tower is out, maybe someone with Photoshop will do a better collage.
The square footages of each building as I have them (in order of the bottom render):
225 W 57th: 1,200,000
One57: 800,000
111 W 57th: 306,000
432 Park Avenue: 545,000