.
**Please notify me of all updates and additions to this thread via the 'Forum Admin' thread . . . I will pick the details up from there. Please do NOT post on this thread. THANK YOU**
Part One
- INDEX OF PROJECTS ON THIS DEVELOPMENT SUMMARY:
01 - New Wear Bridge
| Sunderland | 190m / 140m | Submitted
02 - SAFC Training Facility
| South Tyneside | 1fl | Completed
03 - Sunderland Justice Centre
| Sunderland, Farringdon Row | 4fl | Proposed
04 - Porterfield Plaza
| Sunderland | 5fl | U/C
05 - Vaux Site
| Sunderland | Various | Pre-planning
06 - Sunderland Software City
| Sunderland | Various | Completed
07 - Stadium Village
| Sunderland | Various | Proposed
08 - New Student Village
| Sunderland | Various | Proposed
09 - Durham Gate
| Thinford, Co Durham | Various | Proposed
10 - Holmeside Development Area
| Sunderland | Various | Pre-planning
11 - Central Area Multi Storey Car Park
| Sunderland | ?fl | Demolition
12 - Durham University Gateway
| Durham City | Various | Completed
13 - Durham City Ice Rink Site
| Durham | 130,000 sq ft | Proposed
14 - Gentoo Housing Developments
| City of Sunderland | Various | Proposed
15 - Hahnemann Court
| Southwick | 7fl | Demolition
16 - Sunderland Royal Hospital Ward Extension
| Sunderland | 5fl | Completed
17 - Houghton 'Walk In' and Primary Care Health Centre
| Houghton, Sunderland | 2fl | Completed
18 - Sainsbury (Riverside Rd, Southwick)
| Sunderland | Completed
19 - Tesco Extra (Roker)
| Sunderland | 2fl | U/C
20 - Deptford Terrace Development
| Sunderland | 3 fl & 4 fl | Pre-planning
21 - Primark Re-development, Bridges Shopping Centre
| Sunderland | 3fl | Completed
22 - The Cooper Rose
| Sunderland | 2fl | Completed
23 - Ramside Hall Hotel and Golf Course Expansion
| Durham | Various | U/C
24 - Hitachi Train Factory
| Newton Aycliffe | 3fl | Approved
25 - Durham Police New HQ and Housing
| Durham | Various | Proposed
26 - New Ryhope Hospital
| Sunderland | Various | U/C
27 - Travelodge Hotel, Sunniside
| Sunderland | 4fl | Completed
28 - Crowtree Leisure Centre
| Sunderland | Demolition
Part Two
- PROJECT SUMMARIES, PHOTOS, & LINKS TO PROJECT THREADS:
Click the LINK below each PROJECT TITLE, to take you directly to each specific PROJECT THREAD, for full details of the latest situation and all of the available news about that Project . . .
01 - New Wear Bridge | Sunderland | 190m/140m | Submitted
http://www.skyscrapercity.com/showthread.php?t=981484
The centre of the bridge will be here:
http://maps.google.co.uk/maps?client...-8&sa=N&tab=wl
Funding is £100m pledged by the government, which is the rough cost of a basic, no-frills bridge and work on approach roads, with two new junctions and feeder roads on the Pallion side and a reconfiguring of the roundabout at the Castletown end.
£30m will have to be found from local taxpayers, local funds (airport sale windfall) One North East, EU etc.
Recently, a new 'image' of the proposed bridge had been obtained on 28th September 2011, from www.newsunderlandbridge.com.
On 22nd April 2010, the Echo had reported . . .
Iconic bridge a step closer
PLANS for Wearside's new landmark bridge are set to get the green light.
Supporters of the design dreamed up by architect Stephen Spence, say the structure over the Wear will cut congestion, attract investment and give Sunderland an internationally-renowned landmark.
The bridge would be up to 190m tall at its highest point and cost more than £130million to build.
Councillors will meet to consider final planning permission for the project next week, and are recommended to approve. In a report before the committee, planners say: "The elegant structure will be visible over a wide area and will be a genuinely-striking gateway into central Sunderland. "It is likely to be an attraction in itself as the tallest bridge in the country, providing the city with an impressive landmark."
Planning officers at Sunderland City Council say the bridge and road plans are in-line with national, regional and city planning policy to improve the strategic road network and ease congestion in the city. In their report, they said: "The scheme has the potential to act as a catalyst for further improvement to the quality of the area by improving access for the future redevelopment of industrial sites along the southern banks of the River Wear."
There are no objections to the application from consultees such as the Environment Agency, Highways Agency or Natural England. However, sustainable transport charity Sustrans did submit an objection earlier in the year stating that the bridge was a waste of money which would be better spent on more environmentally-friendly modes of travel.
Once planning permission is granted the council will need to secure funding and deal with other issues before work can begin. Subject to all necessary permission, work on the bridge and its approach roads could start in 2012.
02 - SAFC Training Facility | South Tyneside | 1fl | Completed
http://www.skyscrapercity.com/showthread.php?t=995833
On June 15th 2012, architect1976 provides us with the revised proposal which is approx two thirds the size of the original proposal . . .
On 8th December 2012, the COMPLETED Project is reported in the Echo . . .
Sunderland's final piece of the jigsaw
Sunderland Echo, 8th December 2012
Sunderland Football Club's new Academy of Light Indoor Training Facility which was officially opened by Sir Trevor Brooking.
SUNDERLAND chief executive Margaret Byrne says the club's new indoor training barn is the "final piece of the jigsaw" in bringing the next generation through the Black Cats' ranks. The FA's director of football Trevor Brooking joined Sunderland owner and chairman Ellis Short in officially opening the £3million indoor facility at the Academy of Light last night.
Sunderland have been looking to build a training barn since the plans for the academy were first put in place more than 10 years ago, and with the facility now shielding the youngsters on Sunderland's books from the inclement winter weather, Byrne believes it can play a key role in the development of the club's prospects.
He said: "It's such a great day for the club, it's the final piece of the jigsaw in everything we're trying to do for youth development and bringing players through to the first-team. I'm massively proud that we've made it and we're eventually here.
Read More -
http://www.sunderlandecho.com/sport/...yrne-1-5208426
03 - Sunderland Justice Centre | Sunderland, Farringdon Row | 4fl | Proposed
http://www.skyscrapercity.com/showthread.php?t=1049323
No-one on this forum had ever seen any drawings or renders as to what this proposed Court Building was going to look like, until 2nd September 2010 . . .
HERE - http://www.skyscrapercity.com/showpo...9&postcount=32
and
HERE - http://www.mcaslan.co.uk/projects/su...justice-centre
The below are from the
John McAslan
Website (the 2nd LINK, above) obtained 2nd September 2010 . . .
The 'new' title would appear to be
The Sunderland Justice Centre
(see details below from the John McAslan Website) . . .
Sunderland Justice Centre is to house the combined functions of the Crown Court, Magistrates' Court and County Court on a prominent brownfield site overlooking the River Wear in the centre of Sunderland. The building will house 20 courts and be a significant new public building for the city of Sunderland and forms a key component of the city centre regeneration.
The brief specified a clear division between the criminal and civil functions of the building, with their public court halls being completely segregated. The civil and criminal elements of the building are separated by a shared spine of judicial accommodation within a private central atrium space.
Previous report . . .
The benefits of such a large legal facility could be huge, and my hope is that one or more larger legal firms may be drawn into locating in the new office buildings on the Vaux site. I also think that it will benefit the Sunniside area of the city, where lots of small-medium size business accommodation is proposed, particularly in the streets east of Norfolk Street where comprehensive development is proposed and planning permission has been granted for new mixed use leisure and office buildings. I think the historic Sunniside environment would suit legal practices perfectly.
With regards to this development specifically, the application for a screening opinion is
here
.
There is very little information in terms of the physical development so far, but here is what I have picked out so far:
- Building height of 4 to 5 storeys
- Development located on the most southerly half of the entire site, with the strip along the river frontage being developed separately
- The actual building will be closest to Silksworth Row, with car parking to the north
I have also read that smaller courthouses within the city such as Houghton Magistrates Court will close, which I see as good news (from a selfish point of view). The City of Sunderland needs to have more of a centralised core focus, which has been its main downfall in the last 20 years, particularly in locating its core employment in non-core locations (such as Doxford Park). This will be a big step in further establishing the City Centre as the core of the City's employment.
04 - Porterfield Plaza | Sunderland | 5fl | U/C
http://www.skyscrapercity.com/showthread.php?t=991631
Someone from gentoo said that the site was about to be mothballed, and a year on unfortunately it's still in the same state, visible as the orange frame in this map . .
http://maps.google.co.uk/maps?client...ed=0CAwQ8gEwAA
Hopefully the economic upturn will boost this development once gentoo gets some money in from sales elsewhere in the city and region.
NEW photo taken by denm
in January 2012 - nothing has changed . . .
05 - Vaux Site | Sunderland | Various | Pre-planning
http://www.skyscrapercity.com/showthread.php?t=1006895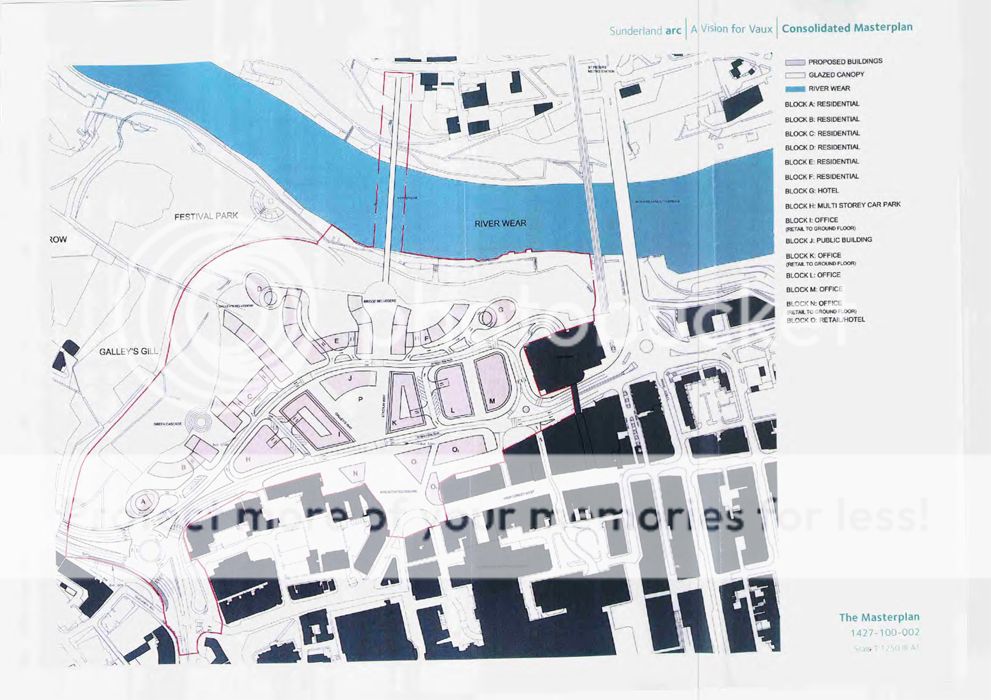 Above
is the full approved masterplan for the site.
Planning permission was granted for Sunderland arc's scheme by the Secretary of State in 2007. Before this, the appointed independent government inspector had recommended that the planning permission be refused based on a couple of things.
One reason was that the housing provision in the scheme was seen as excessive and the other was that the Environmental Assessment (covering road traffic impact and the impact of the buildings in physical terms) was not comprehensive enough.
Following the report by the inspector, the SoS did not refuse the planning permission, but requested further information from Sunderland arc regarding the above concerns. SArc then produced a 'Consolidated Masterplan', which basically forms a detailed physical masterplan addressing the concerns raised by the inspector. Planning permission for the scheme was then granted based on this consolidated masterplan.
The SoS gave planning permission based on a range of conditions:
Most notably, the 'reserved matters' (i.e. detailed design work) for the first phase of development had to be submitted within 3 years of the date when planning permission was granted (i.e. by 28th March 2010).
Work on site should begin within 3 years of the date that the last of the reserved matters for the first phase of development have been approved by the local planning authority.
Also, another condition is that the housing mix on the site must be agreed by the local planning authority in accordance with housing need guidelines and 'affordable housing' strategy, and must not exceed 1000 dwellings. In my opinion, this is likely to mean that the housing element would be substantially less than 1000 dwellings.
So, in summary, the developer is unlikely to resubmit a whole new planning application as it would cost countless time and money to do so, as well as another saga with the Secretary of State (as is required with a development this size). Therefore, the existing planning permission will be used and building massing, types, heights, uses, etc will be maintained.
06 - Sunderland Software City | Sunderland | Various | Completed
http://www.skyscrapercity.com/showthread.php?t=1079741
Sunderland Software City is a new initiative, based in the North East of England, designed to inspire and encourage the growth of the Software Industry in the region, and to make the area an attractive location of choice for software businesses.
Phone: 0845 872 8575
International:+44 (0) 191 516 6088
Email:
info@sunderlandsoftwarecity.com
Mail:Sunderland Software City
Enterprise Park East
Sunderland
SR5 2TA
United Kingdom
the Jupiter Centre . . .
LINK -
http://www.sunderlandsoftwarecity.com/
Also . .
Sunderland City Council Cabinet meeting agenda for the 10th March 2010 reports that the City Council is proposing to procure, build and operate a new
Centre of Excellence for Software based businesses
, hoping to provide 140 new jobs.
Tavistock Place car park has been earmarked for the development. Funding of approx £10m has come from the City Council, ERDF and One North East for the project. It is hoped that the 140 jobs will be created over 20 new businesses located in the Centre, and that the total building floorspace will be 50,000 sqft.
THEN - in October 2010 . . .
Initial designs for the proposed £10m development at
Tavistock Place
. aiming to create up to 140 hi-tech jobs, have been unveiled. The state-of-the-art development is-planned for Tavistock Place, near Mowbray Park, in the city's Sunniside Quarter. It is designed to be a centrepiece for Sunderland Software City, the regional initiative inspiring and supporting the growth of the local software industry.
The 53,000 sq ft development would include space for 60 cutting-edge businesses, as well as exhibition space, showing visitors in a fun and interactive way the role software plays in their lives. Construction firm BAM – which has previously worked on developments such as Johannesburg Soccer City, the venue of the recent World Cup Final - has been appointed to build the centre.
Janet Snaith, Head of Business Investment, Sunderland City Council, said: "I am delighted that we are moving into the planning stages for this landmark building. "The Software City Initiative has already proven to be a huge success and new businesses have moved into the council's Evolve centre at Rainton Bridge Business Park. "I am sure that this building will prove equally successful in generating new businesses and jobs in this exciting new hi-tech sector."
Representatives of constructors BAM will be at the Tavistock site on Friday 8 October and Saturday 9 October to give people and businesses more information about the development. Subject to planning permissions, work on the building could begin early next year and be completed in early 2012.
On 14th April 2011 - 'Construction now under way' (new photo by denm) . . .
On 14th June 2011 - 'Very good progress being made' (another new photo by denm) . . .
On 13th November 2011 - "Scaffolding Down" (a new photo from brettred) . . .
May 2012, a "completed" photo - posted by Sup.sup . . .
07 - Stadium Village | Sunderland | Various | Proposed
http://www.skyscrapercity.com/showthread.php?t=990079
More news about this planned development from the Echo, is reproduced BELOW . .
Stadium Village will have real snow ski slope.
2nd October 2009, by Tim Booler, Sunderland Echo
A giant indoor ski centre – with real snow – looks set to be built in Sunderland. The multimillion-pound development next to the Stadium of Light could also house an ice rink and other leisure facilities, specialist sports shops, bars and restaurants. It would be a first for the North East and the only facility of its kind between Leeds and Glasgow.
There has already been "strong interest" from leisure operators, and a 15-year blueprint for facilities at the riverside site –
to be known as Stadium Village
– has been prepared.
"The football stadium and Sunderland Aquatic Centre already draw in hundreds of thousands of people a year to this regenerated part of the city," said Sunderland Council leader Paul Watson. "A unique facility like an indoor ski slope with snow would enhance the great sporting venues already on offer, and play a huge part in boosting the city's role as a visitor destination."
The plan for the site, prepared by the council and regeneration company Sunderland arc, suggests the area between Hay Street and the St Peter's Metro station as the location for the complex.
"Stadium Village is a prime location for an indoor ski slope and would position Sunderland as a major sporting venue for the region," said arc chief executive David Walker.
A first draft of the scheme went to public consultation earlier this year and received "overwhelming support", according to the arc and council – while car parking issues in the area are being kept "under review."
The council's decision-making cabinet will consider the blueprint, and set out how Stadium Village should be developed over the next 15 years, when it meets on Wednesday, November 4. The document could then be put to further public consultation
08 - New Student Village | Sunderland | Various | Proposed
http://www.skyscrapercity.com/showthread.php?t=1005461
University to build green student village
The University of Sunderland today (November 17) announced the launch of a new Student Village. With over 550 rooms and new facilities including a bar, shopping and social space, the university will create a unique, green, secure home for students, and support hundreds of jobs in the north's construction industry. The university has joined forces with Carlisle-based student accommodation provider U-Student.com to create The Forge - U Student Village, based at the current Forge student accommodation site in Pallion.
Work begins immediately on the site with the first phase, incorporating the 249 bed Marr House, ready for occupancy in September 2010and the second phase, the 303 bed Jobling House, will begin redevelopment in August 2010 with a September 2011 opening.
Ian Gray, director of estates and facilities at the university, says: "The university is delighted to have secured this private sector investment in The Forge - U Student village. This will add to the existing range of student residential accommodation choices on offer from the university. Our partnership with U-Student.com has already demonstrated a high level of commitment from both organisations to provide great living facilities that meet the modern day expectations of our students. The energy and enthusiasm of Martyn Boak and his team at U-Student has been instrumental in making this happen and the university is looking forward to the partnership delivering a great student experience leading to future success for both organisations."
The aim of the multi-million pound project is to create a secure, fully refurbished, modern and energy efficient Student Village, which will be quite unique in the North East. Onsite facilities will include a bar, café and a social space to meet and relax. There will also be a small convenience store offering the daily essentials for student life.
Martyn Boak, Managing Director of U-Student.com, said "We are delighted to have been chosen to work with the University of Sunderland in developing The Forge - U Student Village. Having worked in Sunderland for several years now we recognise fully that the university and the city have a lot to offer, and now together we will be able to offer high quality, clean, warm, secure and very appealing choice of student accommodation."
Construction work will be carried out by Carlisle-based Northern Developments Ltd, using sub contractors from Carlisle and Sunderland.
The Forge - U Student Village is the latest major development activity of the University and compliments the £75m campus development masterplan, which in the last year has seen the opening of the iconic £12m CitySpace sports and social facility, a £1.75m revamp of the Prospect Building and £1.5m invested in upgrading the technical facilities at the David Puttnam Media Centre. 2010 will see a major redevelopment of the Sciences Complex and landscaping at the back of Edinburgh Building, creating a true City Campus in the heart of Sunderland
09 - Durham Gate | Thinford, Co Durham | Various | Proposed
http://www.skyscrapercity.com/showthread.php?t=1002111
Durham Gate is a £200m development for the former Black and Decker site at Thinford near Spennymoor to the South of Durham just off the A167. The development is by Carillion Arlington Spennymoor Trust (CAST), a joint venture by Carillion and Arlington of Hartlepool. I think there have been proposals for a while but recently there seems to be more activity.
The current proposal is for:
440,000 sq ft of offices from 25,000 sq ft to 100,000 sq ft
Hotel and family pub
20,000 sq ft of restaurants
9,500 sq ft of retail space
376 houses
£8m of road improvements including a larger roundabout at Thinford with a fifth exit and traffic lights
Updated information from 'JetStreak', on 15th October 2010 . . .
Some new renders below, also of note is that the layout of the office buildings has been changed slightly. In general the units seem to be slightly bigger with less of them in total and more parking spaces.
There's more information on the redesigned website:
http://www.durhamgate.com/
Latest news article on the website:
http://www.durhamgate.com/news-detail.asp?newsid=20
1st July 2011 - Progress photos from JetStreak . . .
10 - Holmeside Development Area | Sunderland | Various | Pre-planning
http://www.skyscrapercity.com/showthread.php?t=890236
Soaring 33 storeys high, this staggering structure could put Sunderland firmly on the map by giving it the North East's highest building.
The Spirit of Sunderland tower is the brainchild of developer Thornfield Properties, which wants to build the tower as
part of its £147million plans for the regeneration of the Holmeside area of the city centre.
Shops, restaurants, cafes, bars, 150 apartments and other leisure facilities would be housed in the tower and covered square, and 1,800 jobs would be created.
If plans get the go-ahead, Spirit of Sunderland would be the tallest building north of the Beetham Tower, Manchester, and outstrip anything being built or planned in Edinburgh or Glasgow.
A cocktail bar is planned for the 24th floor, which the developer says will become an essential stop for anyone visiting the North East.
Spirit of Sunderland's architect, Page and Park, said Wearside had a number of tall buildings, and high-rise housing in the city was already popular. The tower blocks at Church Street and Dock Street in Roker, newly refurbished, are seen as some of the best successes in the country.
The plans are aimed at breathing new life into Holmeside. A series of acquisitions means three quarters of the three hectare site is owned by the arc's partners, English Partnerships and One NorthEast.
On a clear day, the upper floors of the tower will boast views south to the North Yorkshire Moors, west to the North Pennines, north to the Cheviots and eastwards out to sea.
11 - Central Area Multi-storey Car Park | Sunderland | Demolition
http://www.skyscrapercity.com/showthread.php?t=1051231
Work has begun to dismantle the condemned multi-storey car park above Sunderland's Jacky White's Market.
The city council was forced to close the Central Area Multi-Storey building in December 2008 after fears it could collapse.
The 391-space car park, opened in 1966, was closed within hours of a engineer's survey which deemed the building unsafe.
Traders at Jacky White's feared for their livelihoods when plans to move the market were uncovered by the Echo in January last year, but council chiefs put forward a £2.9million plan to save the historic market hall and keep it open while the work is done overhead.
Officials say repair and refurbishment of the structure will cost about £6million and the work will take almost a year to complete. The bill for temporary propping measures and consultants' fees already stands at £200,000 and will be met from the existing budget.
Contractors began putting temporary measures in place this week which will allow work on the car park to proceed safely while the market remains open underneath. Demolition work will remove the unstable top levels of the structure and leave and repair the bottom two-tiers of the car park.
Lib Dem councillor Paul Dixon, of Millfield, who campaigned on behalf of market traders and residents who rely on the car park said it was good news work had begun. He said: "Hopefully at the end of it all the council will provide parking for the residents of the town centre flats. "The two remaining levels had been earmarked for that purpose but the council now says it has not made its mind up yet."
Consultants said both lifts have been decommissioned as are "beyond economic repair".
Stephen Pickering, Deputy Executive Director of City Services, said: "The work is being undertaken outside of the market opening hours to minimise disruption and will continue for two months. "The work is being carried out in advance of the forthcoming demolition of the multi-storey car park. "The demolition is planned to commence in May and to continue until December.
"No decision has yet been made regarding the future of the roof top area above Jacky White's Market."
14th November 2010 - progress photo from Talisker . . .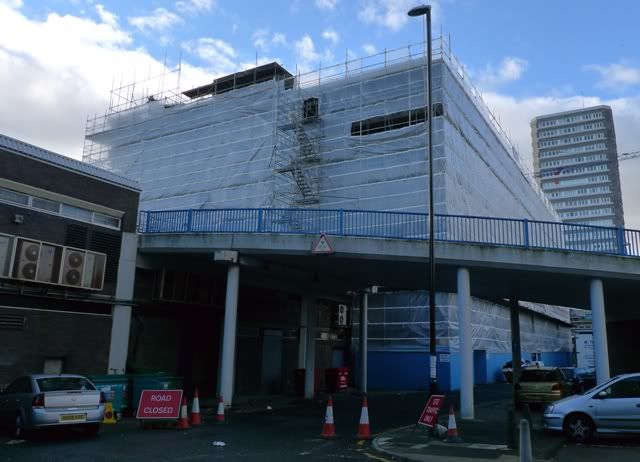 14th June 2011 - progress photo, 'nearly all gone', from Denm . . .
12 - Durham University Gateway | Durham City | Various | Completed
http://www.skyscrapercity.com/showthread.php?t=1016515
Aerial view . .
Site Plan . .
Stockton Road looking westwards . .
View from Highwood Terrace, showing the clear thoroughfare between the Gateway Building on the left and the library extension on the right . .
Projected elevation along Stockton Road . .
View of the proposed library extension, south facade
Proposed view along Stockton Road from the Whinney Hill / Hallgarth Street roundabout
A massive £48million university development in Durham City has been given the go-ahead despite fears it will dwarf neighbouring houses.
Durham county councillors voted 9-1 to approve Durham University's Gateway project at the Science Site in Stockton Road.
The plan will see many of the university's "student facing" operations centralised on the site. Staff will transfer from several city centre buildings, including Shire Hall in Old Elvet, which could become a hotel. Other university buildings around Palace Green will be developed as a visitor centre for the castle and cathedral. An exhibition space created in one of the buildings could house the Lindisfarne Gospels, if, as expected, a long-running campaign to secure a loan deal with the British Library succeeds.
Gateway symbolises an important development for the University and the City, which would see an under-utilised and disjointed brown-field façade on a key University site redeveloped with an environmentally sustainable build of the highest standard.
The new development, which will be positioned at the edge of the University's Science Site along Stockton Road, will house a major library extension, a new Law School bringing together staff currently on two different sites, and a student services building which brings into one building all the student facing services currently dotted around the City. This is not an expansion of the University, but involves bringing together activities in a more coherent fashion and into fit-for purpose buildings. It will enable space to be vacated on Palace Green for the development of a visitor centre, and the creation of designated public exhibition space in Palace Green Library. It will also enable the University to vacate Old Shire Hall and properties along Old Elvet, returning these listed buildings to alternative economic use for the benefit of the City.
Gateway also links in with other complementary developments on the Science Site, including pedestrianisation and greening of the area, a comprehensive overhaul of University signage, and a commitment to implementing a Green Travel Plan for the City in partnership with Durham County Council.
5th July 2011 - Some new 'Renders' posted by _spaceArchTech . . .
1st July 2011 - Construction Update photos from JetStreak
17th December 2011 . .
13 - Durham City Ice Rink Site | Durham City | 130,000 sq ft | Proposed
http://www.skyscrapercity.com/showthread.php?t=1104795
View of the former Ice Rink on the site
DURHAM city's former ice rink is to be redeveloped as part of a 130,000sq ft office scheme and the site will be offered to the market with a potential pre-let for the 40,000sq ft first phase.
"DESIGNS/PLANS/RENDERS OF NEW DEVELOPMENT NOT YET AVAILABLE"
The project is being led by Durham City Vision which has produced a masterplan and design brief for the Freemans Reach site with its partners, Durham City Council and One North East.
David Furniss, head of BNP Paribas's Newcastle office, and development consultant to Durham City Vision and One North East, says developers are being targeted to bring the scheme to completion.
He said: "Because of the confines of the River Wear and the steeply rising river banks up to the cathedral and castle, large development sites are non-existent in Durham.
"The former ice rink site is one of only two in the centre that offers the potential to bring the office space into a central location."
Initial plans drawn up for the site by architects EDAW show three interlinked office blocks providing about 130,000sq ft in blocks from around 25,000sq ft to 45,000sq ft with on-site car parking for 143 vehicles.
The site would also be relandscaped to provide new public space to maximise its west-facing position alongside the River Wear.
Mr Furniss said: "This will be a development to the best of sustainable standards with a significant proposal to bring back into use a 100-year hydro-electric system, part of a nearby weir.
"With potential interest in a first phase pre-let, advanced discussions with another major occupier and scope to deliver additional phases of development, this is one of the best opportunities in the region to deliver a high-quality commercial project."
The process of selecting a development partner is about to commence, with completion of at least the first phase targeted for 2013.
14 - Gentoo Housing Developments | City of Sunderland | Various | Proposed
http://www.skyscrapercity.com/showthread.php?t=1107983
Gentoo, one of the UK's largest social housing landlords, has announced a new phase in their building plans for a number of key sites across the City of Sunderland.
The main thrust of the new development, made possible by the funding from the government's Kick Start scheme, will see 515 new units constructed at:
Castletown
Southwick
Doxford Park
Chilton Moor
Racecourse Estate, Houghton
This is a masterplan of the CASTLETOWN proposals, only . . .
Here is a local newspaper report on the Gentoo development plans . . .
New homes to be built on £1.4m allotment site
Much-needed homes are set to be built on the run-down allotments which raked in £1.4million for a group of retired miners and shipyard workers.
Housing firm gentoo has put in a planning application to build 145 homes on the bulldozed allotment site in Castletown, Sunderland, as part of a sweeping transformation of the area.
Gentoo bought the land from the 49 members of the Castletown Allotment Holders' Association in October 2007 after the smallholdings had become a blight on the village, regularly targeted by arsonists and vandals.
The company had originally announced the Grace House children's hospice could be built as part of a development on the site but has since decided to build it elsewhere. Locations are now being considered.
Gentoo announced it was in line for a multimillion-pound Government handout in August. The cash, which is coming from the Homes and Communities Agency's, will help build 515 new homes over the next 18 months.
As well as Castletown, gentoo developments in Southwick, Doxford Park, and Chilton MoorHoughton's Racecourse estate are among the other areas earmarked for funding.
15 - Hahnemann Court | Southwick | 7fl | Demolition
http://www.skyscrapercity.com/showthread.php?t=1107965
The site to be demolished, was built in the 1960s. Approved in 1964 and built over 18 months by John Laing Construction for Sunderland Borough Council at a cost of £763,915, it consists of four interlinked deck-access slab blocks, each containing six floors of flats and an entrance floor at ground level.
Hahnemann Court comprises 208 flats in total.
Uniquely for the North East region, the construction involved the use of the Sectra industrialised building system. Access to the units is via external balconies on the second and fifth levels.
The site, which was previously modernised in the mid 1990s, has been earmarked for redevelopment, with a retirement village planned as the next phase of the comprehensive regeneration of High Southwick.
Residents are presently in the process of being moved elsewhere, with many moving to the City Green development in the Park Lane area of Sunderland, and others opting for flats and houses on the new Leafields development, just several hundred yards west of Hahnemann Court.
Update on 15th January 2011 . .
Bulldozers move in to mark end of era at Sunderland flats
DEMOLITION work has started on a landmark 1960s tower block. Bulldozers have moved in to knock down Hahnemann Court, in Southwick, after gentoo abandoned its ambitious regeneration plans for the site.
In 2009, the company announced it was scrapping its £16million project to build a hi-spec replacement next door after it was hit by a slump in the global property market.
Update by 'architect1976' on 5th May 2011
Crushing end for Sunderland's Hahnemann Court flats . .
See More -
http://www.skyscrapercity.com/showpo...7&postcount=23
16 - Sunderland Royal Hospital Ward Extension | Sunderland | 5fl | Completed
Project Start -
http://www.skyscrapercity.com/showpo...postcount=1078
Project Update 1 -
http://www.skyscrapercity.com/showpo...postcount=2496
Project Update 2 -
http://www.skyscrapercity.com/showpo...postcount=2512
The Royal Sunderland Hospital, City of Sunderlands NHS Trust
Contract Value: £15,500,000, Project Size: 9000m²
Modules: 104, Storeys: 5
Cladding: Render and Timber
A 138 bed ward extension is to be built at Royal Sunderland Hospital.
When completed in 2010, it will increase patient capacity from 970 to 1108, providing much needed additional care facilities for the busy hospital.
The state of the art integrated critical care unit will segregate theatre staff and nursing staff to eliminate the chances of infection spreading between the two departments. This is a new scheme being implemented by the NHS Foundation Trust across the UK, with Sunderland being one of the first in the country to recognise and utilise the new initiative. The complex design of the new hospital wards and facilities will see Britspace expand their experienced and highly skilled design and technical teams to deliver the bespoke building to the NHS Trust.
Due to break soil on 13th July 2009, the 9,000m² project will be manufactured offsite in the state of the art Yorkshire based factory whilst the Britspace construction team prepare the ground at the hospital.
Installation of the first modules is scheduled for December 2009 And a fast-track overall programme of 45 weeks means the hospital will be operational and ready to occupy by May 2010, a programme that would not be possible with traditional construction methods.
Milestone for hospital project
17 April 2010, by Marissa Carruthers,
Sunderland Echo
Workmen arrive to dismantle the crane at Sunderland Royal Hospital now that the last block of the new wing has been put in place.
The last block of a new £30million wing at Sunderland Royal Hospital has been put in place. The giant crane, which has become a familiar sight on the city's skyline, lowered in the final unit of one of Britian's biggest modular buildings, after it was pre-built 100 miles away.
Work on the wing was launched in March, when the 800 tonne machine was erected at the hospital to put together the five-storey structure.
A total of eight modules – which are 18.5 x 3.9 metres – have been delivered and lifted into position, forming the main body of the new wing, which will house three 40-bed wards and an Integrated Critical Care Unit. In total, the building is made up of 108 modules contracted by Britspace Modular Buildings in a factory near Scunthorpe.
Work still needs to be carried out on the wing, and the next phase will see the new curved roof built to blend in with the adjacent hospital buildings. The wards will be made up of 12 single rooms and seven four-bed bays, each incoporating a nursing station.
UPDATE on 26th January 2011 . .
A couple of PHOTOS the new Hospital Wing:
17 - Houghton 'Walk In' Primary Care Health Centre | Sunderland | 2fl | Completed
http://www.skyscrapercity.com/showthread.php?t=1117629
The 'NHS North East' proposal (dated 16th July 2009) entitled "The Single Stage Full Business Case for
Houghton le Spring Primary Care Centre
explains that the "HOUGHTON PRIMARY CARE CENTRE" is planned to contain . .
• Walk-in Centre / Minor Injuries Unit
• Planned care accommodation
• Diagnostic services
• 24 bed rehabilitation unit (see image below)
• Administration & support accommodation for staff
• Rehabilitation / Physiotherapy suite
• Wellness studio shared with Sunderland City Council
• Shared community facilities
• Café including extensive catering facilities
In other words, though often referred to as "The Houghton Walk-In Health Centre", it actually contains a great deal more than just that.
LINK TO DOCUMENT -
http://www.northeast.nhs.uk/_assets/...f/NE09_288.pdf
Plans and visualisations . . .
17th May 2010 - progess photo taken by Denm . . .
Project completed August 2011, completion photo supplied by 'Denm', via Sunderland Echo, on 7th Sept 2011 . .
PHOTOS of completed project, taken and posted by 'Denm', 11th October 2011 . .
18 - Sainsbury (Riverside Rd, Southwick) | Sunderland | Completed
http://www.skyscrapercity.com/showthread.php?t=1178401
A £10million major supermarket and shopping development is expected to create 150 jobs on the site of a former car dealership.
Developers have unveiled plans to transform the former Jennings Motor Group site in North Hylton Road, Sunderland, into an "exciting district centre."
The move has delighted some residents, but traders and some others living in the area say it will kill existing local businesses and cause noise and traffic problems.
Liverpool-based development company Nil Statis Nisi says proposals for the 169,000sq ft site will include a "major international supermarket retailer" as its main tenant for the site.
The as-yet unnamed supermarket chain is expected to close the deal in the next month.
Plans include a restaurant or fast food outlet, office accommodation and nine other stores, which developers say could house a mix of national chains and smaller businesses.
Roy Kenny, project manager at Nil Satis Nisi, said: "This is an exciting project for this area and aside from the obvious regeneration benefits, the district centre is expected to create around 150 jobs for the immediate local community, including Hylton Castle, Castletown, Red House, Southwick, Town End Farm and Downhill.
"The supporting tenant mix is aiming to incorporate an additional discount operator, a newsagent, card shop, bookmaker and baker to give a real 'district centre' feel for the local community."
The North Hylton Road site has sat vacant since Jennings moved into its new purpose-built "supersite" in Riverside Road, which opened in 2006.
Southwick councillor Rosalind Copeland welcomes the supermarket plans, which she said were much needed, but said it must not harm local businesses.
LATER . . .
I think it is worth being clear about this, as I didn't realise there were
TWO
separate supermarket proposals for the area until now:
1
. The
former
Jennings showroom site is for a currently unnamed supermarket operator, being led by developer Nil Satis Nisi.
2
. The
current
Jennings showroom site is the site proposed for the new Sainsburys, being led by the developer Terrace Hill.
Shown here . .
THEN . . .
AN 'artists impression' of the proposed Sainsbury Store, from the Echo of October 12th 2010 . . .
19 - Tesco Extra (Roker) | Sunderland | 2fl | U/C
http://www.skyscrapercity.com/showthread.php?t=1230419
Sunderland City Council has approval an application for a Tesco Extra store, with car parking facilities below and several other retail units at the southern end of the site.
Ground Floor Plan (showing the car parking UNDERNEATH the store)
First Floor Plan
ON 31st July 2012 Sup.sup post photos of the first steelwork going up!
20 - Deptford Terrace Development| Sunderland | 3 fl & 4 fl | Pre-planning
http://www.skyscrapercity.com/showthread.php?t=1239797
Deptford Terrace is a riverside development at the gateway entrance to Sunderland City Centre.
The site is currently occupied by a 260,000 sq ft warehouse on a 16-acre site.
Plans are currently being worked up to create a space that allows for a mixture of complimentary mid-urban uses.
With plans to tie the space in with its riverside park and increase the lifestyle integration with the River Wear.
The plans allow for a scheme that would accommodate up to 750,000 sq ft, including offices, hotel, health club, restaurants and housing.
The concept embraces the wider site and looks to opportunities beyond the site boundary – much of which is owned by Sunderland City Council, particularly towards the river.
The core of the concept is a new major access road from Pallion New Road, leading to a central 'spine road' and a new public square that opens towards the river, with pedestrian routes down to the waterside. Larger commercial and mixed-uses could be sited along the southern side – to take advantage of the change in level for undercroft parking and to benefit from highly visible frontages (hotel, leisure, offices).
The northern part of the site offers opportunities for mixed residential development, taking advantage of the river views and the existing riverside park.
21 - Primark Re-development, Bridges Shopping Centre | Sunderland | 3fl | Completed
http://www.skyscrapercity.com/showthread.php?t=1251353
Shopping centre set for £15m expansion
A NEW £15million development in Sunderland city centre looks set to create more than 150 jobs. Land Securities, owner of the Bridges shopping centre, has announced its intentions to build a three-story, 60,000 sq ft Primark store at the High Street West and Walworth Way entrance to the retail space.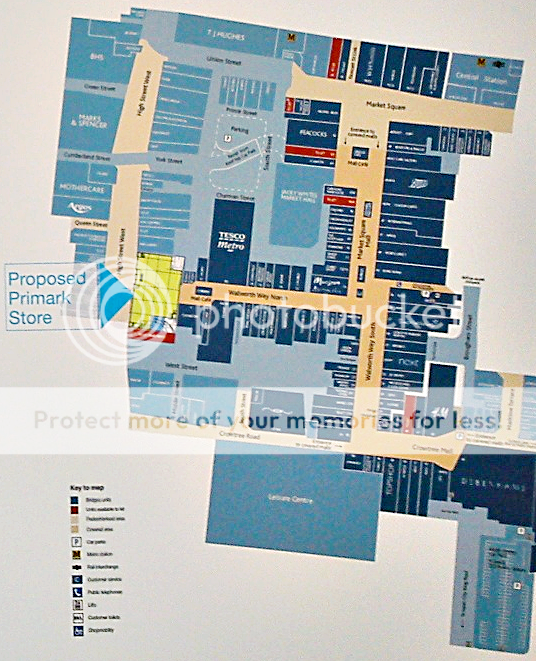 Plans will be submitted for consultation next month and the company is hoping work on the expansion will begin in 2011. Jonathan Buckle, portfolio manager for the Bridges, said he was delighted to be bringing good news to Sunderland.
Speaking to the Echo he said: "This is a significant investment programme which demonstrates Land Securities' commitment and confidence in Sunderland.
"Our objectives are to enhance the shopping experience we provide for the 21million customers who visit the centre each year by ensuring more of their favourite high street fashion brands are located within the Bridges and to enhance the centre's reputation as one of the best shopping and fashion destinations in the North East.
Proposed Entrance View
"Primark has outgrown its existing store, located on Fawcett Street, and is very keen to remain in the city. "The Bridges is fast becoming a fashion hub and with the likes of Bank, H&M, New Look, Top Shop, River Island and Schuh already part of the retail offer, we are confident that this is the right location for the brand new Primark store."
Photo Update posted by 'architect1976' on 2nd February 2012 . .
Photo Update posted by 'architect1976' on 16th March 2012 . .
22 - The Cooper Rose | Sunderland | 2fl | Completed
http://www.skyscrapercity.com/showthread.php?t=1310377
This thread is intended for discussion of the project currently ongoing to transform the old Durham Book Centre (latterly Beach and Blu Bambu nightclub) into Sunderland's latest Wetherspoons pub, a Lloyds No 1 to be known as
The Cooper Rose
.
It will be the third Wetherspoons pub in Sunderland city centre, after the William Jameson on Fawcett Street (opened April 1997) and the Lambton Worm on Low Row (opened April 2003).
The project is scheduled to be complete, for opening, on Tuesday 15th March.
Photograph of the site, coutesy of emdjt42 on Flickr:
image hosted on flickr
Project was completed, and opened, in March 2011 . .
23 - Ramside Hall Hotel and Golf Course Expansion | Durham | Various | U/C
http://www.skyscrapercity.com/showthread.php?t=1309499
There are plans to expand the Ramside Hall Hotel and increase the size of the golf course to 36 holes. The hotel already has planning permission for the hotel expansion and are currently seeking planning permission to build a small number of Executive Homes on the edge of the golf course to finance the hotel expansion.
The plans for the hotel include:
40 new rooms with views of the golf course
Spa with swimming pool, treatment rooms and hydrotheraphy pools
1000 seat conference centre/banqueting suite
Increasing the size of the golf course to 36 holes
The plan is to finance the expansion by building homes on two of the existing holes and converting nearby disused Hill Top Farm into housing. The executive housing proposed is exactly what is needed in Durham, especially if the City is to realise the potential of attracting top companies from the private sector to sites like the Ice Rink and Aykley Heads.
The plans for this are currently up for consideration by Durham County Council and can be viewed here:
http://publicaccess.durhamcity.gov.u...=LELTOJBN5B000
Planning Docs here:
http://82.113.161.89/WAM/showCaseFil...r=11/00006/OUT
The land is classed as greenbelt and there is currently a greenbelt consultation ongoing which is considering greenbelt land that could be used for new housing - the Ramside site is included. The greenbelt consultation can be found here:
http://durhamcc-consult.limehouse.co...cument-1527050
In my opinion some of the proposals are a bit much but some, such as the Ramside proposal, are suitable. I'd encourage people to respond to the planning application and the greenbelt study as a balance of views is important, especially as the typical Durham view seems to be let's regress to the Stoneage.
Related links:
http://www.ramsidehallhotel.co.uk/ac...l-history.aspx
http://www.durhamtimes.co.uk/news/88..._the_North___/
http://www.durhamtimes.co.uk/news/81..._are_unveiled/
Google Maps link to the location
24 - Hitachi Train Factory | Newton Aycliffe | 3fl | Approved
http://www.skyscrapercity.com/showthread.php?t=1480570
Newton Aycliffe Hitachi train factory signed and sealed
by Brian Nicholls, The Journal, January 19th 2012
THE £4.5 billion contract for the proposed Hitachi train factory at Newton Aycliffe is now 99% signed and sealed, the manufacturer said yesterday, as the Government confirmed the deal would finally be rubber-stamped within a matter of weeks.
Plans for the vast factory, which is likely to create up to 700 jobs and pump millions of pounds into the regional economy, were given the initial go-ahead last March. The final signing-off of the financial contract between the Department of Transport and Hitachi had been expected by the end of 2011. However, due to the complexity of the deal, it is now expected in the next two to three months, according to Hitachi.
"The contract is very large and complex and we are working towards finalising it within the first half of the year," a Hitachi spokesperson said. Chancellor George Osborne, meanwhile, talked up the huge benefits the plant will bring to the North East and wider UK economy during a trade visit to Japan yesterday.
Speaking from the carriage of a Hitachi-built high-speed bullet train in Tokyo, he confirmed that the first trains would roll off the production line in 2016, with construction likely to begin later this year or in early 2013.
Read More
-
http://www.nebusiness.co.uk/business...1140-30153397/
25 - Durham Police New HQ and Housing | Durham | Various | Proposed
http://www.skyscrapercity.com/showthread.php?t=1485425
Durham Police Headquarters to be demolished
by Neil McKay, The Journal, February 4th 2012
A CRUMBLING police headquarters is to be demolished after more than 40 years, with executive housing expected to be built on the site, and Durham Police Authority is now seeking planning permission for a smaller, "greener" replacement HQ next to its current Aykley Heads site, which would cost an estimated £14m to build.
If the go-ahead is given by county council planners, it is hoped that building work will start in the autumn. The work is envisaged to be an 18-month contract, with completion due in the spring of 2014. A decision on the developer will be subject to tender.
Peter Thompson, chair of Durham Police Authority, said: "This is an exciting project for the police authority and the constabulary. "We're looking forward to working with the county council to produce a development which is both worthy of, and sympathetic to, the site. The new premises should generate substantial savings and enable the constabulary to deliver an even better policing service to the people of County Durham and Darlington."
The present HQ dates back to 1969, when the first phase was opened by James Callaghan, then Home Secretary and later Prime Minister.
Read More
-
http://www.journallive.co.uk/north-e...#ixzz1lPOkuuaW
26 - New Ryhope Hospital | Sunderland | Various | U/C
http://www.skyscrapercity.com/showth...3#post92965563
Works starts on new £68million Sunderland hospital
Cutting the first sod for the new mental health hospital at Ryhope, Norman Hildrew
Saturday 30 June 2012
WORK on a new £68million Sunderland hospital for patients with mental health problems is under way. A turf-cutting ceremony took place as construction began on the former Ryhope Hospital site this week.
The new multimillion-pound facility will replace the old and outdated accommodation at Cherry Knowle Hospital and Palmer Hospital in Jarrow, South Tyneside. The 122-bed mental health development facility is being built by Northumberland, Tyne and Wear NHS Foundation Trust could be open to patients two years from now.
27 - Travelodge Hotel, Sunniside | Sunderland | 4fl | Completed
http://www.skyscrapercity.com/showthread.php?t=1526742
Wednesday 9 November 2011 . . .
PLANS have been approved for a £6million Travelodge Hotel in Sunderland City Centre.
Developers have been granted planning permission to build a four-storey building in Sunniside, housing an 82-bedroom hotel with a mix of commercial premises on the ground floor.
The Travelodge development in High Street West is expected to create 12 part-time and six full-time jobs and be open in late Autumn 2012. The ground-floor development is expected to create about 30 jobs.
Hendon councillor Michael Mordey said: "We need more hotels, a lot more hotels in the city. I'm really pleased to see this one come forward and hopefully once it's on site it will drag in others."
City leaders say Sunderland is in desperate need of more hotels if it is to best capitalise on events taking place in the city.
Read more
http://www.sunderlandecho.com/news/b...land_1_3952560
23rd June 2012 by architect1976 - Travelodge Construction Update, all photos taken 23/06/2012 by myself . . .
28 - Crowtree Leisure Centre | Sunderland | Demolition
http://www.skyscrapercity.com/showthread.php?t=1621211
Crowtree demolition plans approved
Sunderland Echo, 14th March 2013
COUNCILLORS have given the go-ahead to demolish Crowtree Leisure Centre and the 40-year-old venue is set to be knocked down in the coming months as part of plans to free up land in Sunderland city centre for development.
Yesterday, members of Sunderland City Council's cabinet voted on a report which outlined the process to appoint contractors, landscaping plans and the disposal of the site. Work could now start as early as May and be completed by the end of the year.
The meeting heard how the site would create a "development opportunity" for retailers and businesses, part of ongoing plans to boost the city centre as outlined in an Economic Masterplan. Members also pointed out that the council had invested £60million in leisure facilities.
More:
http://www.sunderlandecho.com/news/b...oved-1-5495791
Demolition work starts at Sunderland's Crowtree Leisure Centre
Sunderland Echo, 16th April 2013
IT is the beginning of the end. Work has begun to demolish Crowtree Leisure Centre. Facebook campaigns to save the city centre building have failed and most of it will soon be razed to the ground.
Contractor Willmott Dixon has started removing materials from inside the centre, before the roof and walls can be pulled down. As there will be little exterior evidence of the work until September, Sunderland City Council said it thought the walkway between City Park and The Bridges could remain open during this phase of the work, but tests have confirmed that it is not safe to keep the walkway open, so it will close until further notice from tomorrow.
More:
http://www.sunderlandecho.com/news/b...ntre-1-5586850
NB - THIS IS THE CURRENT END OF THE LIST OF 'SUNDERLAND AND DURHAM FORUM' PROJECTS.



**Please notify me of all updates and additions to this thread via the 'Forum Admin' thread . . . I will pick the details up from there. Please do NOT post on this thread. THANK YOU**
.