Alejandro Velasco Astete International Airport
(IATA:
CUZ
, ICAO:
SPZO
) is located in the city of Cusco, in southeastern Peru. Cusco, a principal tourist attraction in Latin America, receives various domestic flights as well as some international flights. Its runways are completely paved. Currently, it operates at limited capacity due to its precarious location near the city's center. Despite these limitations, the airport has consistently ranked as Peru's second most important air terminal, handling 1,288,200 national and international passengers in 2009, as reported by CORPAC.
It was named in honor of the Peruvian pilot Alejandro Velasco Astete who was the first pilot to cross the Andes in 1925. This first flight was from Lima directly to Cusco. Later that year, in September, while trying to avoid crashing into spectators at an airshow in the city of Puno he crashed and was killed. In recognition of his pioneering achievements in Peruvian aviation history, the airport was named in his honor.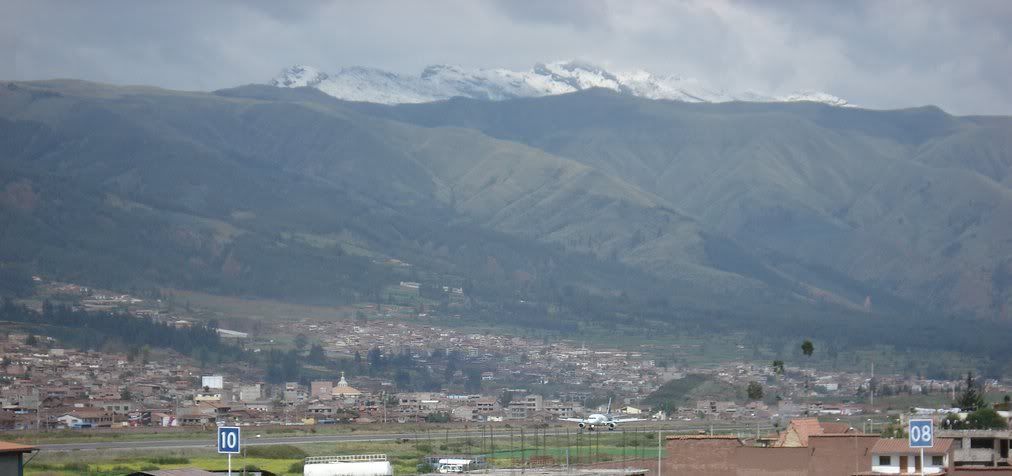 Airlines and Destinations
Lan Peru
Arequipa, Peru / Rodriguez Ballon International Airport (via JUL)
Juliaca, Peru / Inca Manco Capac International Airport
Lima, Peru / Jorge Chavez International Airport
Puerto Maldonado, Peru / Puerto Maldonado International Airport
Tacna, Peru / International Airport Coronel FAP Carlos Ciriani Santa Rosa [suspended]
Peruvian Airlines
Lima, Peru / Jorge Chavez International Airport '
Star Peru
Lima, Peru / Jorge Chavez International Airport
Puerto Maldonado, Peru / Puerto Maldonado International Airport
TACA Peru
Lima, Peru / Jorge Chavez International Airport
International Flights
Aerosur
La Paz, Bolivia / El Alto International Airport
Star Peru
Rio Branco, Brazil / Rio Branco International Airport
Incoming international flights
Aerolineas Argentinas
Buenos Aires, Argentina / International Airport via SLA Pistarini Minister Starts: second half of 2010
Salta, Argentina / International Airport Martín Miguel de Guemes [Start: second half of 2010
Lan Peru
Puerto Iguazu, Argentina / Puerto Iguazu International Airport [Starts: November 2010]