It began innocuously enough. My boyfriend received an offer for a free night's stay at the casino in Cherokee, an hour away from our home in Asheville. Neither of us are what you could call big gamblers, mainly because gambling is the only pastime on earth that is arguably as boring as golf. I know that all casinos advertise themselves as fun,
fun
,
FUN
, but this has never been my experience. In my experience, casinos stink of despair and are home to lumpy, potato-like people mechanically and grimly pushing the buttons on their electronic slot machines. The action gets a little wilder at the live table games, but not by much. However, a free night is a free night, and because I'd never spent any real time in Cherokee, we figured we might as well. A change of scenery might be pleasant.
That turned out to be a false assumption, because Cherokee is ugly. I do not, however, blame Cherokee -- or the Cherokee -- for this. Cherokee is technically a national capital, the capital of the Eastern Band of the Cherokee Indians. The only reason there even is an eastern band is because during the genocide of the Trail of Tears, in the 1830's, some Cherokee managed to flee to a locale so remote and inaccessible that the American government could not be bothered to root them out. Thus, this, and over time the Cherokee fell prey to the same degradations as most other American Indian tribes. The difficulty of developing the area led to lack of work. Lack of work led to institutionalized despair, which led to domestic violence and drug and alcohol abuse. The obesity rate and consequently the rate of diabetes are too high to bear thinking about. And then there was the forced prostitution of culture, when the automobile eventually did make it relatively easy to visit Cherokee -- but by then, the tourists knew all about Indians. They expected teepees and tomahawks, and by God they were not going to be deterred by anything so prosaic as the truth. The Cherokee never lived in teepees. As one of the "civilized tribes," they lived in established towns, in wooden houses. They were one of the only American Indian tribes to have a written language.
No matter. It was the era of "The Lone Ranger," and the tourists of the 1950's wanted what they wanted -- and what they wanted was Cherokee Indians dancing for tips, to gawk at the malnourished denizens of roadside bear zoos, and a Christmas-themed amusement park.
Cherokee obliged with these things, and also with scores of depressing trinket shops selling unspeakable imported garbage. You can buy rubber tomahawks imported from China, or "Indian" pottery stenciled with spray paint. You can learn how long it will take you to finish half a pound of salted caramel fudge (about sixteen hours, in my case -- that stuff is
damned
good). You can ride the Rudicoaster at Santa's Land Amusement Park. You can watch the tribal EMS speeding off towards Asheville, which is the nearest city boasting a hospital big enough to handle the serious complications of diabetes, the disintegration of your liver, or which can put your face back together after a spouse has put a fist or a frying pan through it.
However, nowadays you may also purchase a wooden mask depicting an avatar of one of the Seven Clans, carved by an actual Cherokee artisan, but you will pay no less than $300 for that privilege. You may drive by the new, enormous, state-of-the-art school, or visit the marvelous museum and library dedicated to the preservation of Cherokee culture and language. You can visit a live theater and watch the heartbreaking drama of the Trail of Tears acted out. You can buy authentic Cherokee pottery, baskets, clothing, and textiles. You can go look at beautiful new duplexes, apartment buildings, and houses -- as nice as anything in any other American suburb -- sprouting amid the listing shacks and rusting trailer parks.
You can thank that gentle predator rising behind it all -- the casino -- for that. Casino money floods Cherokee, new money gradually helping to undo generations of old sorrow. The tribal hospital, though tiny, is cutting edge. There are new and lovely parks, monuments, streetscaping, a transit system, arts centers, hotels, restaurants, art markets, and more -- all thanks to the Harrah's Cherokee Casino Resort being a preferred place for Atlantans and others from around the Southeast to unburden themselves of their excess money.
This is what we saw when we arrived, and it was strange. Like anyone else from an old family in Western North Carolina, though I am white as white can be, I have enough Cherokee blood in my lineage to have affected my physiology. I have the shoveling on the inside of my incisors that is found in only two populations in the world: Asians and Native Americans. I have been told I have Cherokee cheekbones. My mother has darker skin than I, and her mother looked full-blooded, with cinnamon skin, raven-black hair, and soulful doe eyes -- or so the pictures show, as she died in 1969 and I never got to meet her. On my father's side of the family, I share the same last name as the vice chief of the Cherokee. My boyfriend and I visited a bookstore where we came across a census conducted on the Cherokee reservation in the 1920's, and found a full third of a page listing people with my last name again and again and again. There is a road named after us on the way out of town.
It felt so strange to come here and see and feel these things. Part of the blood in my veins is the blood of the Cherokee -- the same people who look so elegant in their suits and dresses at the casino, the same people who can call the number on the billboard on the way out of town if their spouse insists on breaking bones. The same people carving the masks and making the fudge. The same people singing the songs and dancing for tips, and telling the stories -- the people living in sleek new townhouses and in decaying trailers.
Cherokee is a strange mix of old despair and new hope, fierce pride in culture and fierce grief numbed by narcotics; crippling rural boredom enlivened by entertainers such as Alicia Keys coming to perform at the casino. The casino made most of the good things possible, as odd as that sounds.
This is the land of the blood in my veins.
Our first stop was Mingo Falls.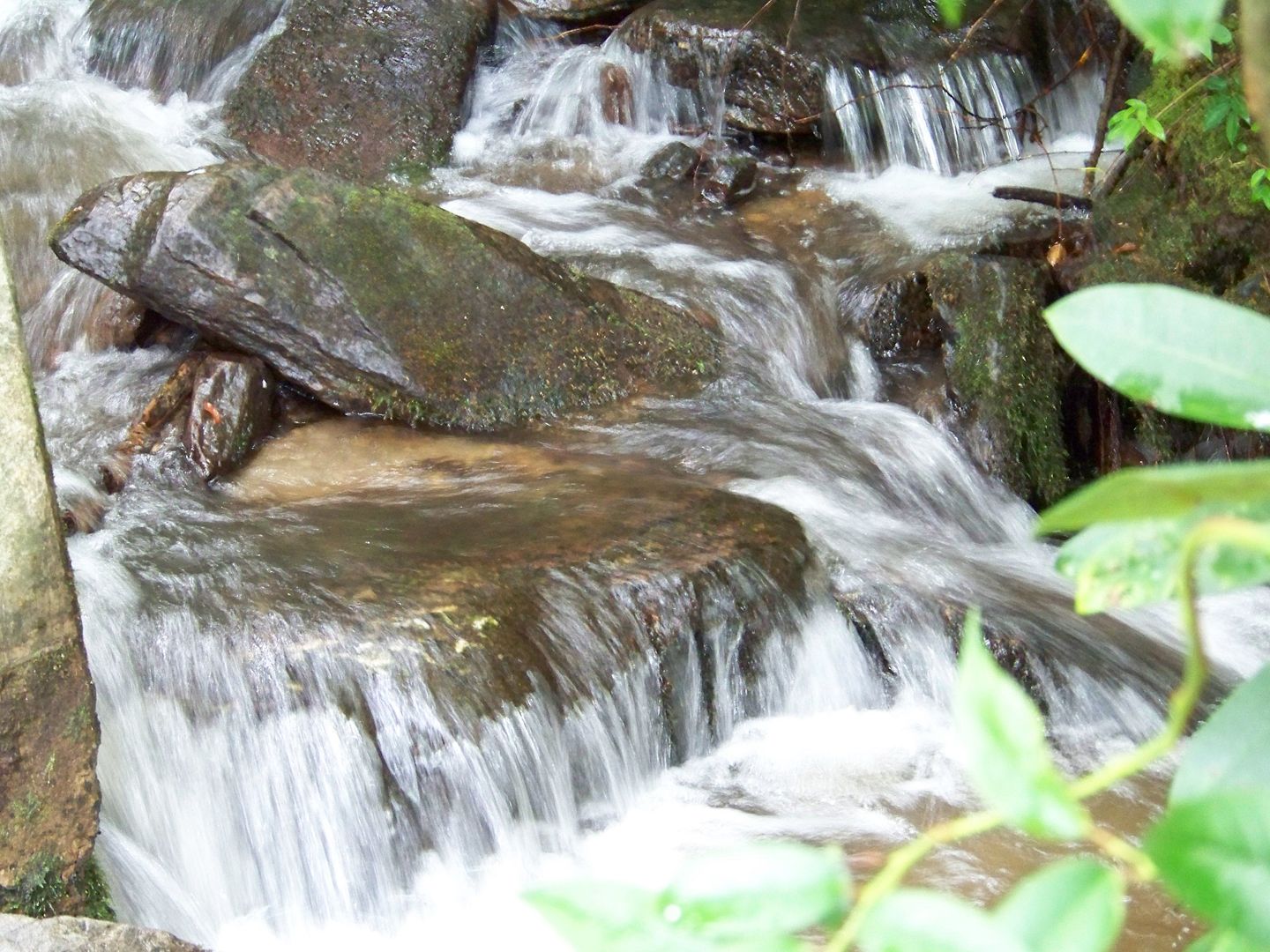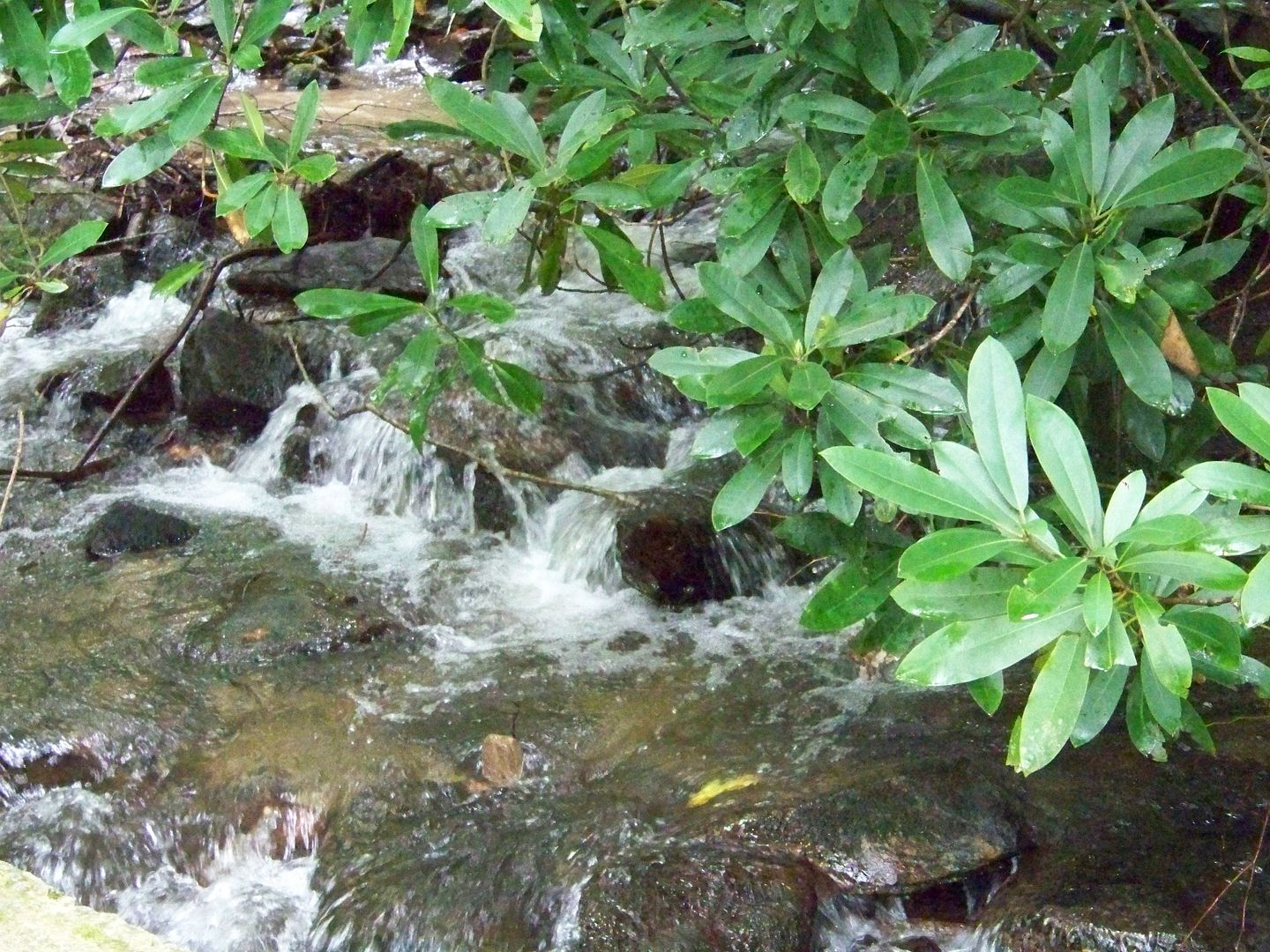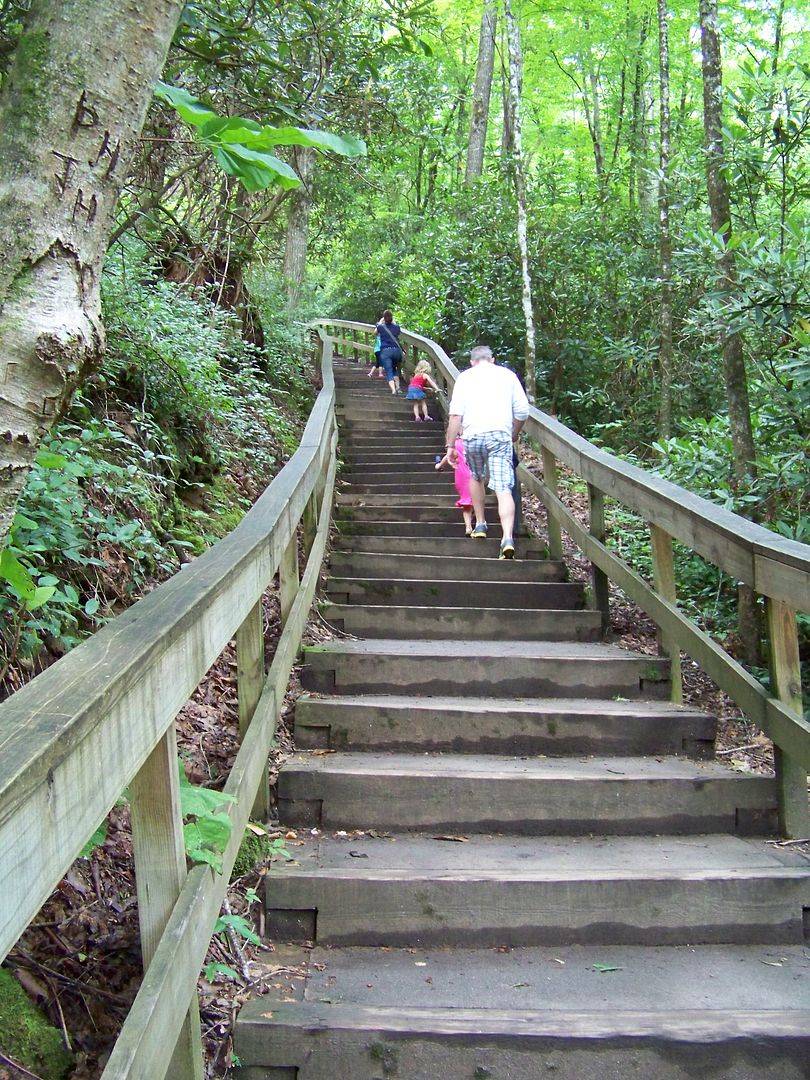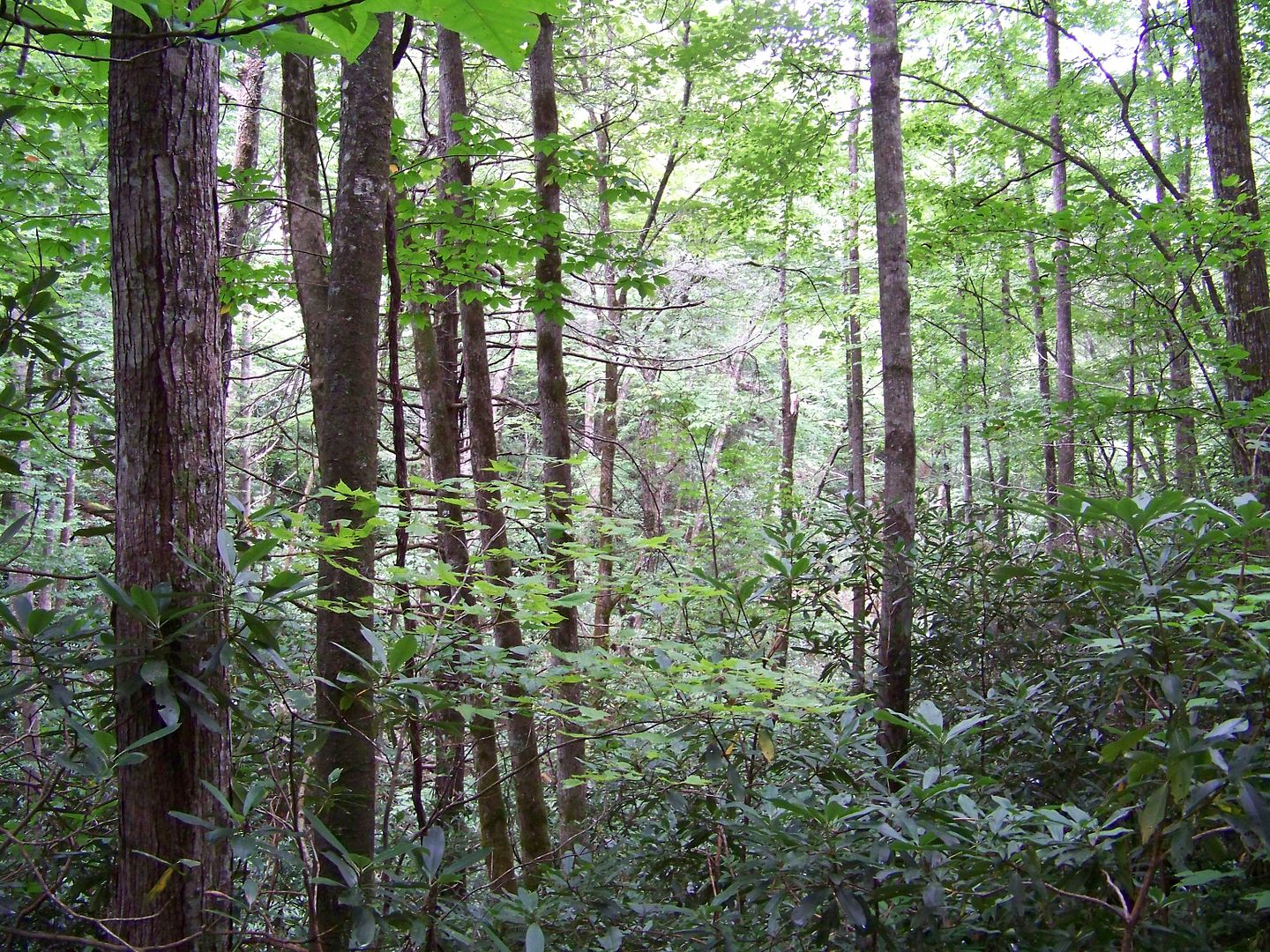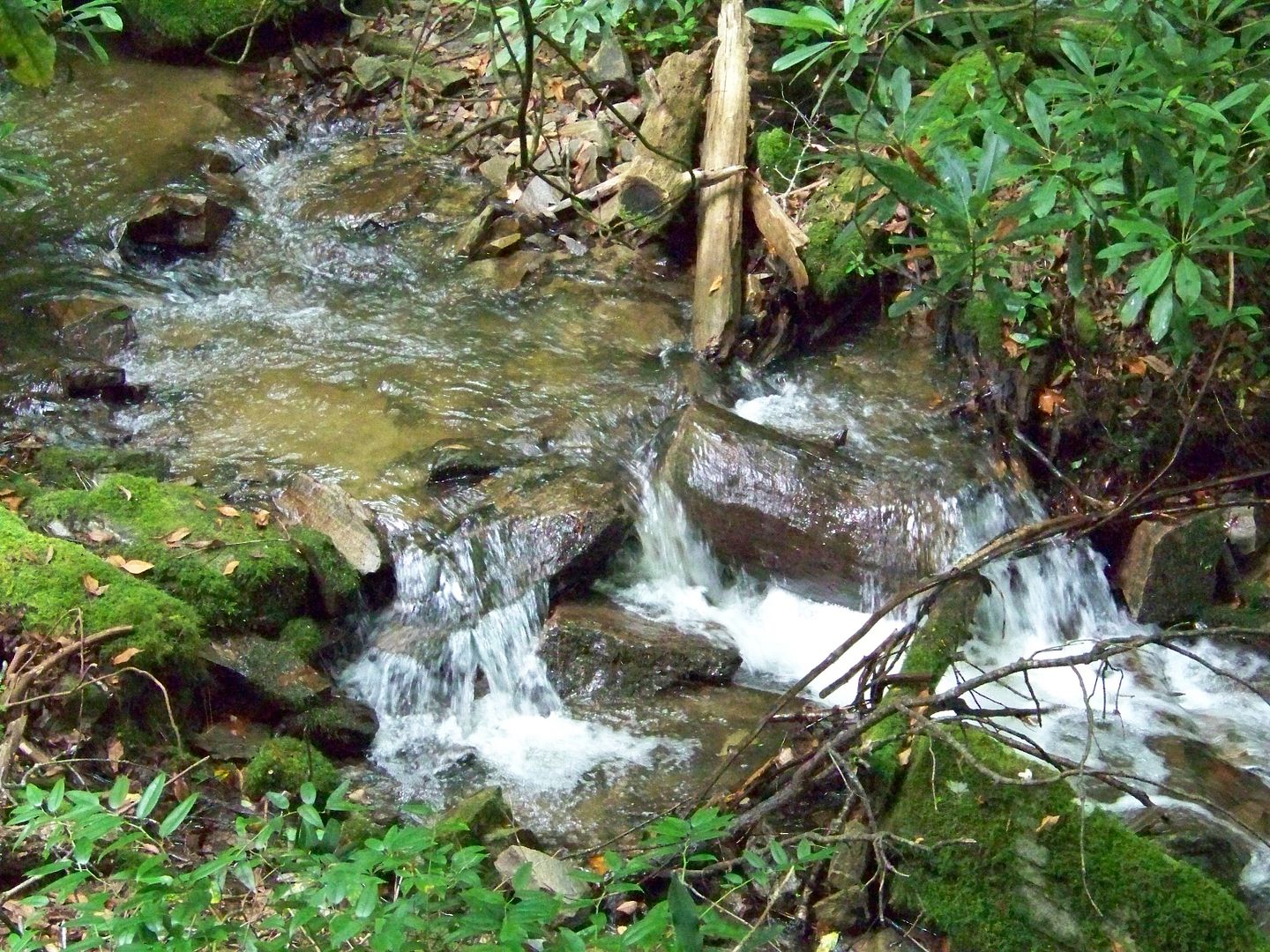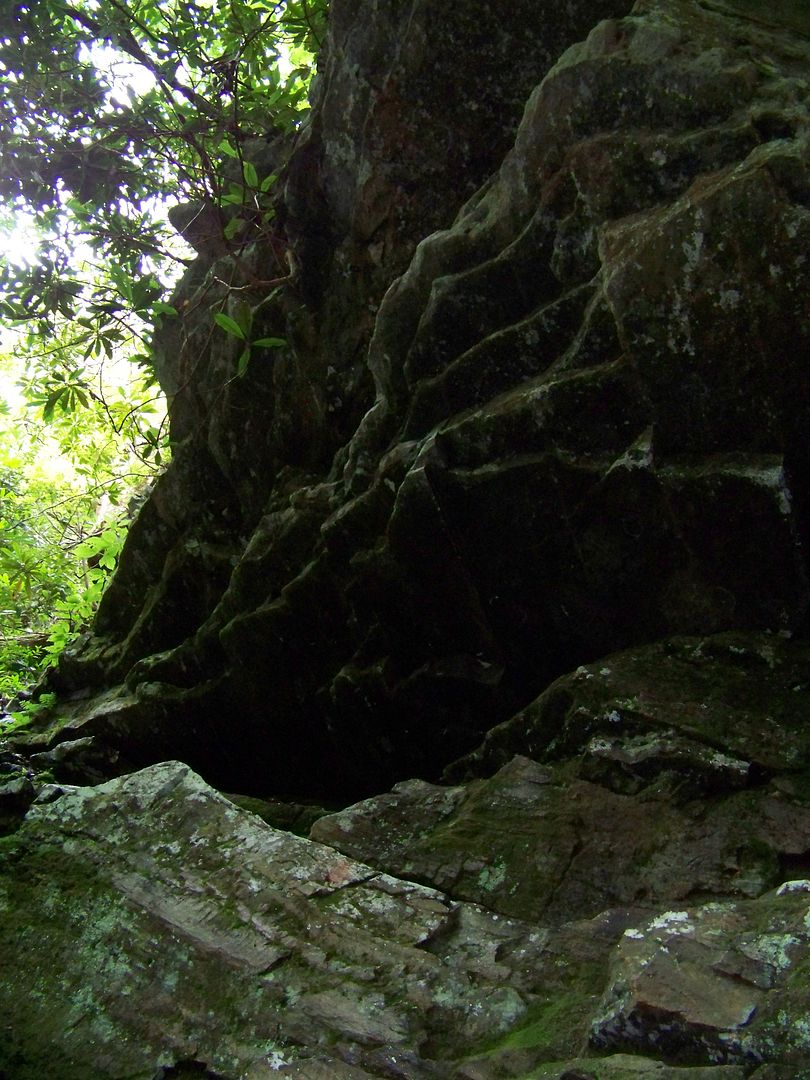 Tourists included for scale.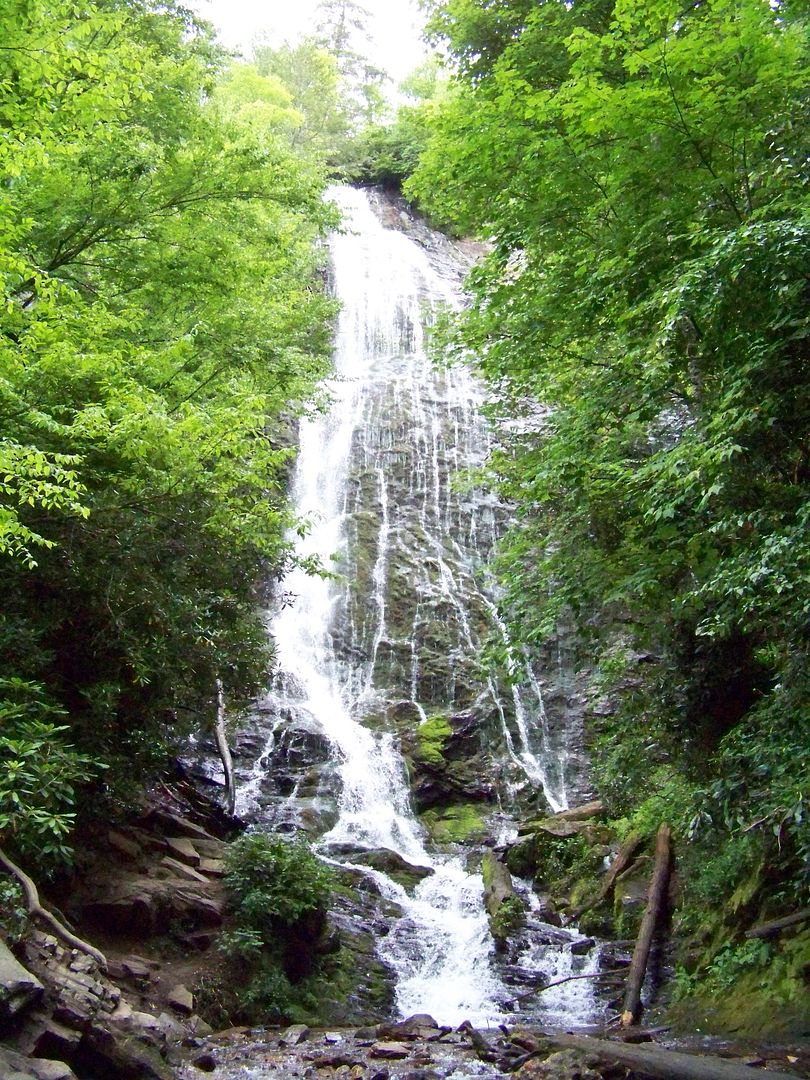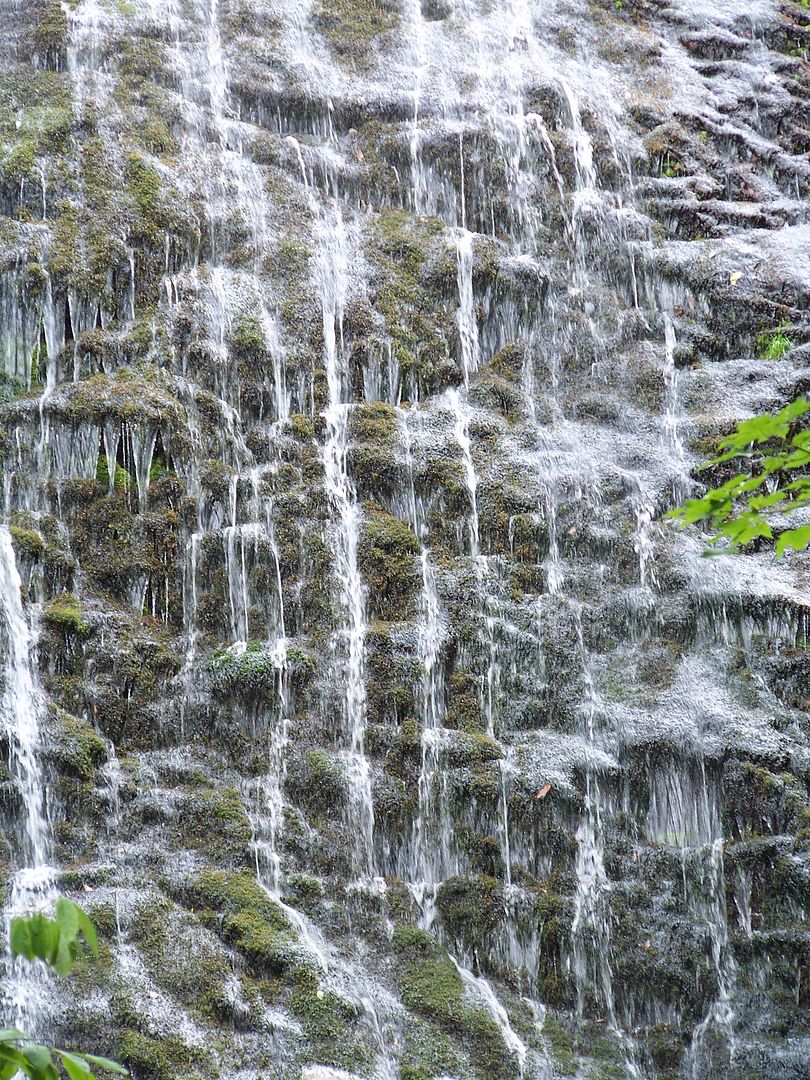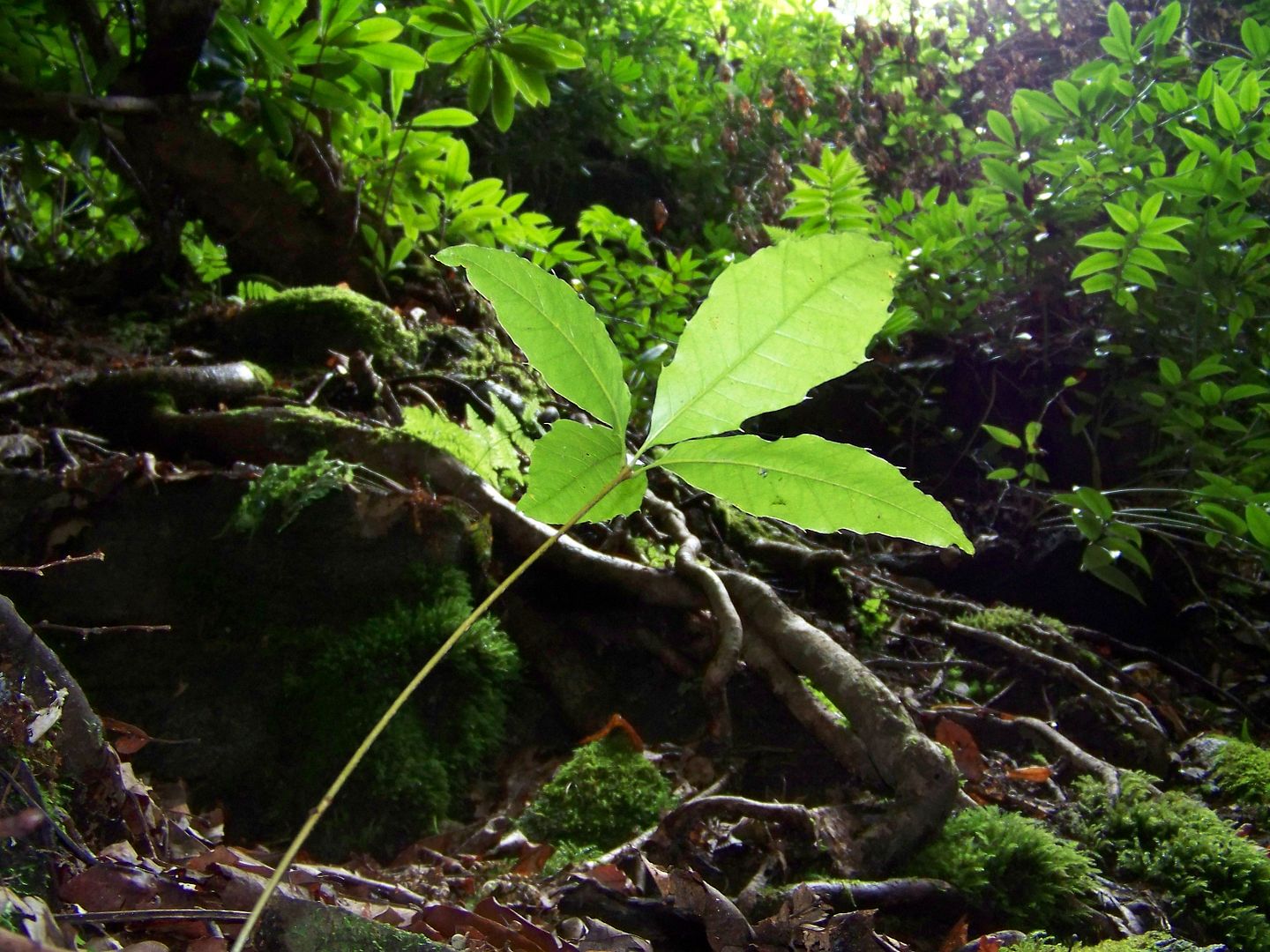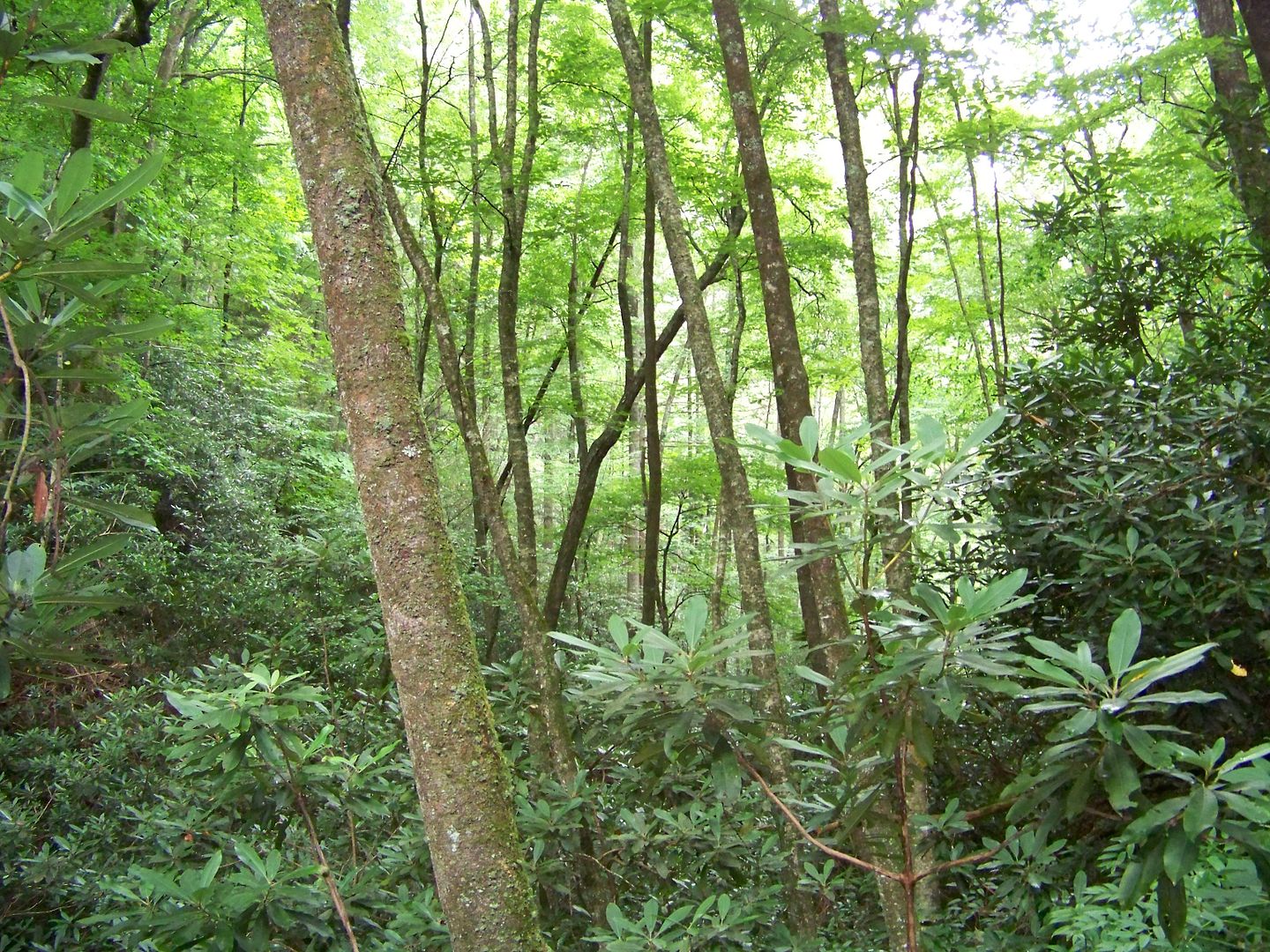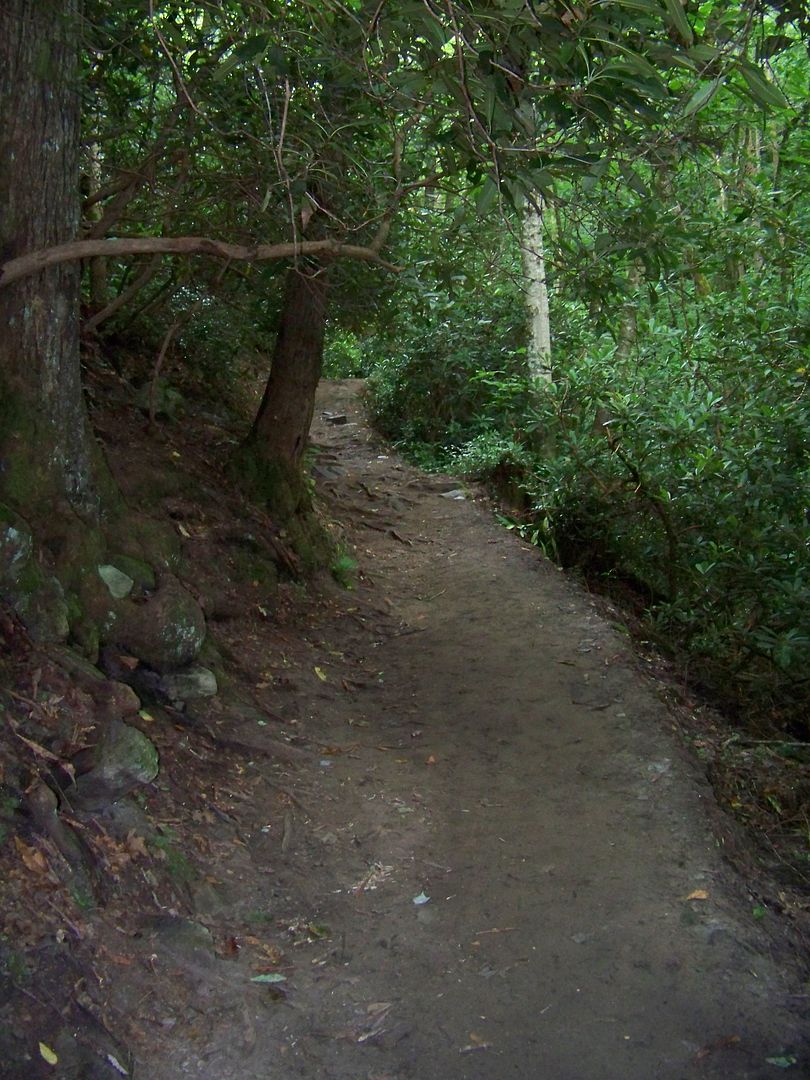 Meanwhile, in town...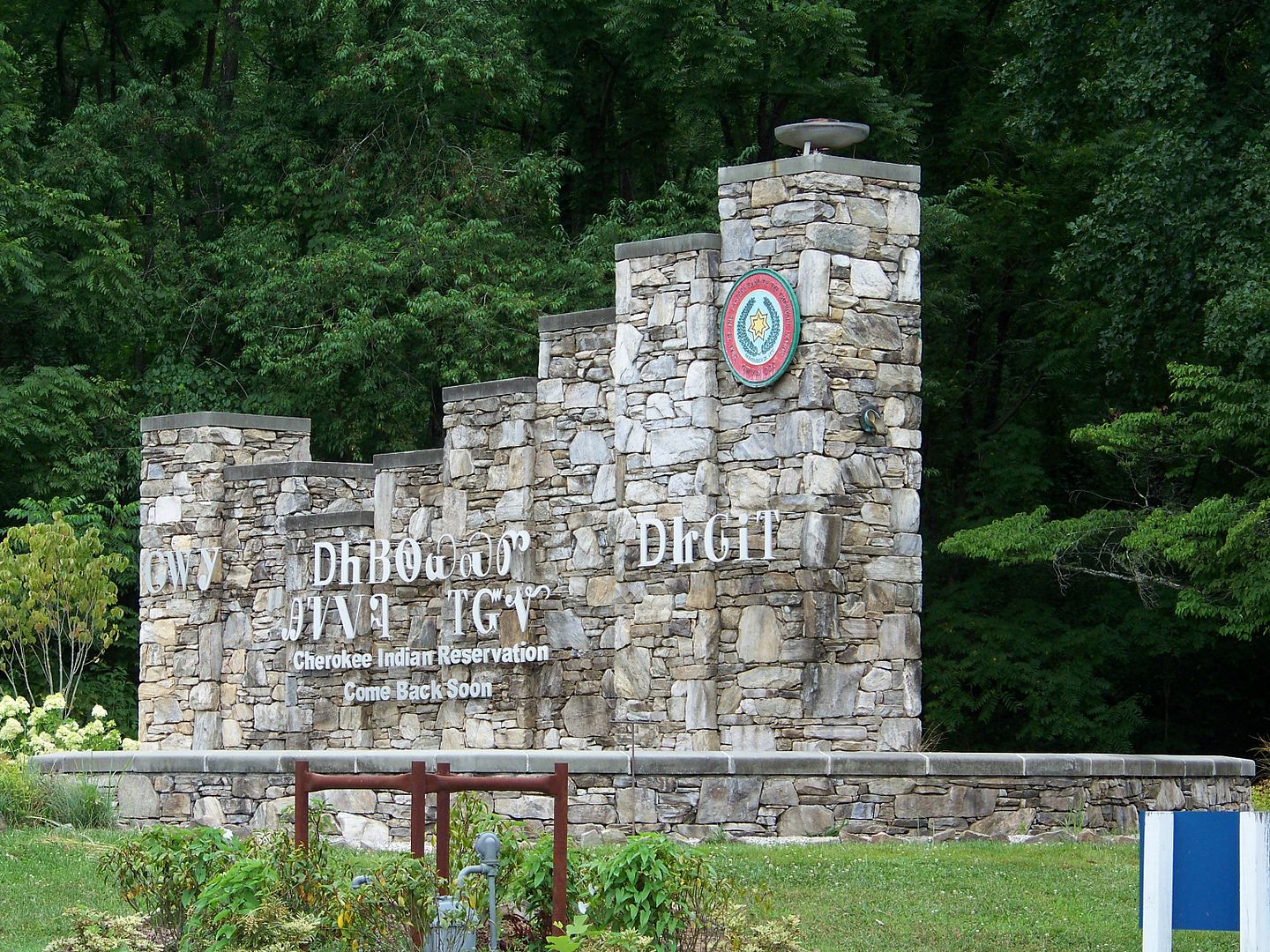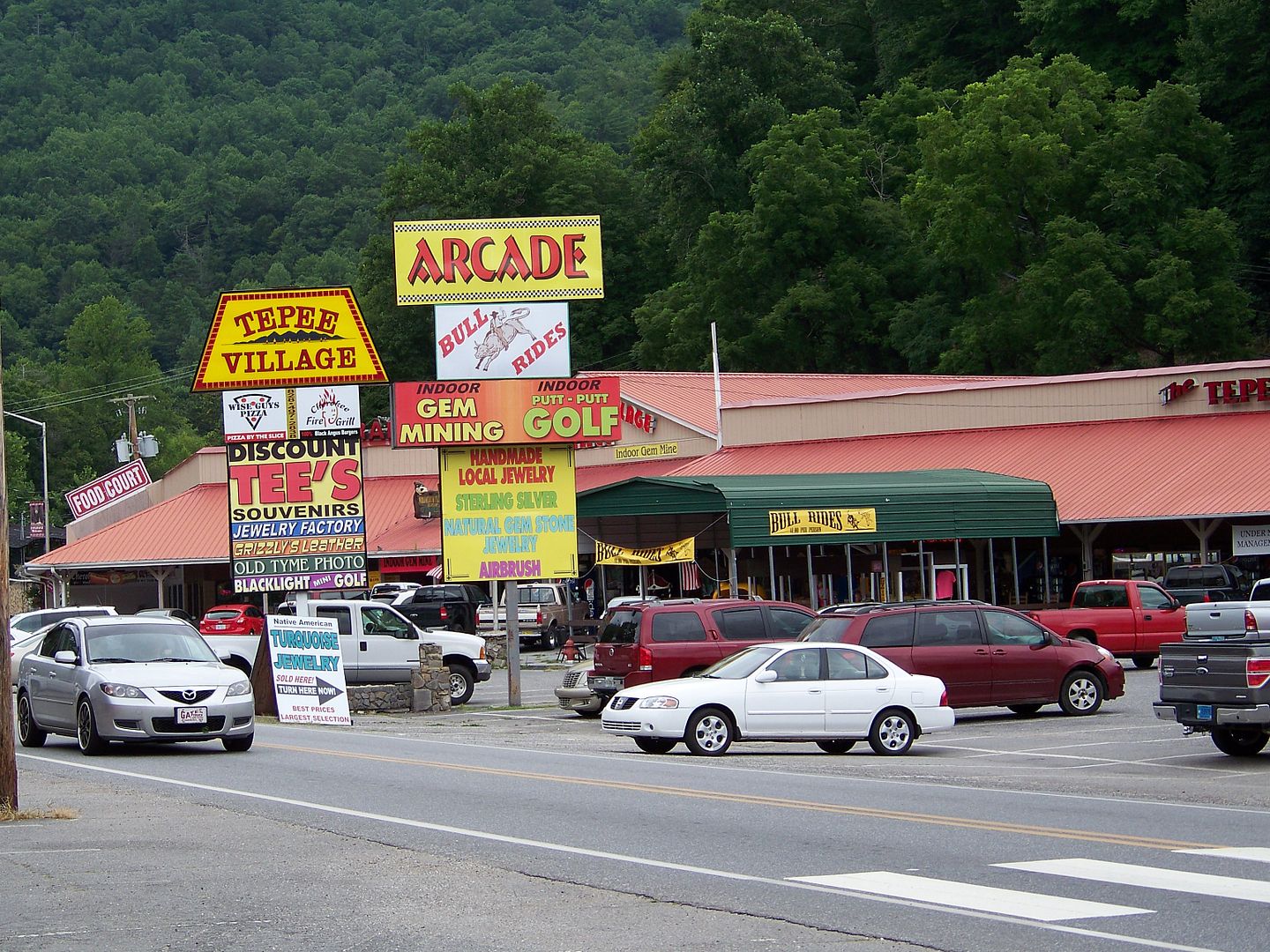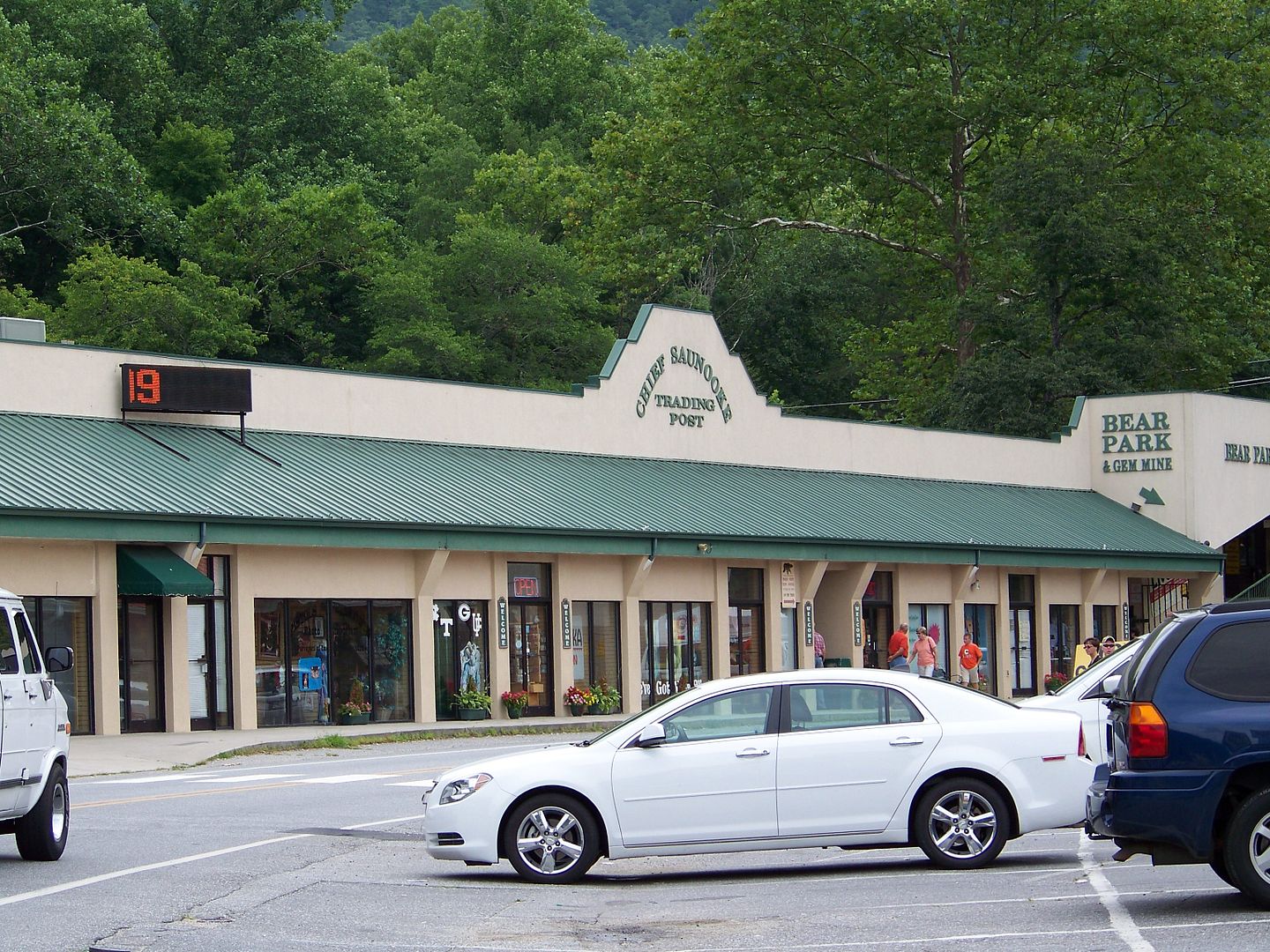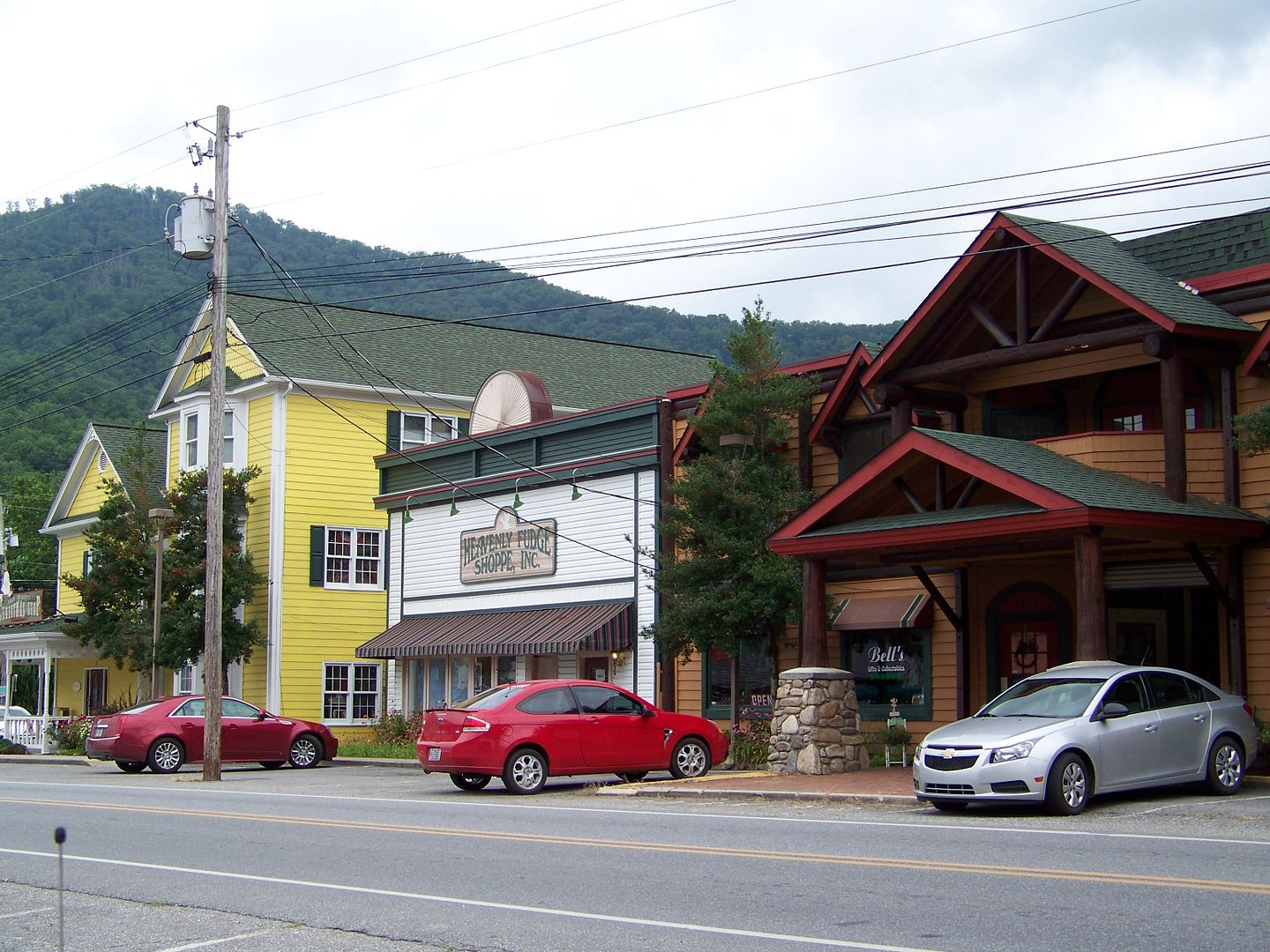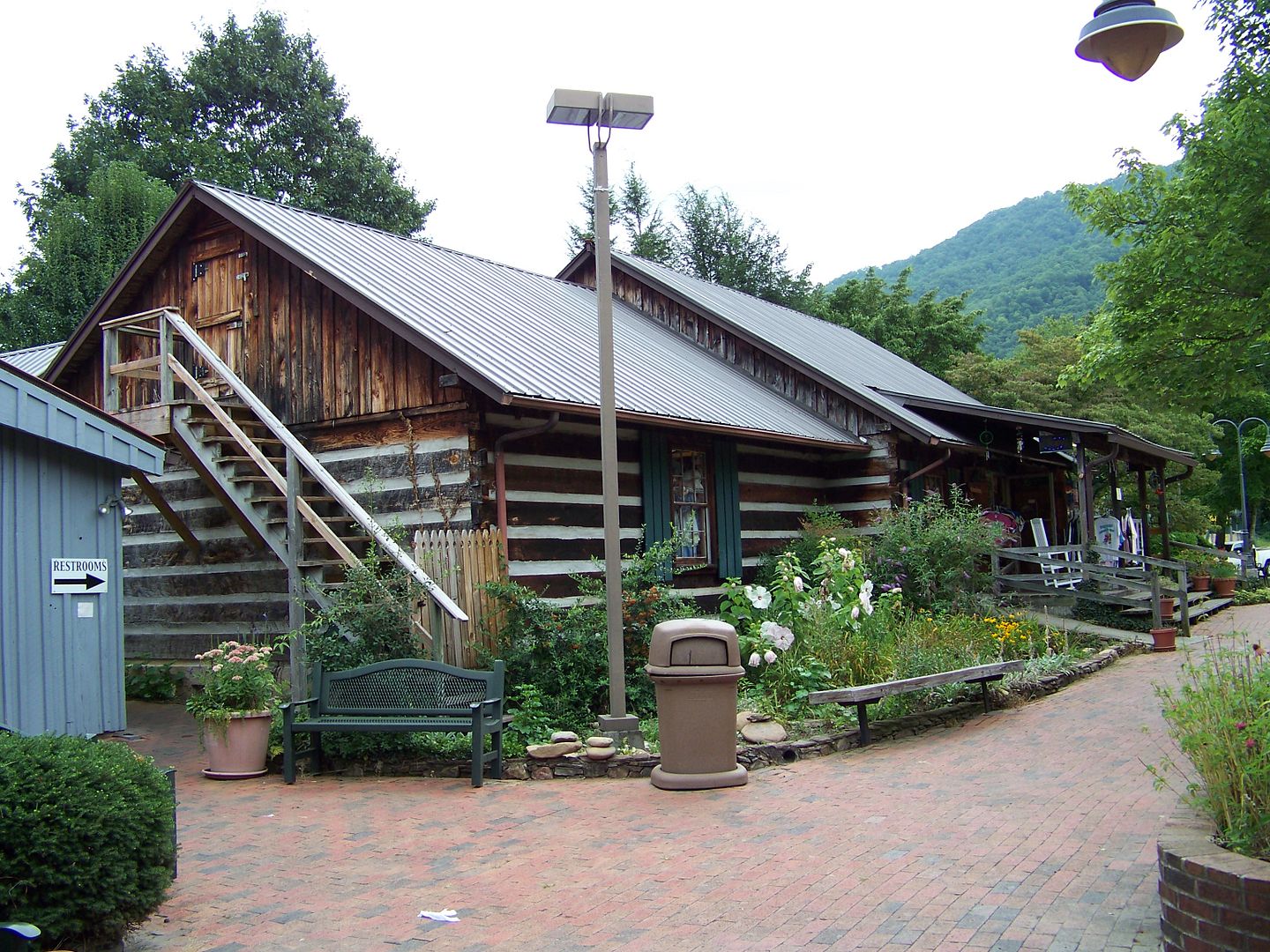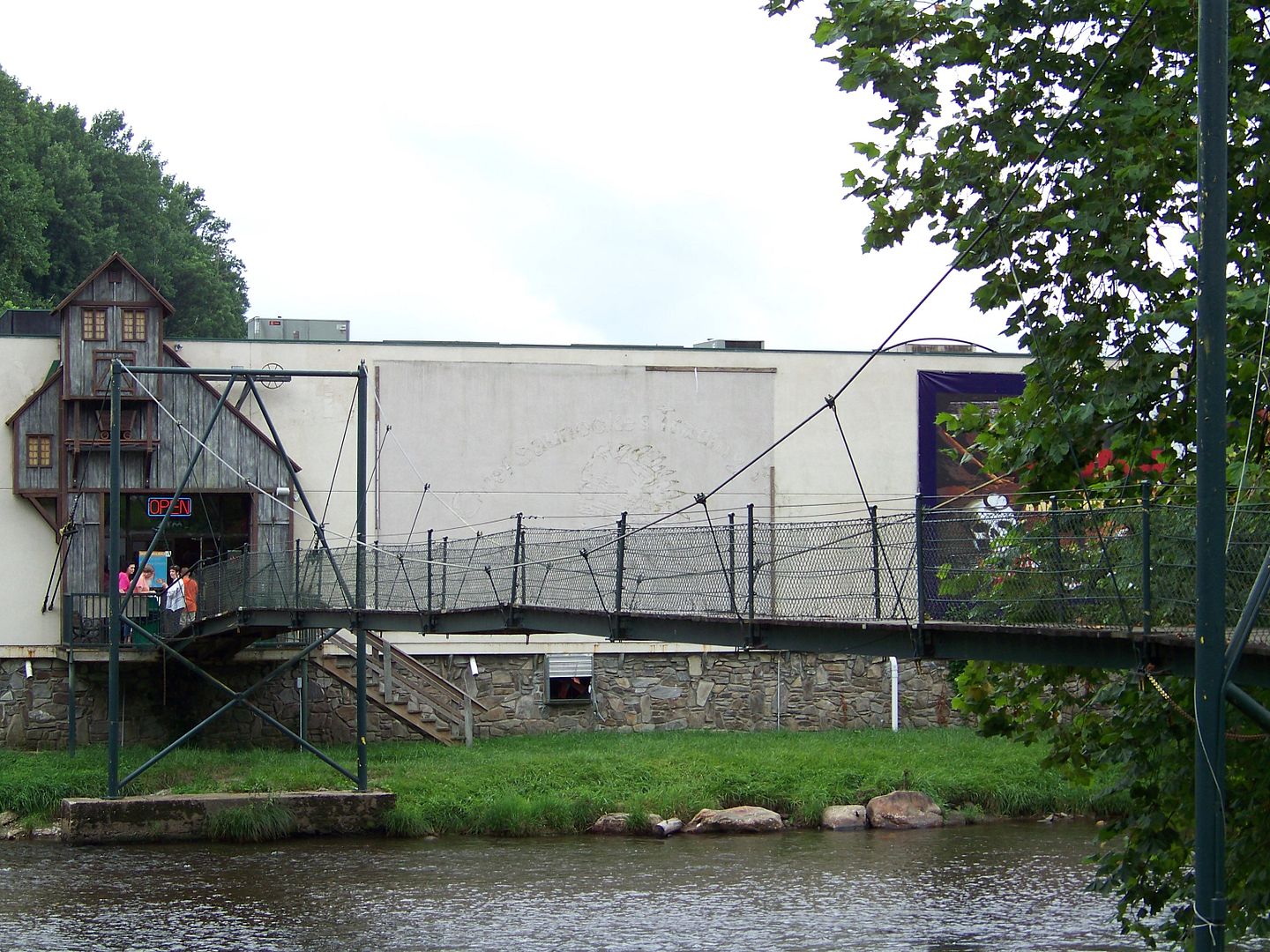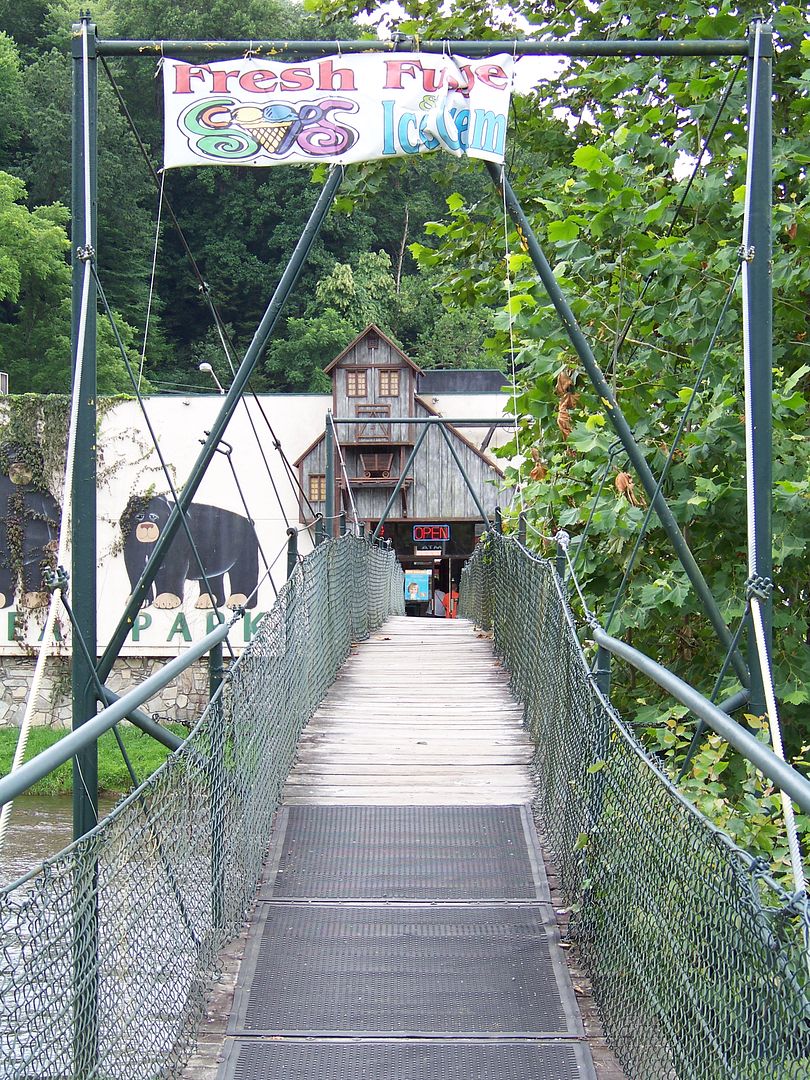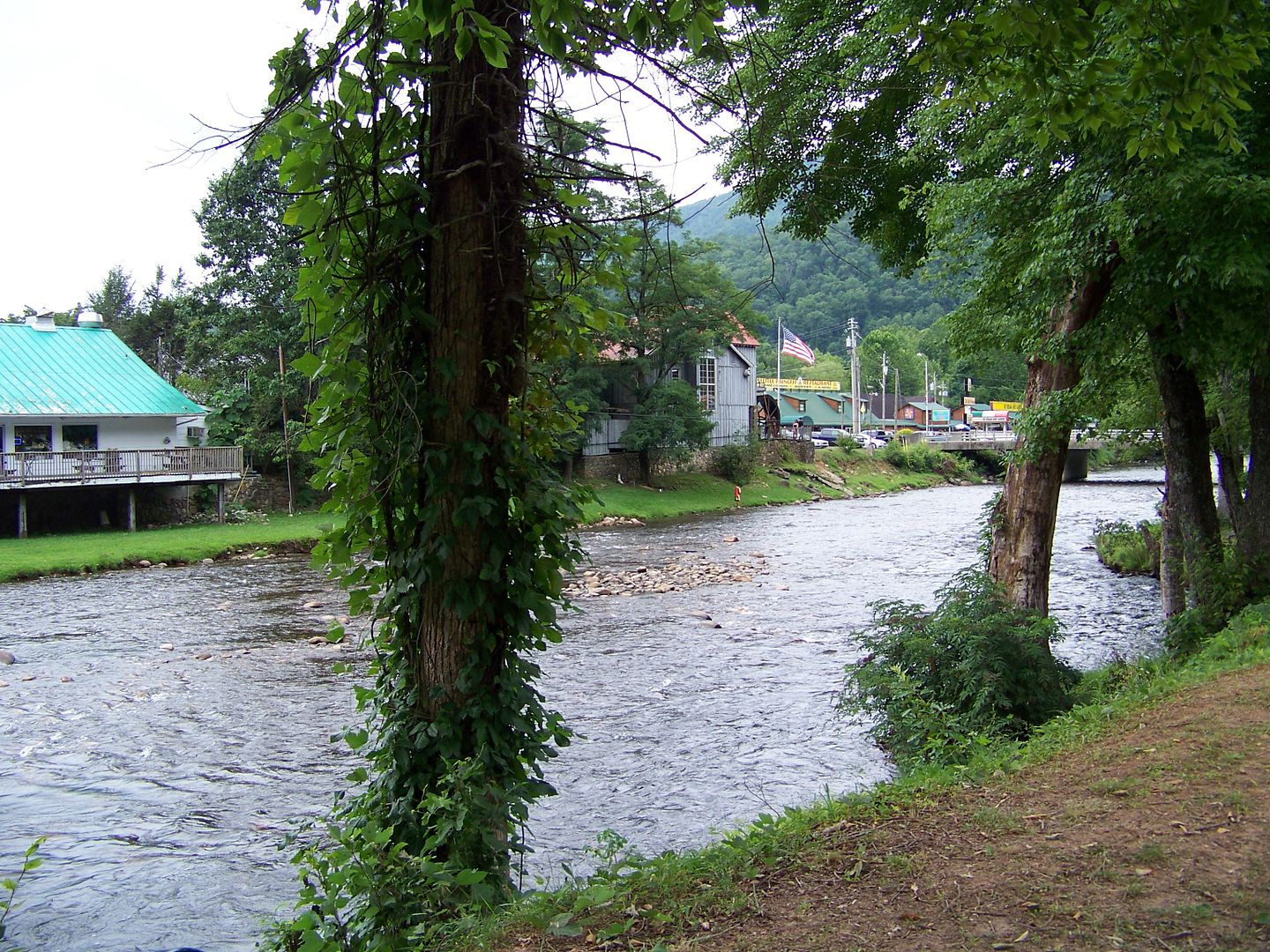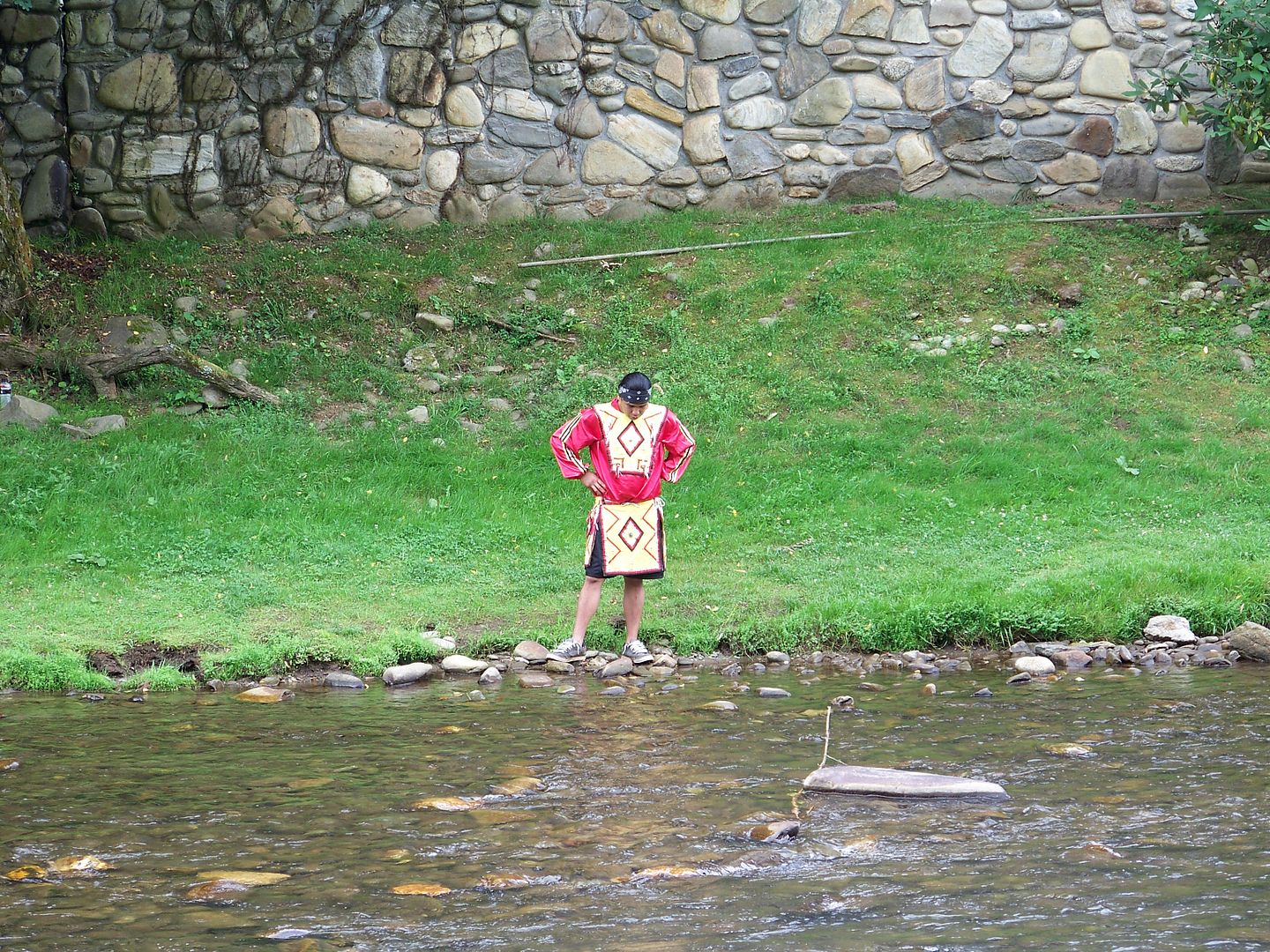 Note the lettering under the English lettering. That's Cherokee. If you wish to learn it, good luck. The people I know who have tried say it's harder than Mandarin Chinese.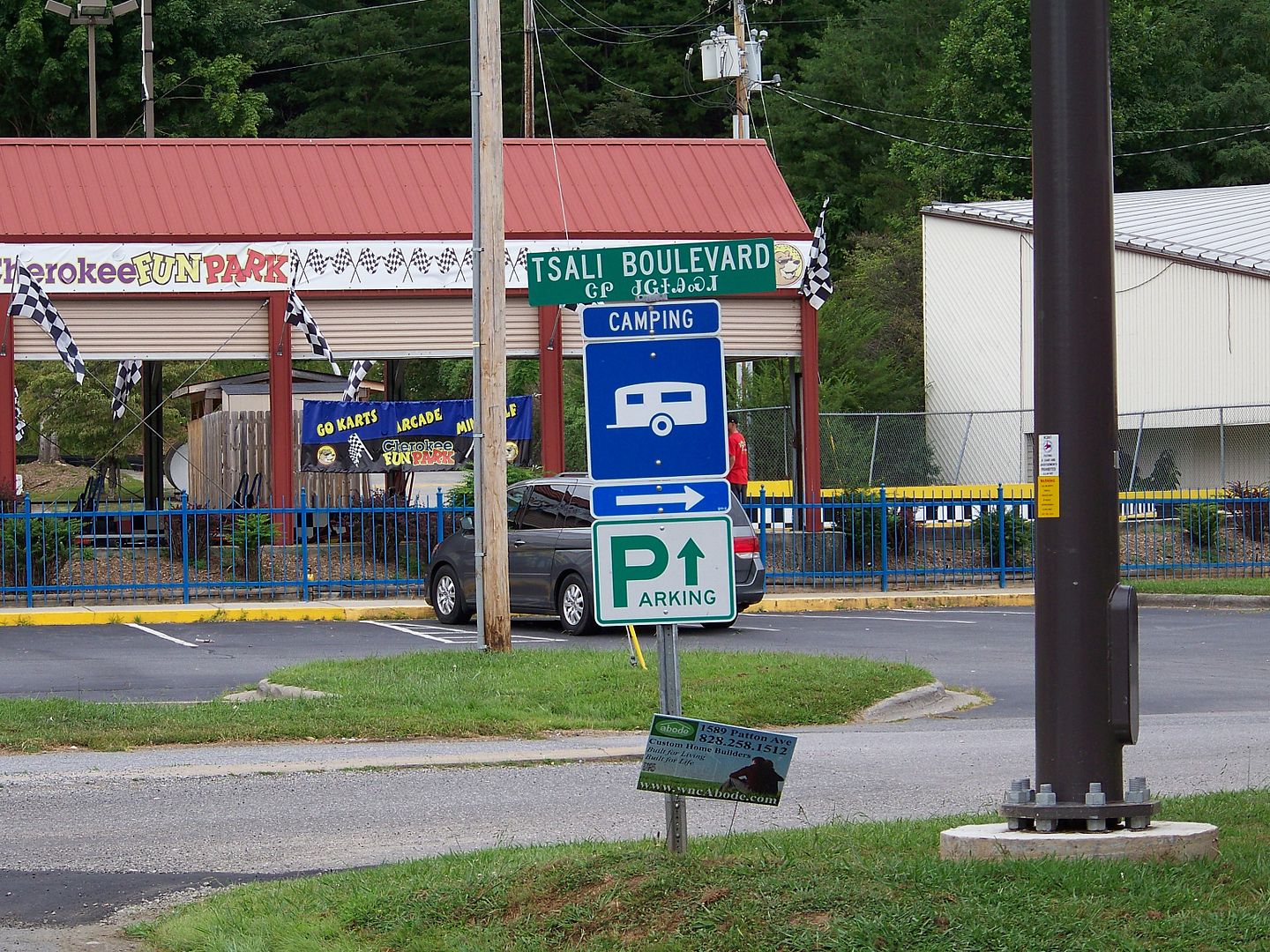 "Little Princess"... The famous "Indian princess," ancestor claimed by many, but who never actually existed.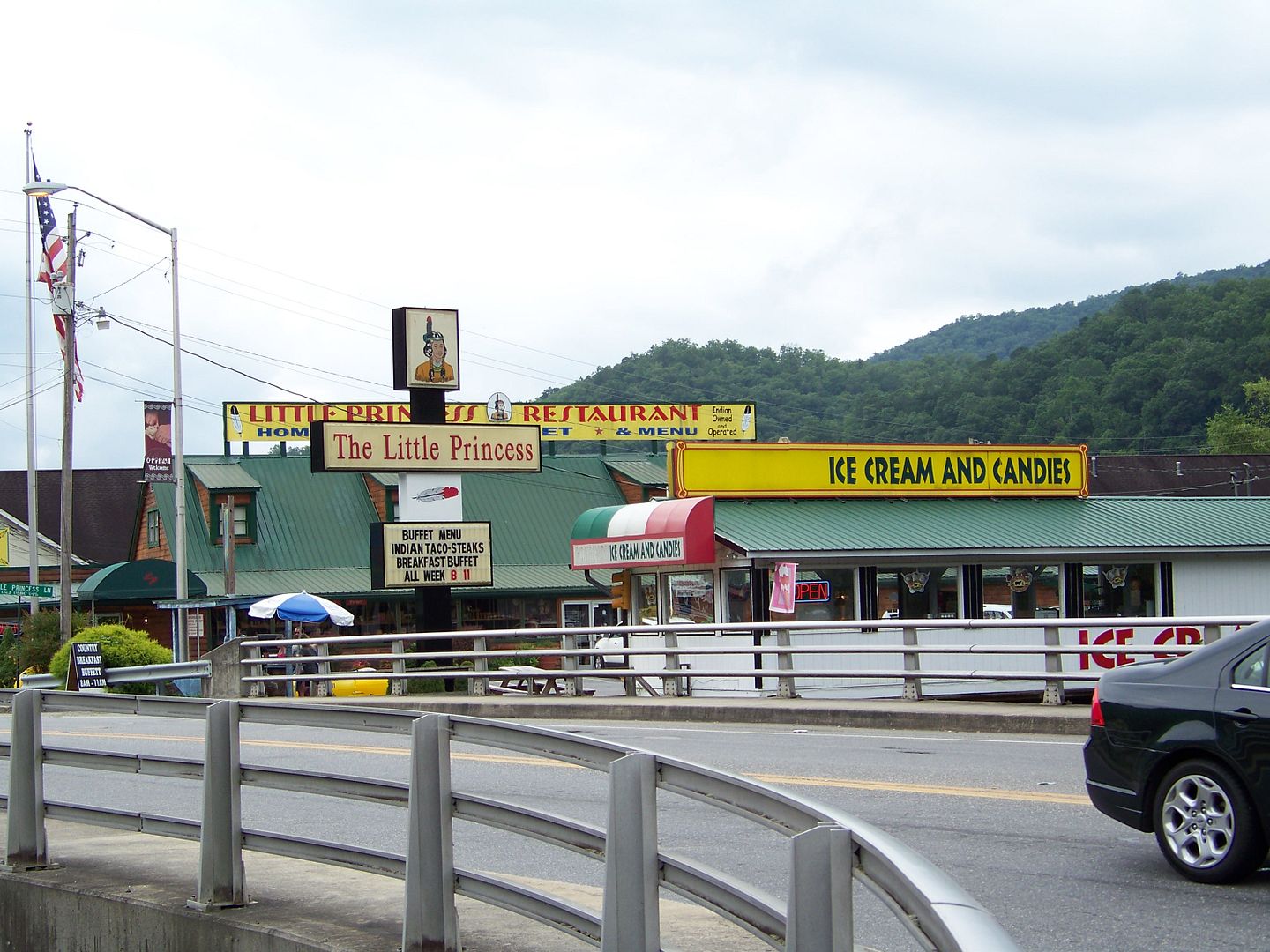 The Oconaluftee River flows through the town of Cherokee.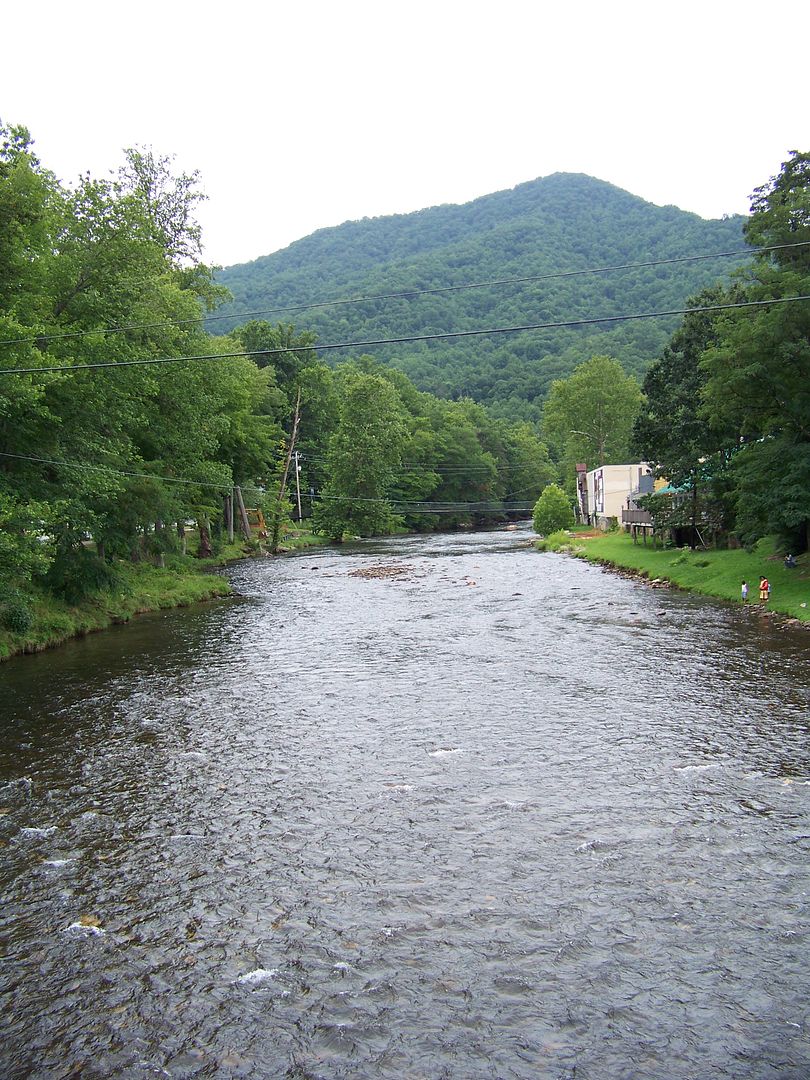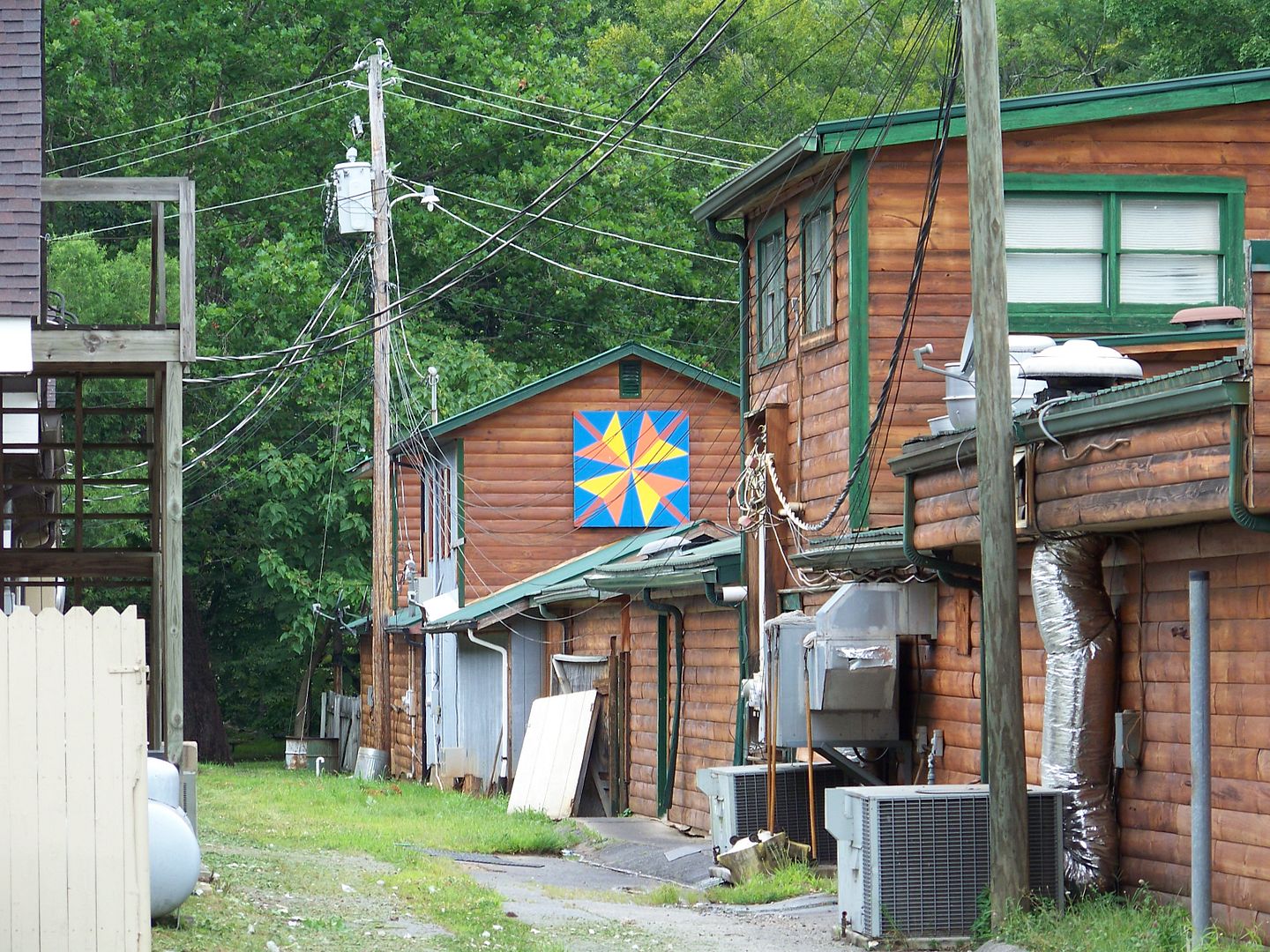 After a few hours of wandering around, we figured our room at the casino would be ready, and so we headed over to check in. This was our room.
This was the view from our window... I've stayed in highrise hotels before, and always had a view of a city -- or at least a suburb -- from the windows. It was very odd to have a view of this instead.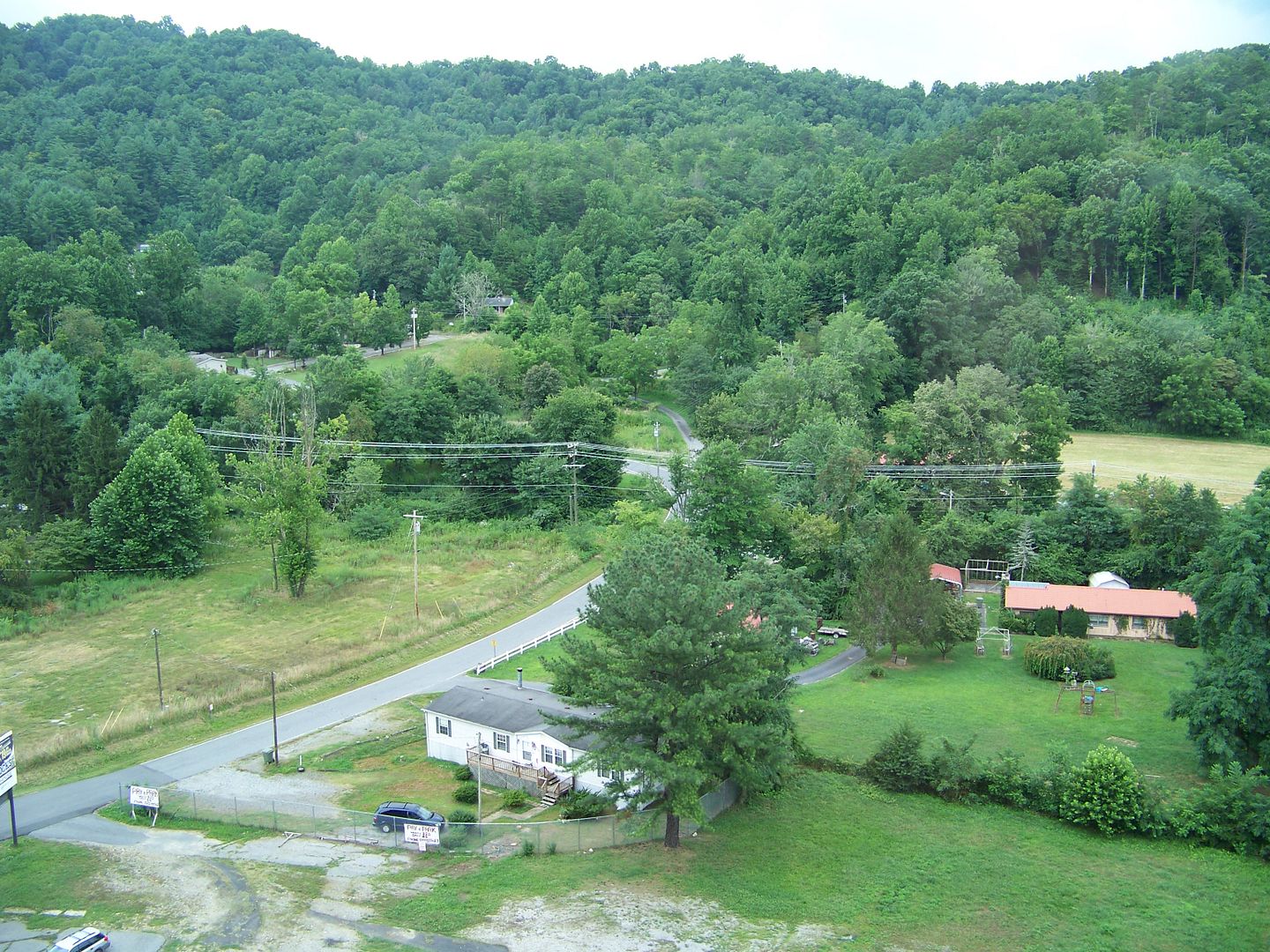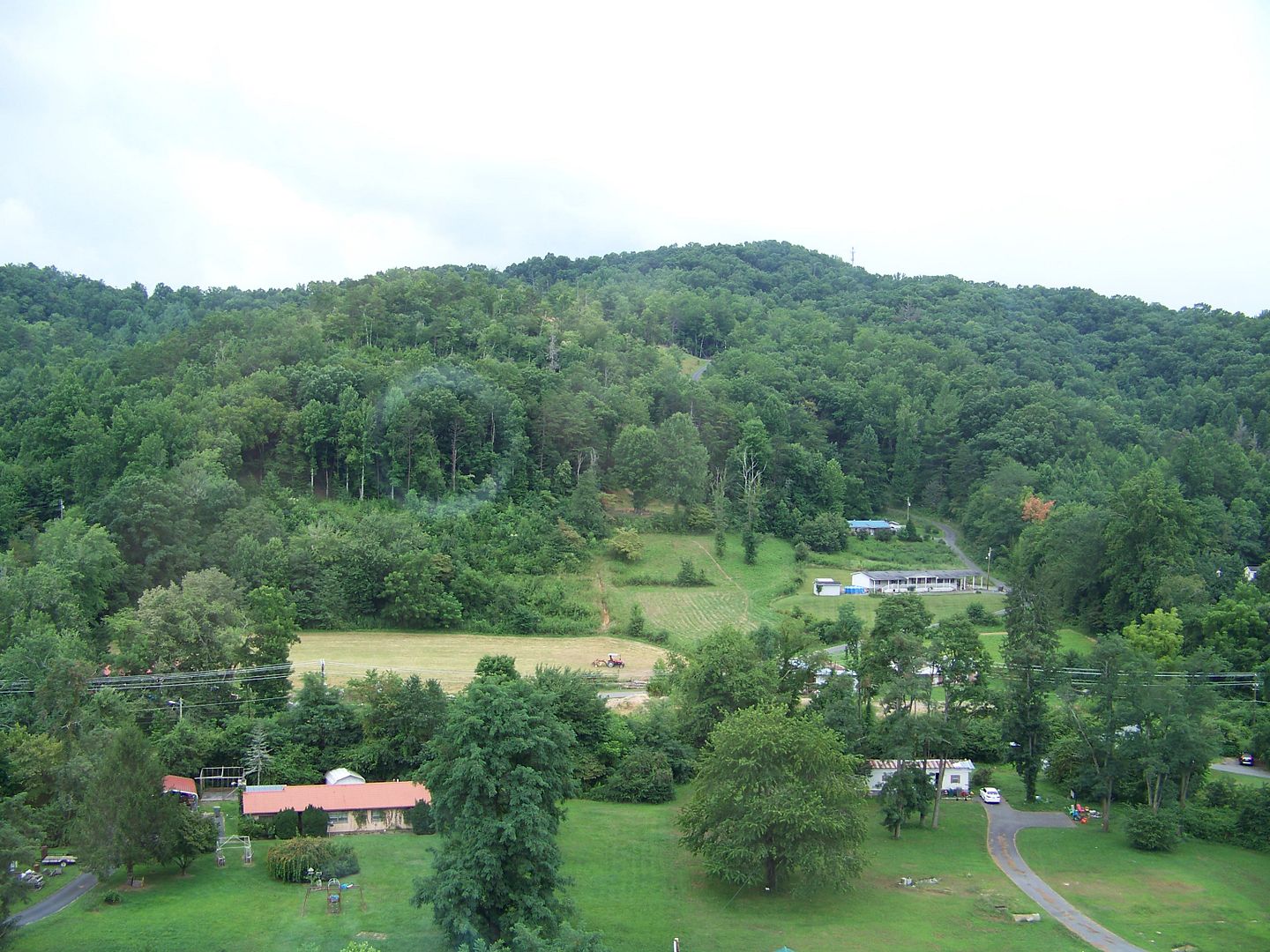 Later that evening, we were still full from our lunch, and decided to make ourselves hungry for dinner by walking around even more. This is Oconaluftee Islands Park.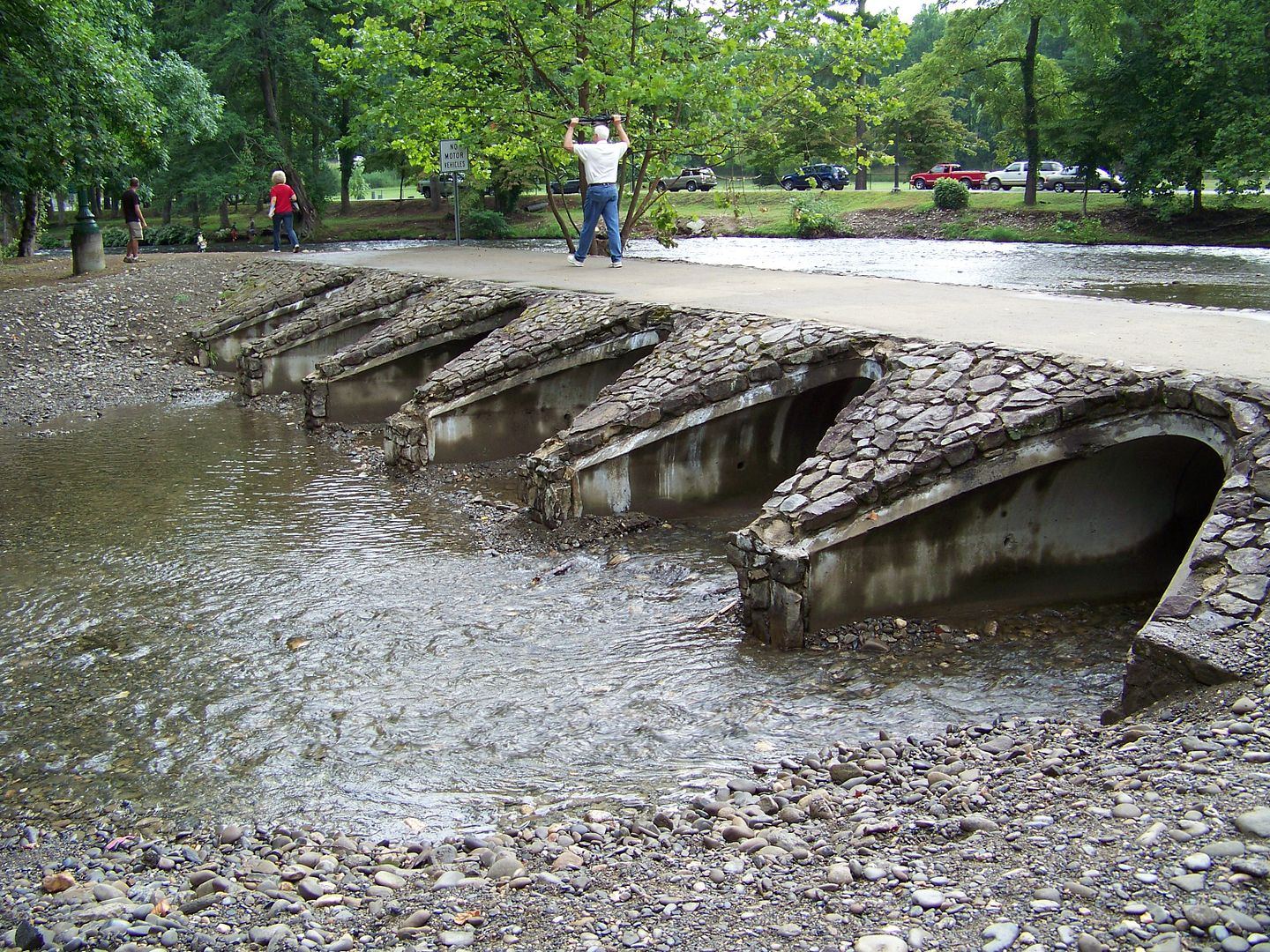 The park features a magnificent grove of that most American of plants -- bamboo. I wonder whose idea this was.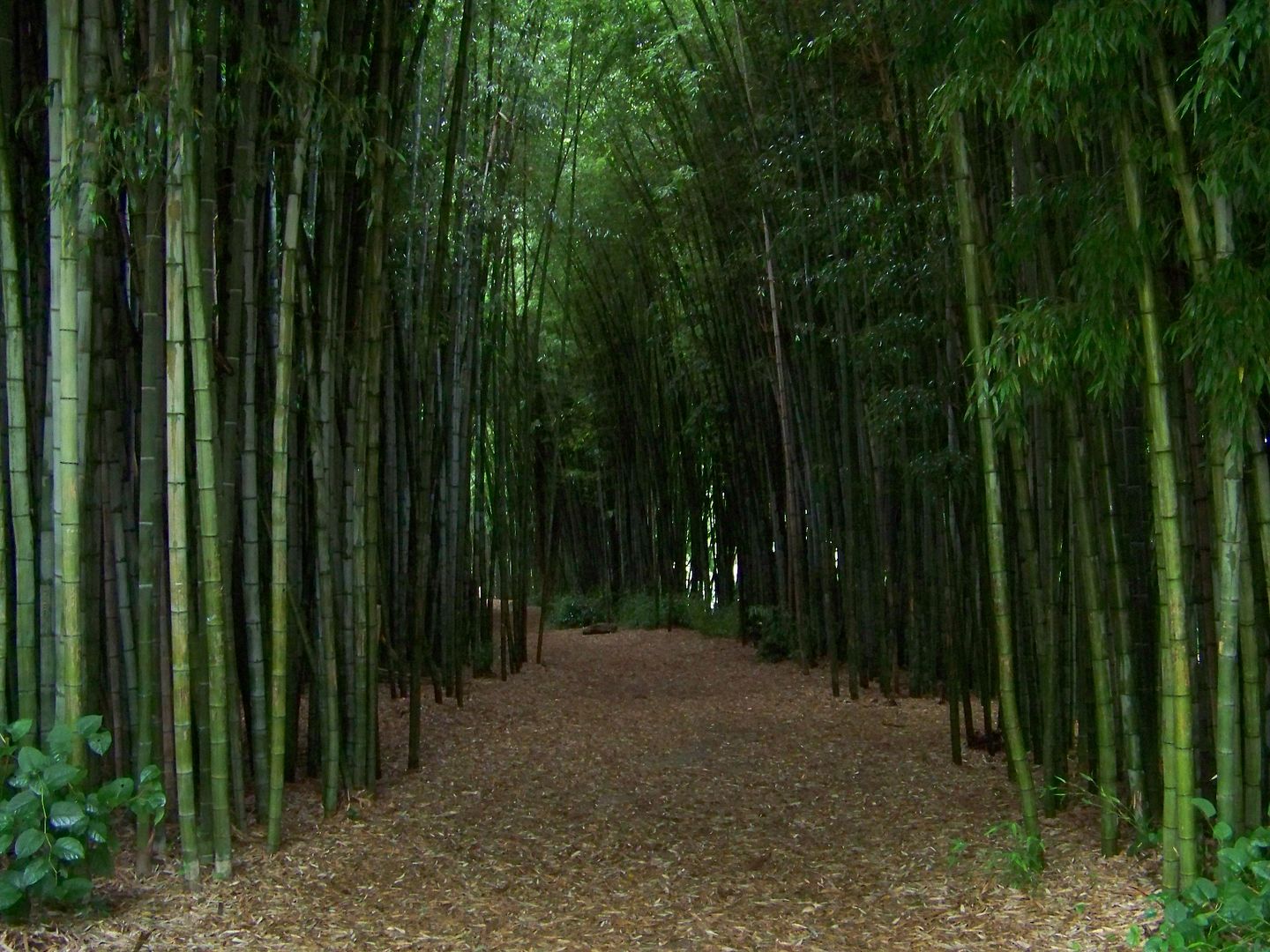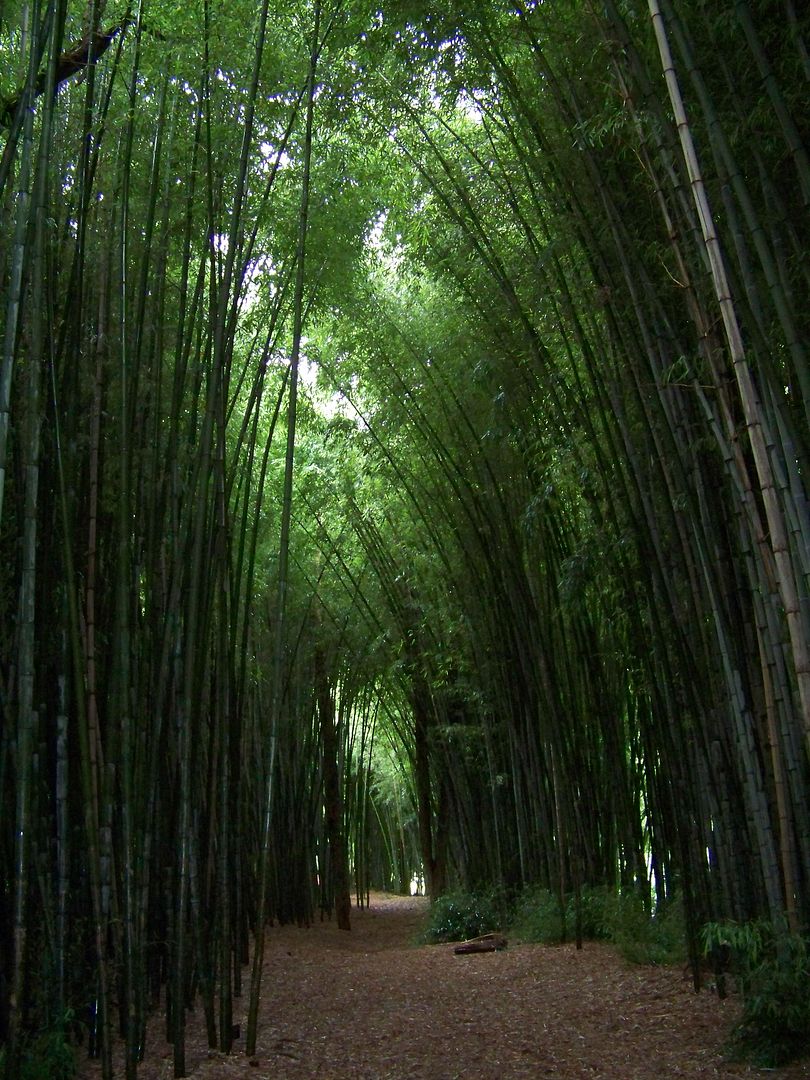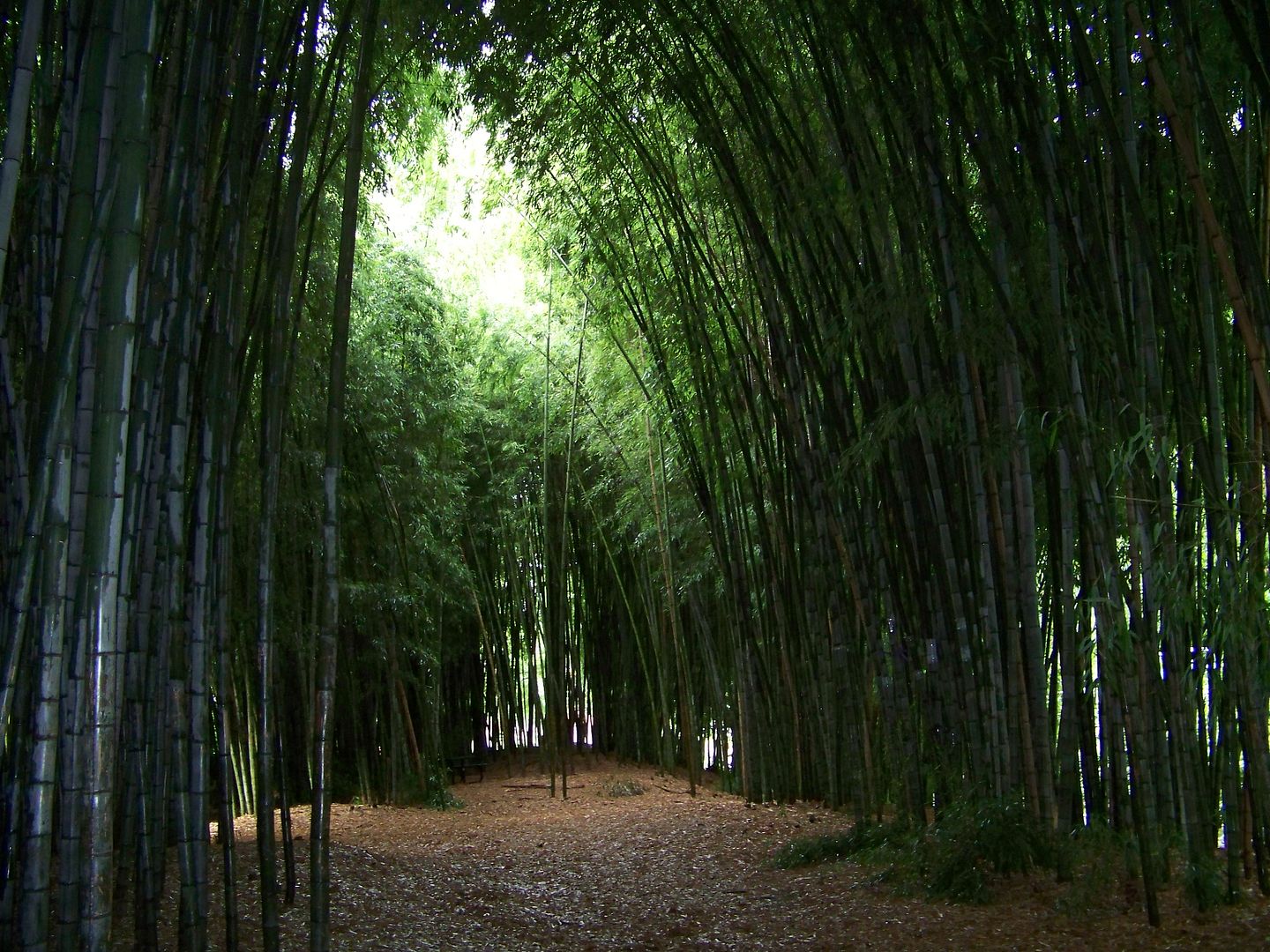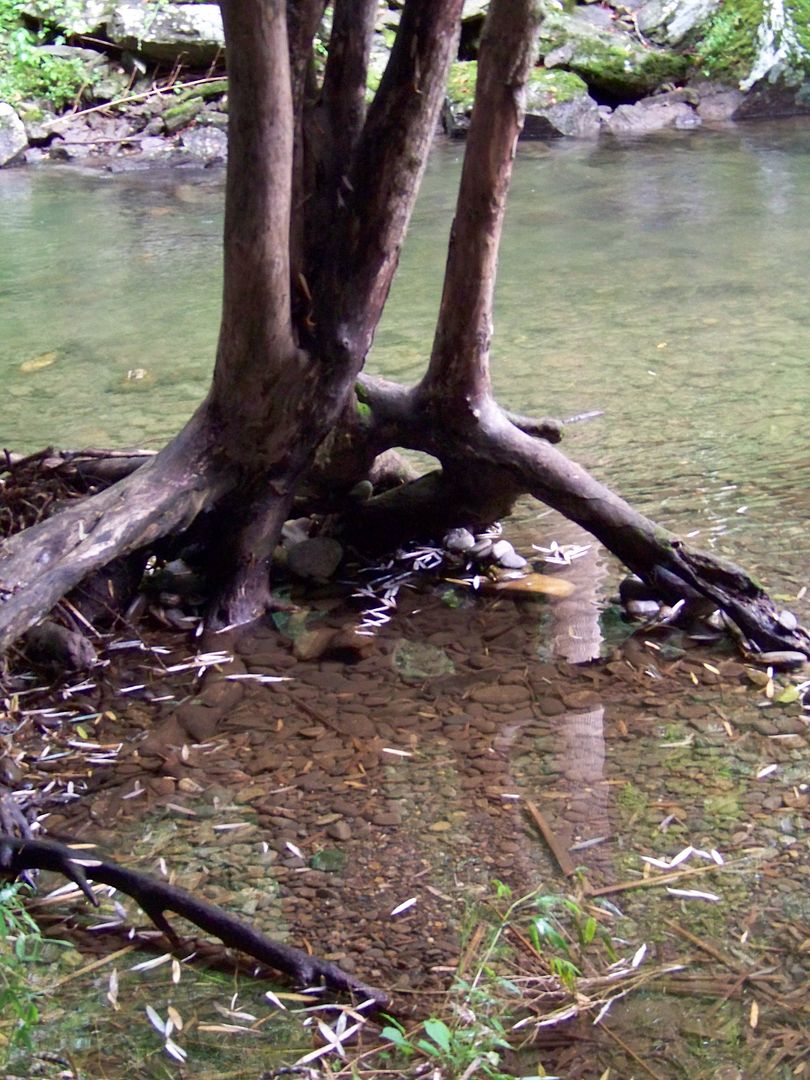 When sushi comes to the farthest corners of Western North Carolina, it is no longer exotic, much the same way that once a weenie like Justin Bieber gets a tattoo, they're no longer badass. I don't recommend this KFC, either. We ate lunch here and it was awful.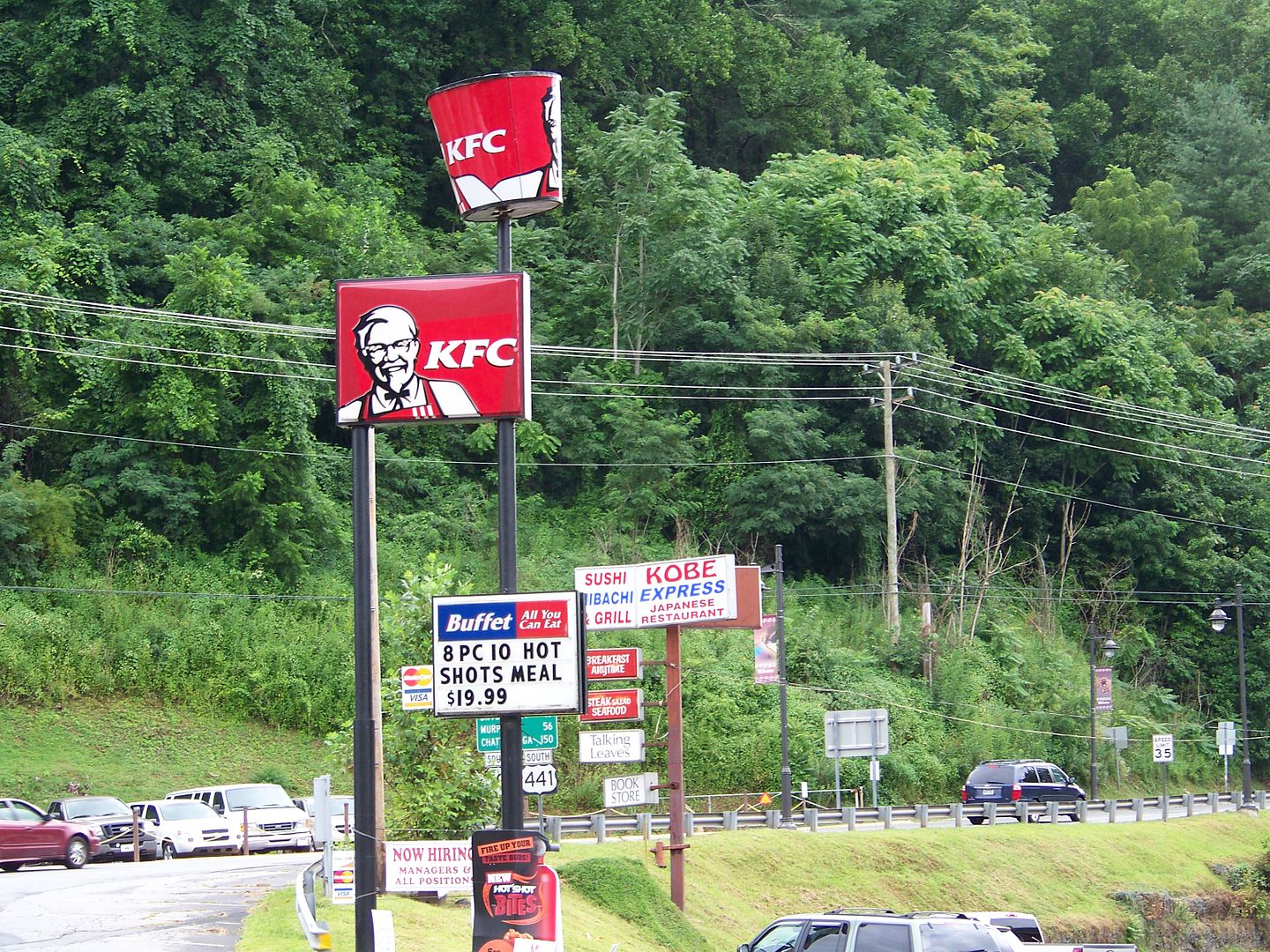 The Cherokee took to Christianity quickly and well. There are several churches throughout the community, some quite old and quite lovely. Unfortunately we didn't have time to stop for pictures at the two that were the nicest -- old rock churches dating to the 1840's.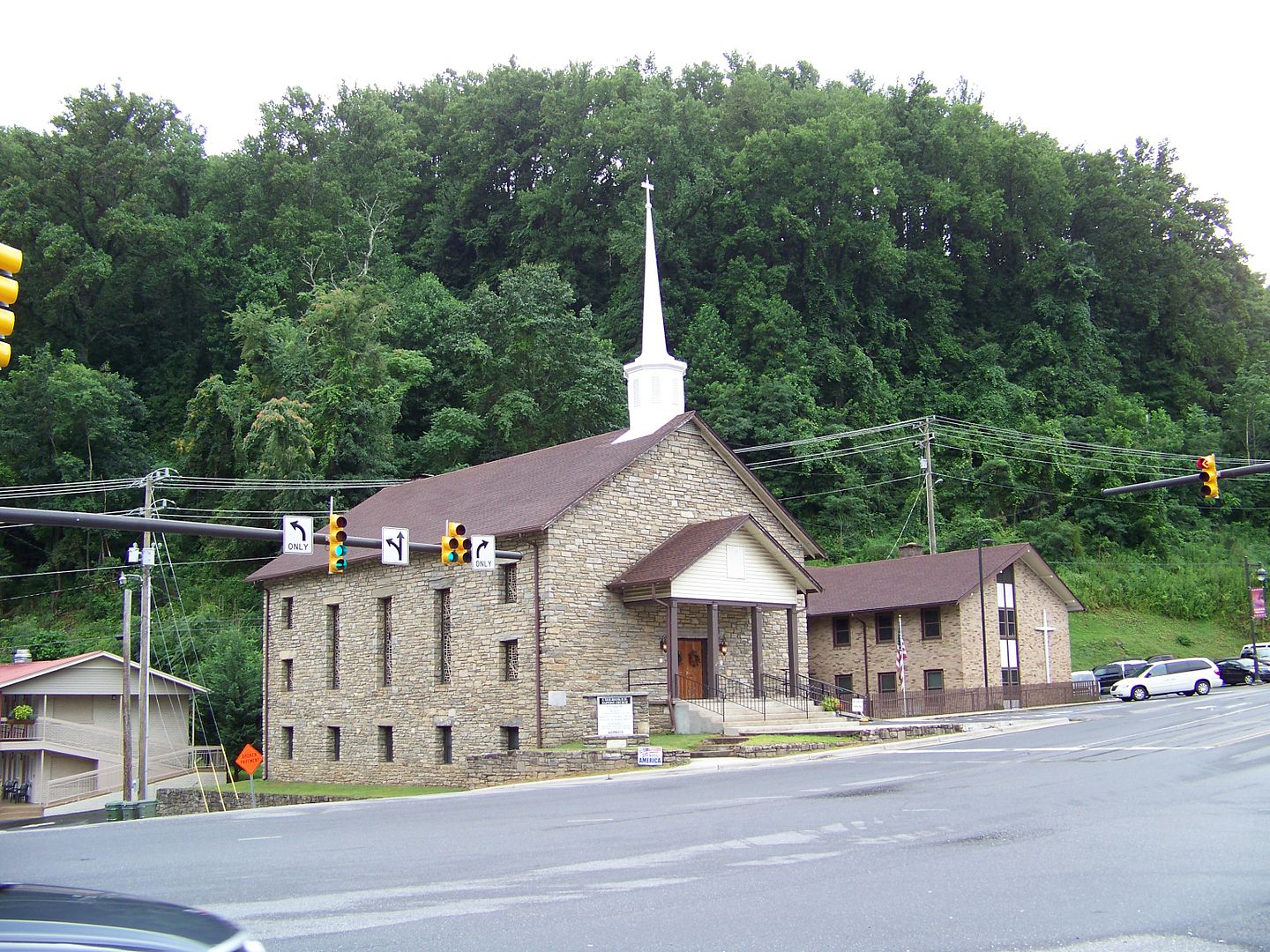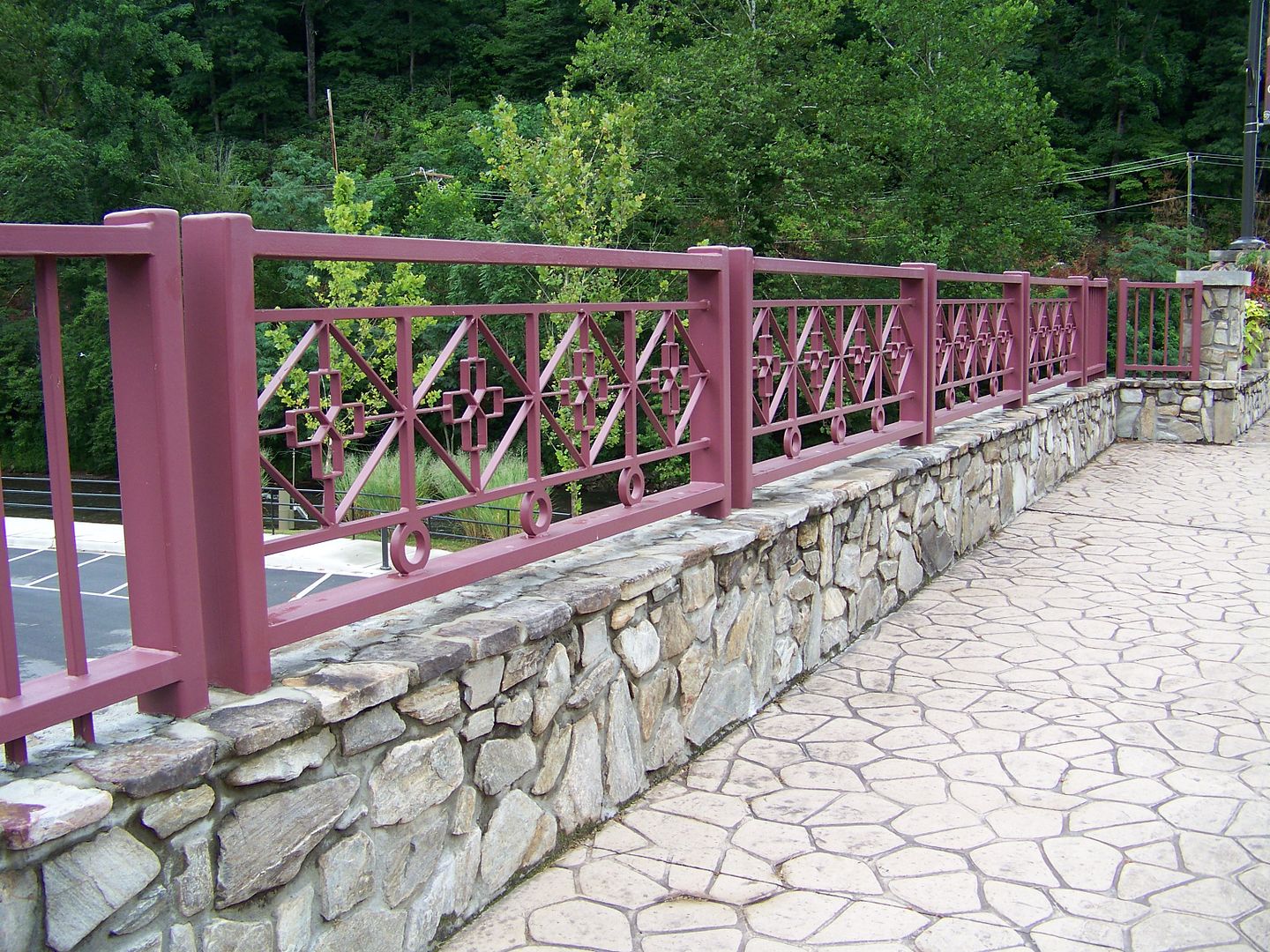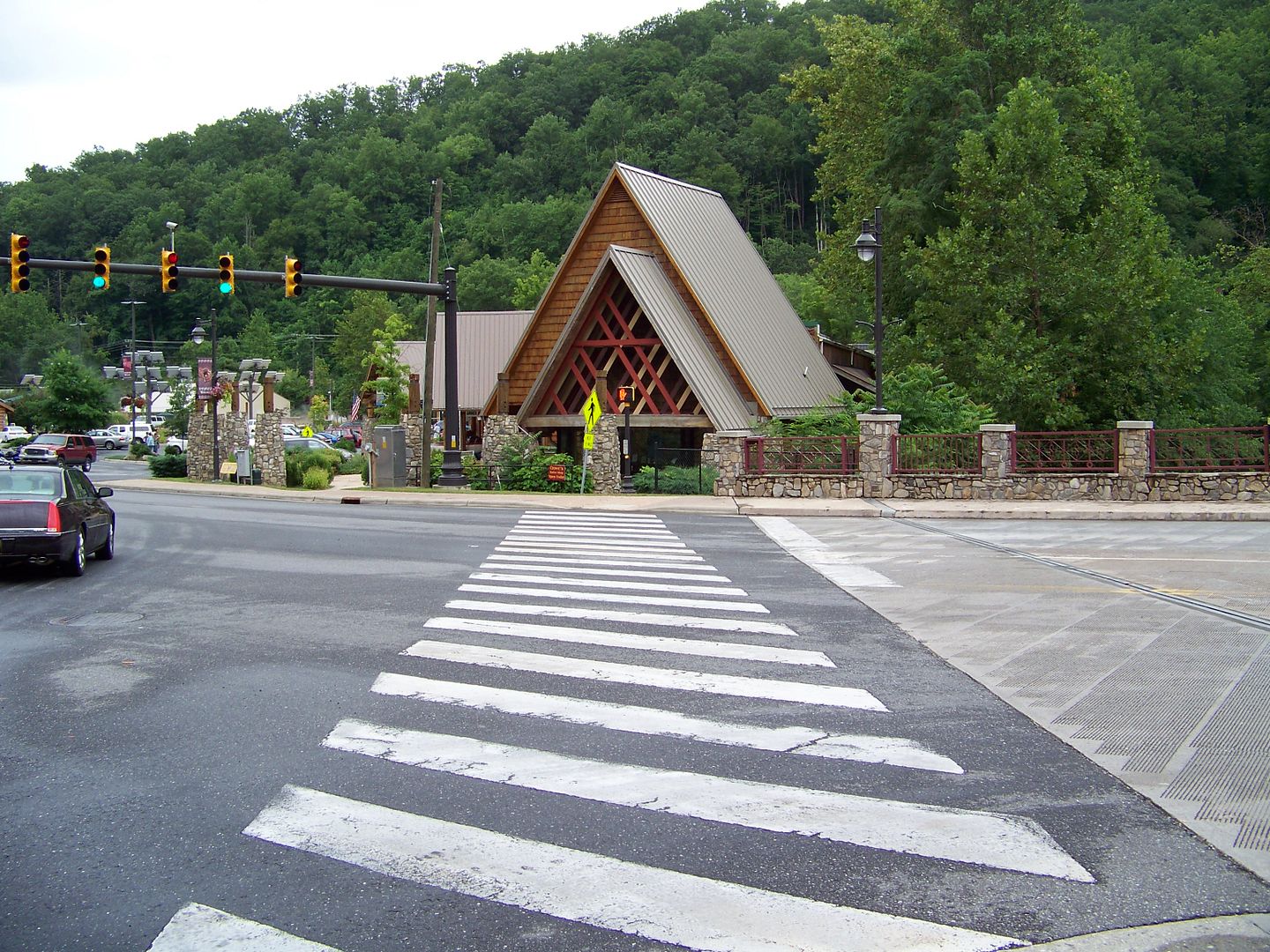 Bustling downtown Cherokee.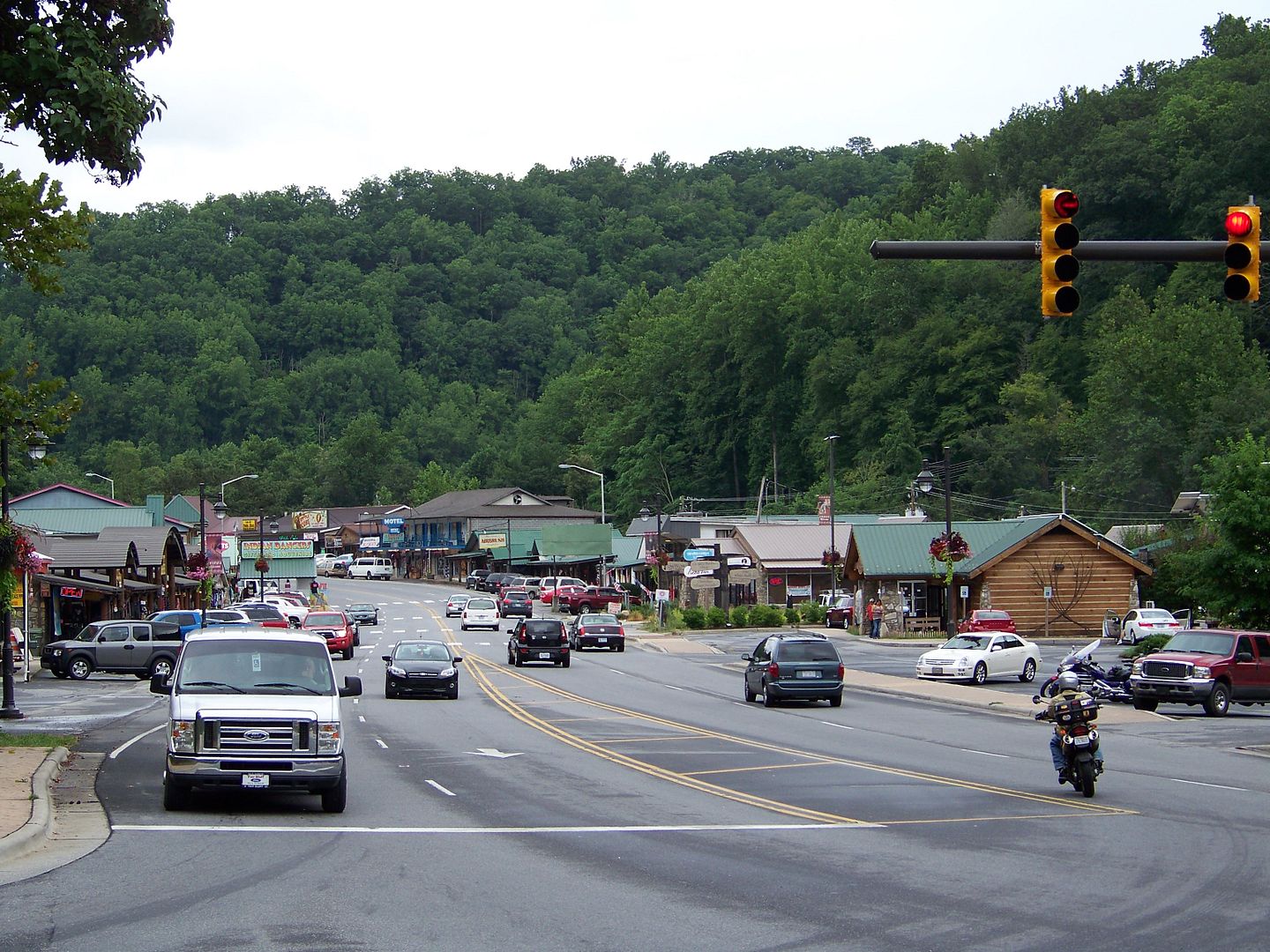 This was dinner... Surprisingly good, and surprisingly diverse. That's one thing you notice about Cherokee... The casino draws an interesting crowd -- white, black, Asian, Native American, Indian -- they all come. Our waitress here was from the Dominican Republic, and earlier in the day we had seen an Indian family walking along enjoying the sights -- the ladies looking lovely in flowing silk saris.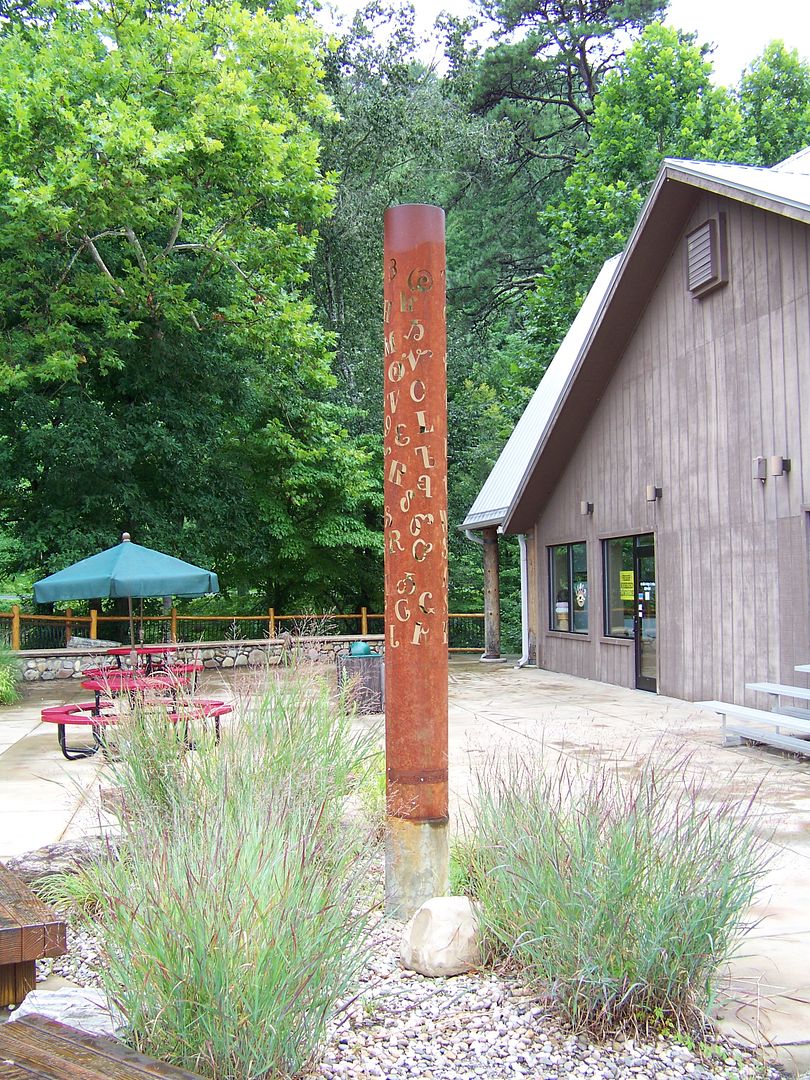 This is one of the more unique fountains I've ever seen. That's not hot water -- just mist. After all, Cherokee is located in the Great Smokey Mountains, and what better to mark that fact than with a mist fountain that also evokes a flowing mountain stream? Lots of children were playing in it and having a grand time.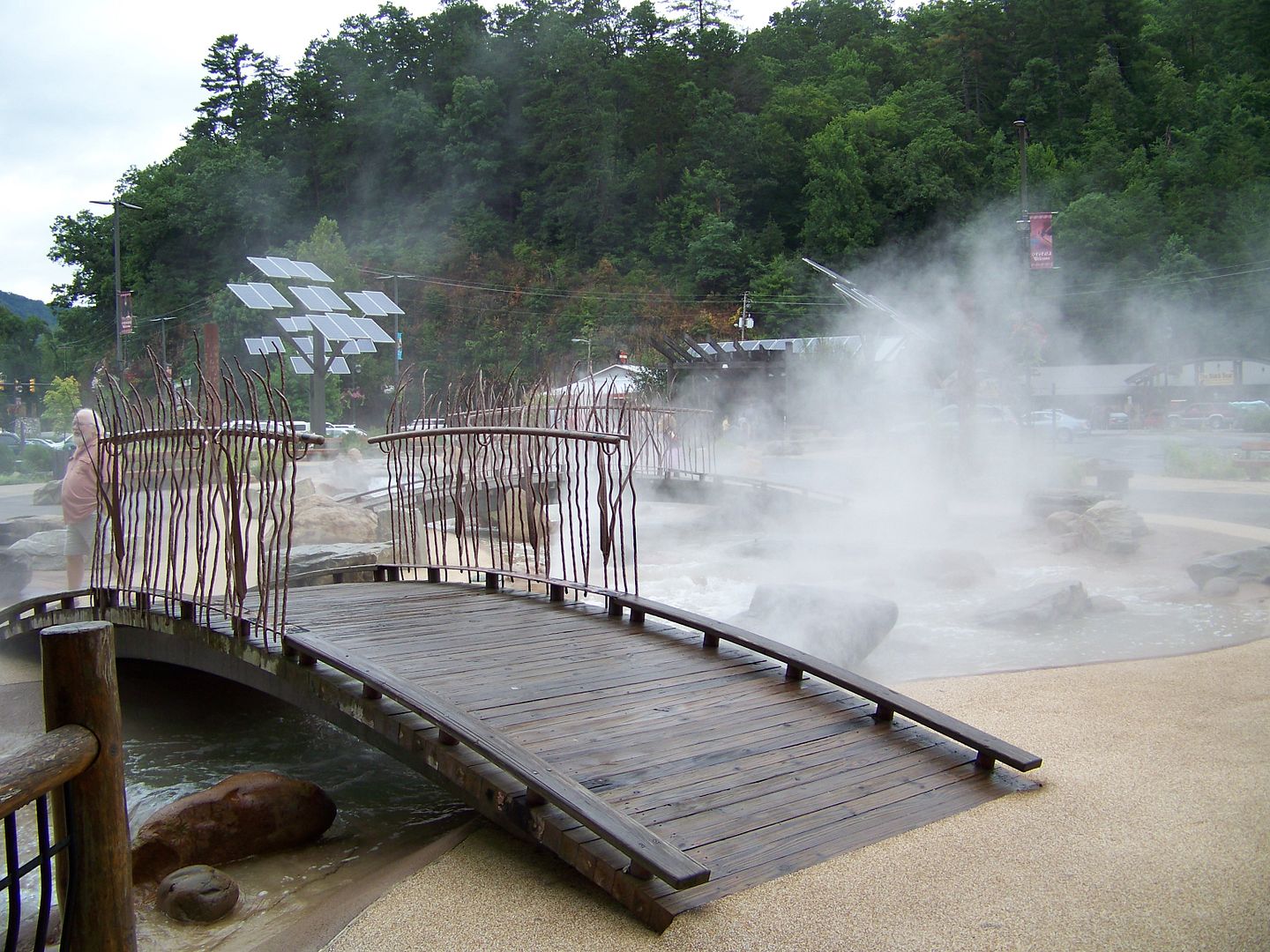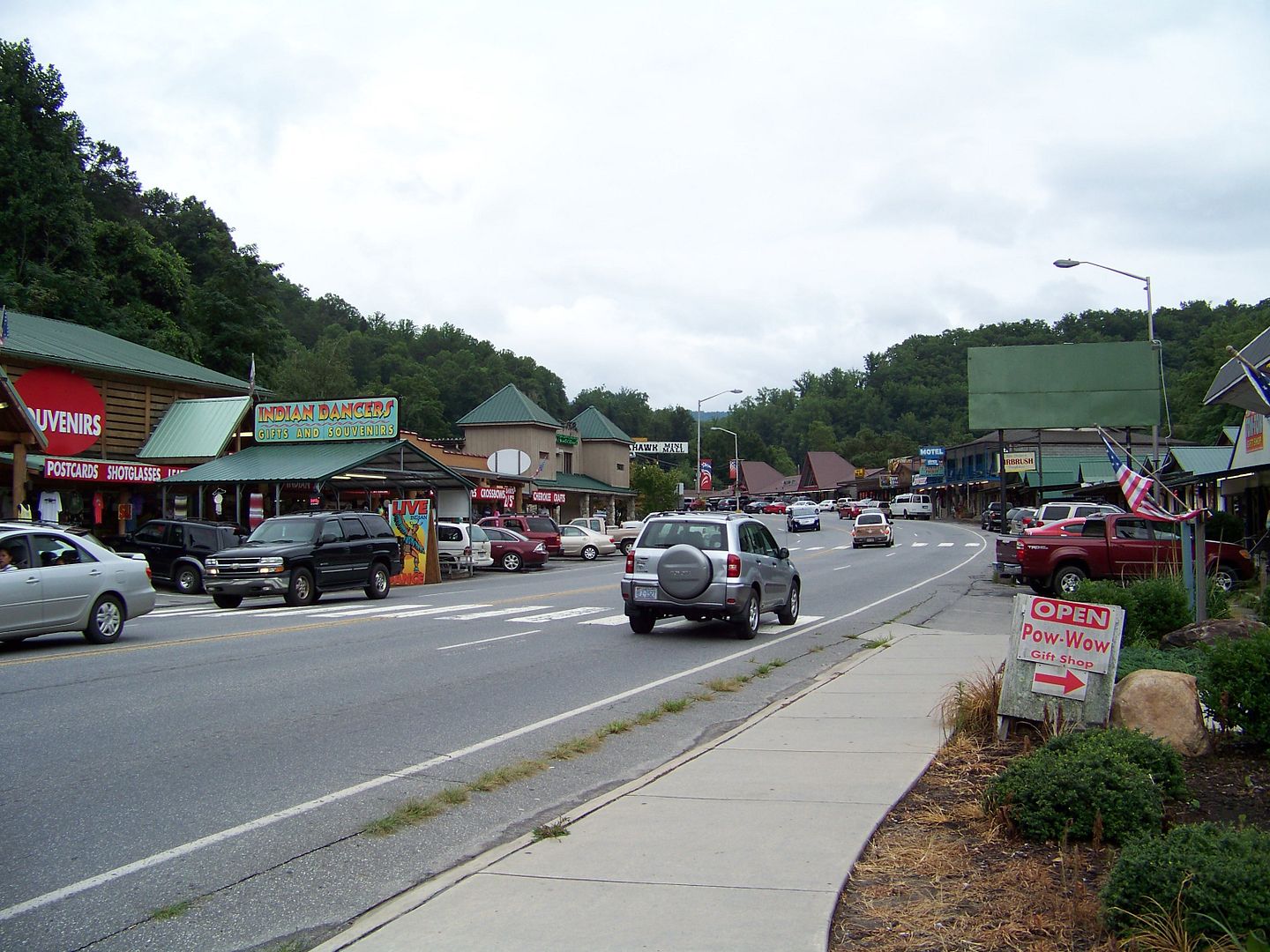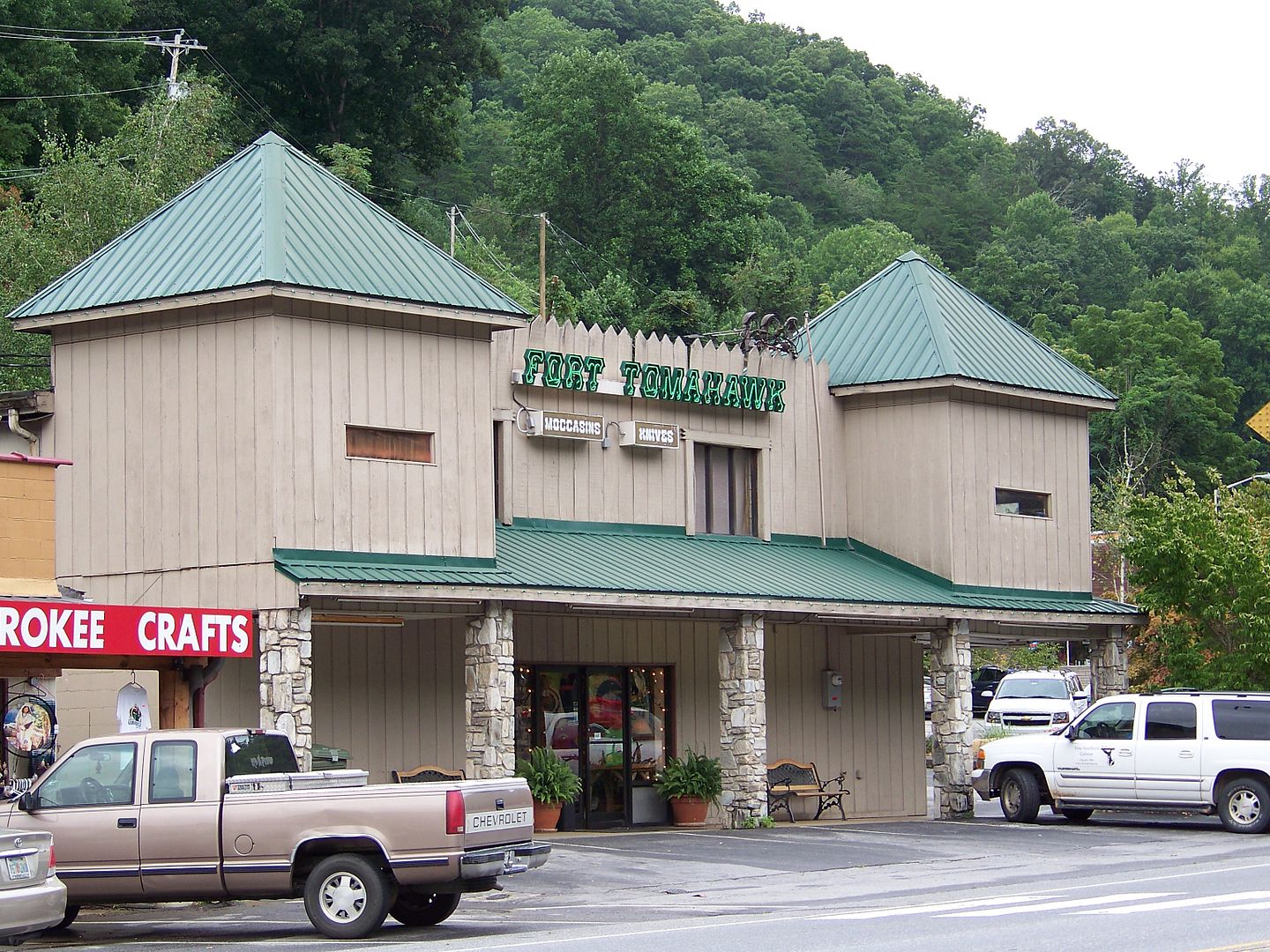 The story of Cherokee in one image: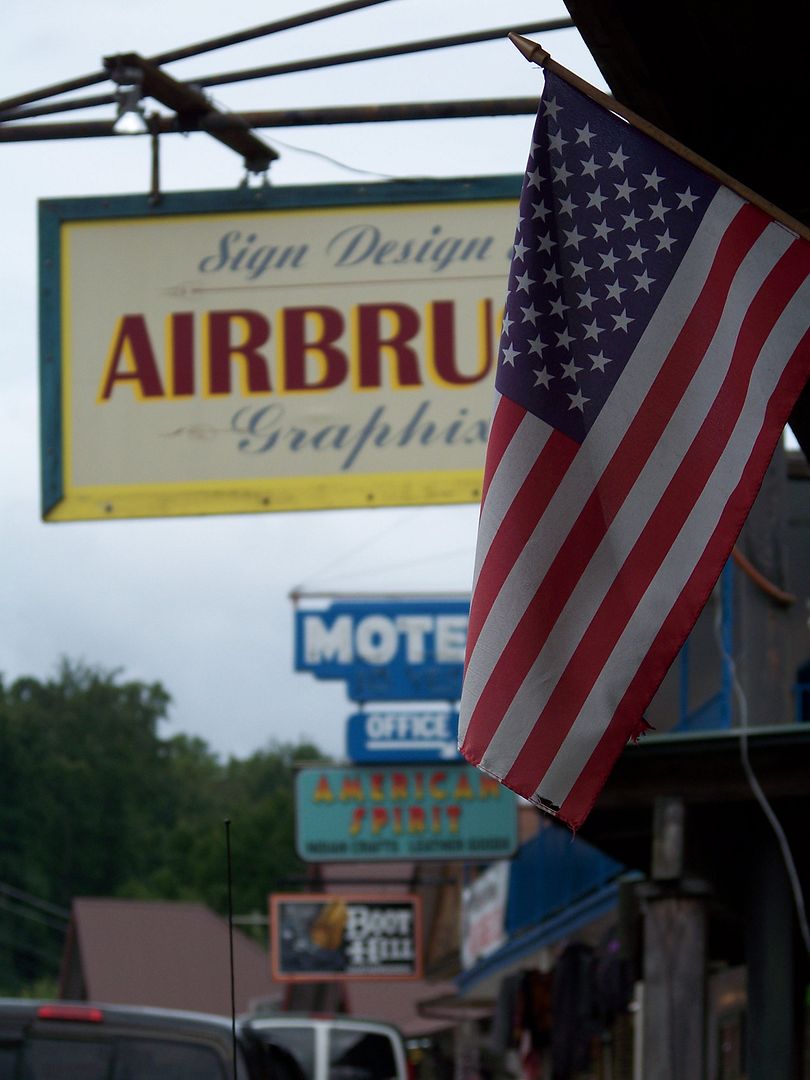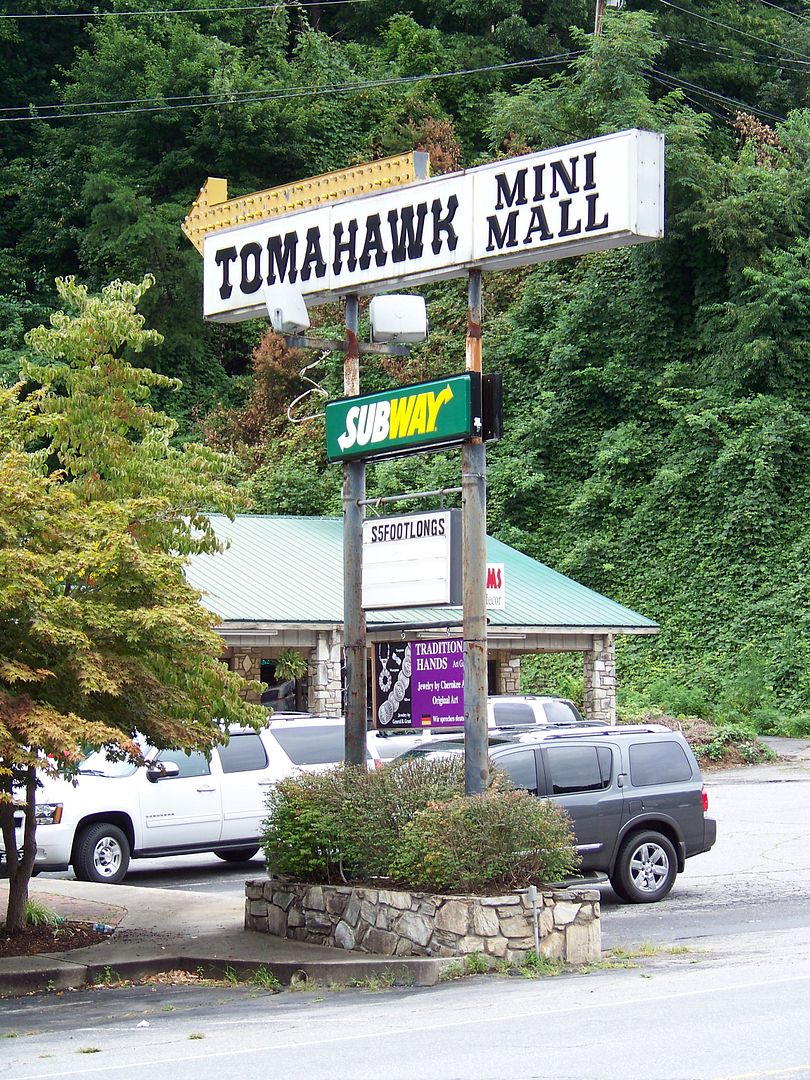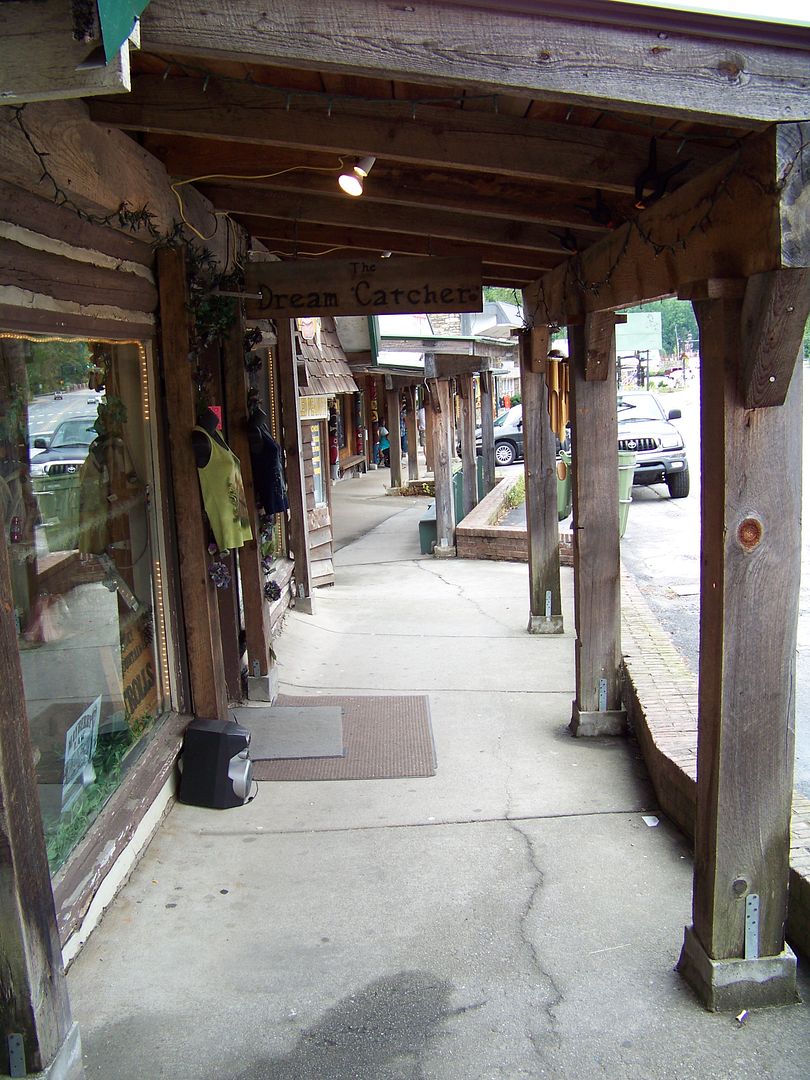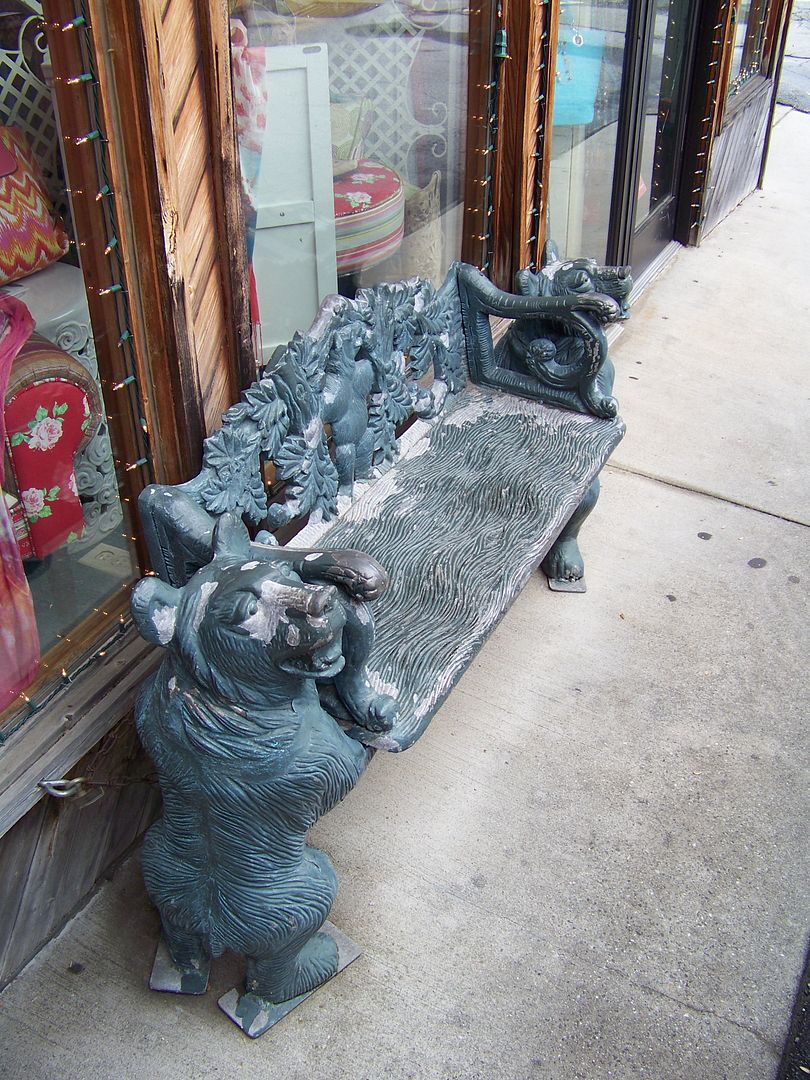 Their fudge may indeed be heavenly, but I recommend that from the Country Maid. I finished my block of salted caramel fudge about four hours ago and have not stopped craving it since.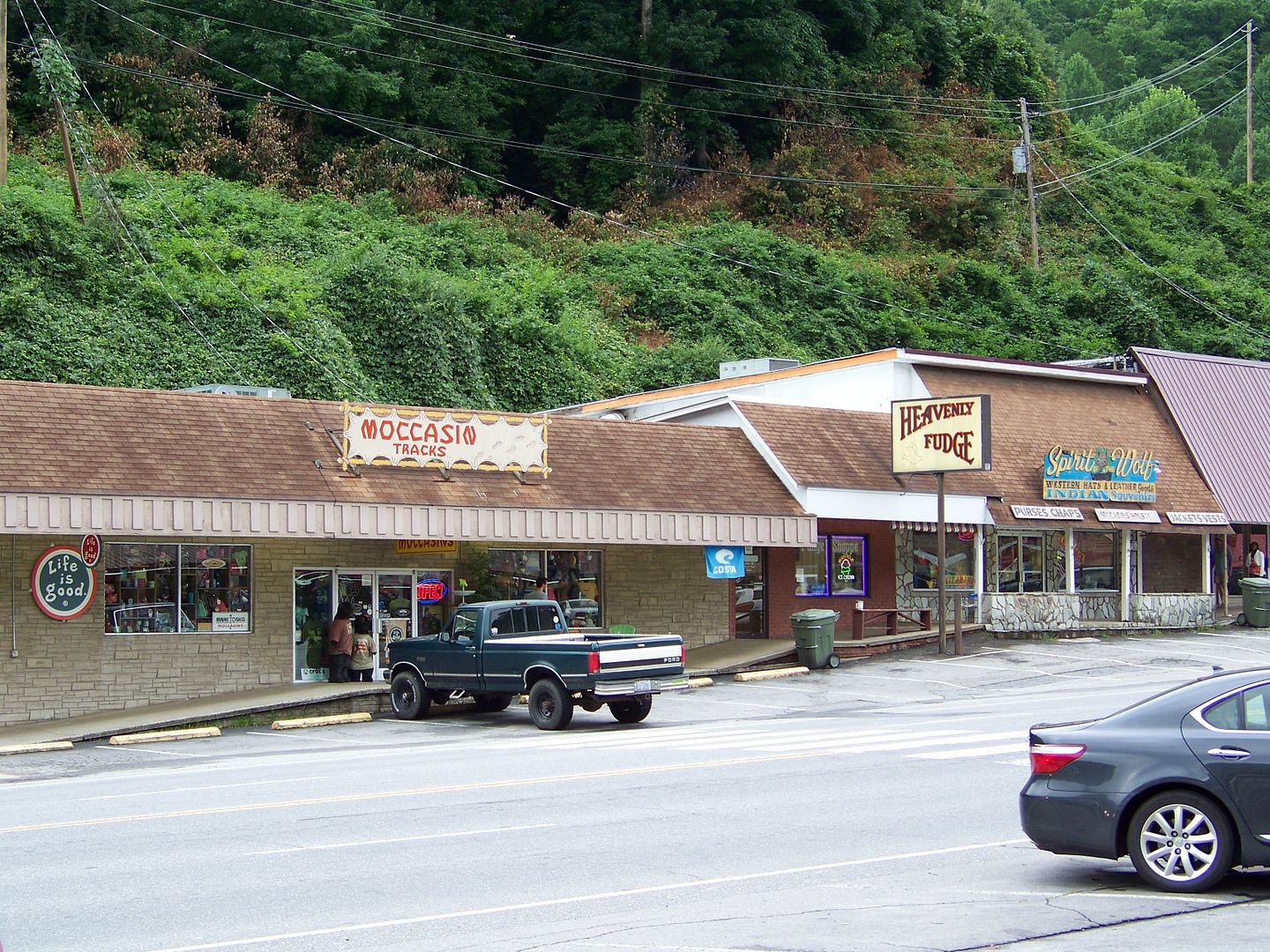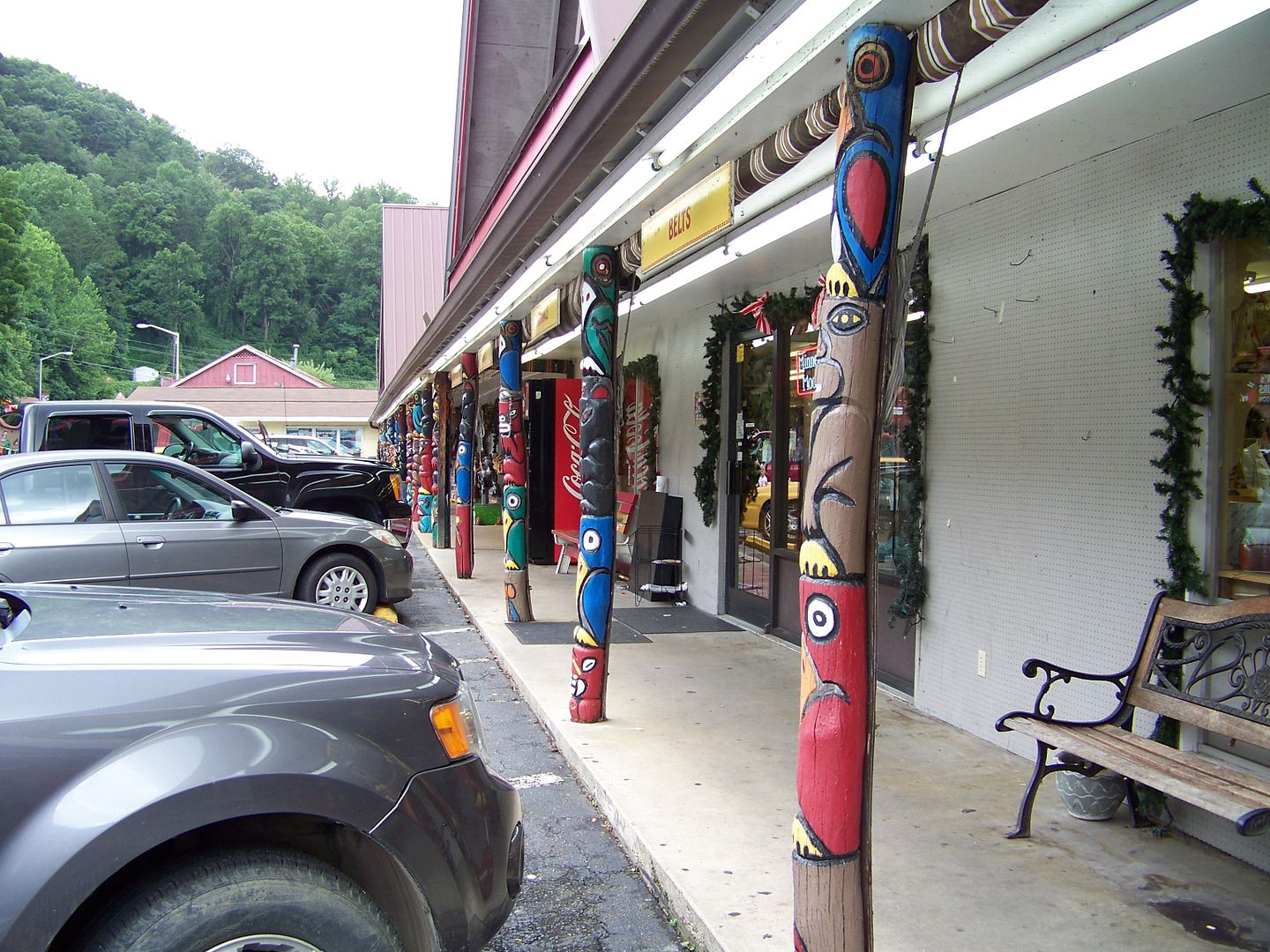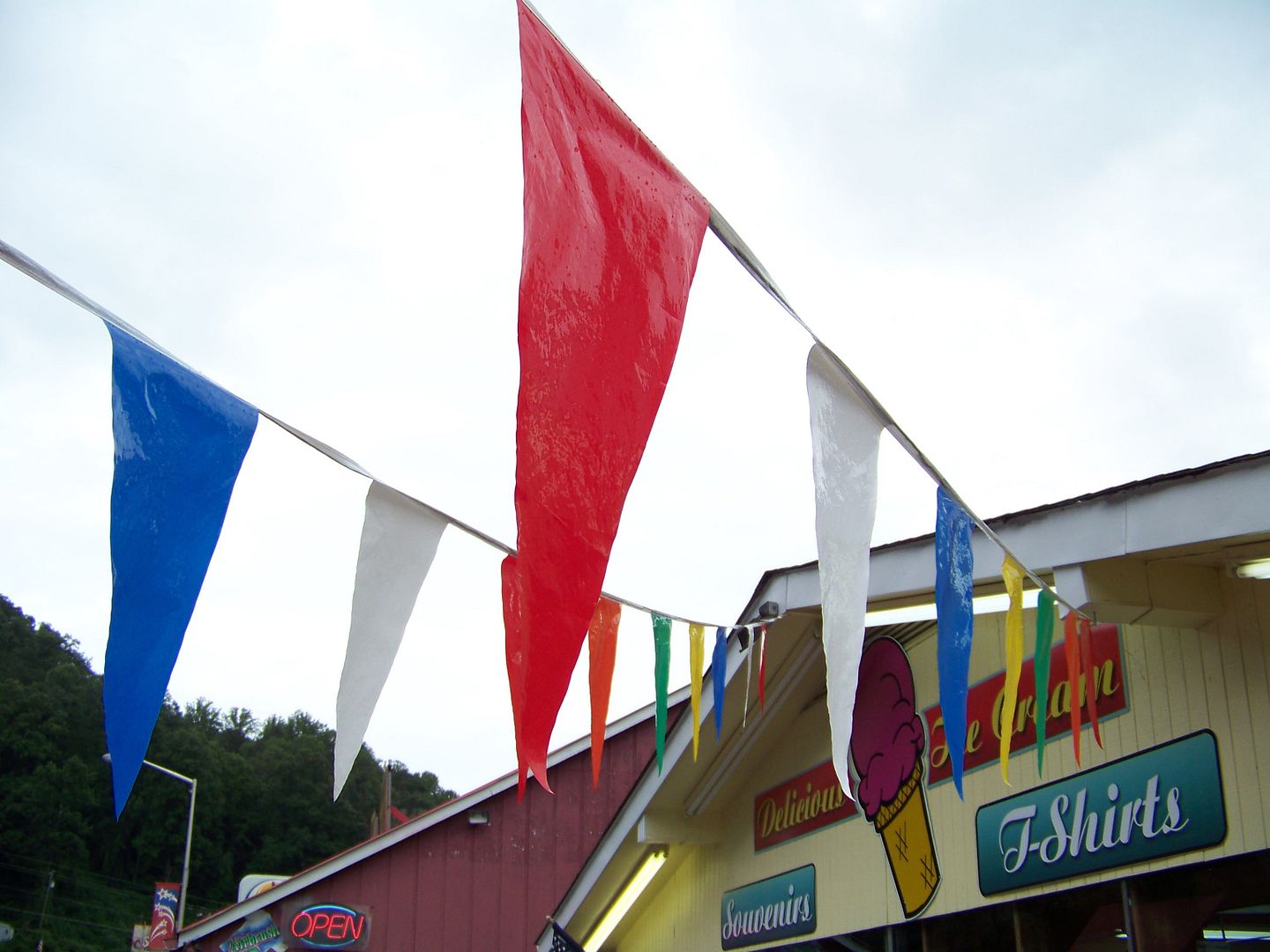 Call it ugly, call it tacky, but for decades the Cherokee called it survival.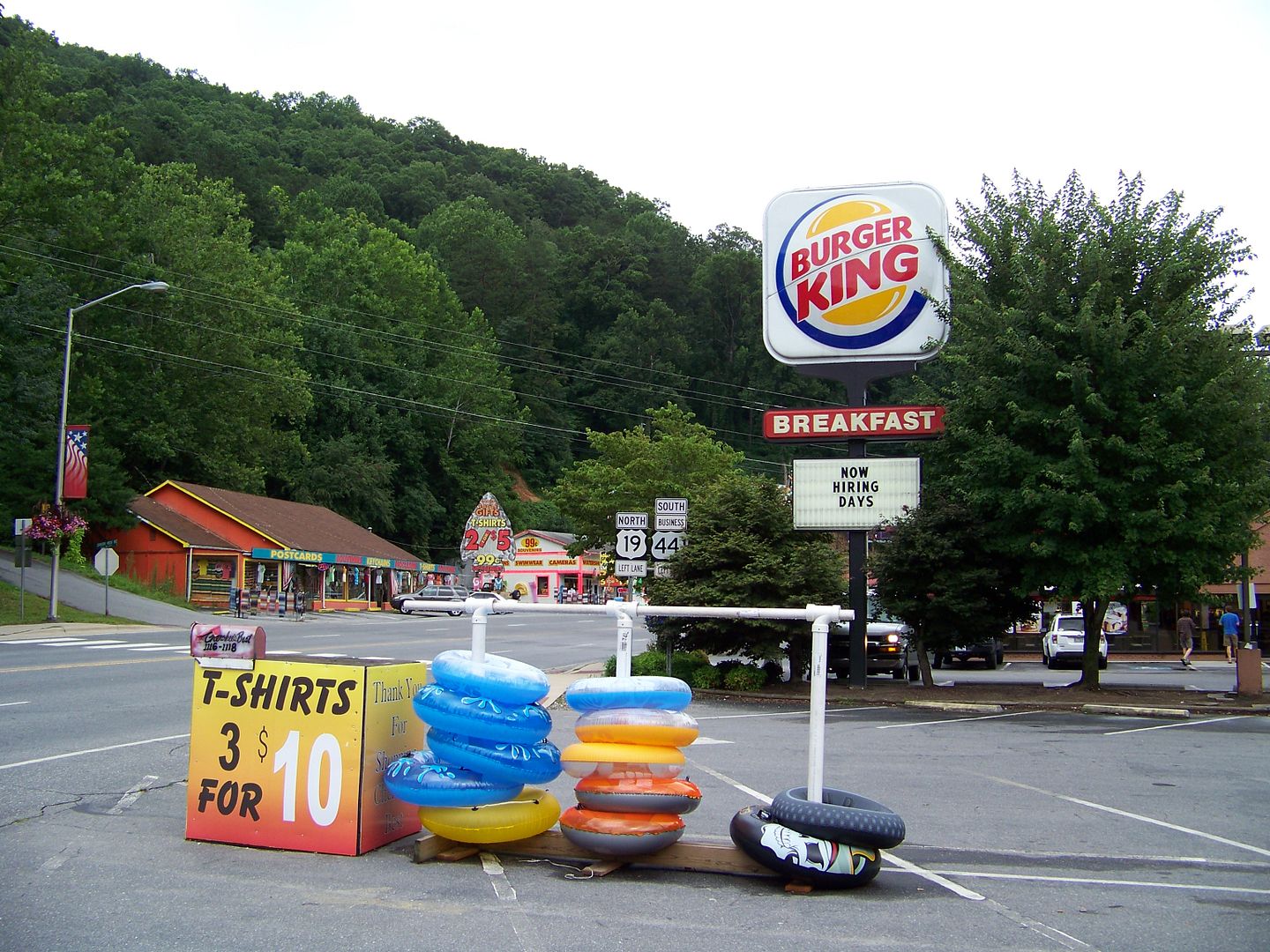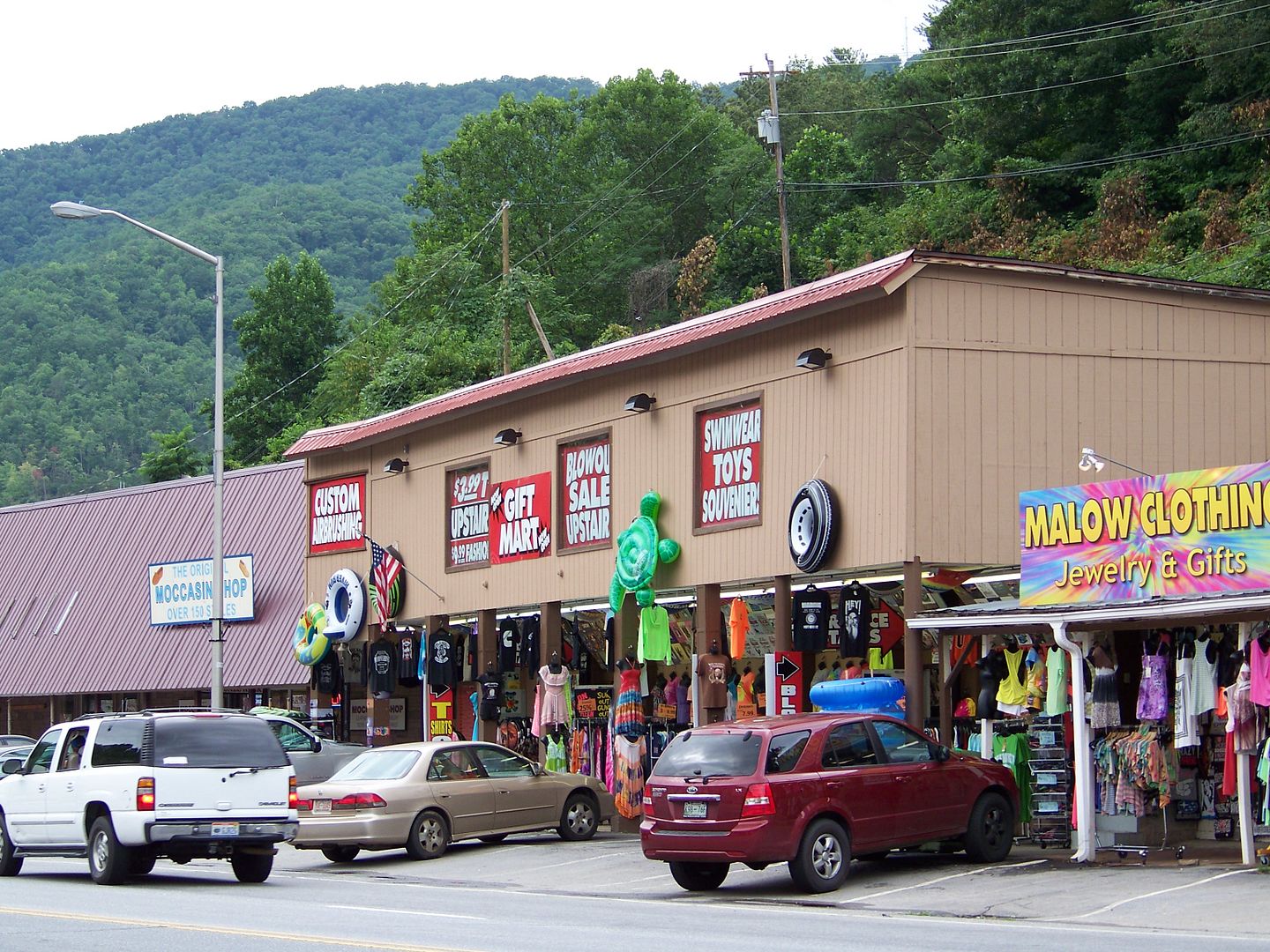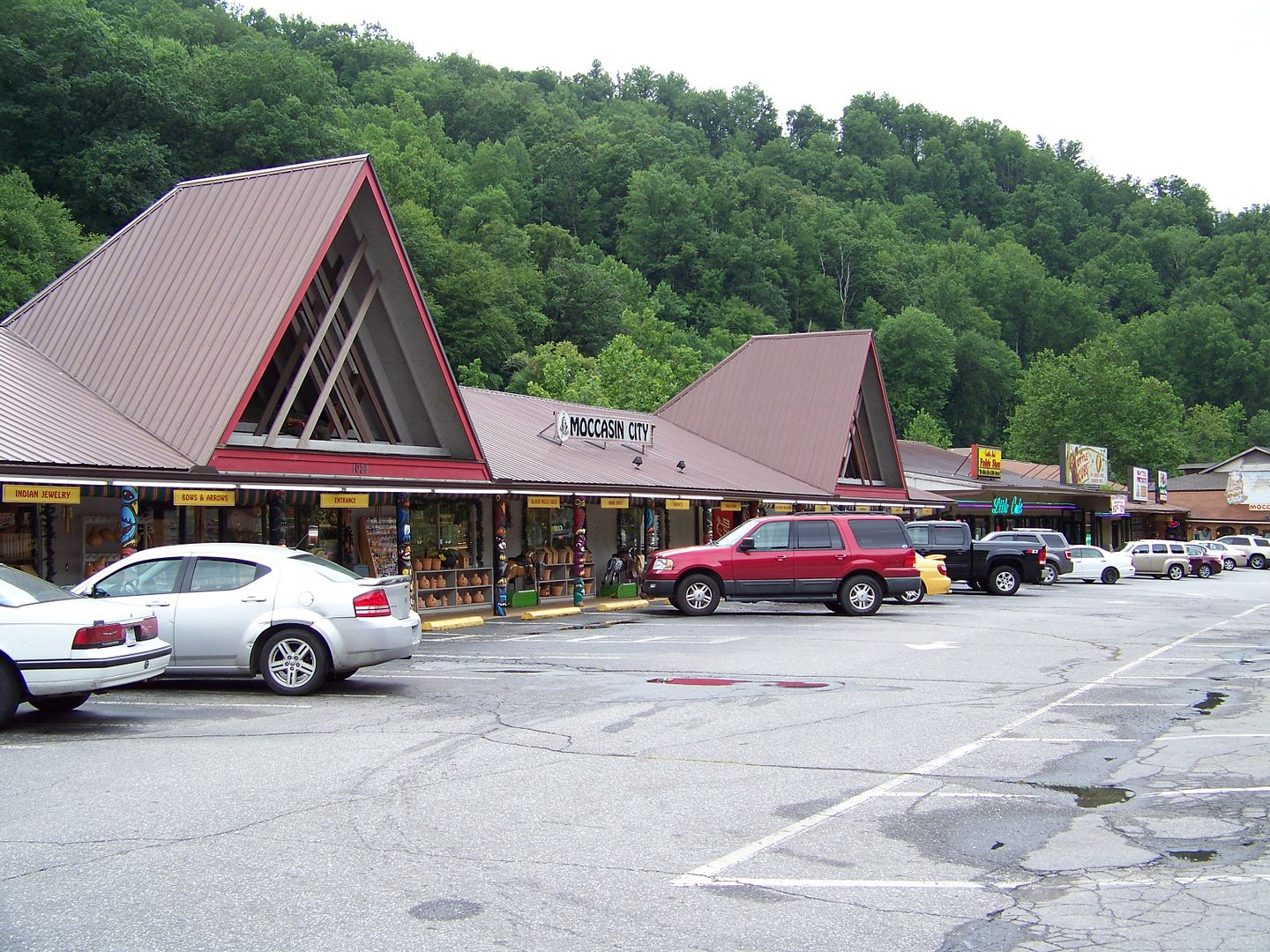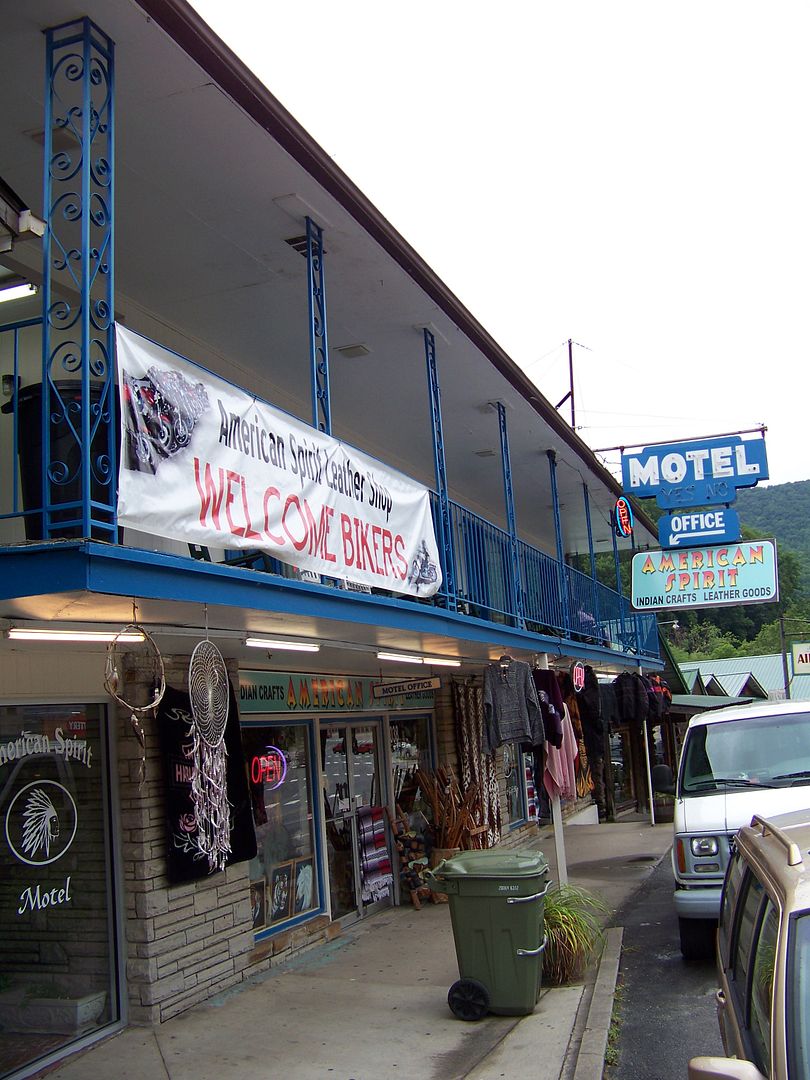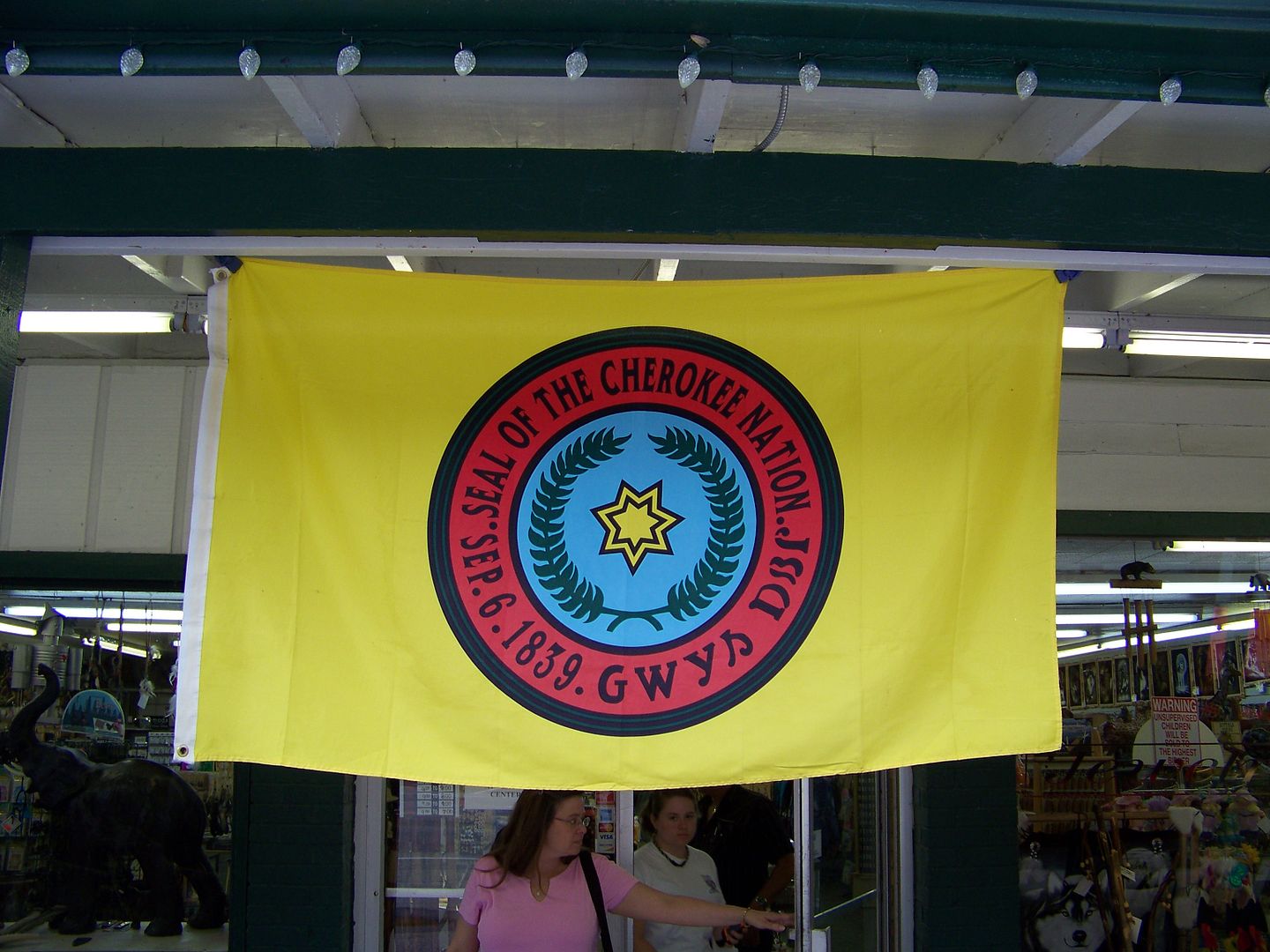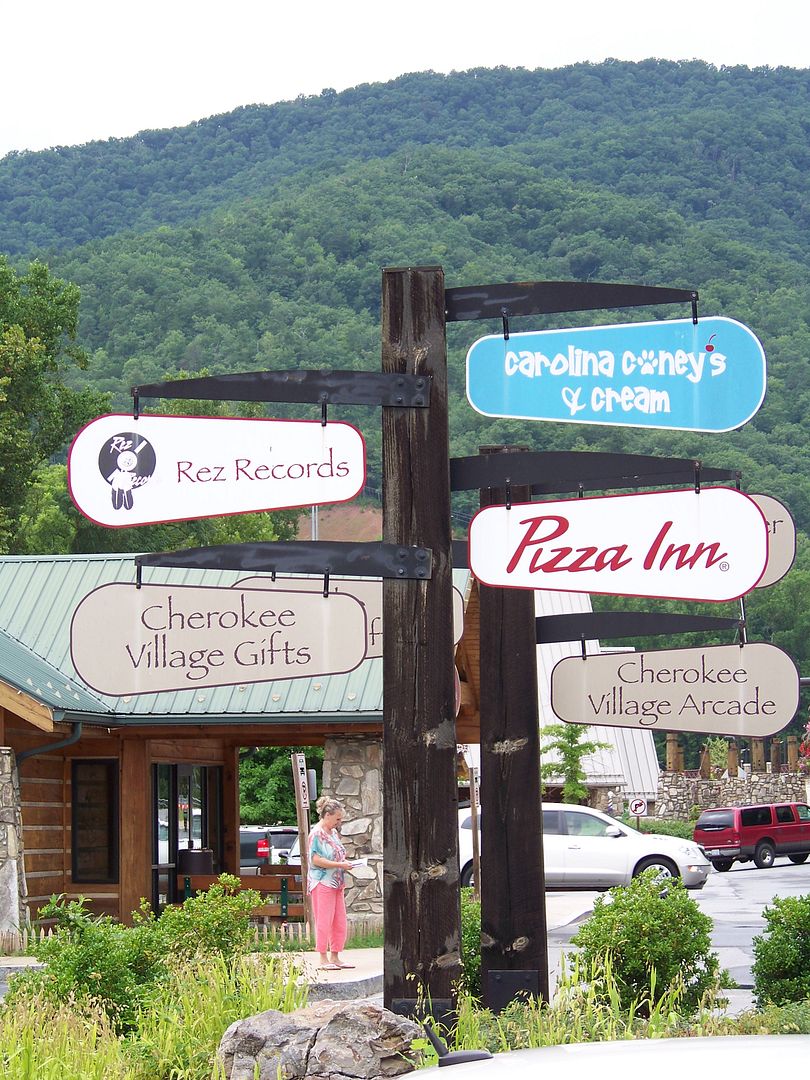 A last look at that fountain as we passed it coming back up the street.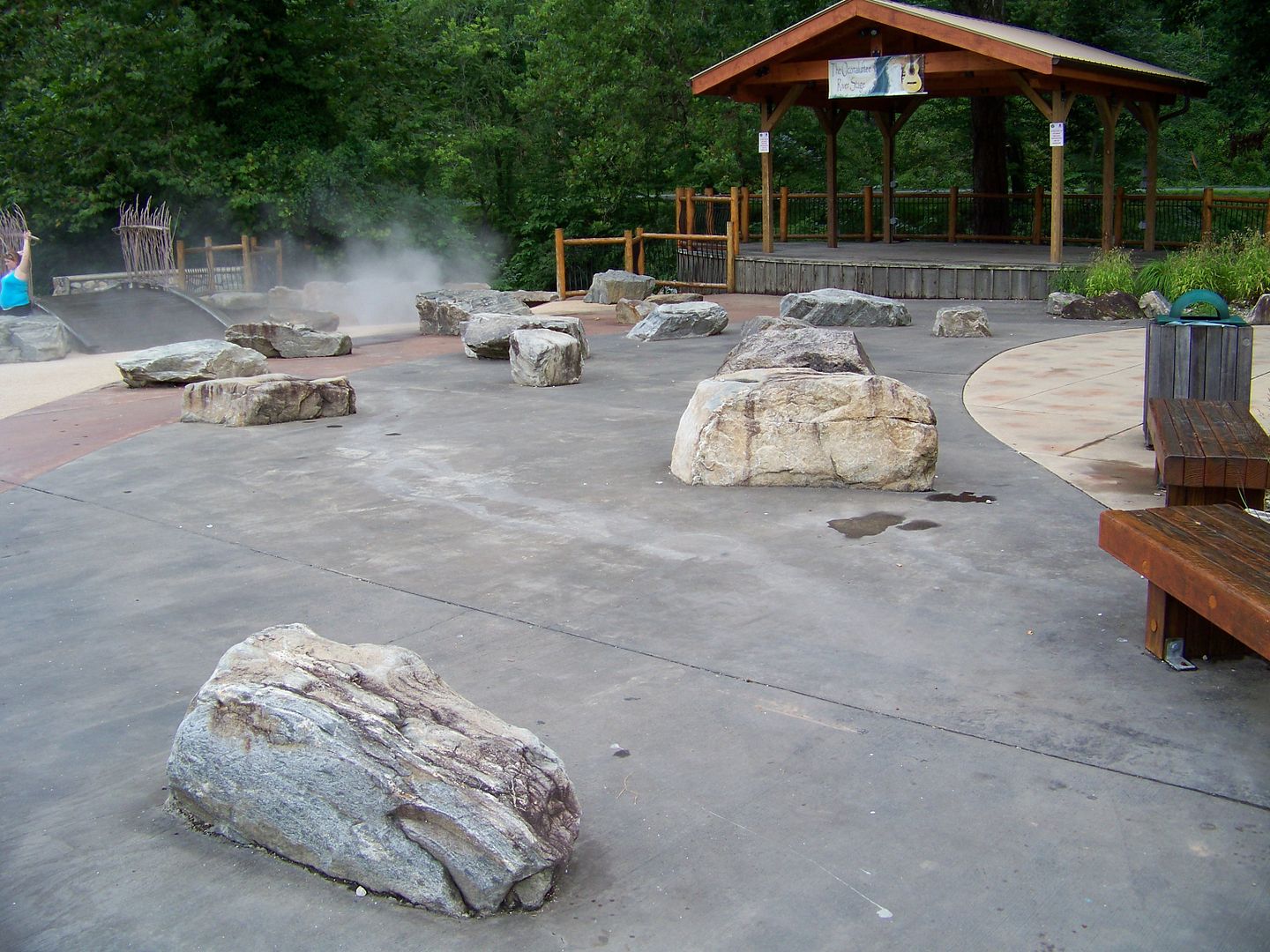 Solar panels. There's a push for environmental friendliness in Cherokee these days.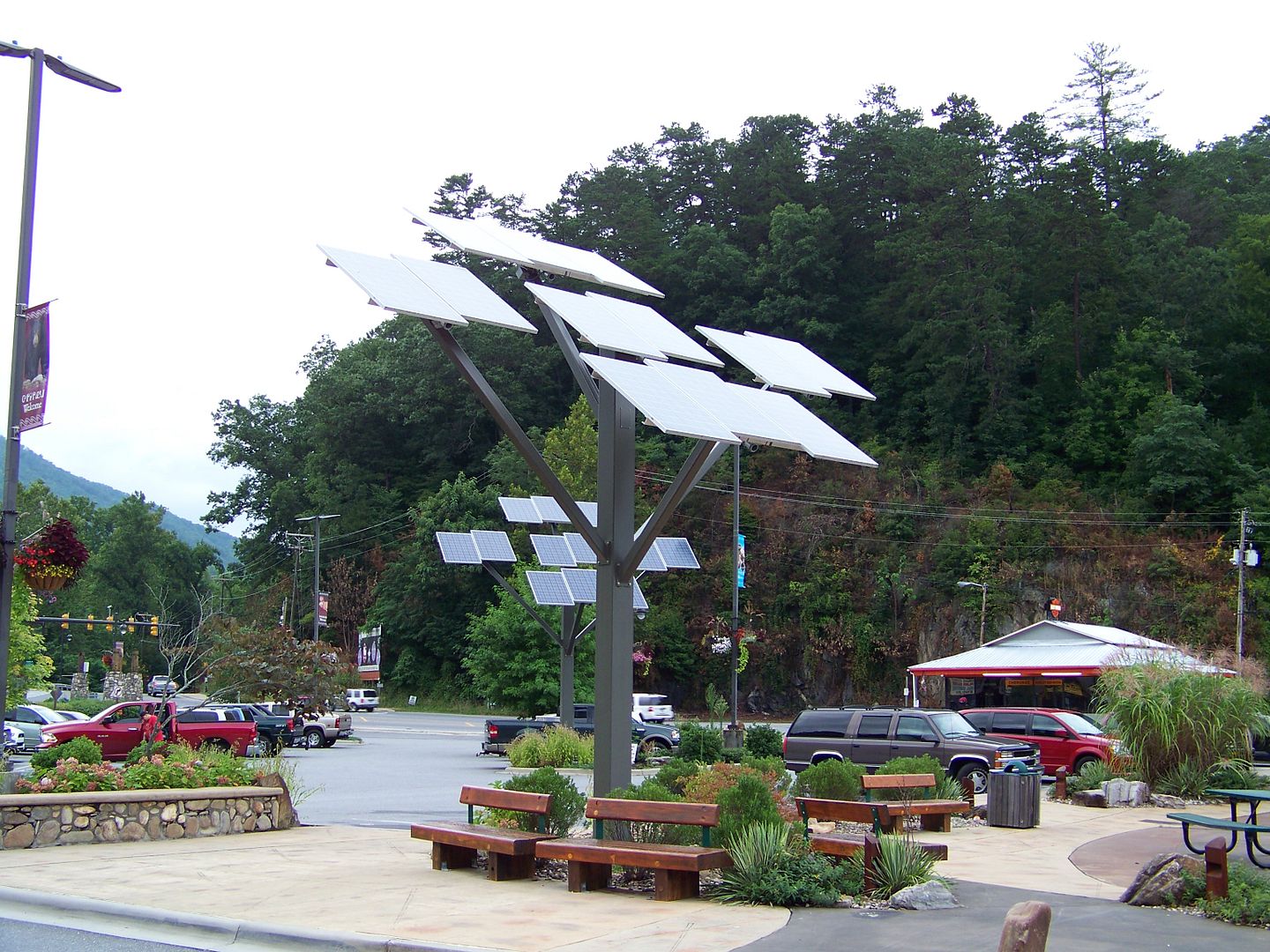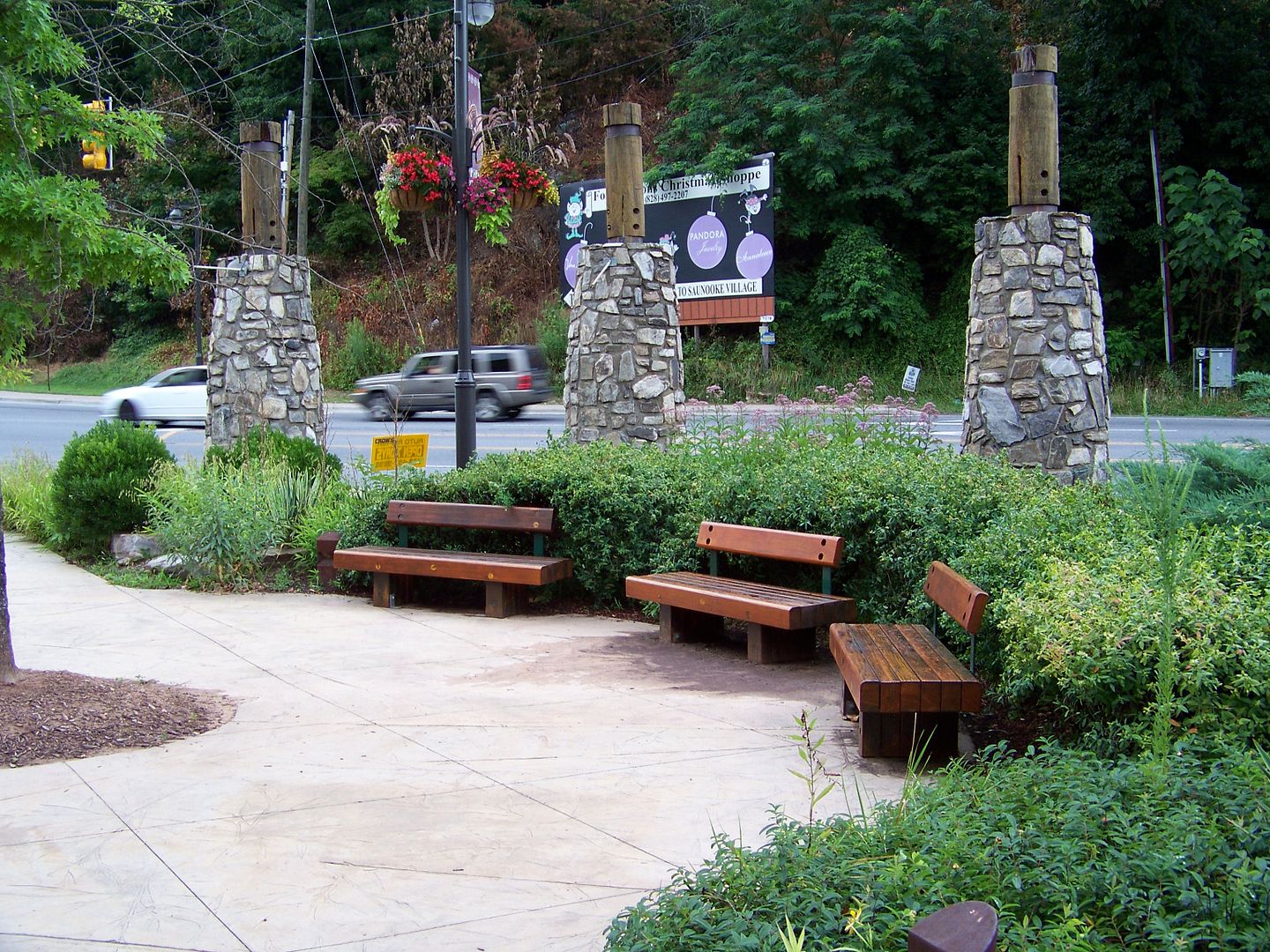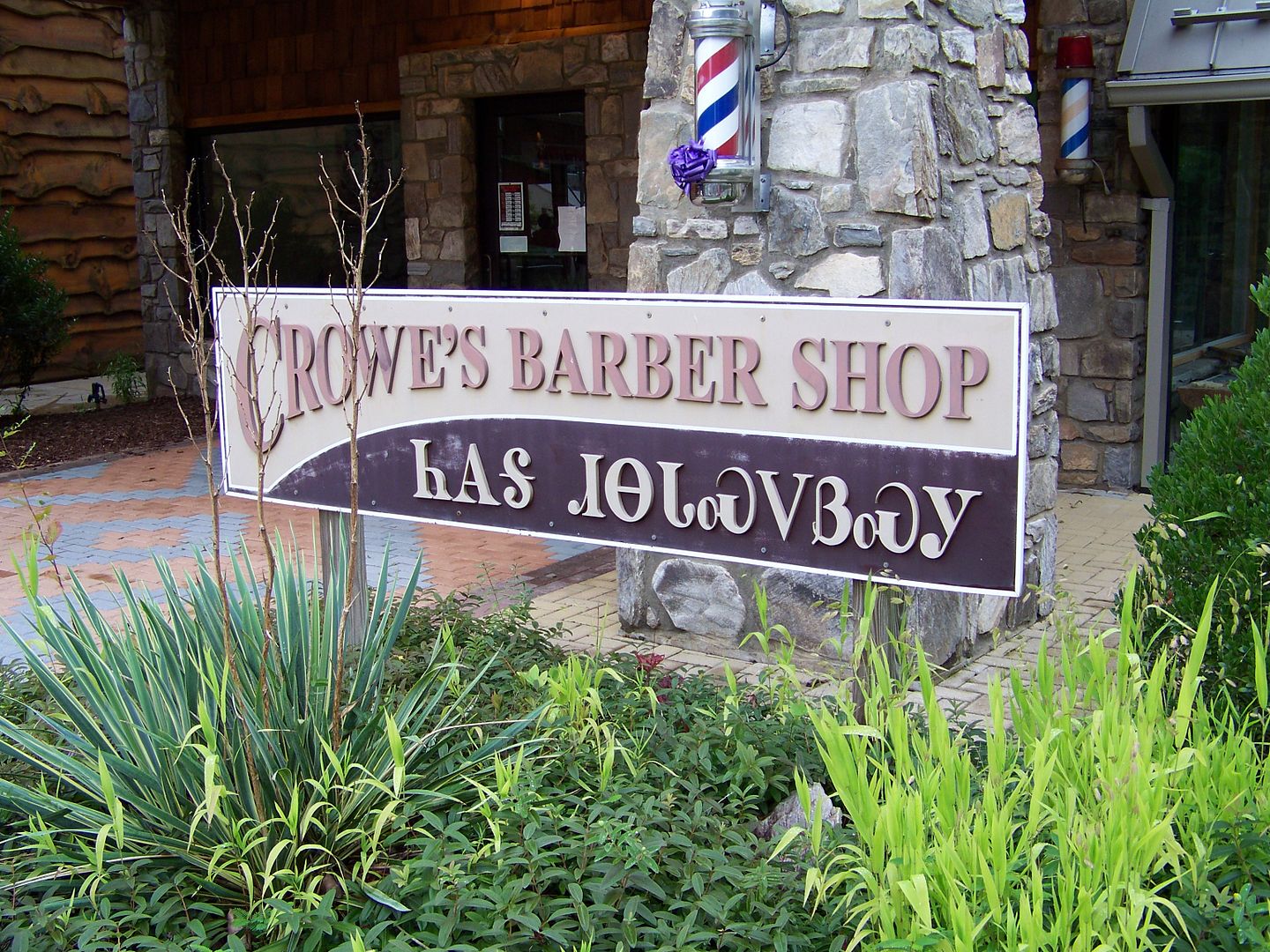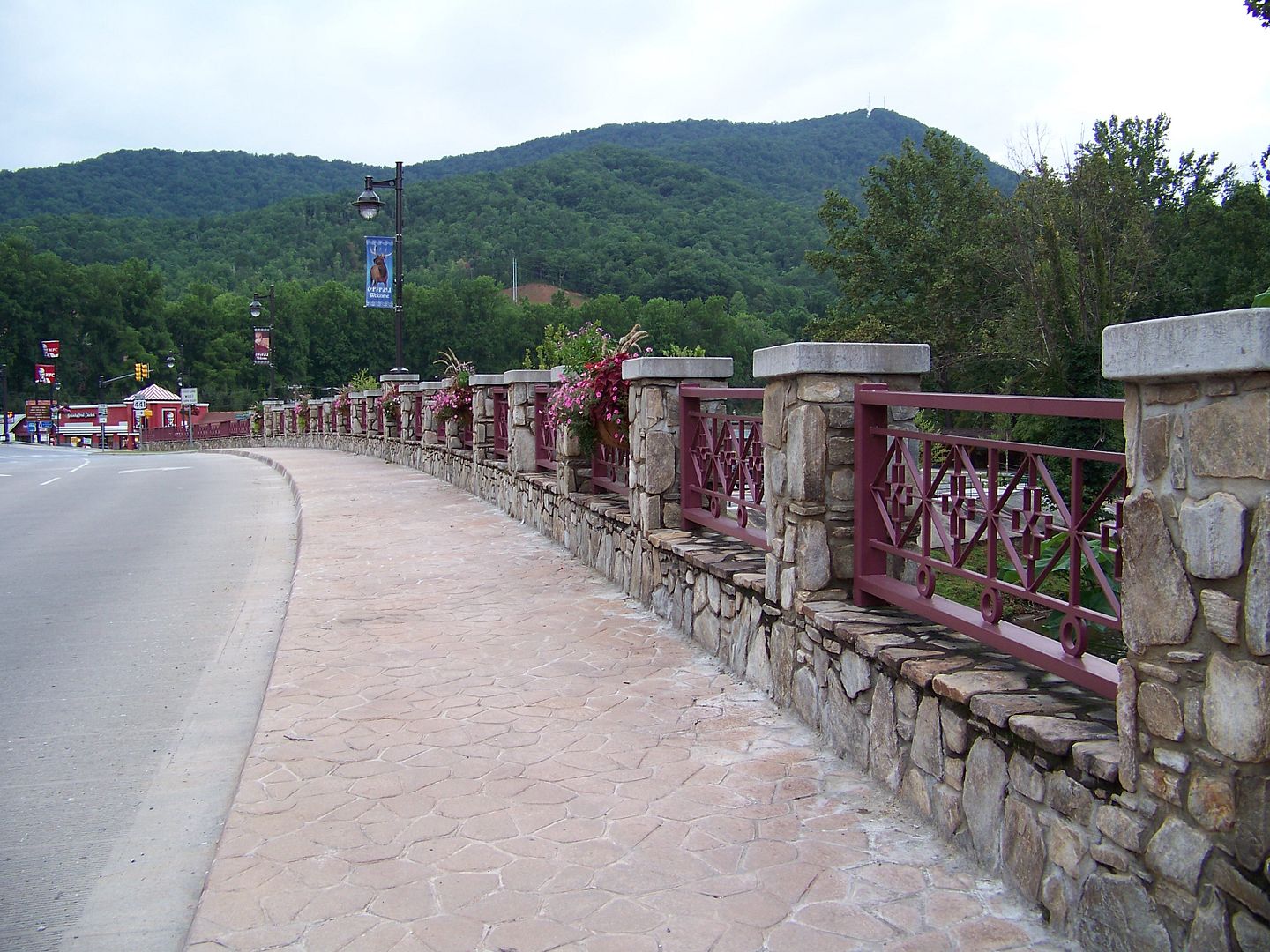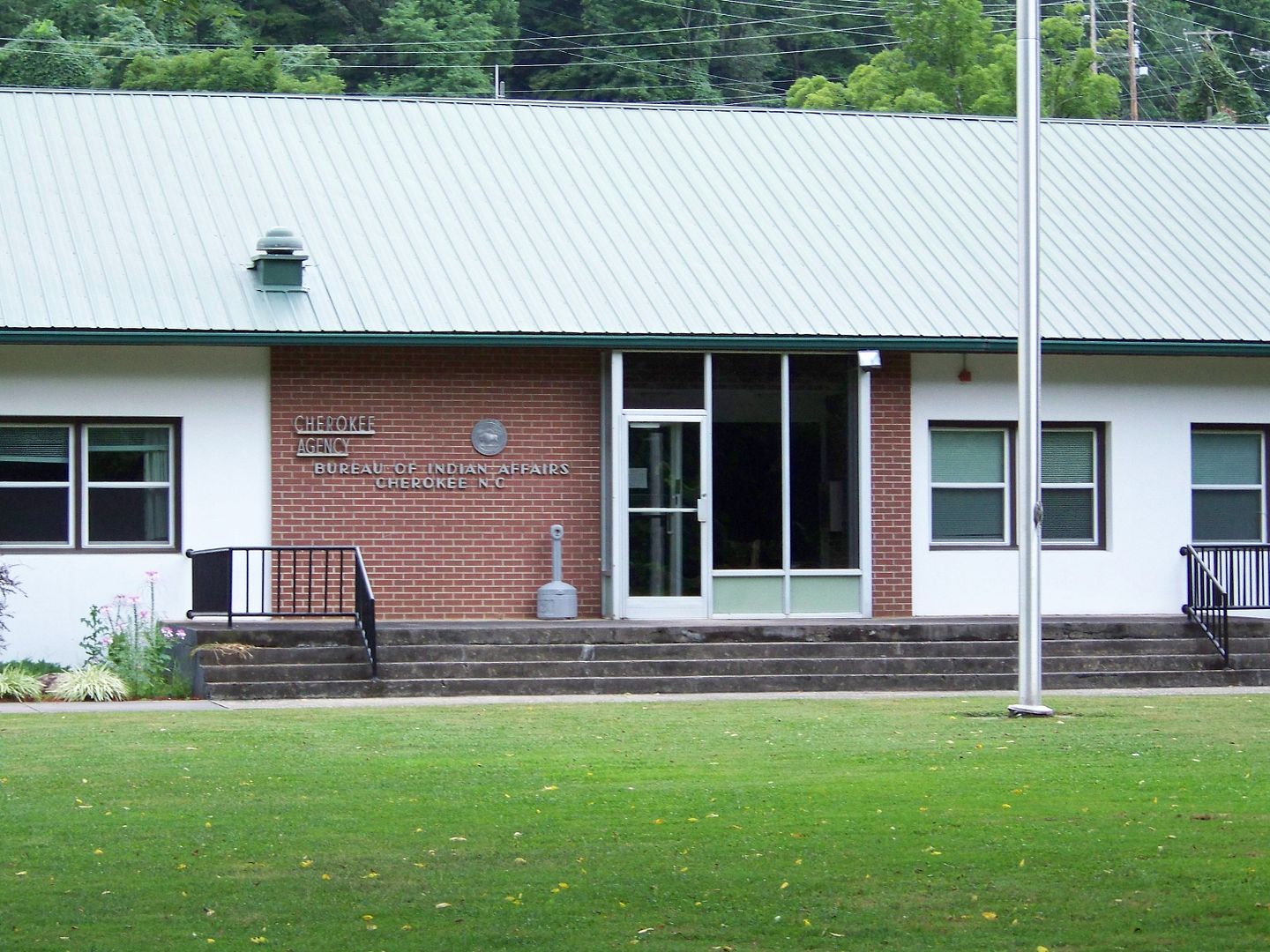 Taken specifically with SSP in mind...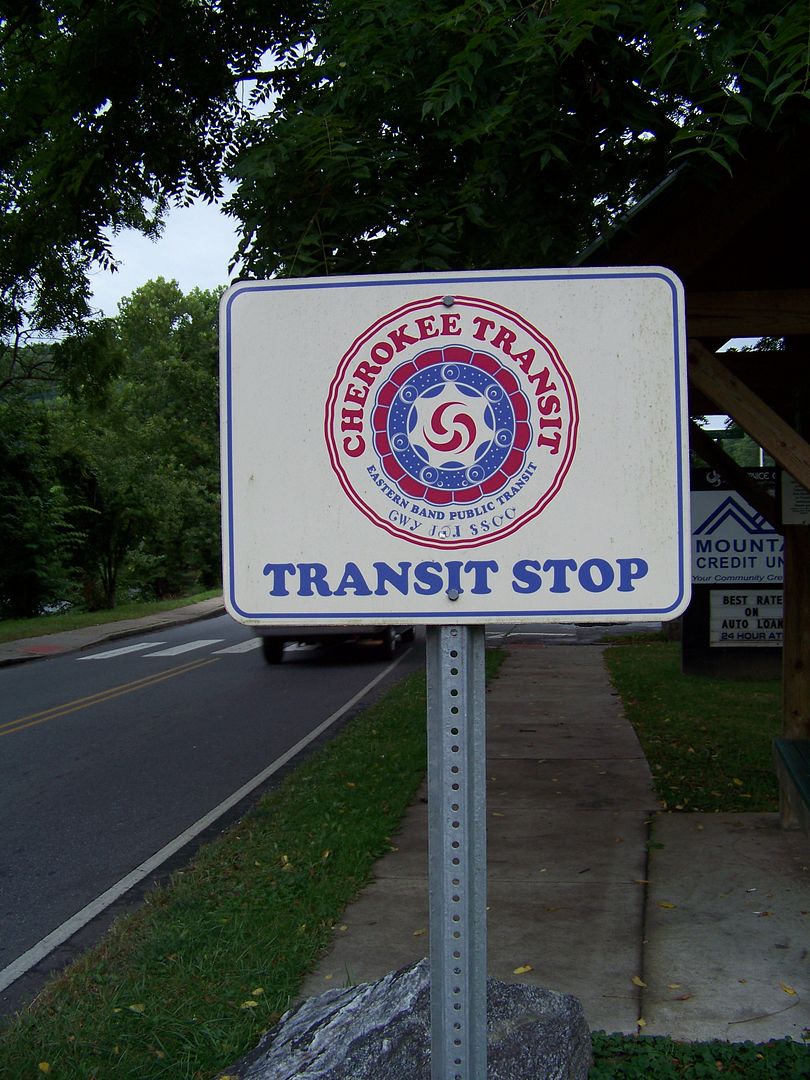 The Cultural District is where you find the museum and library, the theater, and the new fairgrounds.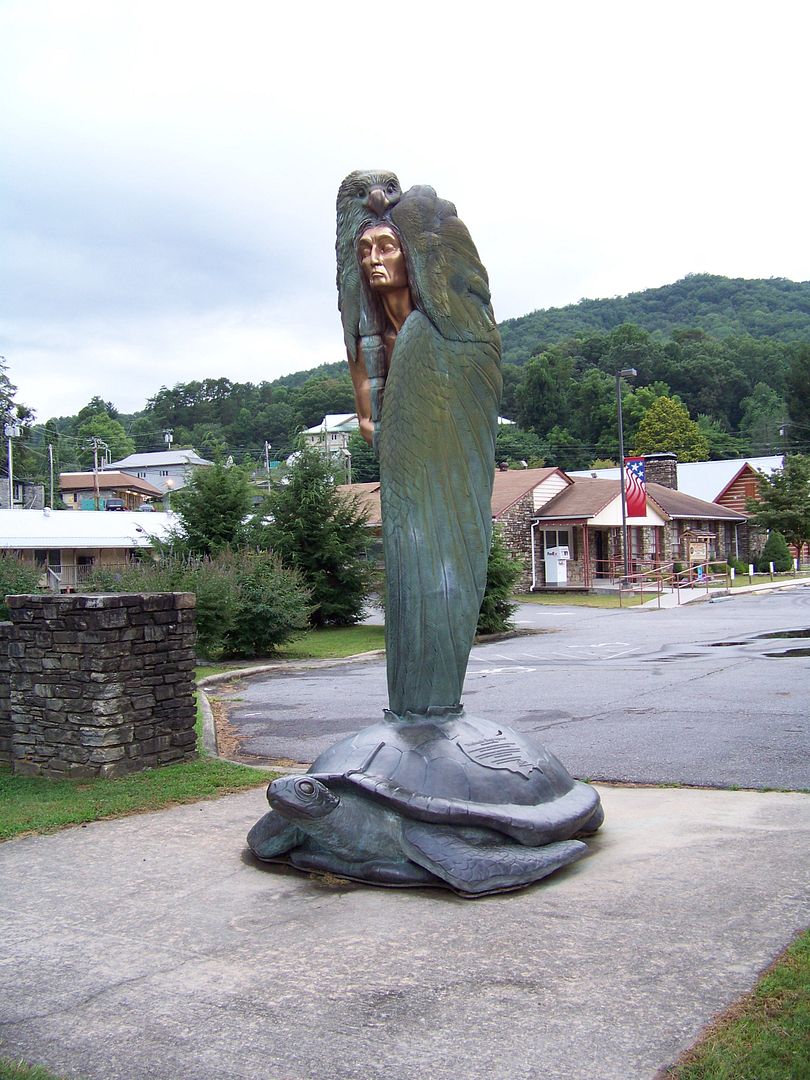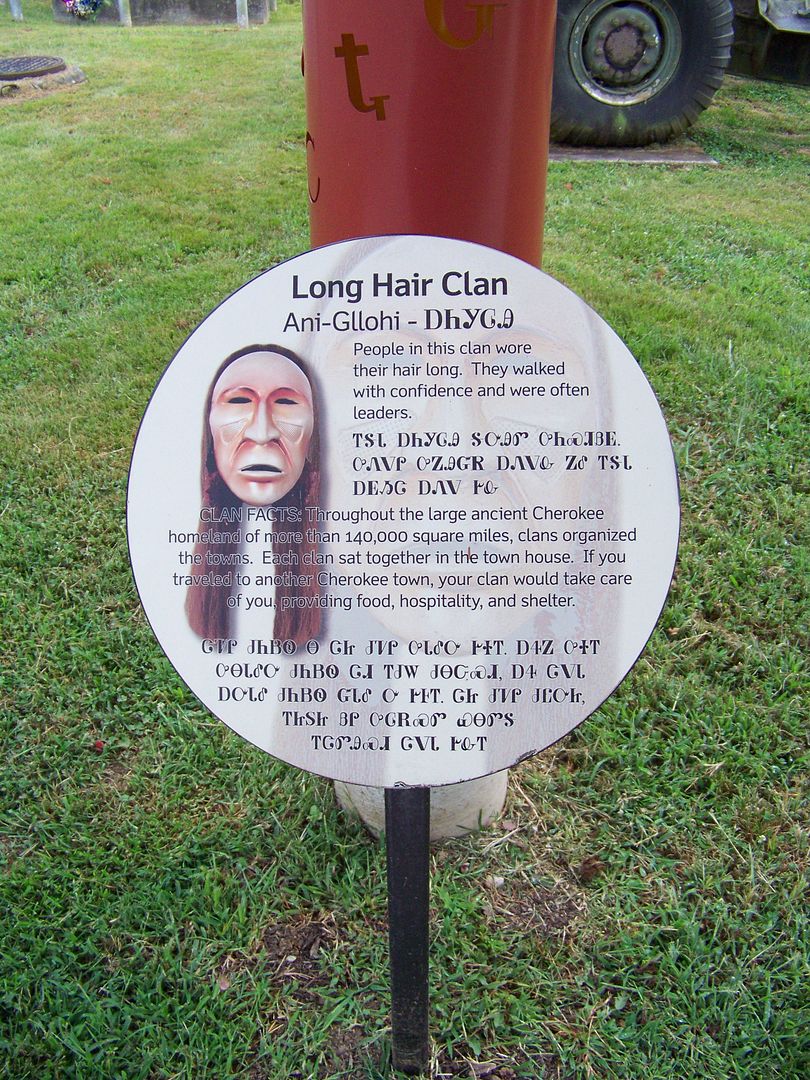 Note that the tire is going flat.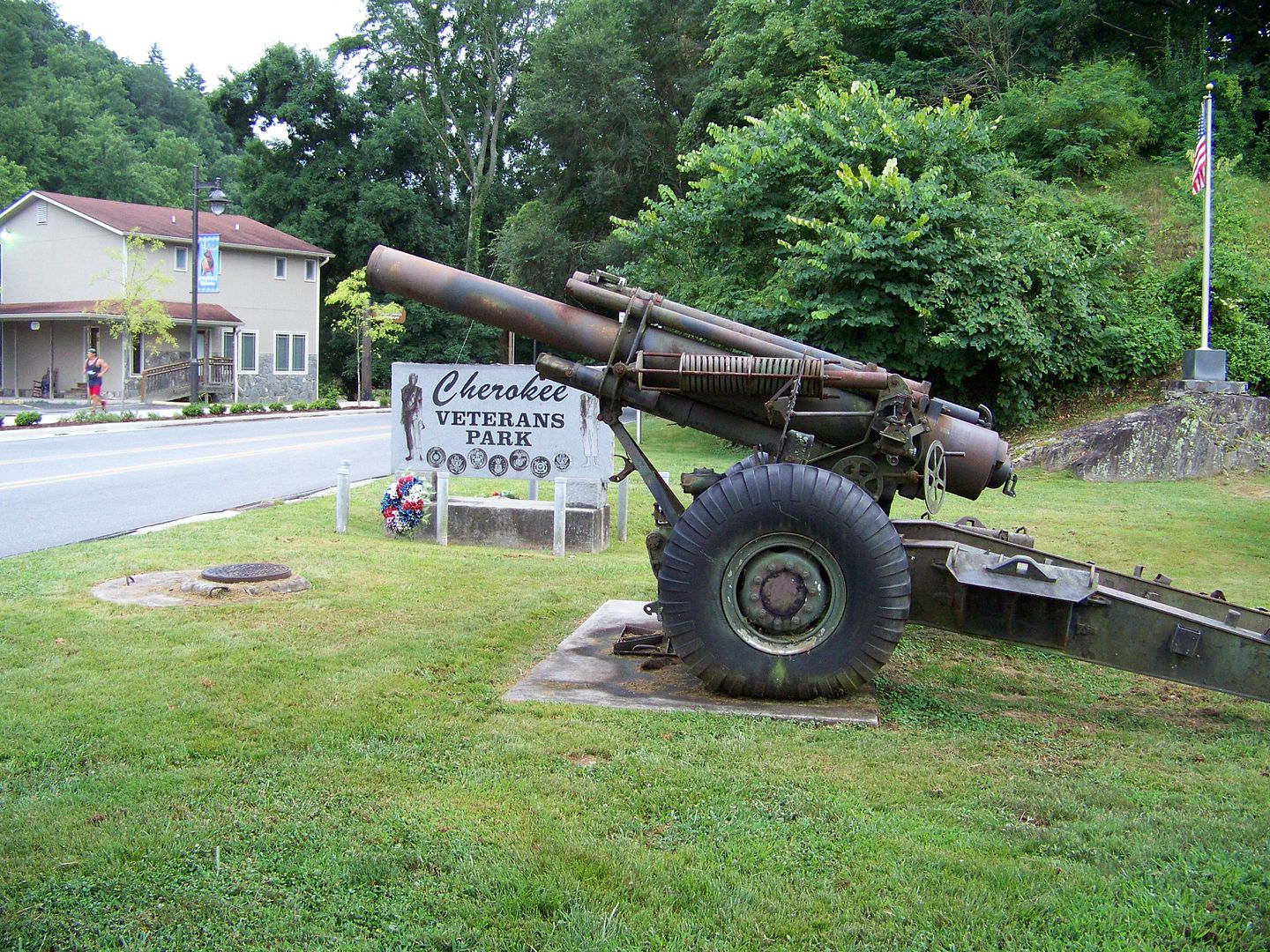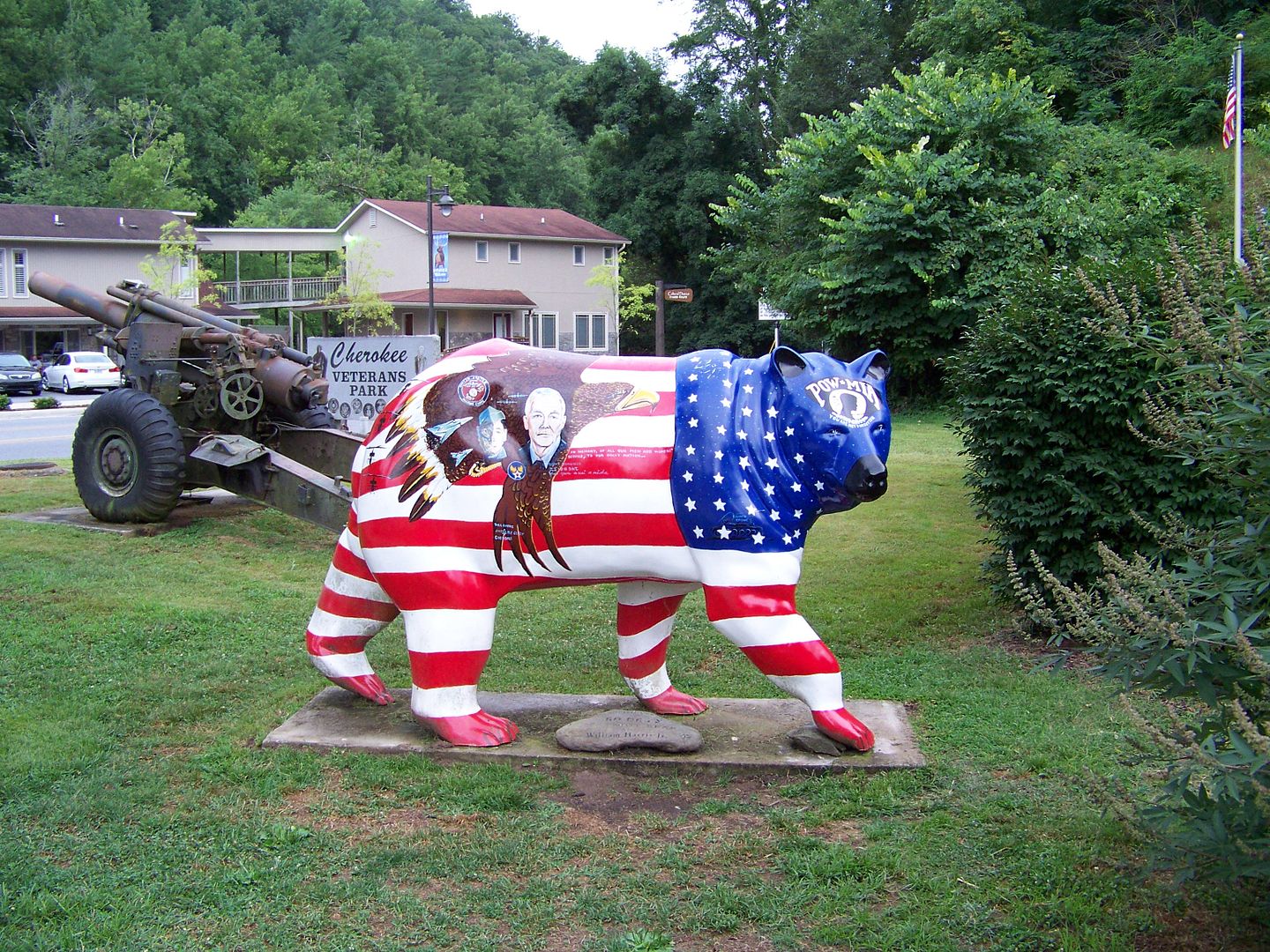 The fairgrounds.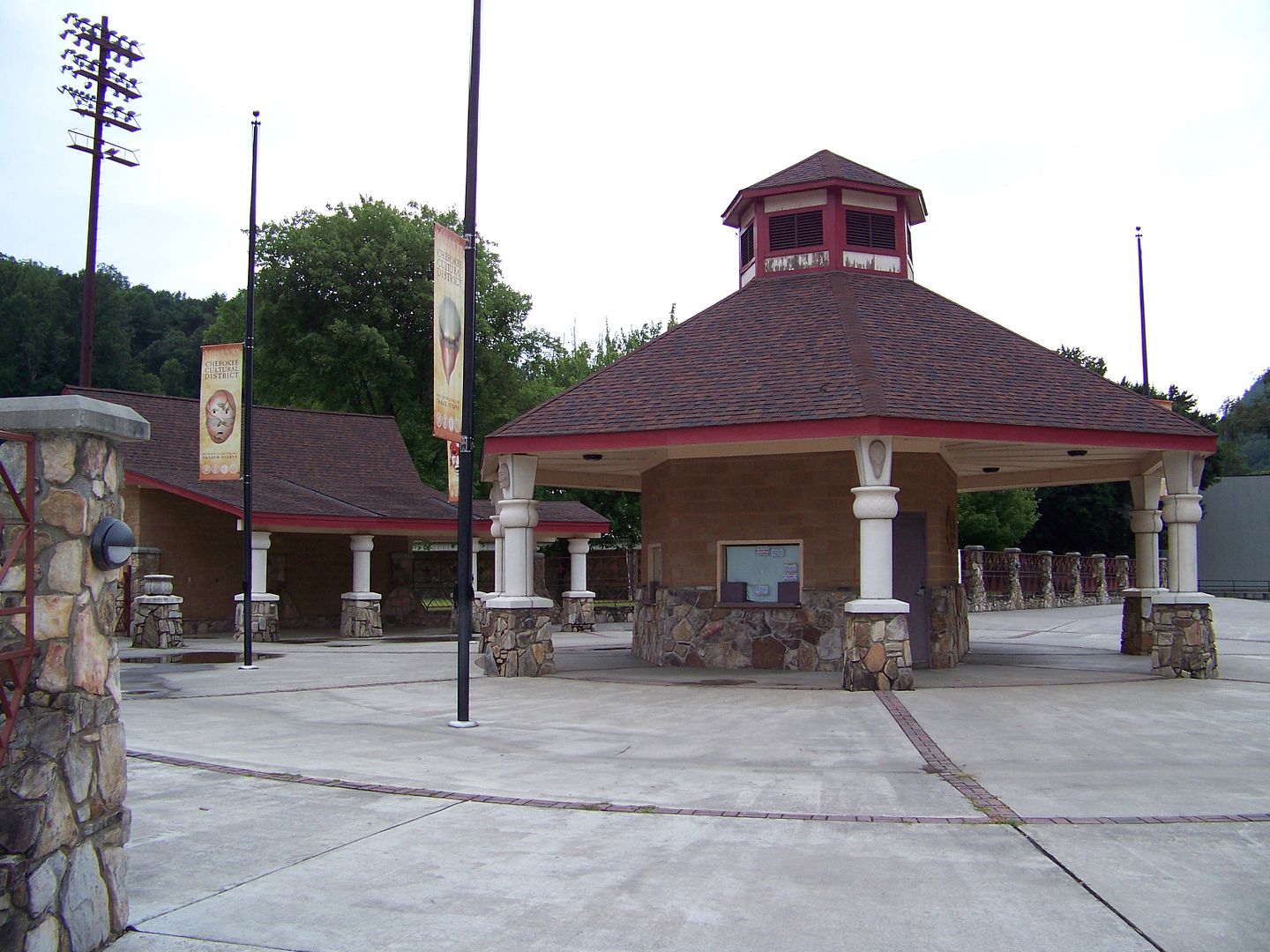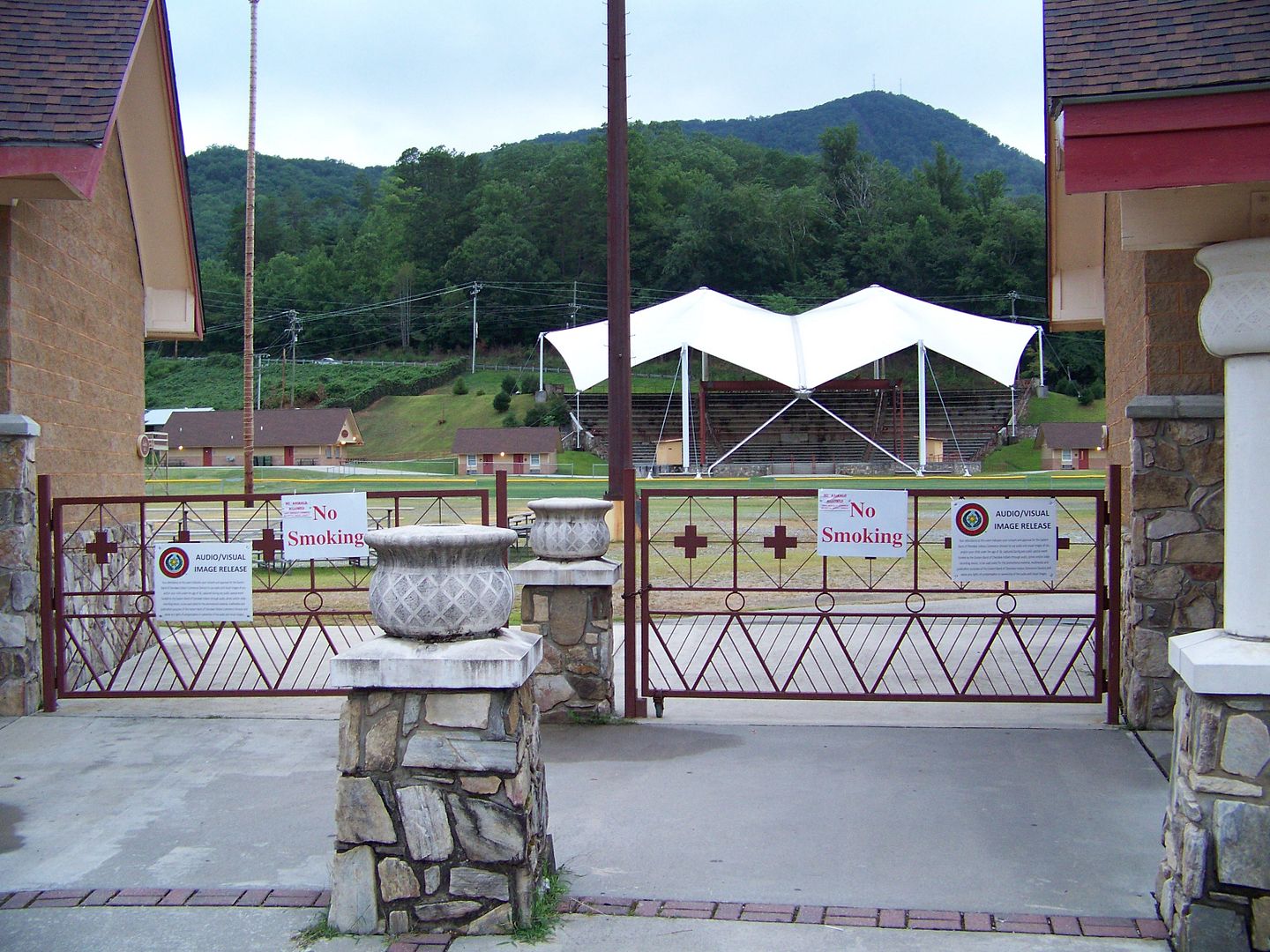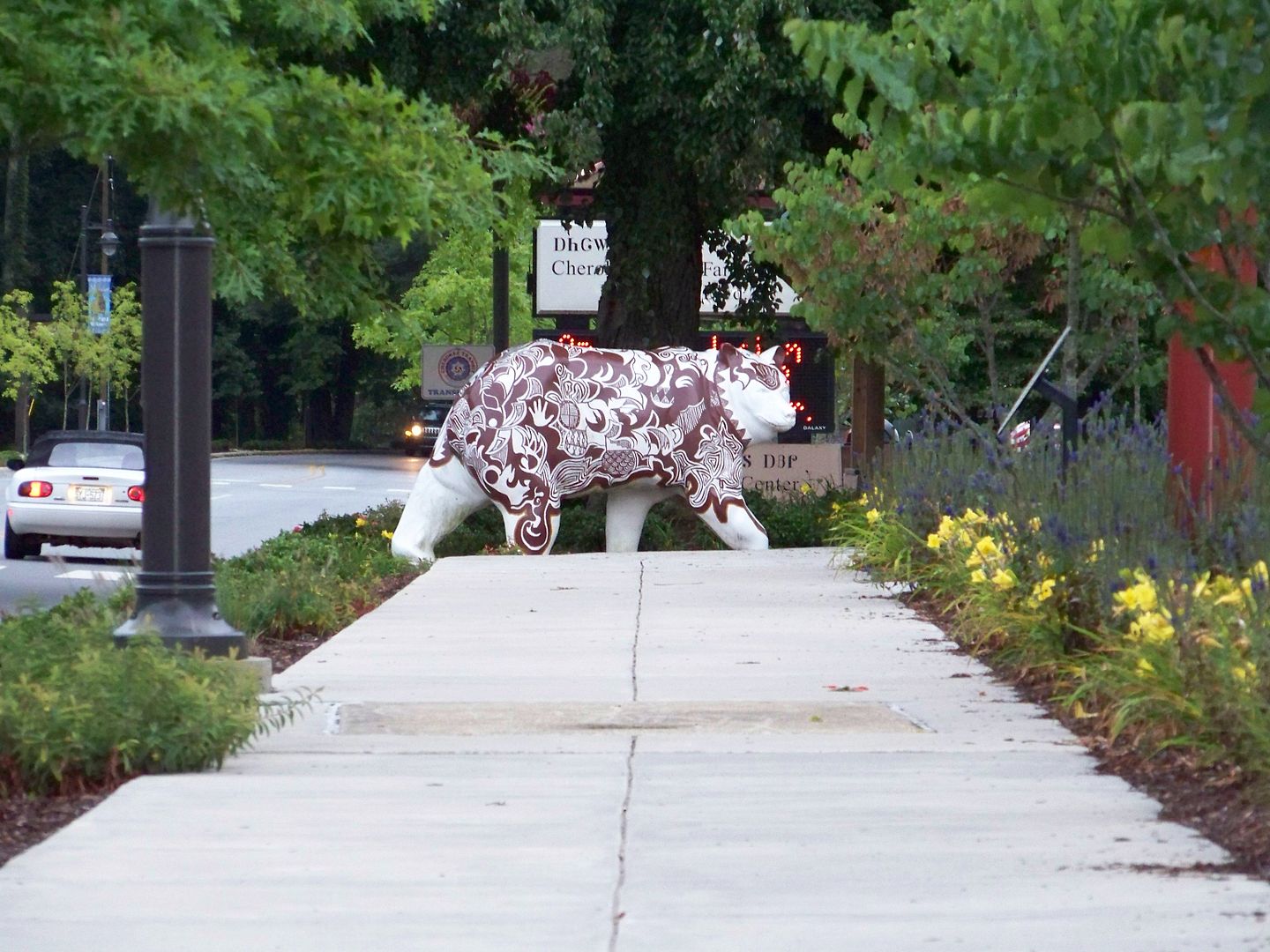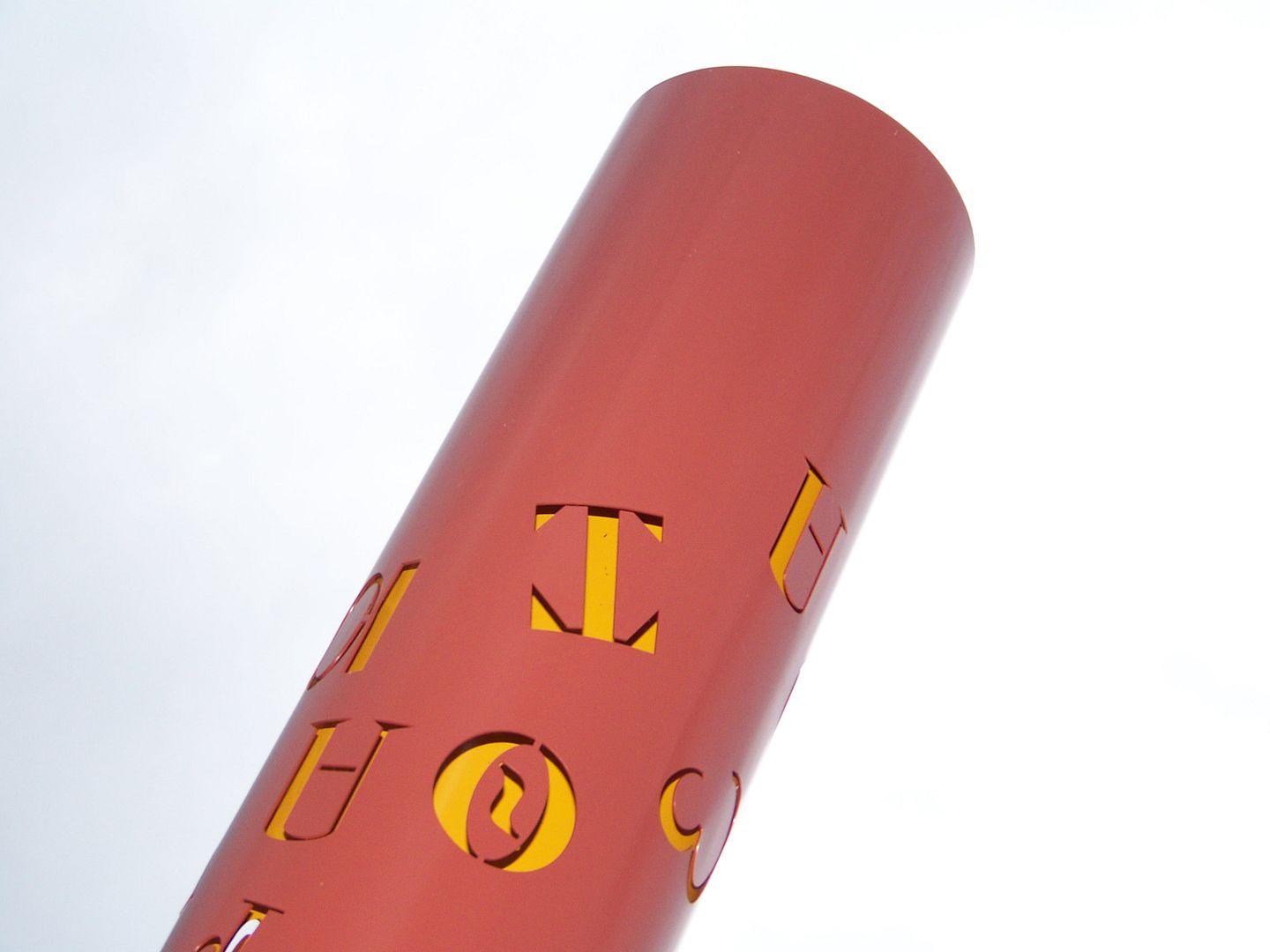 The outdoor drama "Unto These Hills" details the agony of the Trail of Tears, and is fairly famous in North Carolina. It's been a staple attraction for decades.
Back at the casino...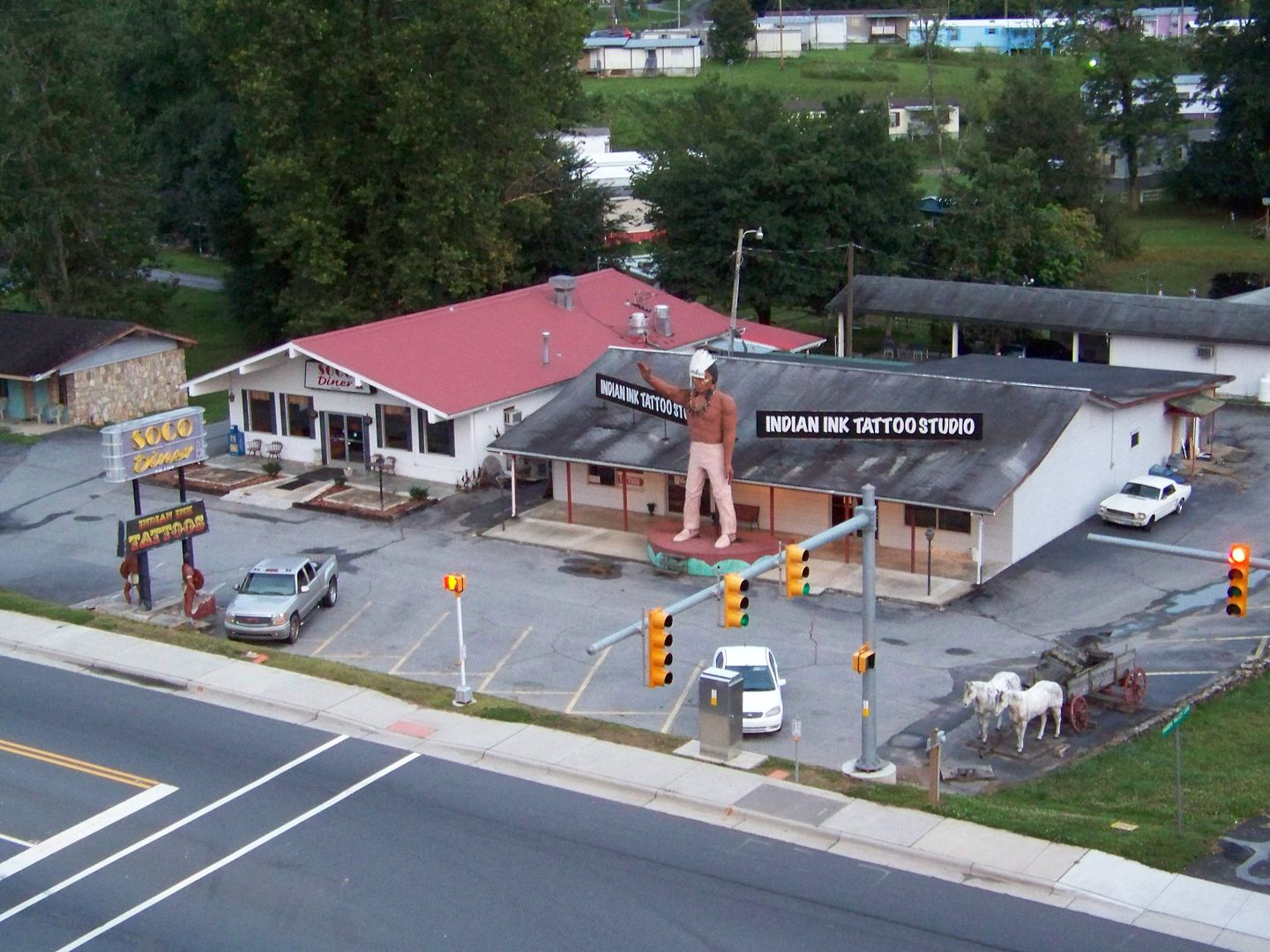 Those of you who cannot say that you have ever seen an actual real, live trailer park can now say you have.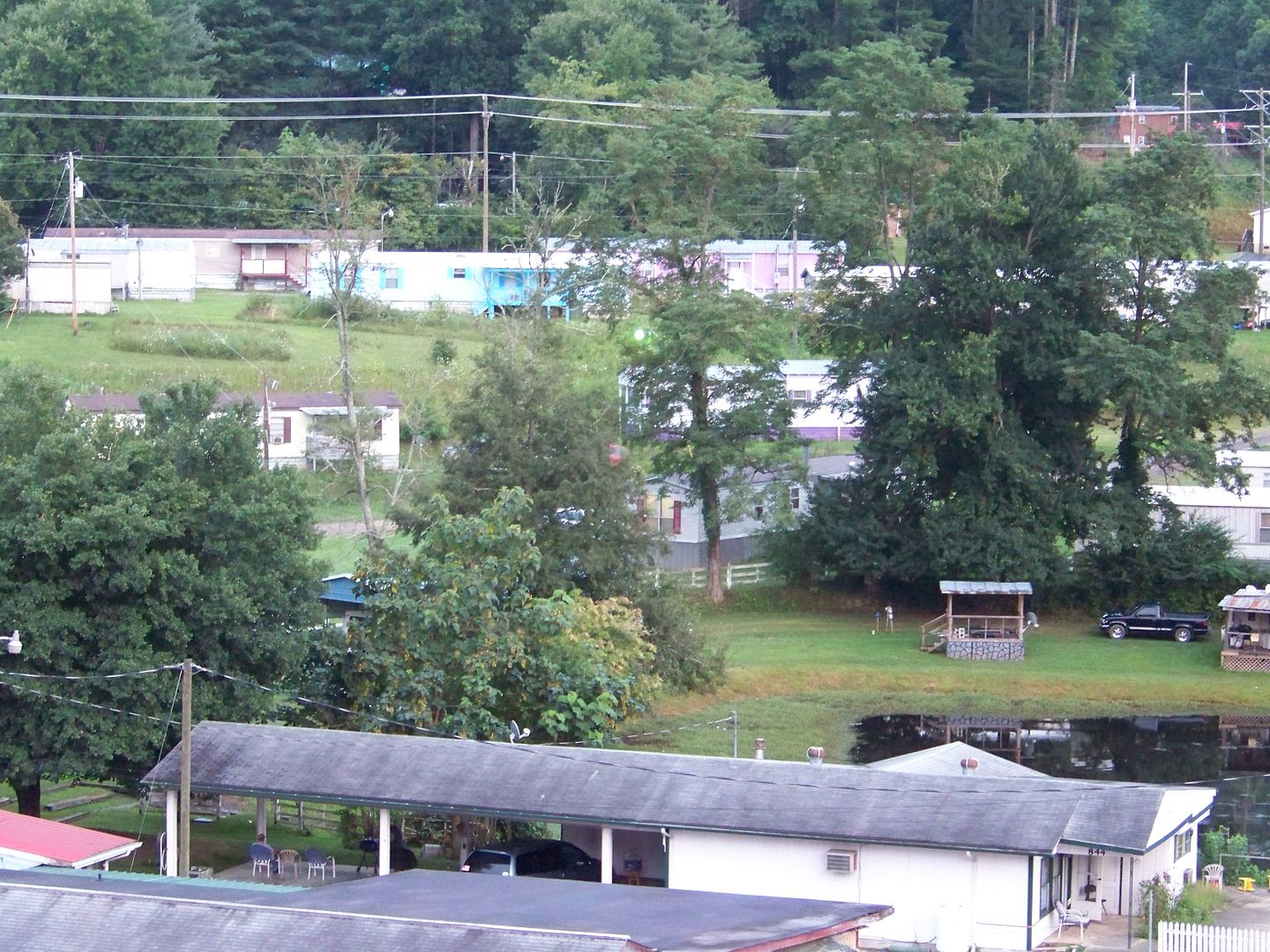 And now for the casino itself...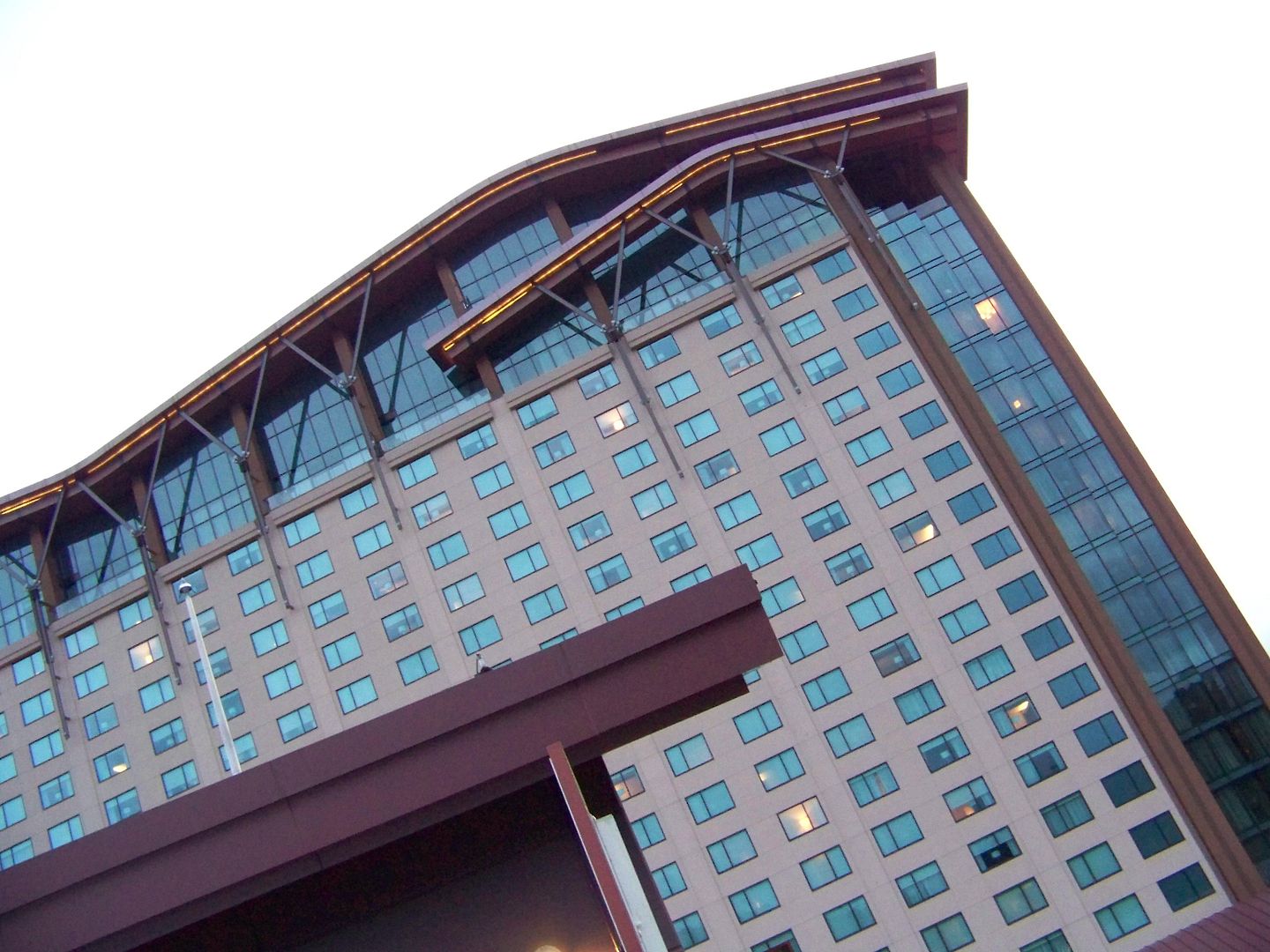 Inside...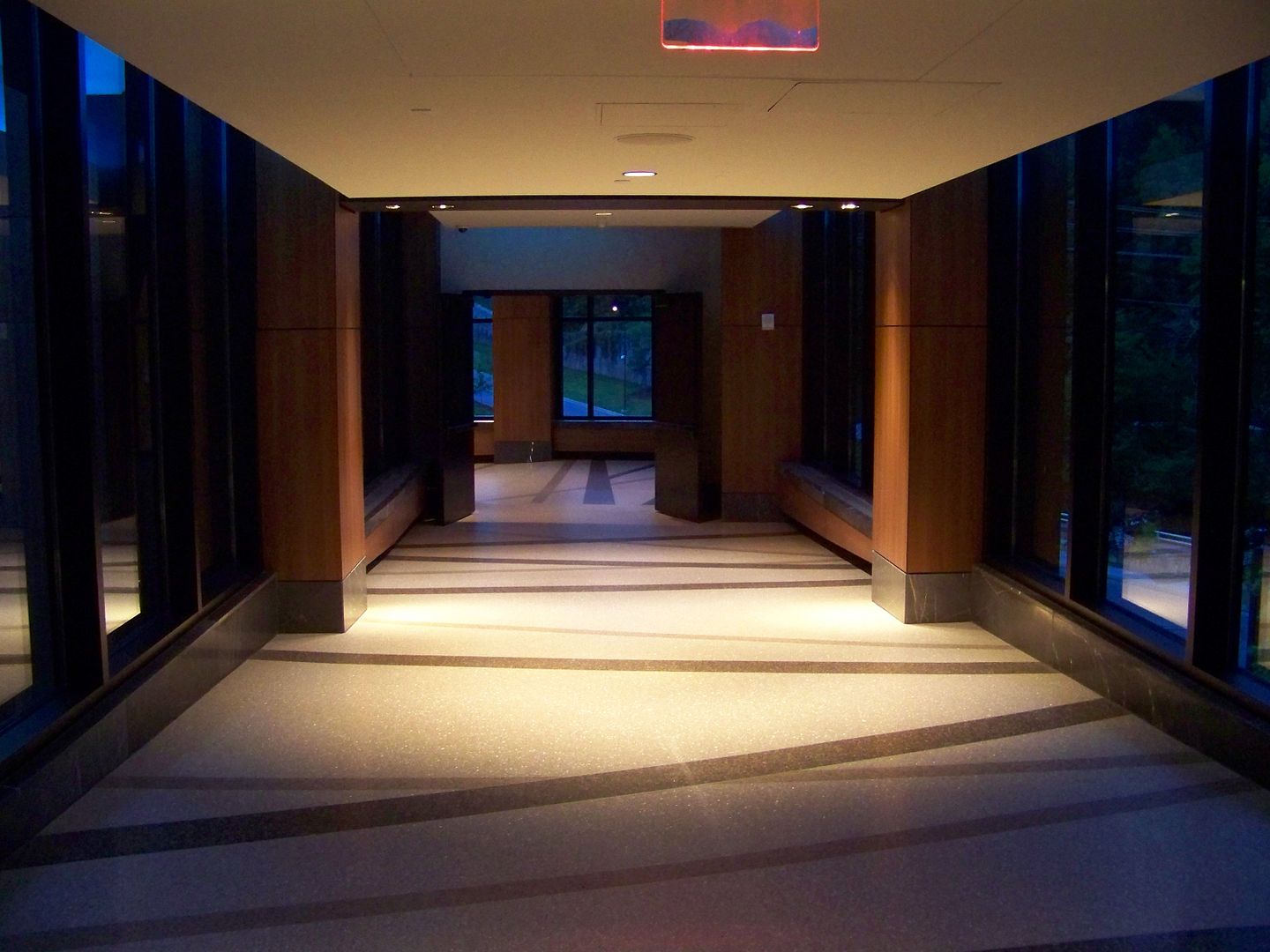 The casino and hotel are absolutely filled with locally-produced art, and much of it is meant to evoke native plants, animals, and landscapes. These lamps, for instant, are reminiscent of shelf fungus.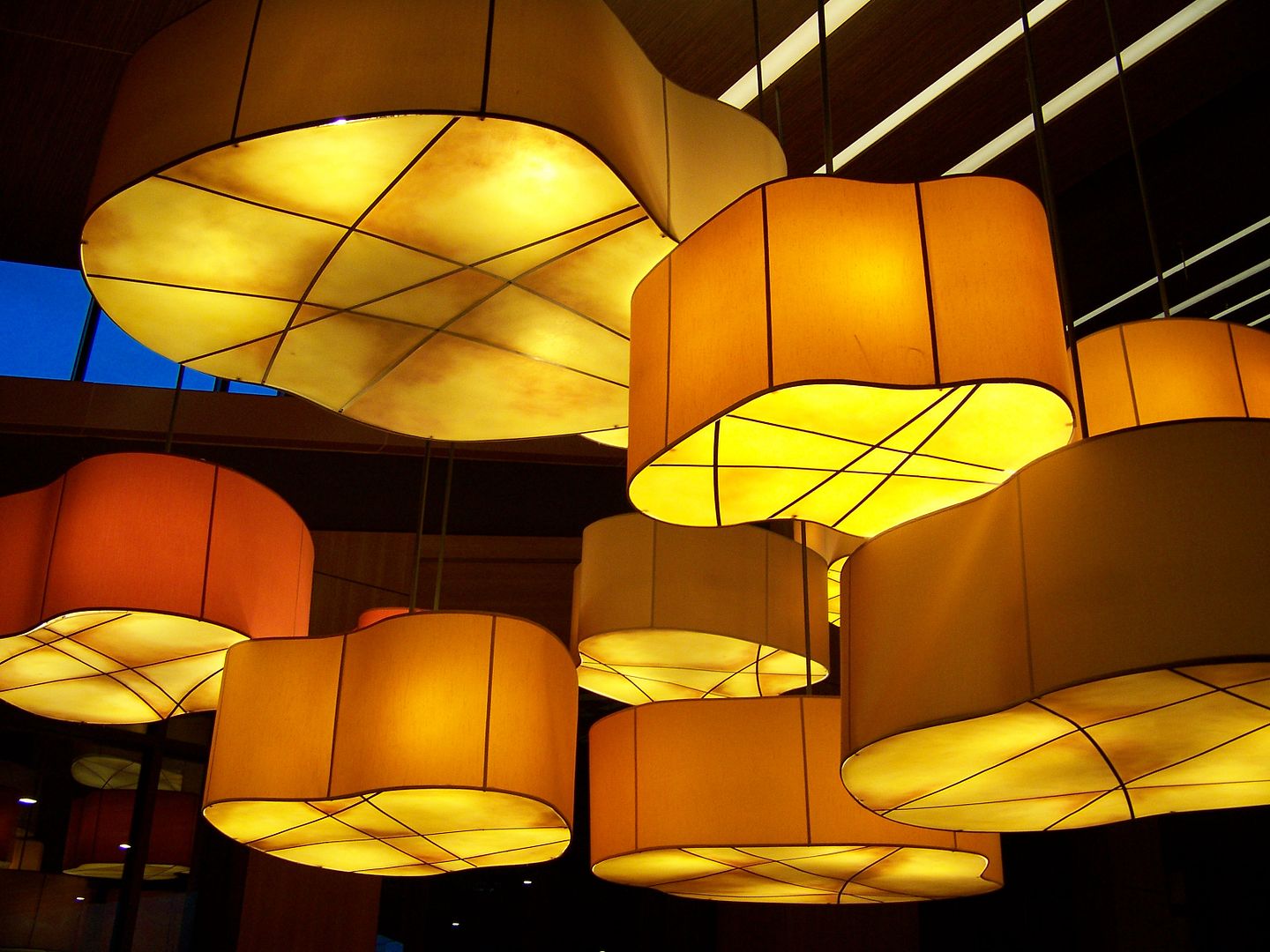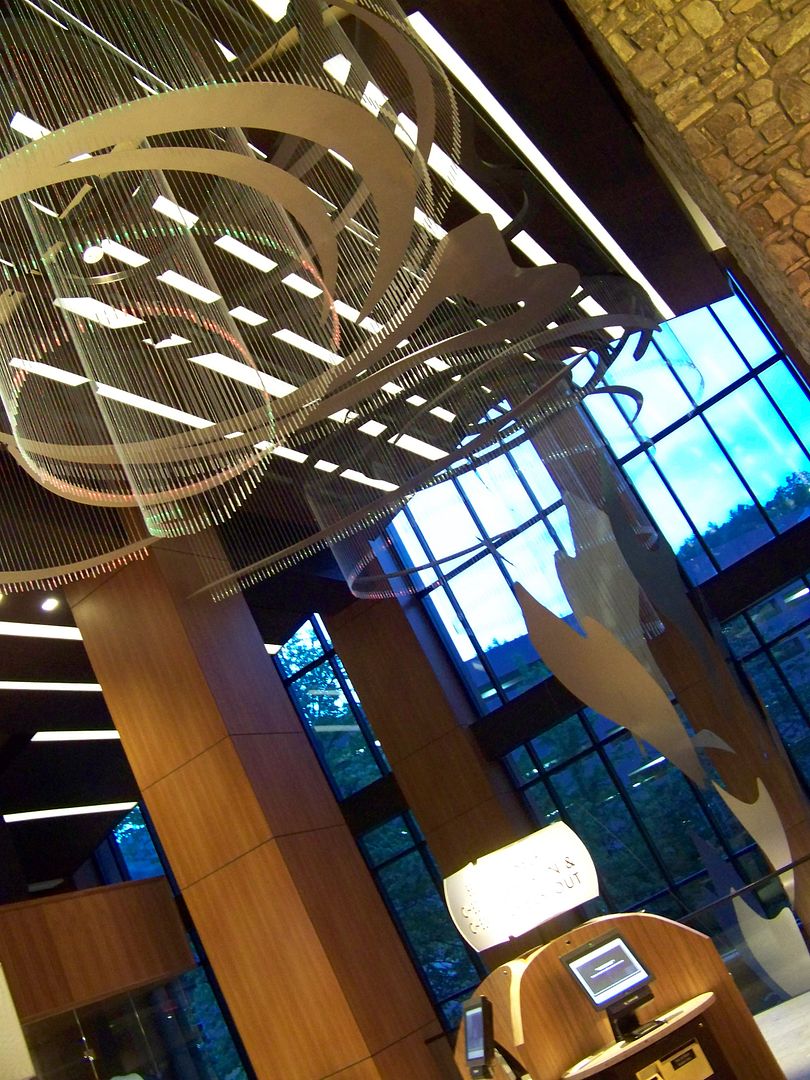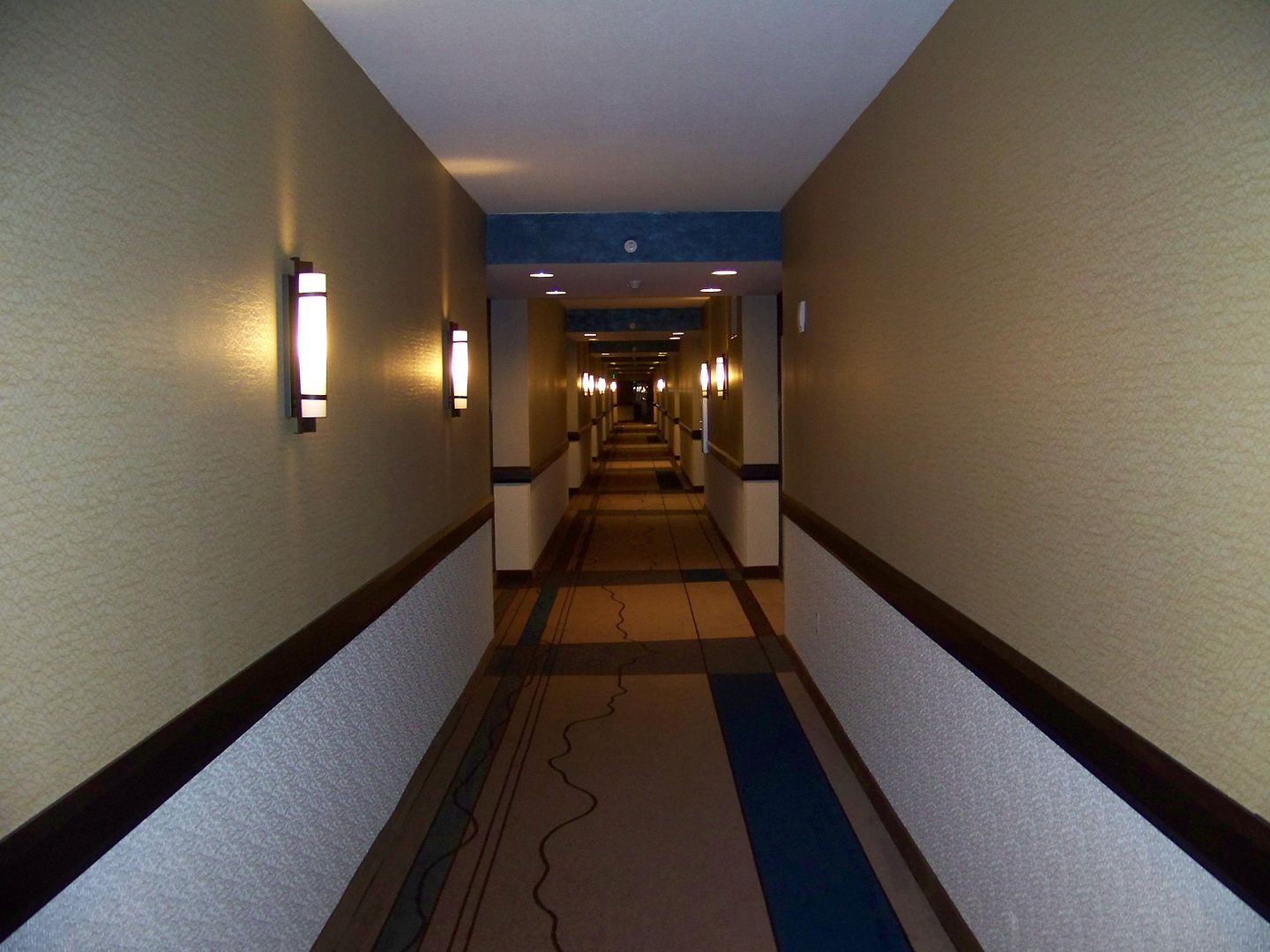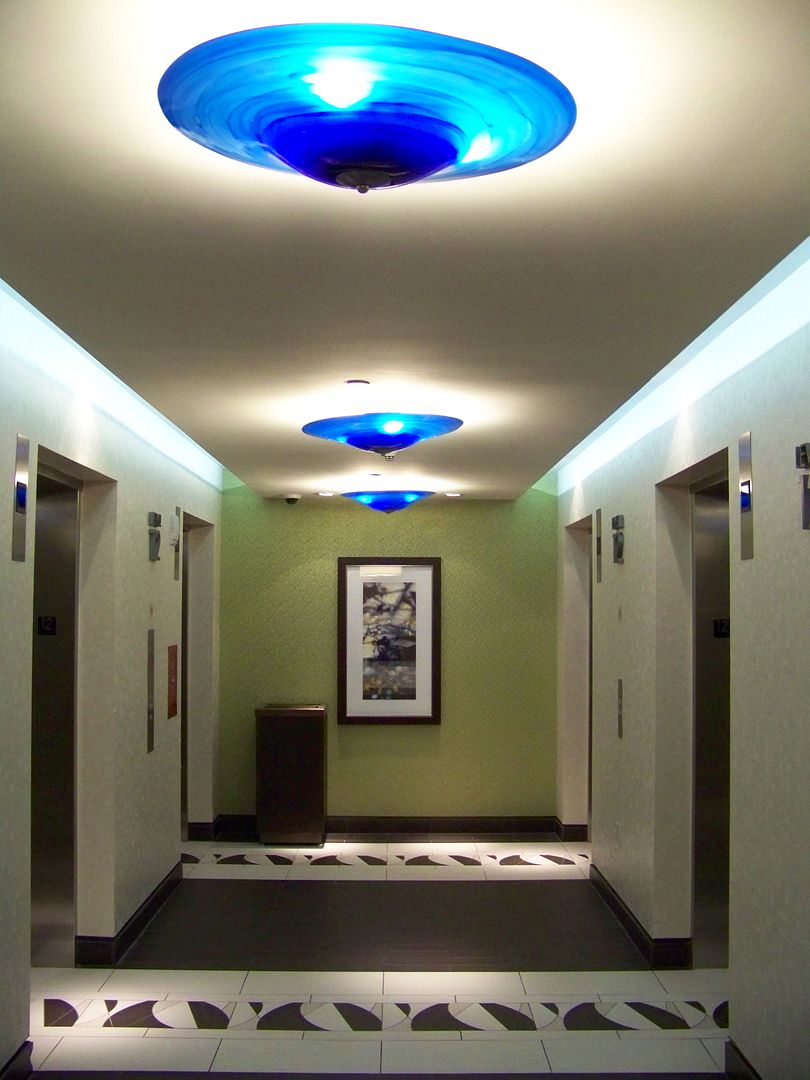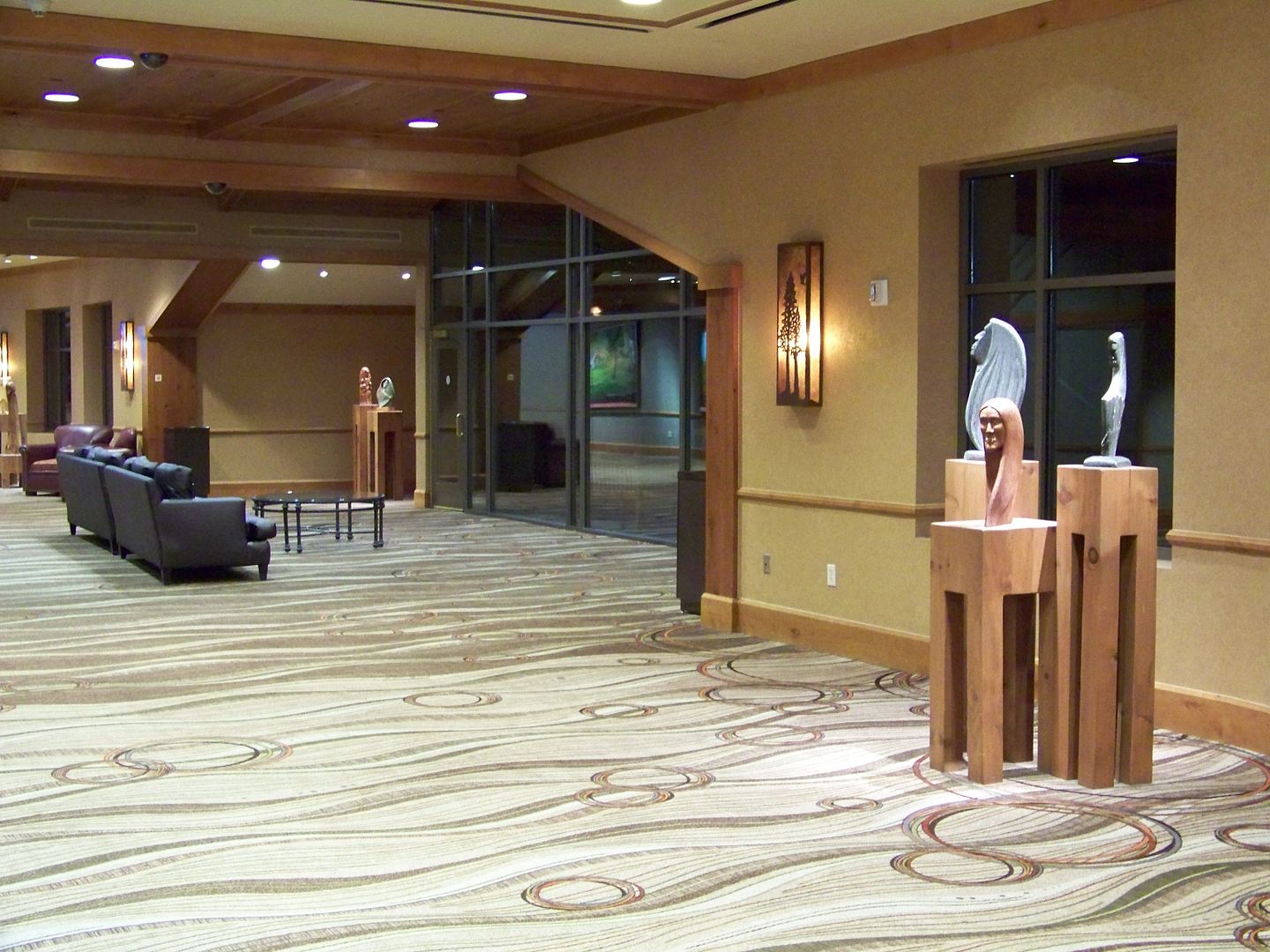 A lady seated nearby as I was taking this picture, remarked that these lights reminded her of dewdrops on a spiderweb. I can see that...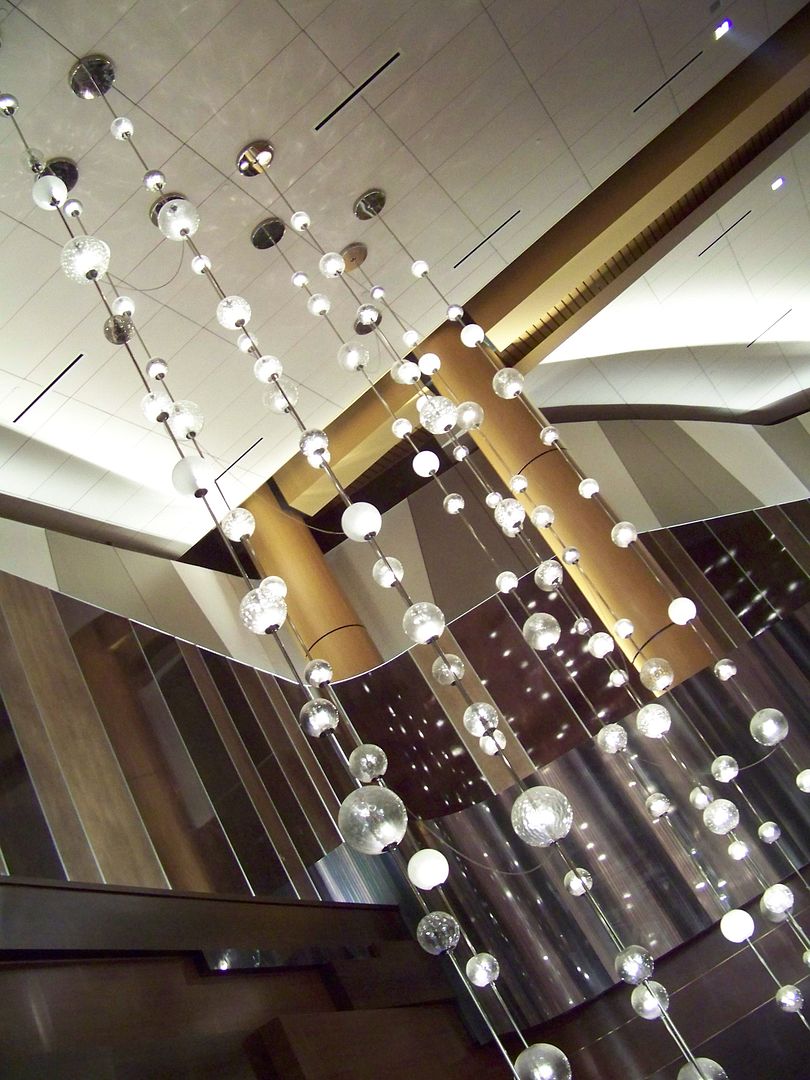 A fountain designed to look like rain cascading from above. I love it.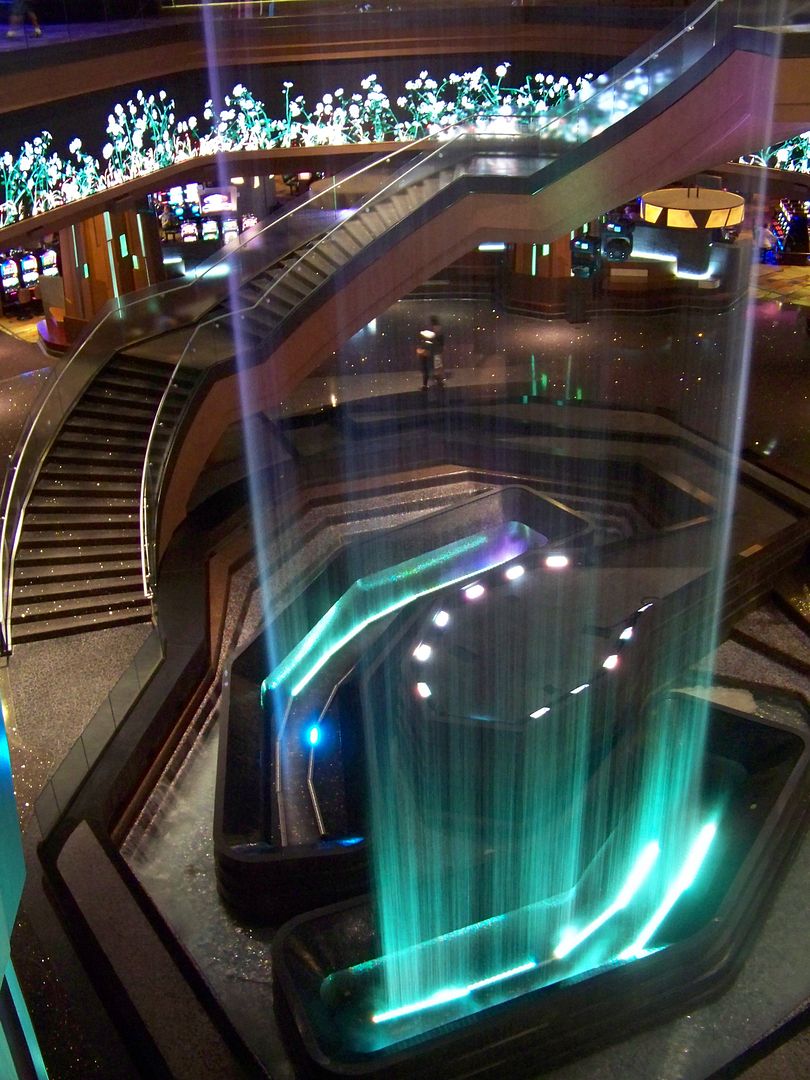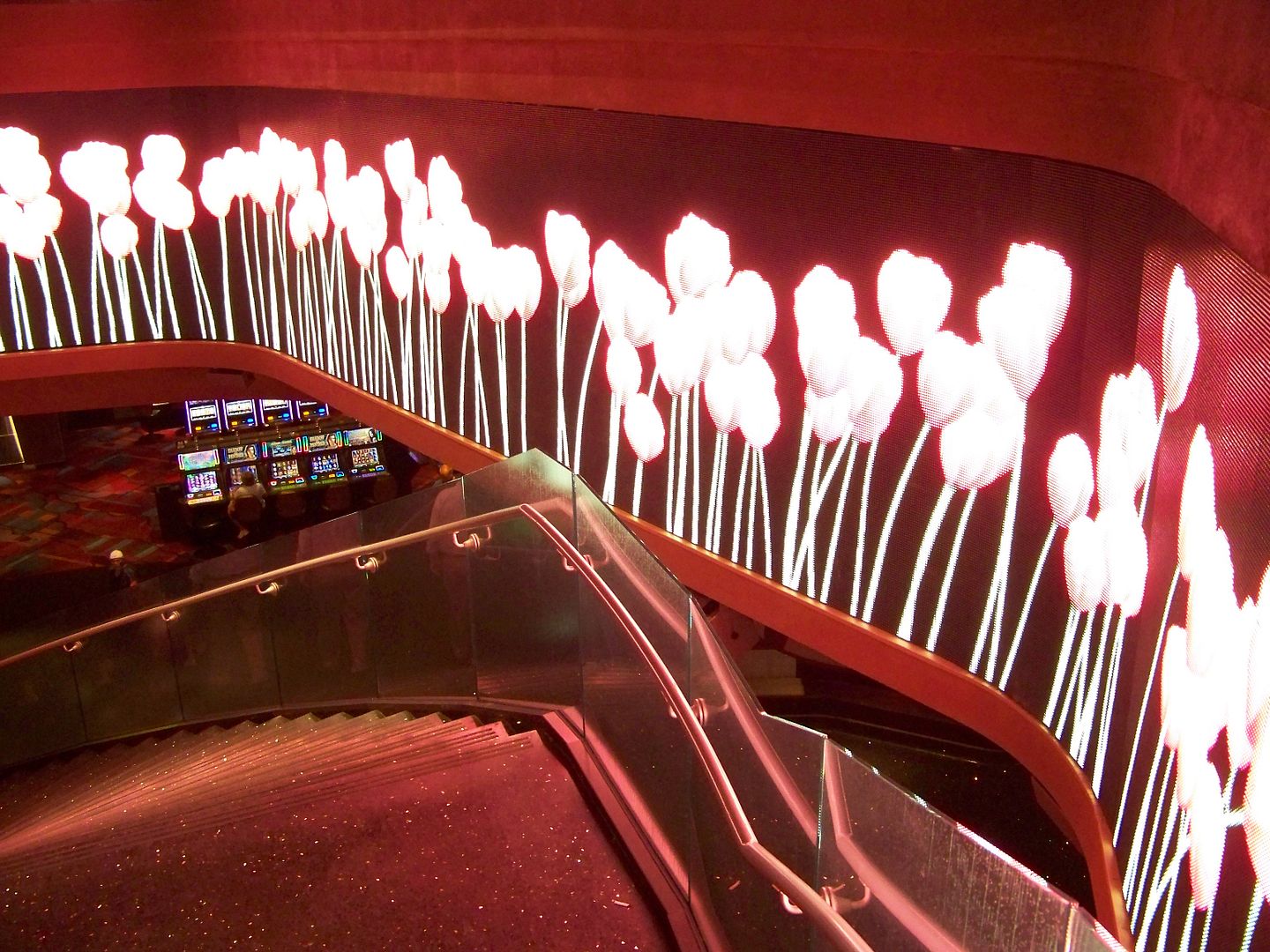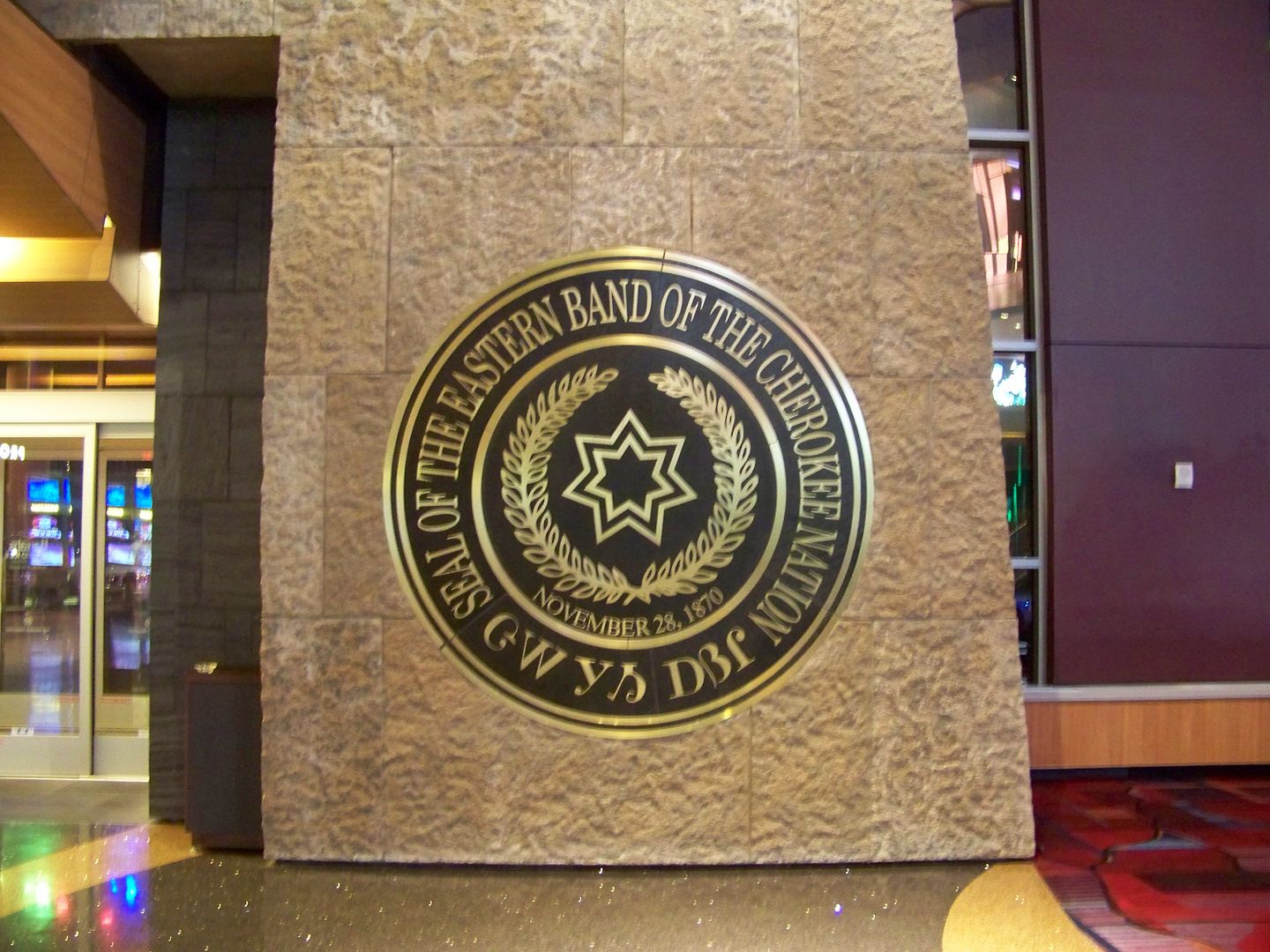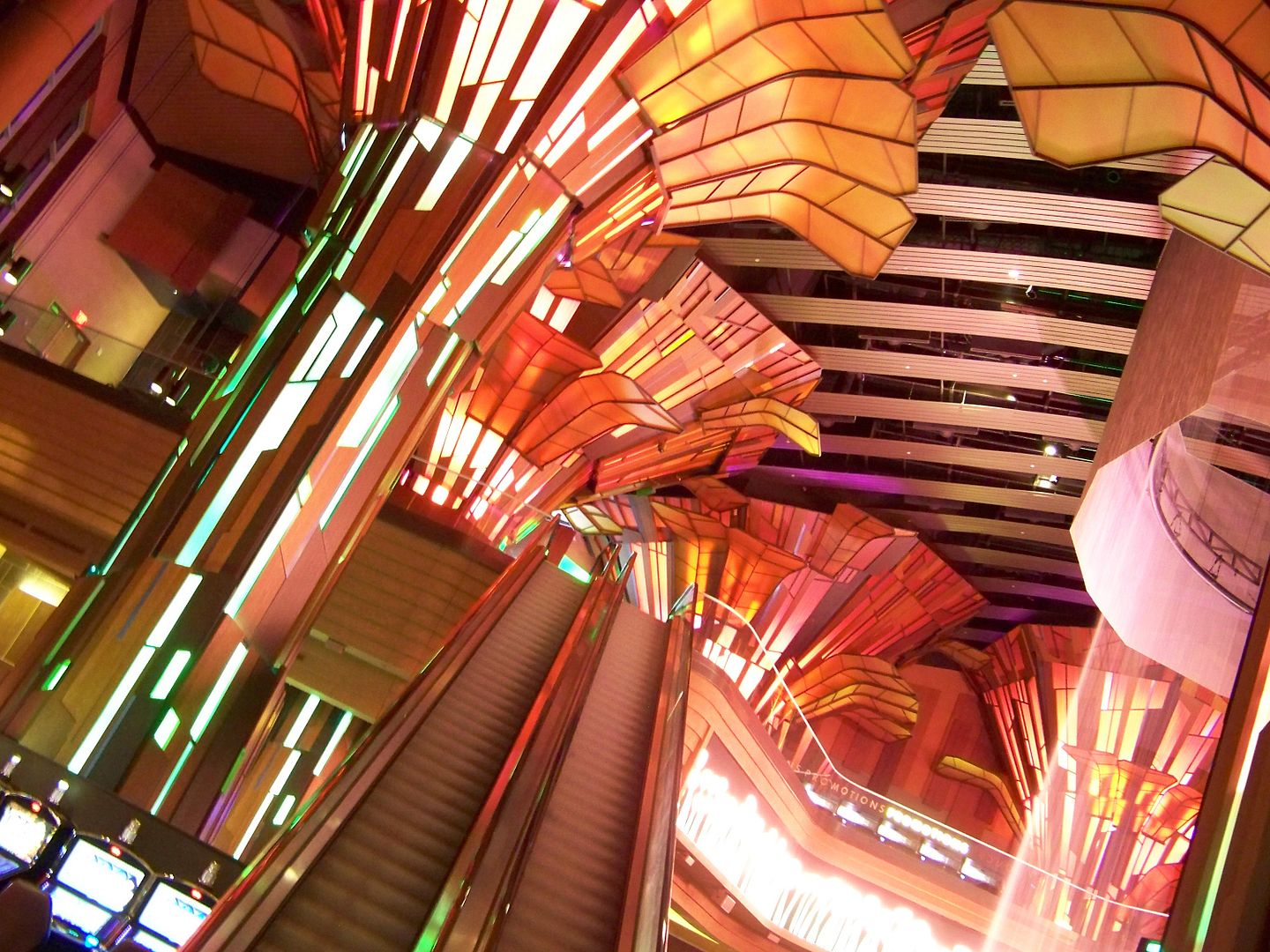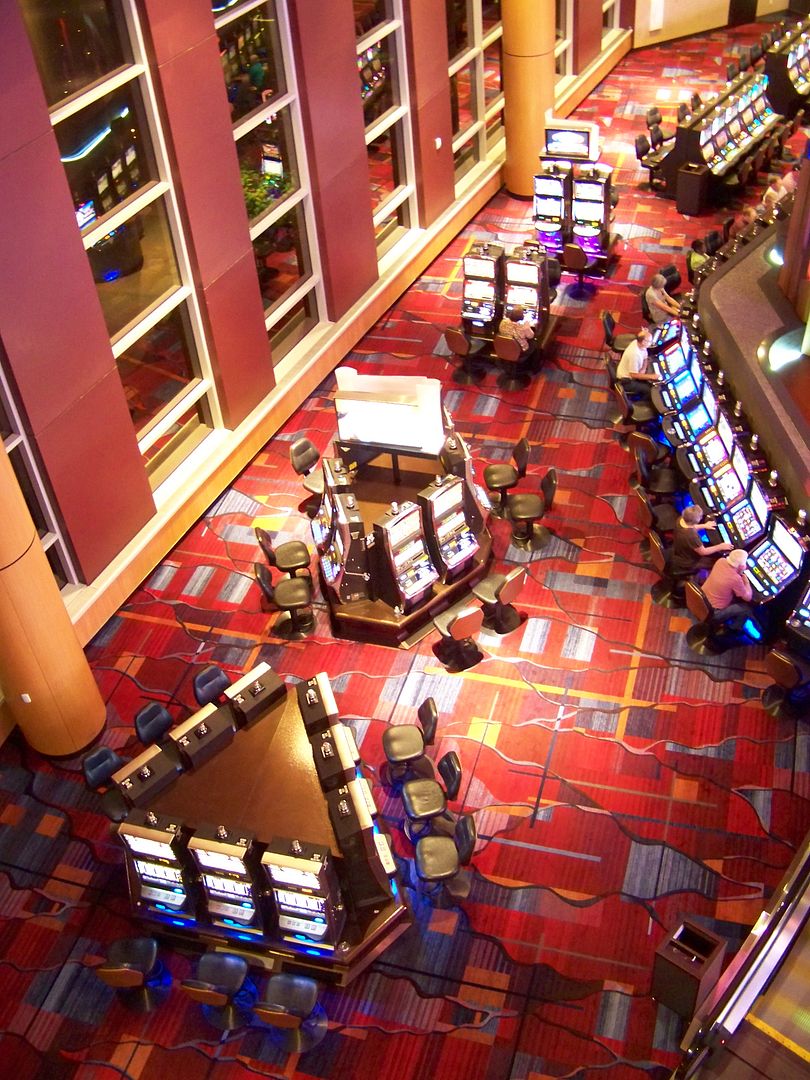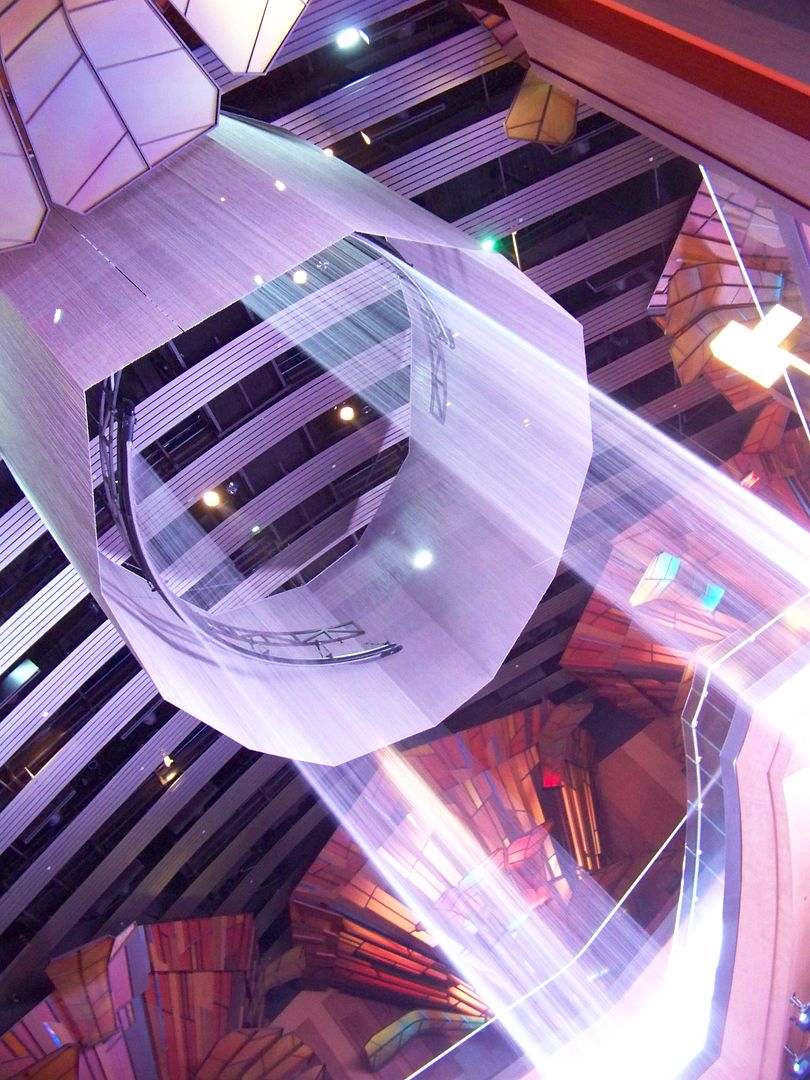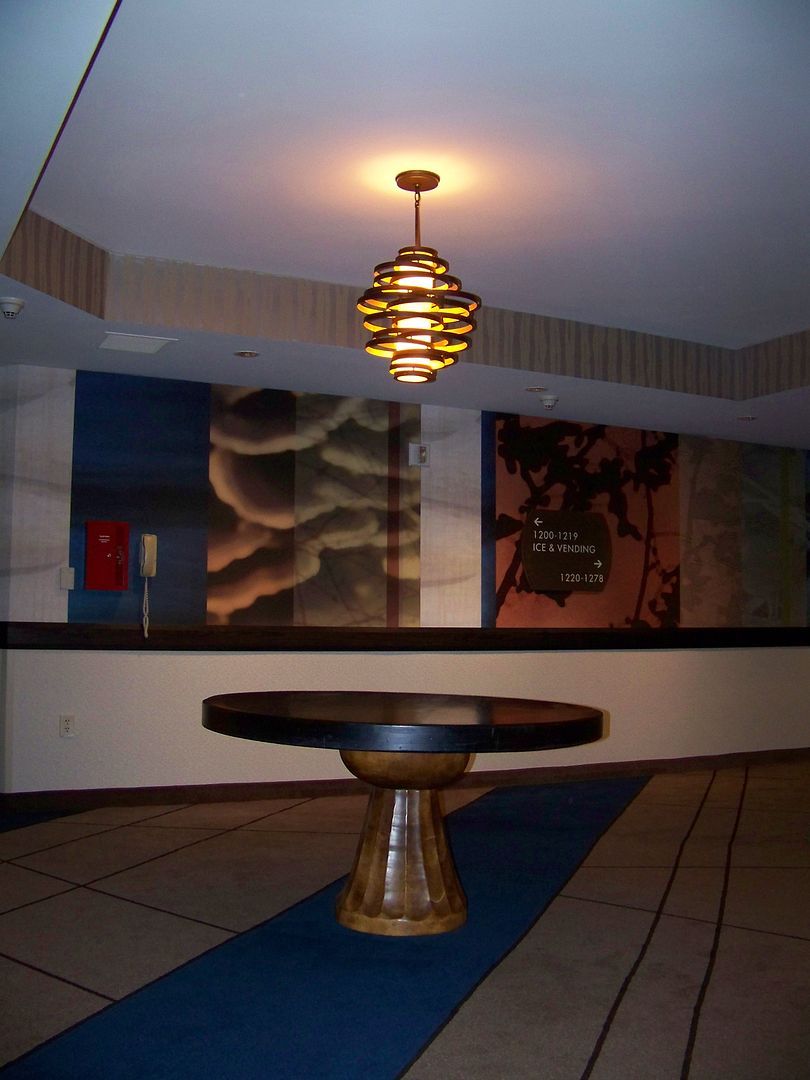 The next morning...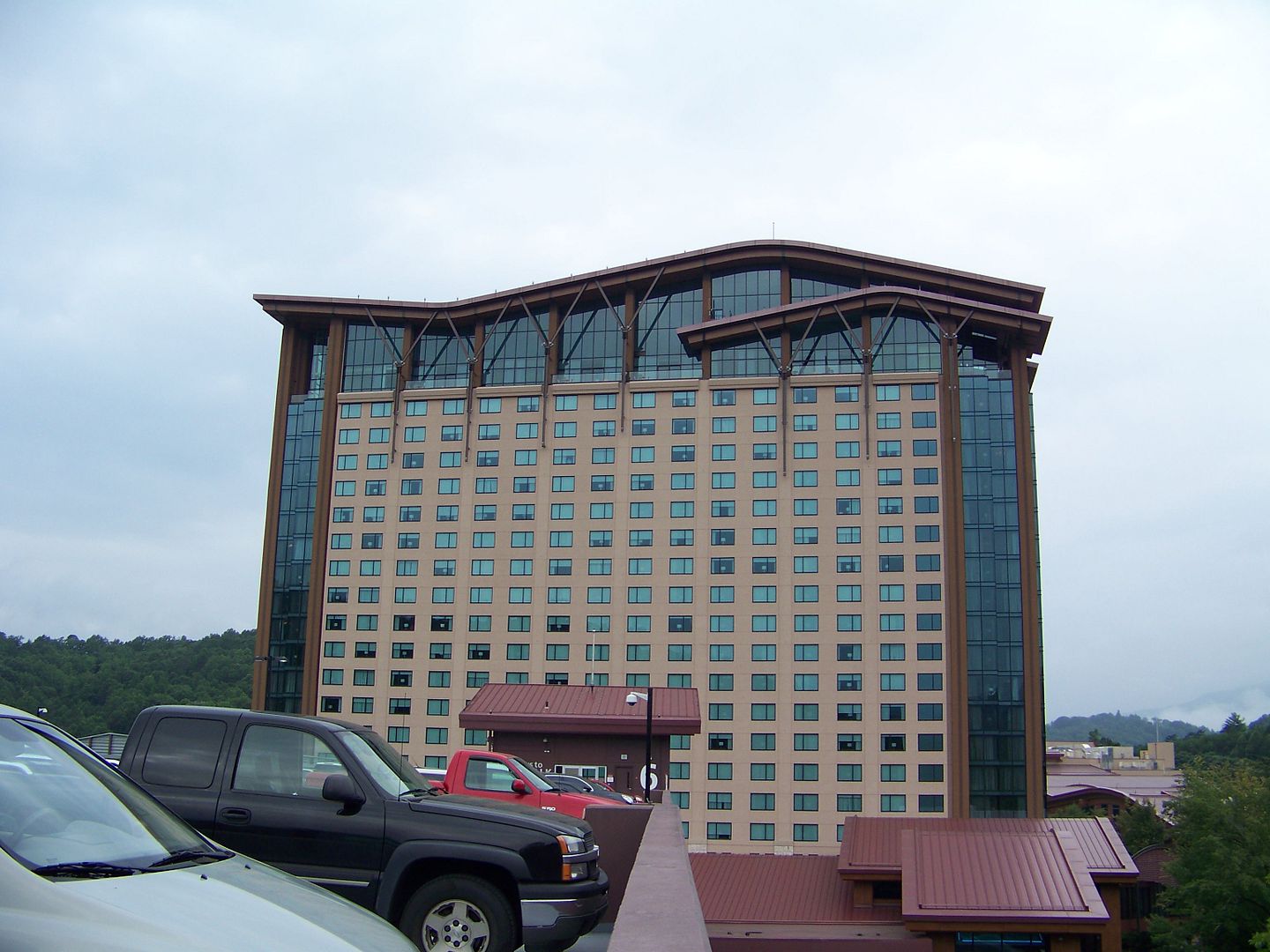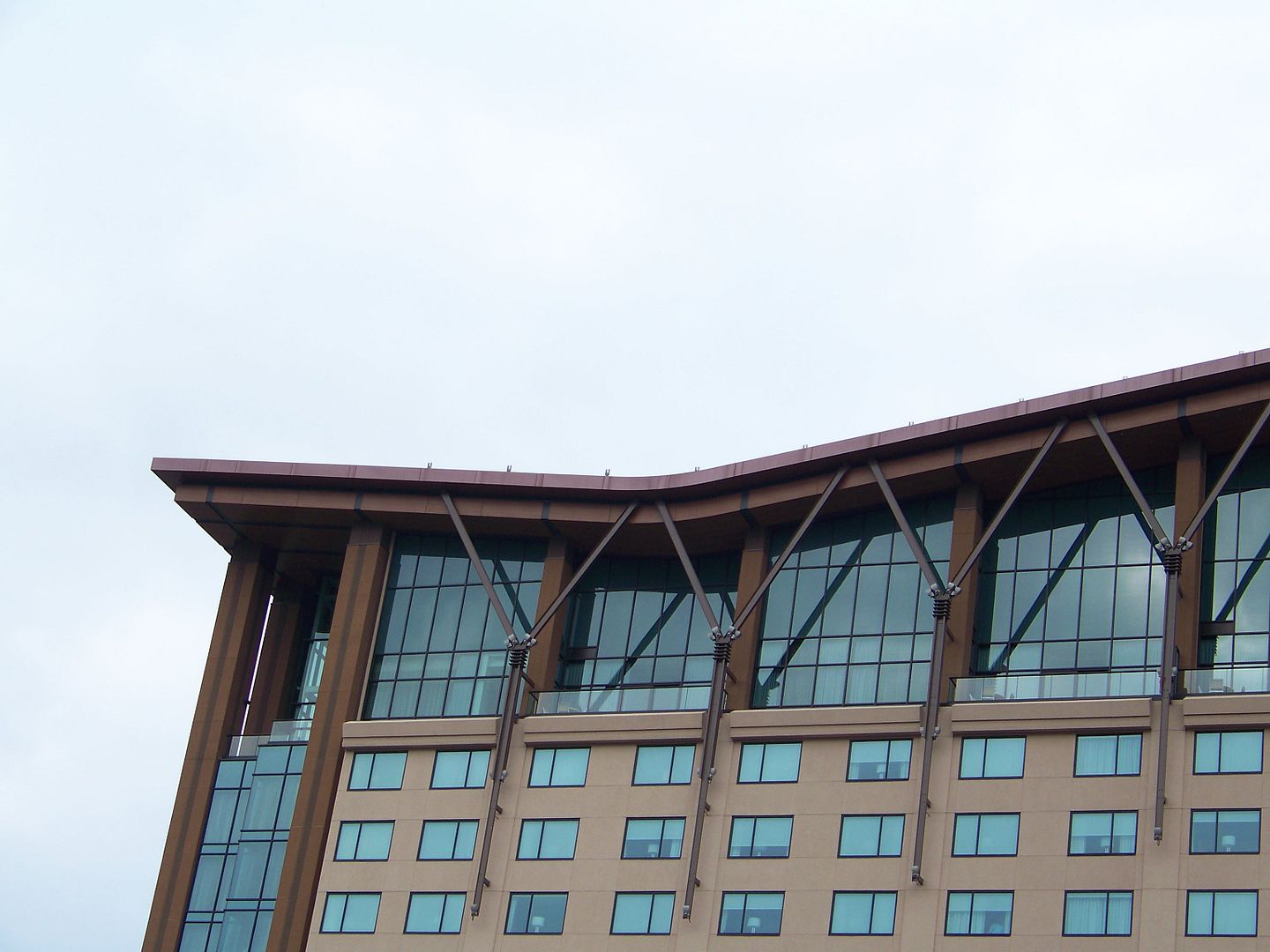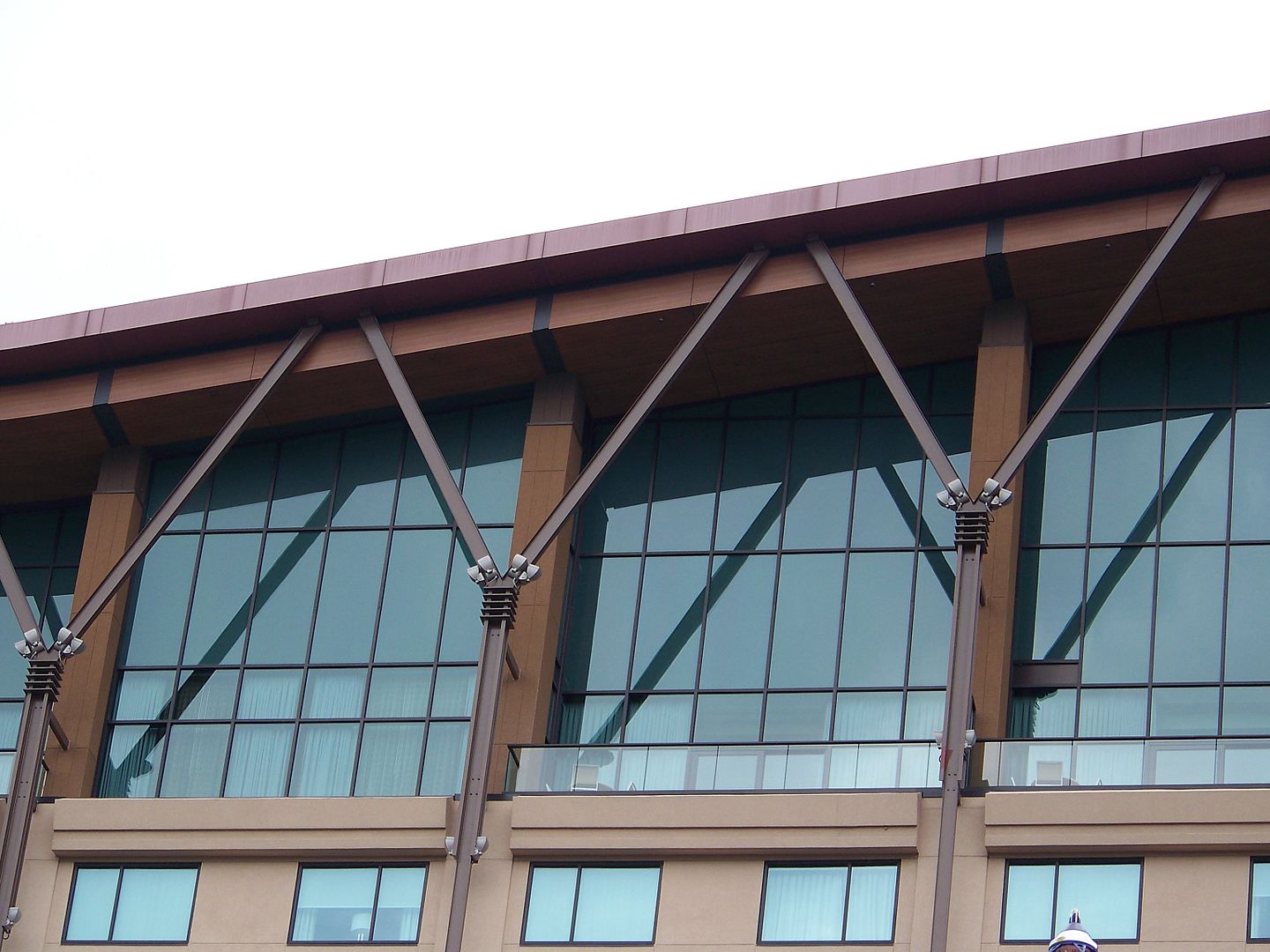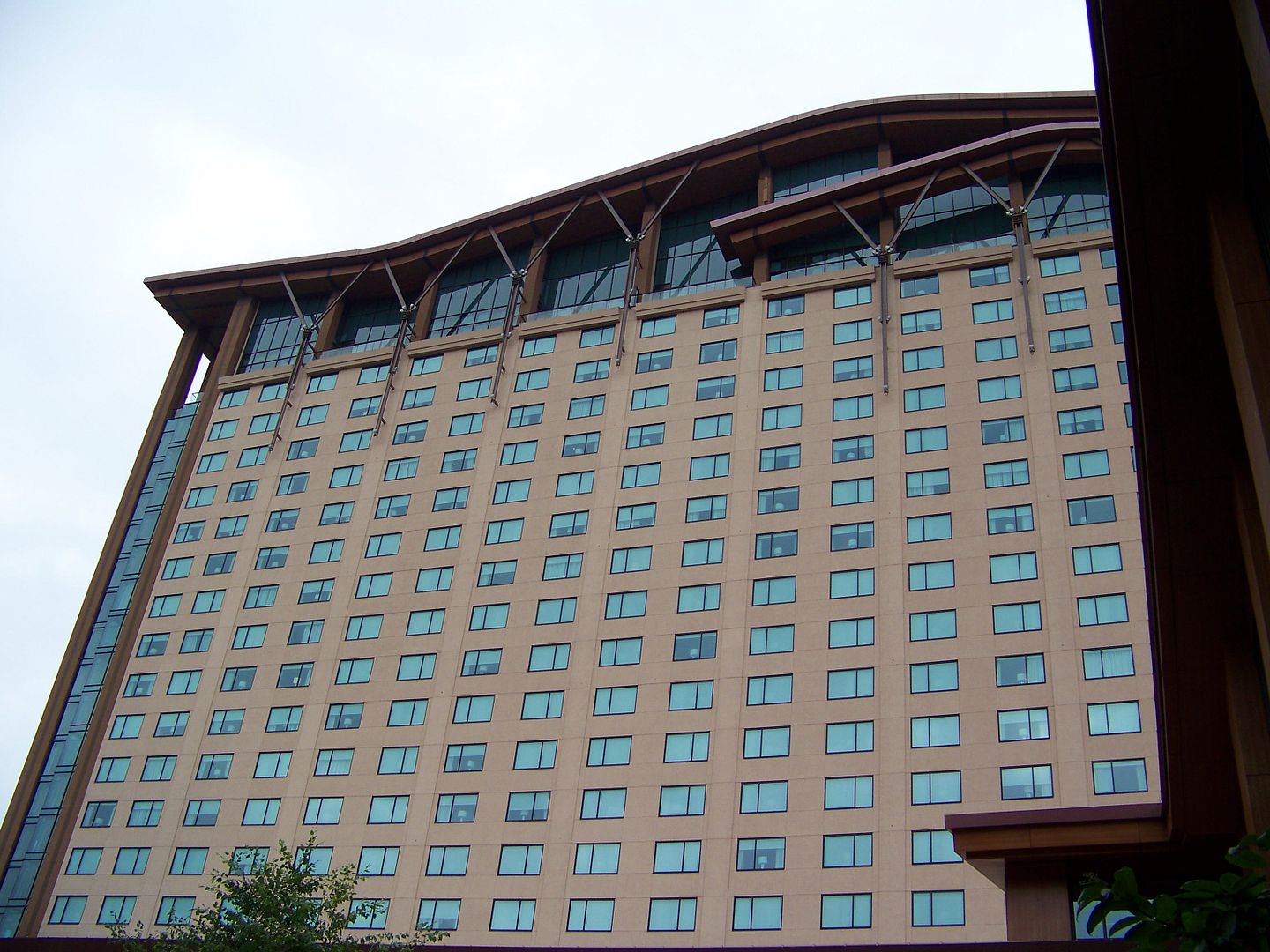 The river flows through the casino complex, which crisscrosses it several times by way of sky bridges between the towers. I'm told this isn't something typically found in places like Las Vegas.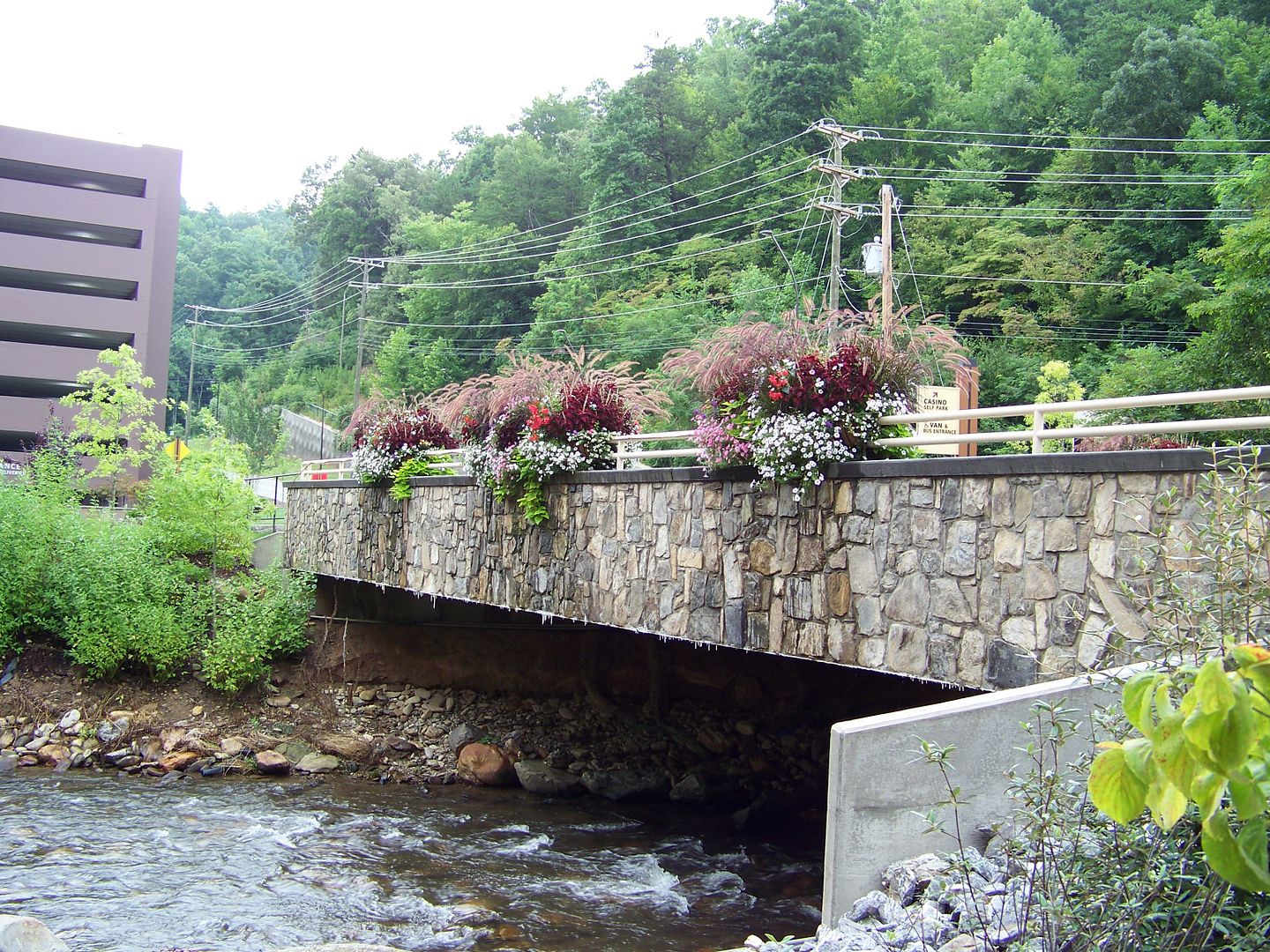 A river runs through it...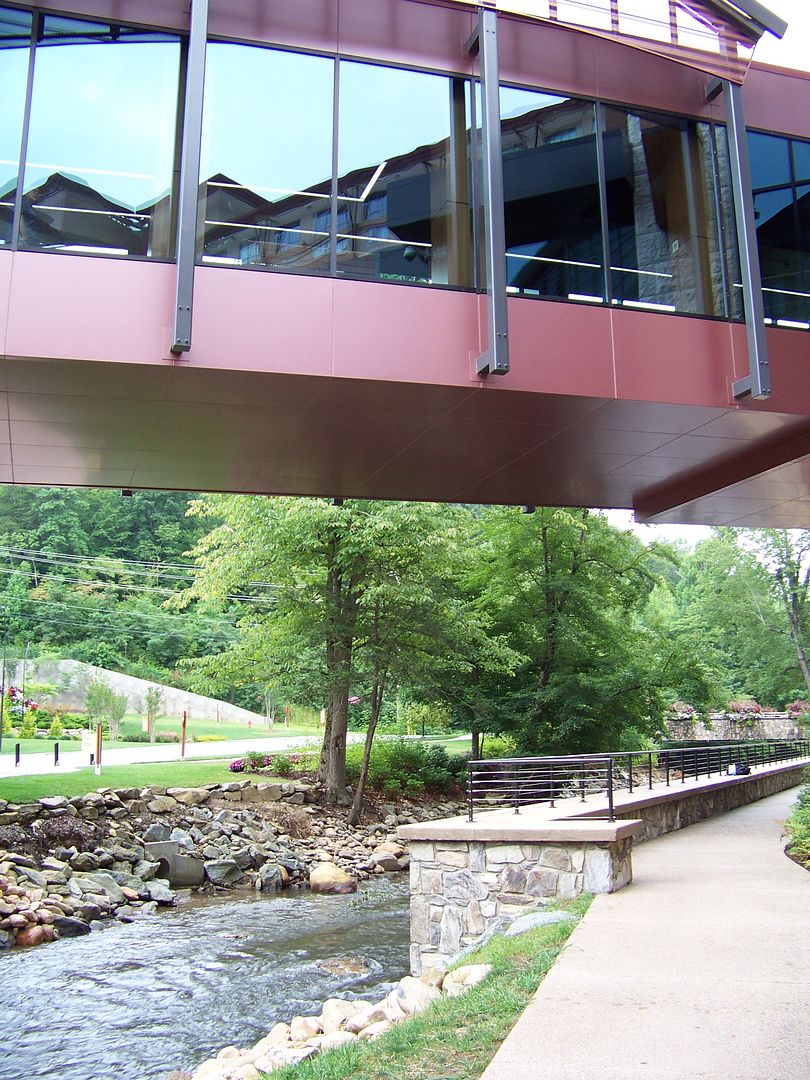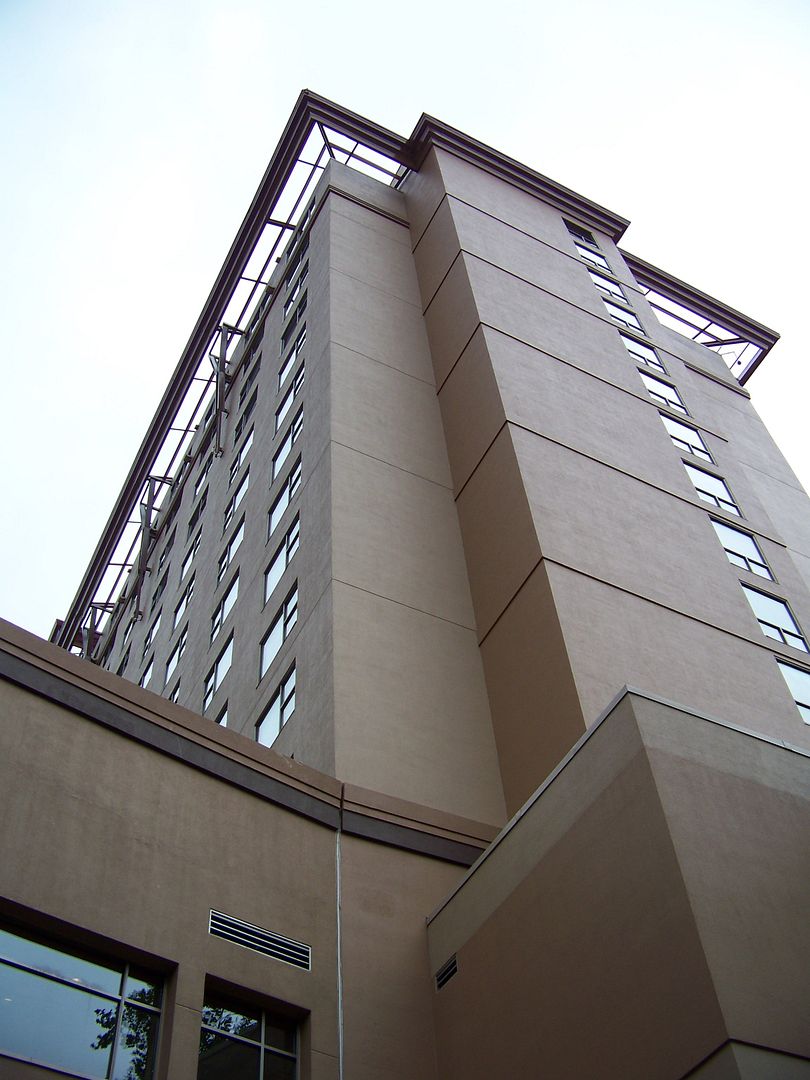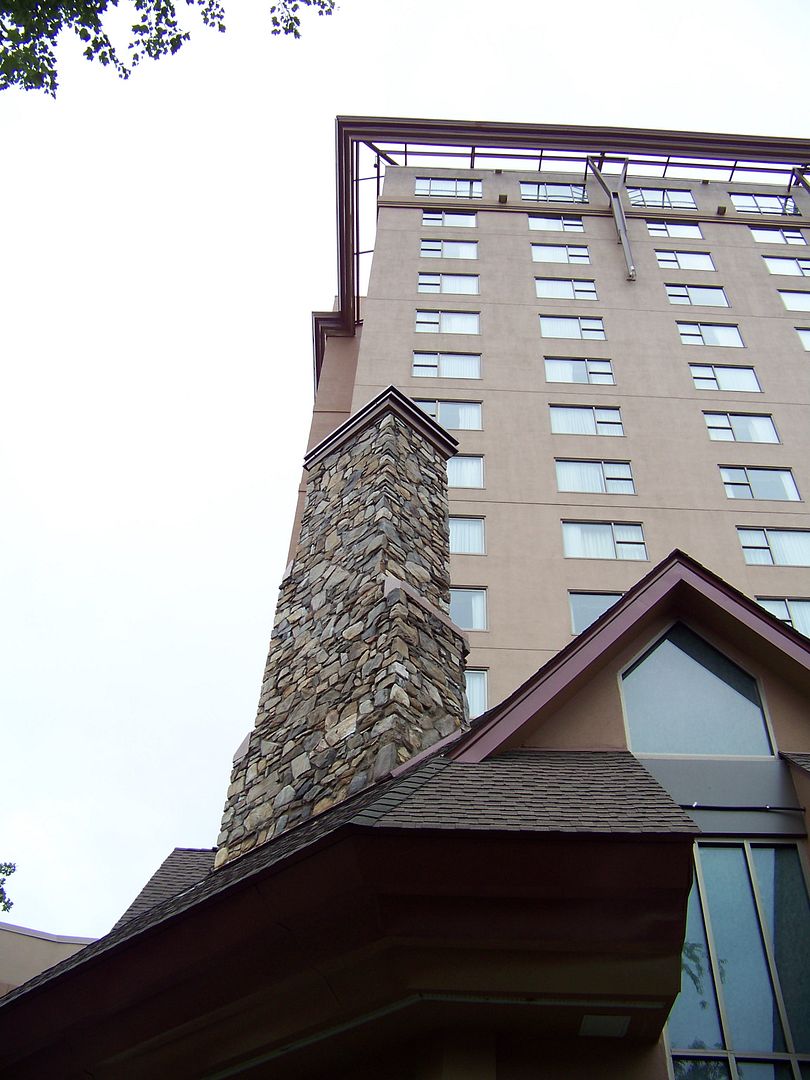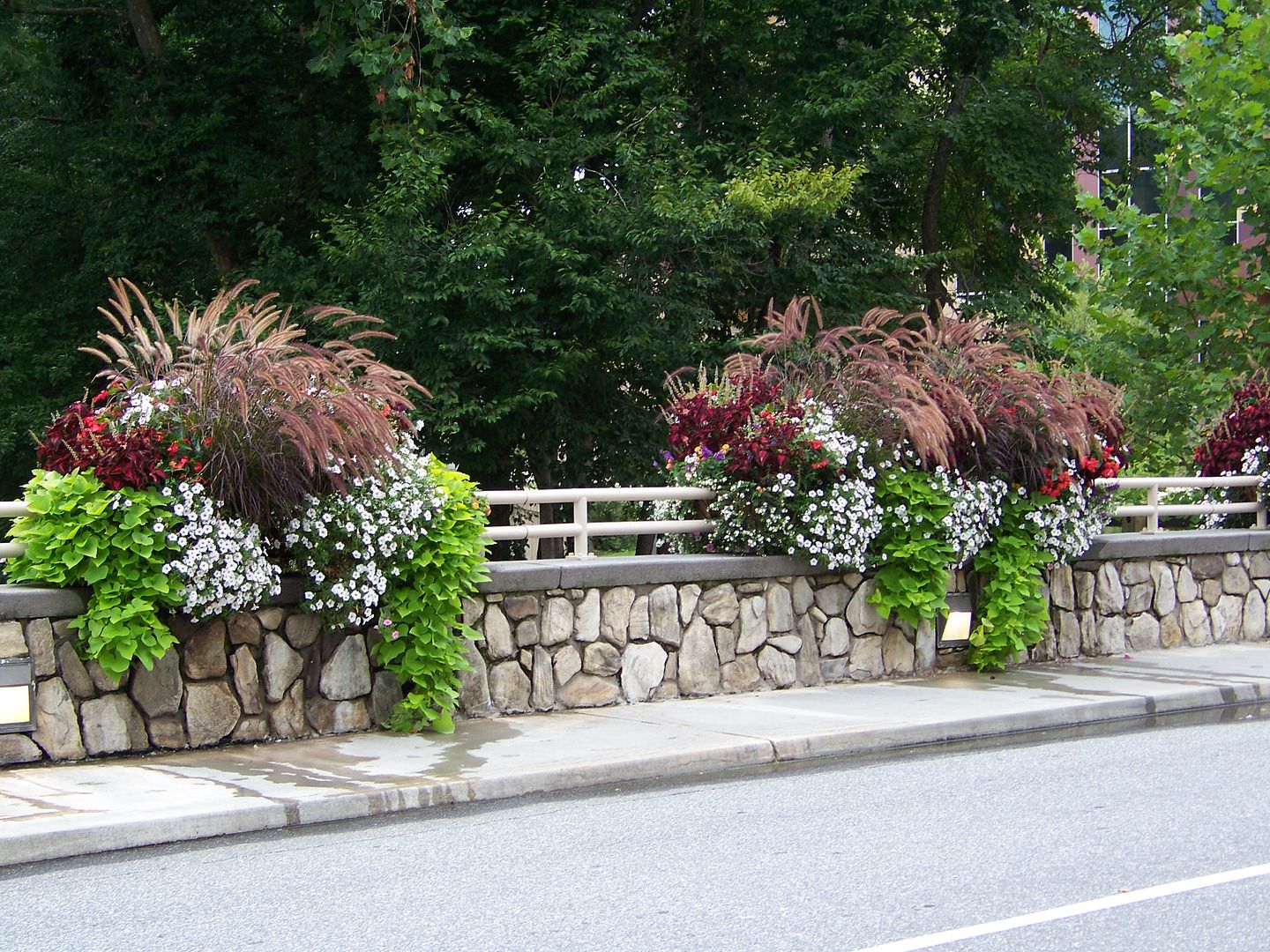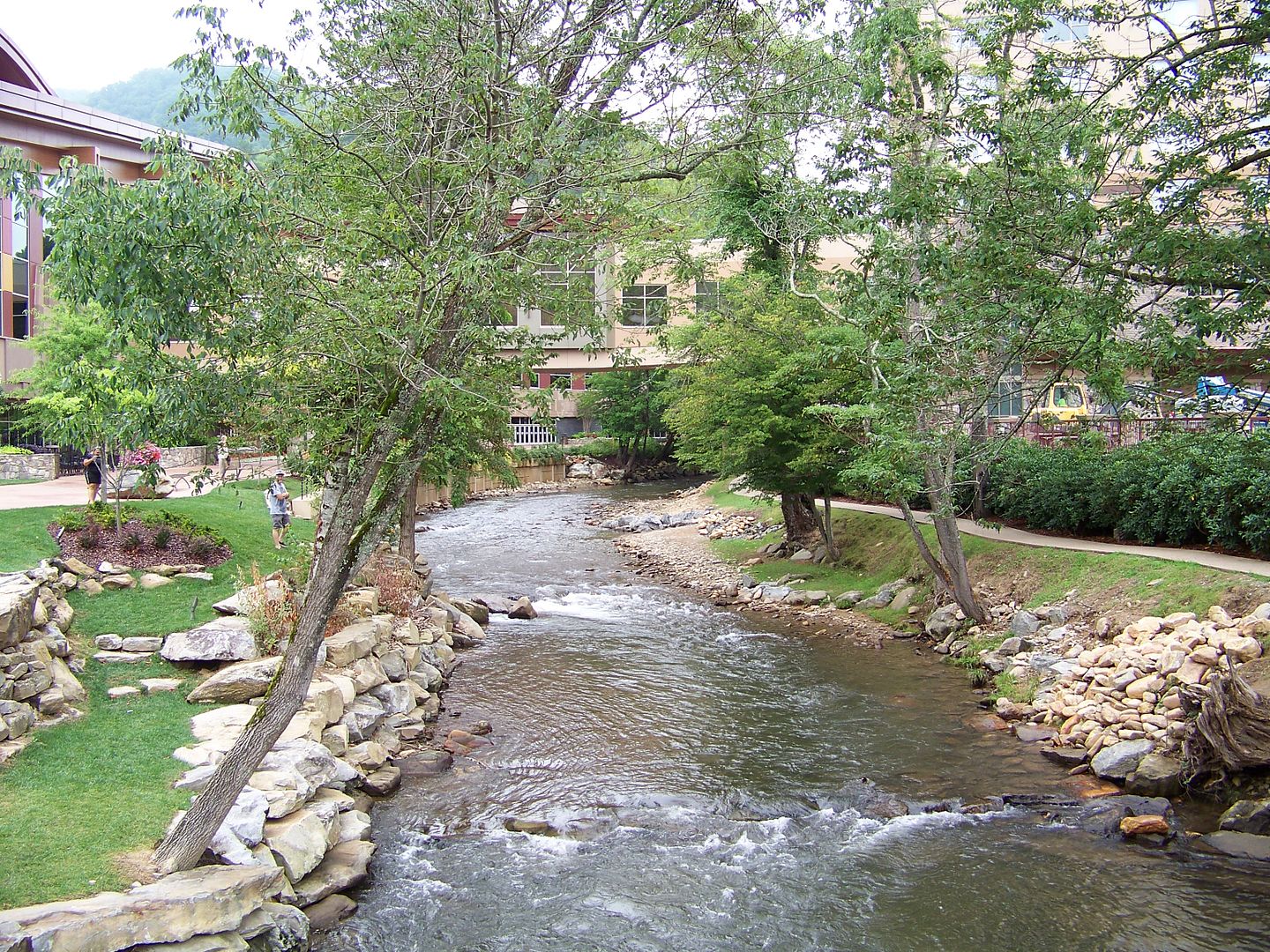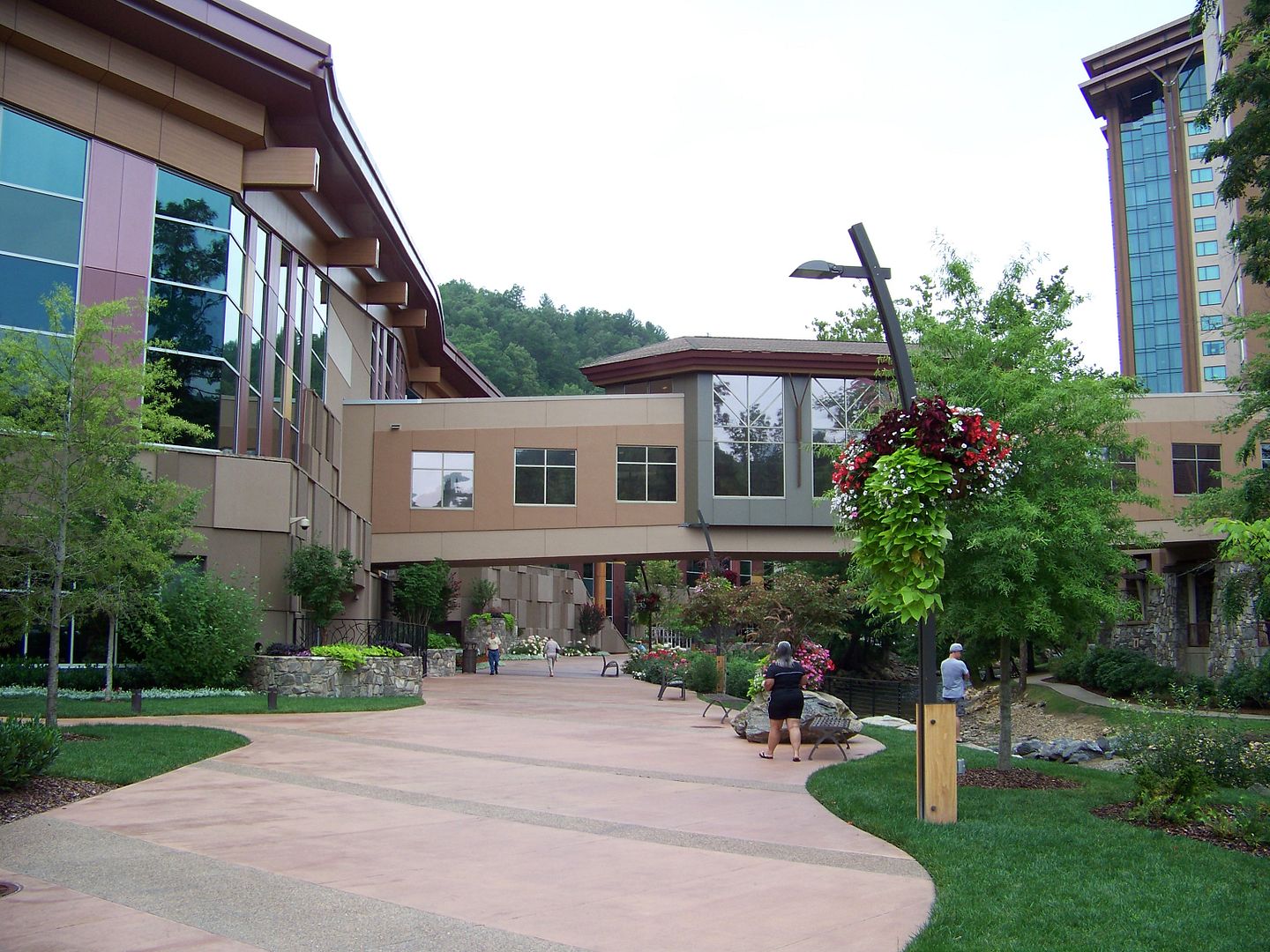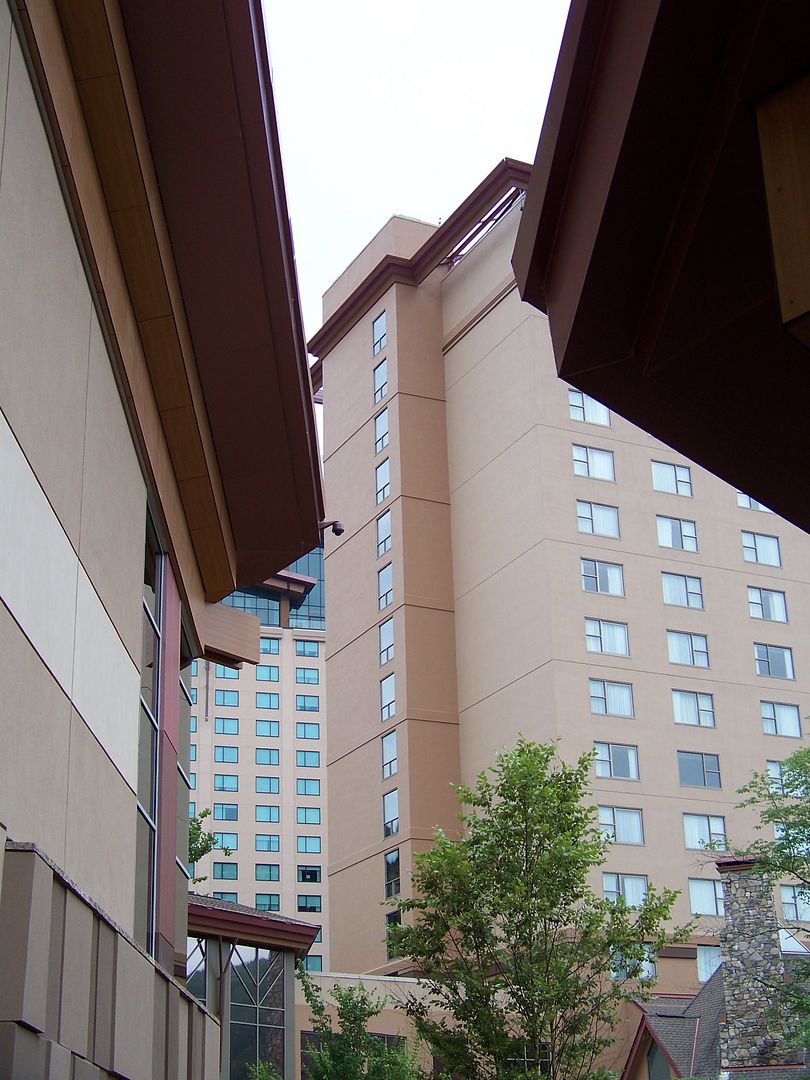 More rainfall fountains.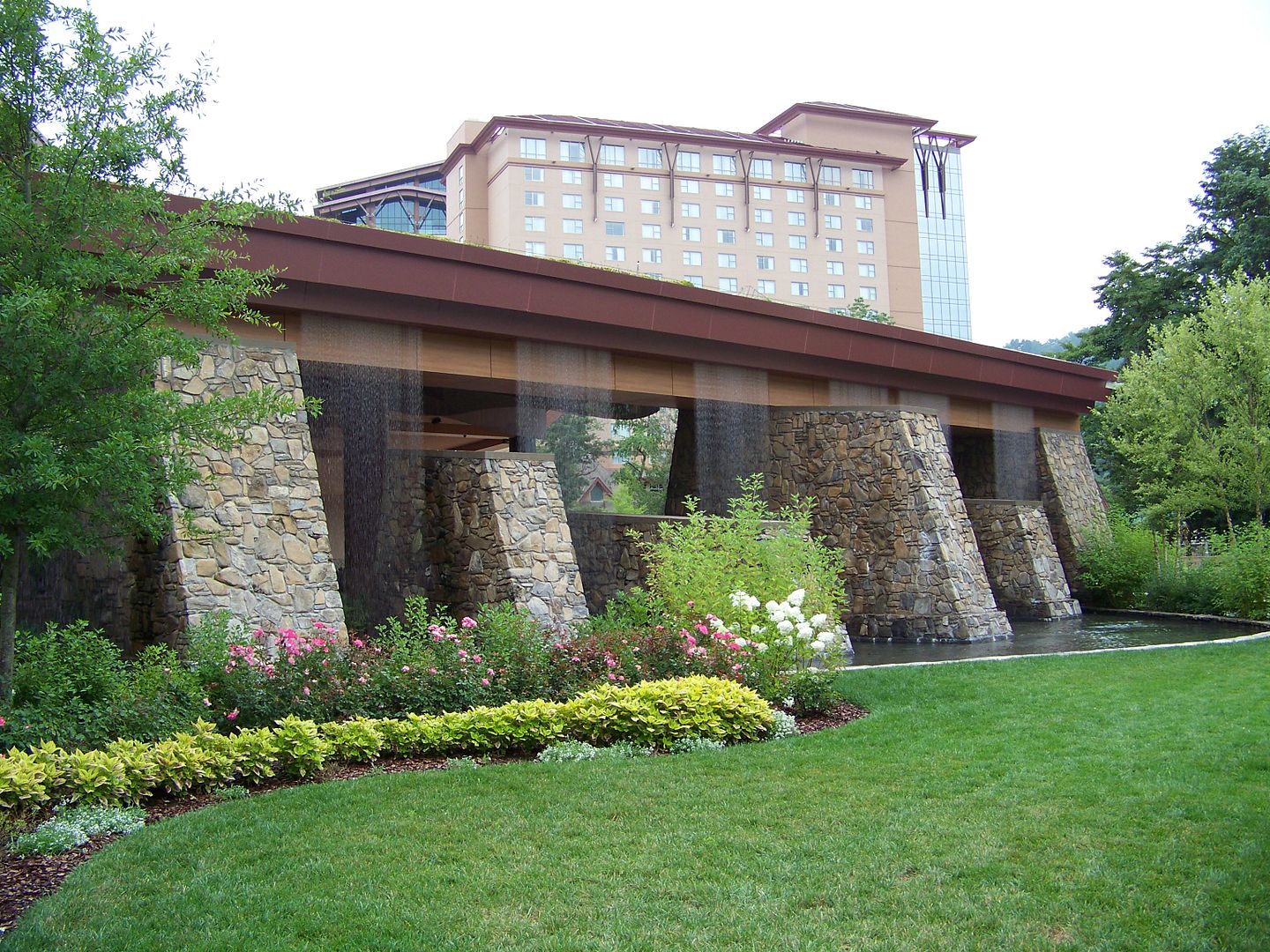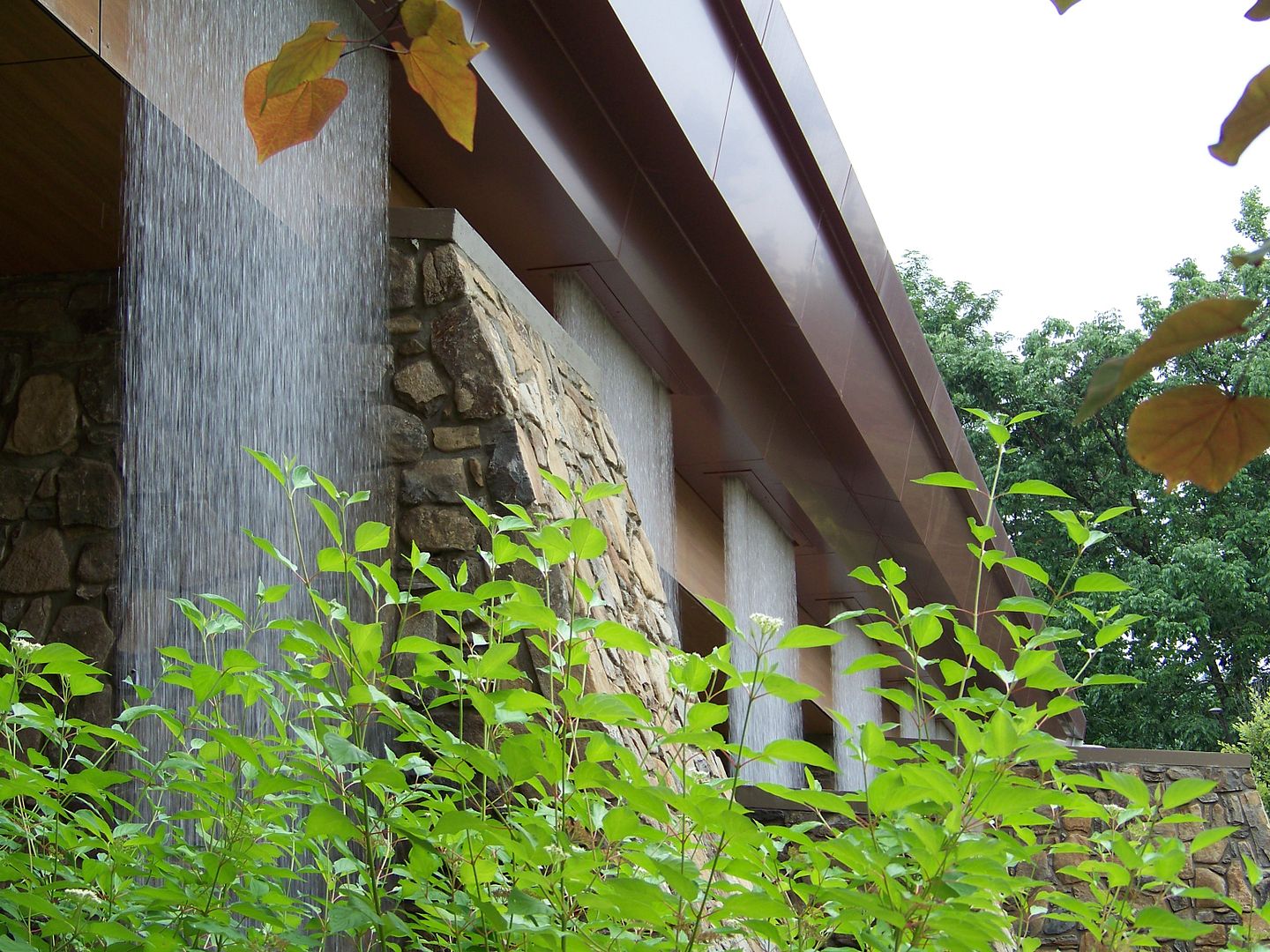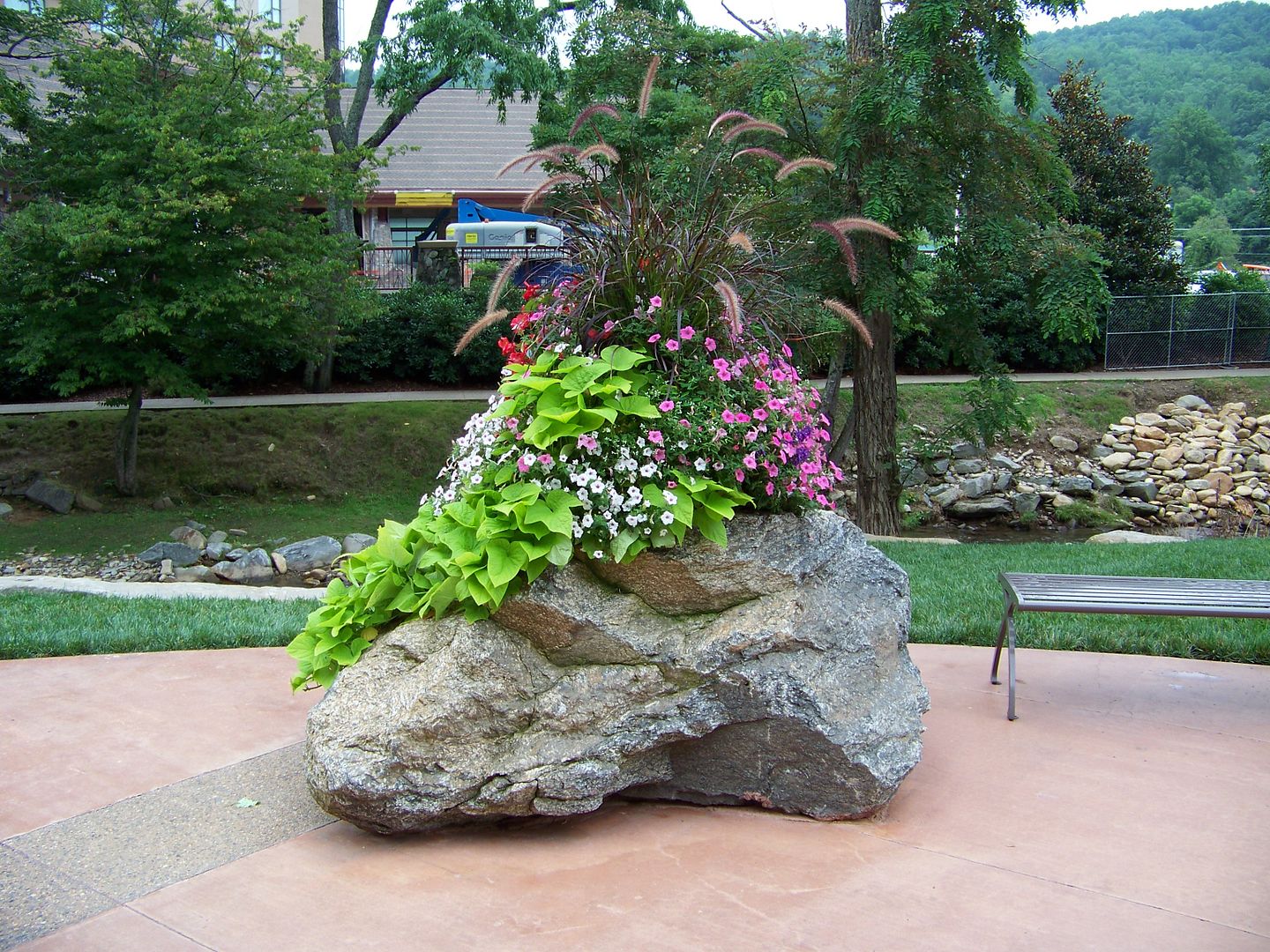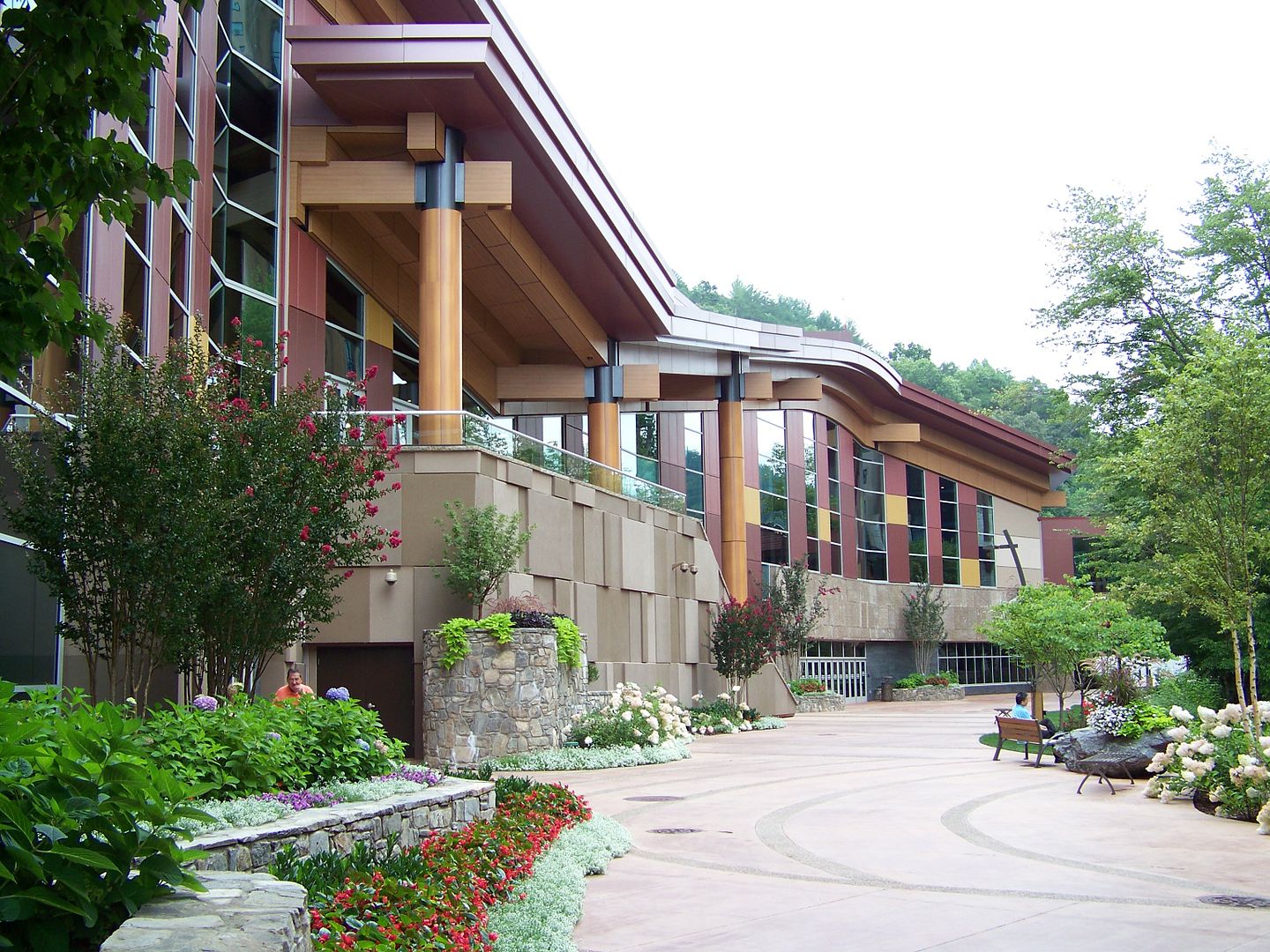 Goodbye from Cherokee, NC.