Dragonair and Air China offer the most frequencies on the Beijing route. Cathay Pacific only has 2 flights a day but I picked them anyway for the superior in-flight product. I chose this early flight for a chance to ride on the 747, which is being slowly phased out. Yes, it was worth waking up early on a Sunday.
I headed to the renovated Wing lounge, which looked very small and not particularly impressive. The food selection was so-so and nothing spectacular. I had expected a few more selections in this buffet and a noodle bar. Perhaps there was one but I didn't see it in the big pit. The chairs were quite nice - like those at the Cabin.
I headed back to the terminal for some plane spotting, and found my flight - the beautiful 747 with the uneconomical 4 engines. I woke up so early for you.
Air Astana has launched a fairly new direct service to Hong Kong. Some tour groups use them for exotic trips to Kazakhstan and even Turkey.
Boarding was orderly, since Business Class goes first and uses its dedicated bridge. Today, I have booked a seat on the quiet upper deck, my favourite to relax but at the expense of window access. The curvature on that part of the plane makes taking aerial photos difficult. Add to that the old herringbone seats are configured to restrict window access entirely.
We took off heading towards the east, and I was ready to capture some aerials. Here is the suburb of Tuen Mun.
This part of Kowloon north of Kowloon City is a middle and lower-class residential area, with quite a lot of greenery in between.
We turned north after leaving the harbour and looped around to get into the right flight path. Too bad the skies were not too clear, but the skyline view is spectacular nevertheless.
Business Class was fairly full today and as we entered Chinese airspace, I focused on some short TV comedies to pass the time.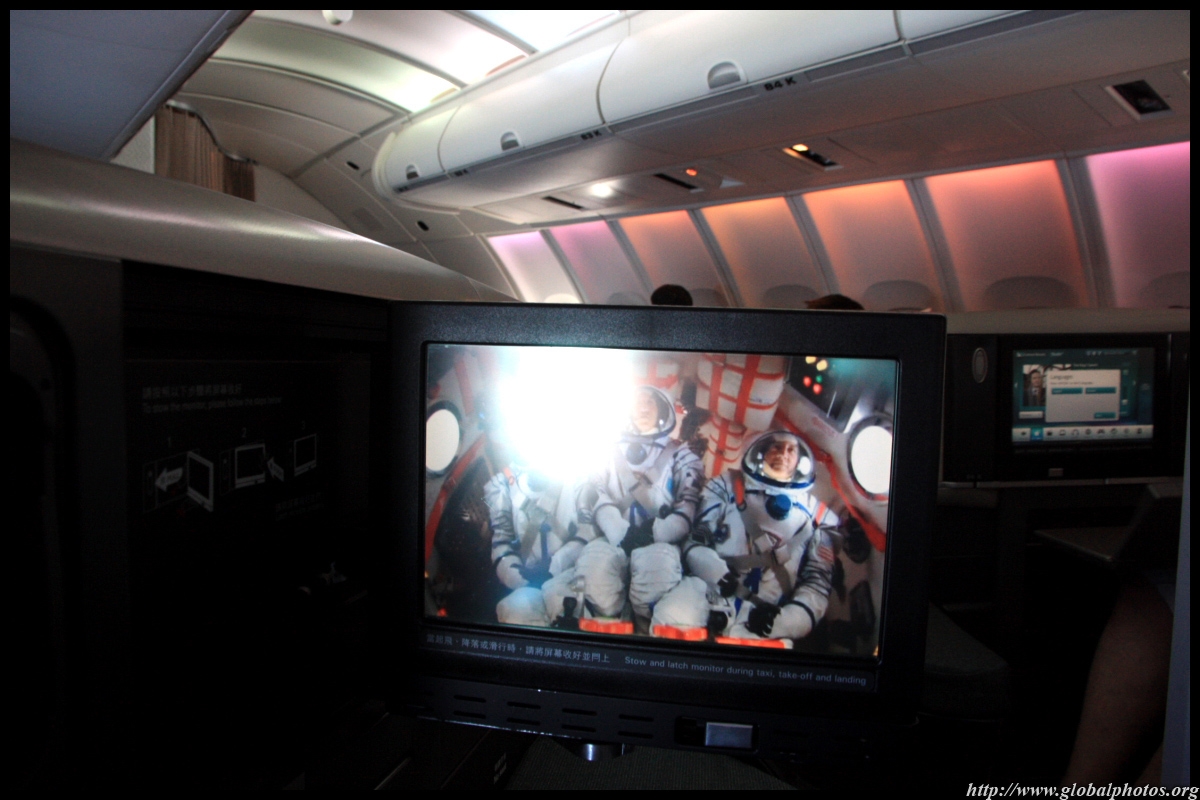 I stretched to the window every now and then to see what scenery awaited. Not bad.
Breakfast consisted of premium yogurt, fruits, and a Western selection. It was a standard menu but tasted good. It's hard to vary breakfast foods anyway.
Business Class is split between the two decks. The upper deck is quieter and feels more private. Guess the A380 has reduced the novelty of being upstairs these days, given some operators even have Economy Class on the upper deck.