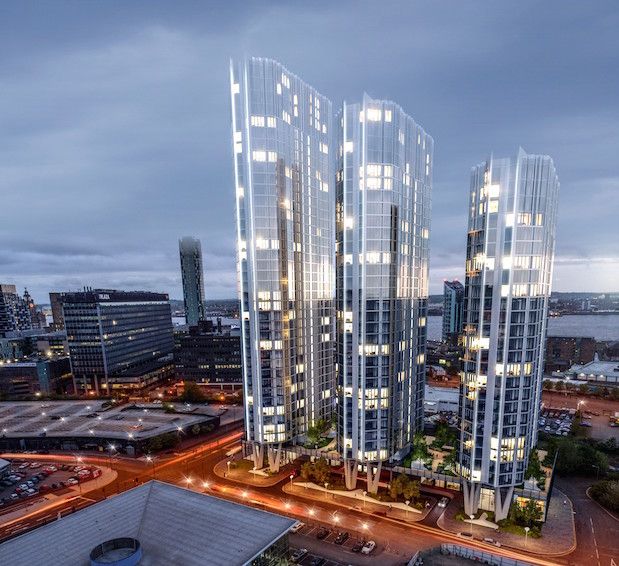 Liverpool's dramatic £250m three-tower development seeks planning approval

The plans for Liverpool's biggest residential development have now been submitted.
Set to be known as Infinity, the £250m scheme will deliver more than 1,000 new homes along the northern edge of the city.
Developer Elliot Group's proposals for the project outline three towers of 27, 33 and 39 storeys on a site at the corner of Pall Mall and Leeds Street.
If approved, the plan will create 1,002 apartments, a triple-height spa, swimming pool and gym, and over 10,000 sq ft of commercial space.
The tallest of the towers will stand at 403 ft, or 436 sq ft above sea level due to the elevated position of the site.
The plans have been changed "radically" since the original outline designs were revealed in June, thanks to a series of "enjoyable and productive" design workshops held with the city council, according to Adam Hall of architecture practice Falconer Chester Hall.
He said: "We've tested everything from sight lines to height, scale and massing, as well as elevational treatments, layouts and the mix of units.
"The result is a cracking scheme that will help draw the city centre northwards and make an important contribution to Liverpool's changing skyline."
He continued: "The design has evolved so that each block is now wrapped in 2 shimmering glazed skins that represent the sun reflecting off the undulating river.
"The blocks step up in height towards the business district and extend out dramatically over a podium with sculptured concrete columns. The scheme forms a strong marker towards the Pier Head and the cruise terminal and will be a gateway into the city."
Elliot Group boss Elliot Lawless said the growing investor confidence in Liverpool enabled him to raise the bar in terms of both design and elevation.
He commented: "Domestic as well as overseas investors can see the strength of Liverpool's economy and, combined with robust returns, the city represents good value.
"Our investors take a long-term view and know that the best way to protect their investment is via a high quality product that is well managed."
Speaking further, Elliot said that Mayor Joe Anderson's focus on extending the city centre to the north has relieved pressure on the core while offering scope for capital growth, adding: "That appeals to my funders, who can see how far Liverpool has travelled in the last twenty years and therefore have confidence that progress will be maintained.
"There's a cluster of towers now being developed north of the Pier Head, with eight in the pipeline so far. This sort of critical mass works for investors as it signals momentum and improvement. We'd welcome more and are pleased to play our part in the city's regeneration."
The tallest of the three towers, Tower A, will comprise 92 studios, 144 one-bed, 172 two-bed and eight three-bedroom apartments across 39 storeys.
Tower B, meanwhile, will house 38 studios, 120 one-bed, 160 two-bed and eight three-bed homes across its 33 storeys.
Lastly, Tower C will create 32 studios, 96 one-bed, 124 two-bed and eight three-bedroom apartments over 27 storeys.
Infinity's triple-height residents' entrances will be accessible from Pall Mall through a private lay-by with fully-covered parking.
Each tower will have a concierge team and offer residents a private lounge, dining rooms, cinema, meeting space and a private garden level.
Adam Hall, from architects Falconer Chester Hall, said: "This type of heavily serviced 'condominium' living is commonplace in the major cities of the Far East and the level of support services that we are providing has been conceived out of our recent work in Kuala Lumpur."
A decision on the planning application is expected in Spring 2017. If given the greenlight, work on the scheme will begin the following Autumn.
Development consultancy Zerum has been appointed as planning advisor on the project.
https://bdaily.co.uk/environment/22-...20161222080001