Jardin du Luxembourg
Originally, the ground on which the Jardin du Luxembourg and the Palais du Luxembourg stand was the site of a Roman camp. In 1257 the Chartreux religious order bought the land and built a monastery here and later princess regent Marie de Medicis had the palace built in 1615. This is one of Paris' favourite gardens. Sensitively and very prettily laid out, it's wonderfully popular with students and residents in Paris' Latin Quarter.
Pantheon
Erected between 1764 and 1790, this neoclassical building was commissioned by King Louis XV in honour of Saint-Genevieve who had cured him from a grave illness. The Revolution secularised it quickly and made it a Temple de la Raison. Today, visitors admire the doric columns of the crypt, the resting place of famous writers and philosophers such as Emile Zola, Victor Hugo, Jean-Jacques Rousseau, Voltaire, the scientists Pierre and Marie Curie, and Andre Malraux (minister under General Charles de Gaulle's presidency). Its 83 metre high dome looks like that of Saint Paul's in London and that of the Invalides. The façade is inspired by the Roman Pantheon.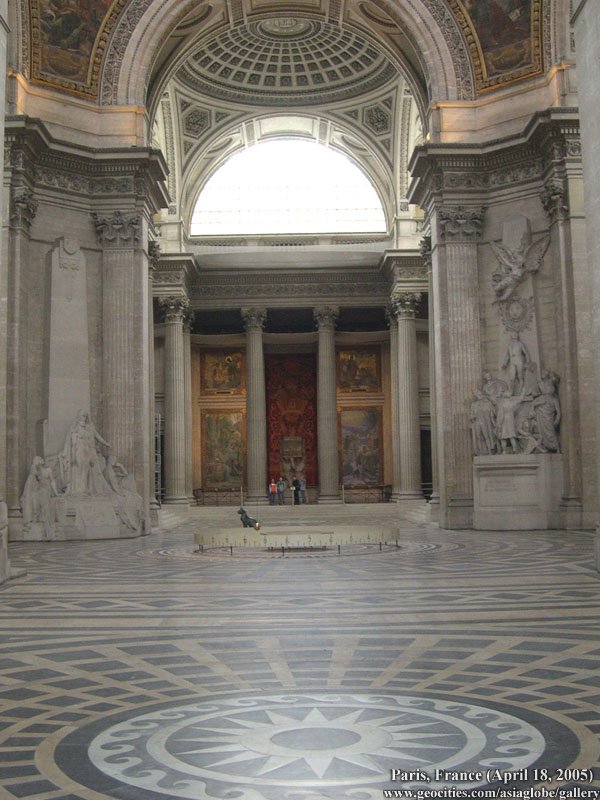 Other Paris Threads
My Paris Gallery (constantly being updated)
Part 1 : La Tour Eiffel
Part 2 : La Défense
Part 3 : Montmartre & Sacre Coeur
Part 4 : Notre Dame
Part 5 : Gare du Nord
Part 6 : Louvre
Part 7 : Gare de Lyon
Part 8 : Beautiful Street Scenes
Part 9 : Ile de la Cité
Part 10 : Plus de La Défense
Part 11 : Versailles
Part 12 : Arc de Triomphe
Part 13 : Pompidou
Part 14 : Printemps Rooftop Terrace
Part 15 : More History from Ile de la Cité
Part 16 : 1er - Place du Châtelet & Vendôme
Part 17 : 1er - Walking Tour
Part 18 : Montparnasse Tower Sunset
Part 19 : Tuileries & Place de la Concorde
Part 20 : 11eme Arrondissement
Part 21 : 13eme Arrondissement
Part 22 : Champs-Elysées
Part 23 : Miscellaneous Scenes