Strictly spoken, there are several classes of partly guyed structures
Structures consisting of a free-standing tower with a guyed mast on its top
At this structures the basement tower can be built of reinforced concrete or of lattice steel
A list of these towers can be found on
http://en.wikipedia.org/wiki/List_of_towers
Gerbrandy Tower, Lopik, Netherlands, height: 375 metres (
http://www.structurae.net/structures...fm?ID=s0012623
)
TV Tower Aarhus, Denmark, height: 216.1 metres (
http://en.wikipedia.org/wiki/Telecom...on_Tower_Arhus
)
TV Tower Lindenfels-Krehberg, height: 122 metres (
http://en.wikipedia.org/wiki/Transmi...wer_Lindenfels
)
Free standing towers with additional support
These structures are tightened by additional guys for better stability. They may surely stand without guys.
Towers of RKS Liblice 1, Czech, height: 150 metres (
http://www.sweb.cz/stredni.vlny/Cra/Liblice_1_cz.html
)
Radio Tower Helgoland, Germany
Hochfirst Observation Tower, Hochfirst-Mountain, Titisee-Neustadt, Germany, height: 25 metres
Guyed Masts on the top of small buildings
Some guyed masts are standing on the top of small houses containing radio-technical equipment. Because the housing on which the mast stand is small in comparision to the mast, these structures are not called partially guyed.
The mast on the top of the building can be as well grounded or insulated against ground.
Examples
Main medium wave transmission mast, Ismaning, height: 171.5 metres, insulated against ground and insulated by two separation insulators 56 and 112 metres above ground (
http://en.structurae.de/structures/d...fm?ID=s0010731
)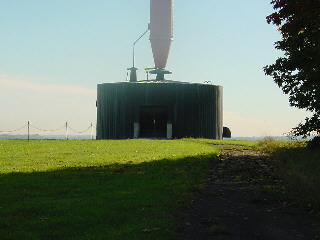 Main medium wave transmission mast Mühlacker, height: 273 metres, insulated against ground and divided by an insulator electrically in two parts (
http://en.structurae.de/structures/d...fm?ID=s0010708
)