This is the galley of Sultan Mehmed IV (1648-1687) and is the only completely intact galley with oars in the world. It actually dates to an earlier period.
It has two rows of 24 oars on each side.
Length: 40m
Width: 5.7m
Embellishments of the captain's kiosk at rear
Roof detail of the captain's kiosk
Ottoman boats in Istanbul Naval Museum
Boats used by Ottoman emperors
Front embellishments
Crests of Ottoman galleons
Crests of Ottoman ironclads
Front embellishments of Ottoman galleons
Model of an Ottoman galleon
Model of Hayreddin Barbarossa's flagship
Flag of famous Turkish admiral and corsair Hayreddin Barbarossa (Redbeard)
The most interesting part of Hayreddin Barbarossa's flag is that it bears symbols of Judaism, Christianity and Islam (the 3 "ehl-i kitab" religions sent by Allah, according to Islam). The flag carries the "Fetih" Chapter from the Koran, below it inside crescents are the names of the four Caliphs, at the middle the Christian symbol of the Trinity, at its left the divine hand of God, and at the lower center the Jewish Star of David. This symbolism is a reflection of the Ottoman admiral's acceptance of sheltering the three prime religions of the 16th-century Mediterranean.
Tomb of Hayreddin Barbarossa
Hayreddin Barbarossa sinking the Allied European Fleet of Charles V commanded by the famous Genoese admiral Andrea Doria in Preveza (1538)
Byzantine chains that closed the entrance of the Golden Horn
The northern end of these Byzantine chains were controlled from Galata Tower (1348) on the Genoese side of the city (north of the Golden Horn)
Another chain spanned between the Sea Walls of Constantinople and Leander's Tower (1110)
The world's oldest surviving astrolabe (1222) manufactured for an Ayyubid sultan
A Turkish cannon used during the naval conquest of Egypt (1517) by Sultan Selim I
The armour of Mameluke sultan Kayitbay, captured during the naval conquest of Egypt (1517) by Selim I
A 17th century cannon captured from an Austrian vessel on River Danube during the Second Siege of Vienna (1683)
Length: 240cm
Caliber: 40mm
Terracotta hand grenades (16th century) and glass hand grenades (17th century)
Admiralty Flag of the Turkish Fleet at the Battle of Lepanto (1571)
Admiralty Flag of the Turkish Fleet (1789)
Throne of the emperor at the Ottoman Naval Academy, used during ceremonies
Map of Europe, the Mediterranean Sea and North Africa (1461) by Turkish cartographer Mürsiyeli Tabip Ibrahim
World Map of Turkish admiral Piri Reis (1513), the oldest surviving map of Middle and South America in the world: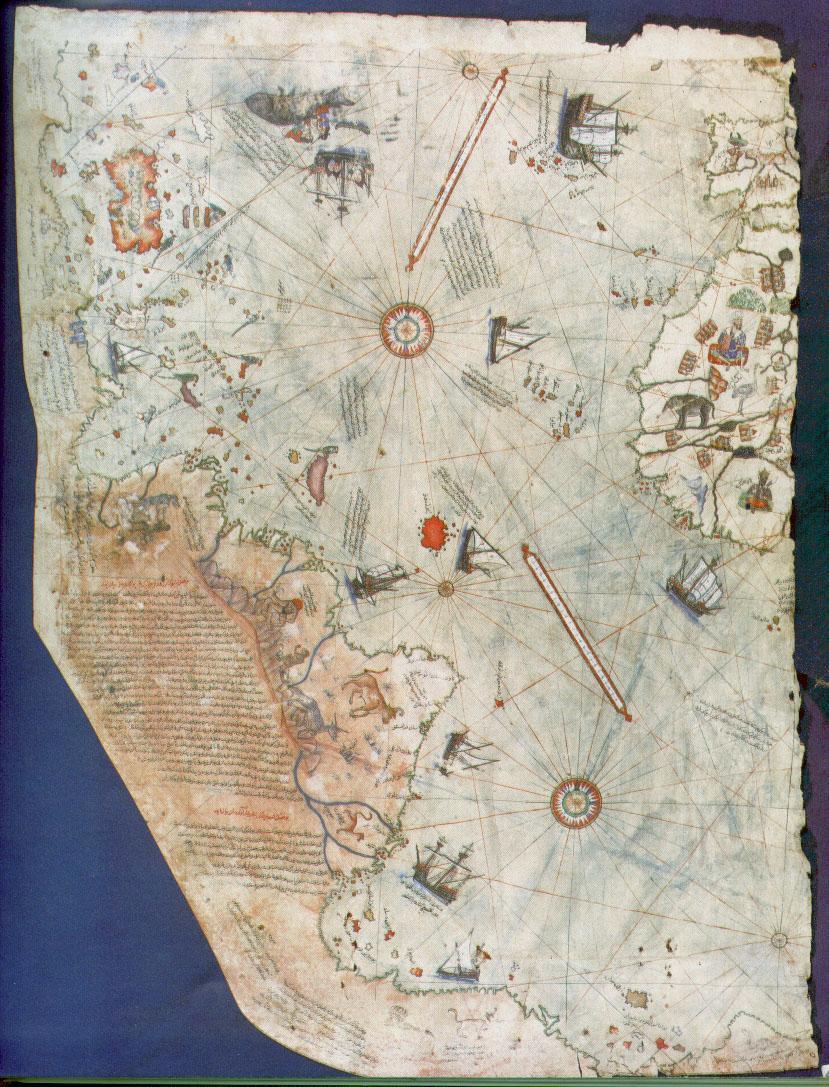 Surviving fragment of the second World Map of admiral Piri Reis (1528-1529) showing Labrador and Newfoundland in North America; Cuba, the Caribbean Sea and Middle America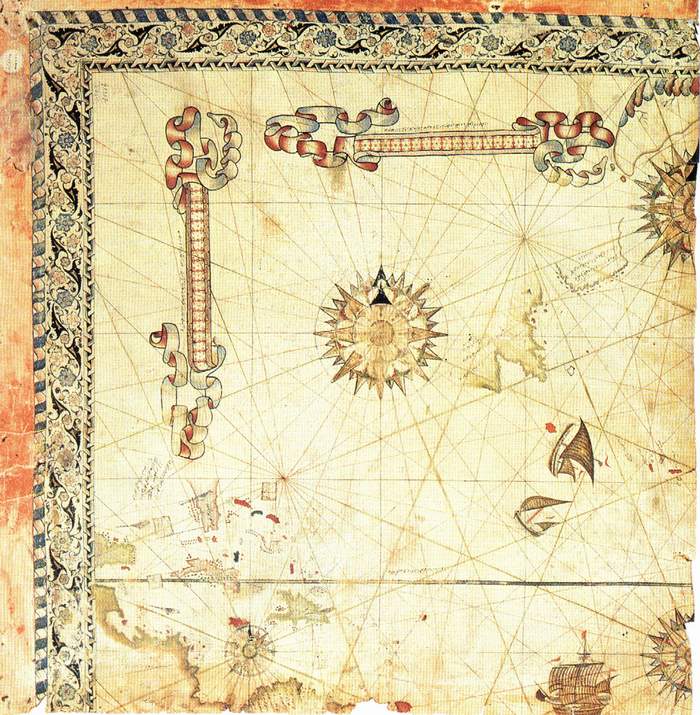 Maps in "Kitab-i Bahriye" (Book of the Sea) by famous Turkish admiral and cartographer Piri Reis (Vol. I in 1517-1521, Vol. II in 1525-1526)
Gibraltar Strait (Spain)
Granada (Spain)
Mallorca and Menorca (Spain)
Menorca (Spain)
Perano and Amorgo
Marseille and Toulon (France)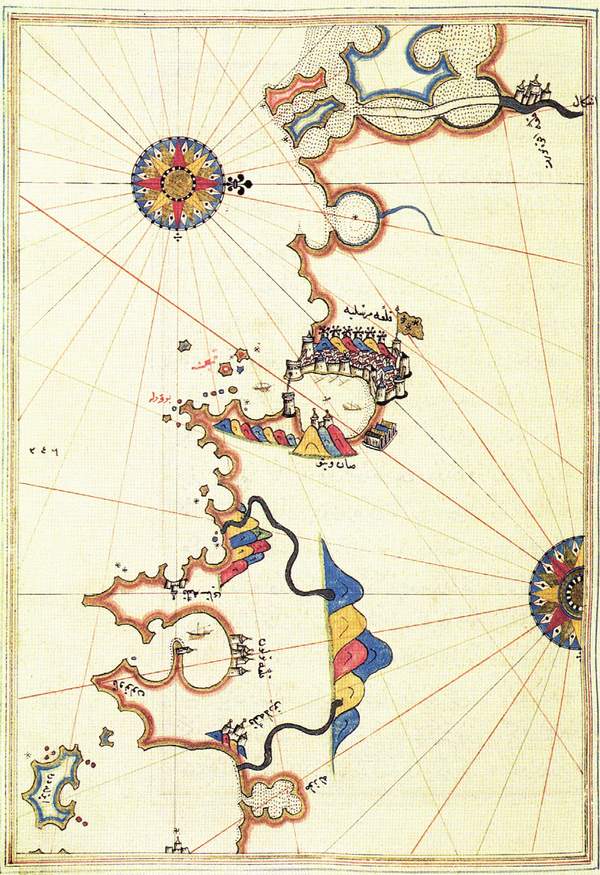 Corsica (France)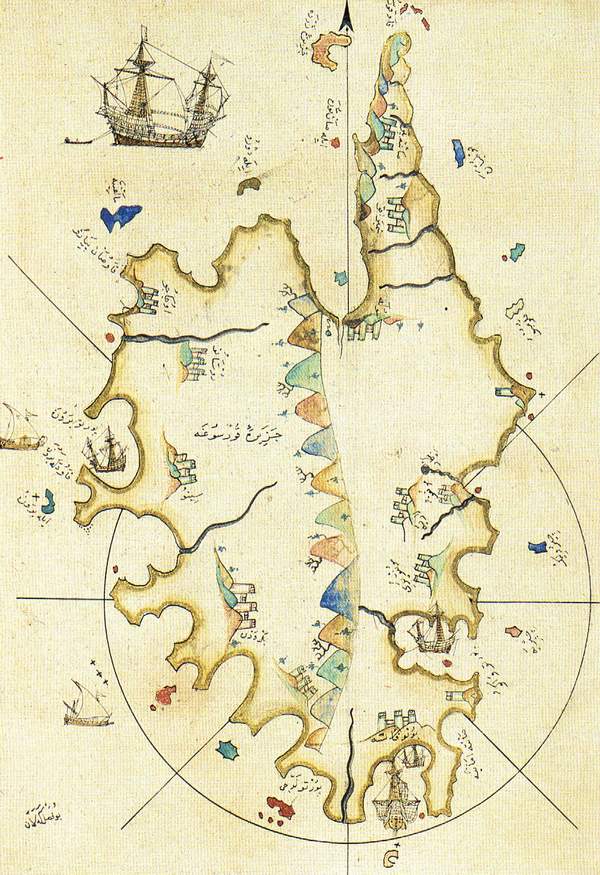 Venice (Italy)
Rome (Italy)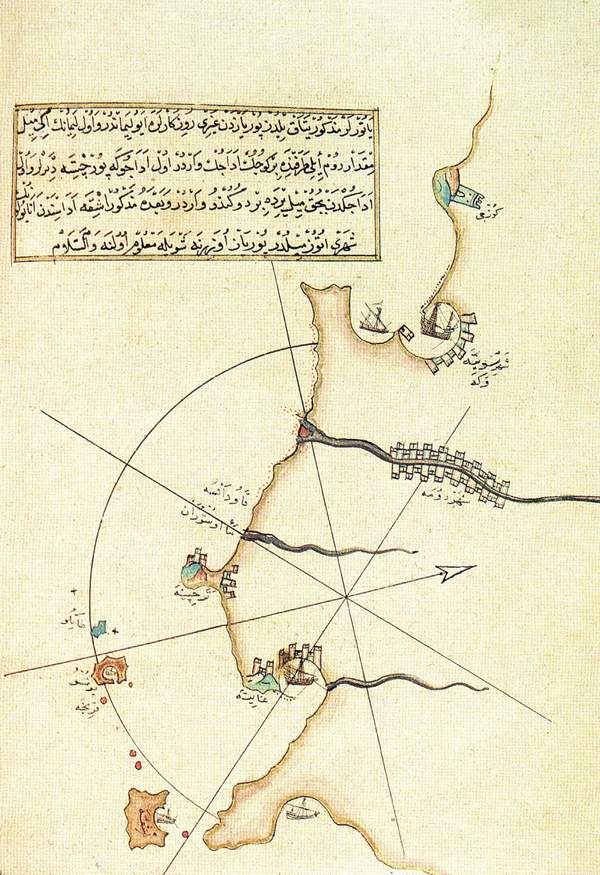 Genoa (Italy)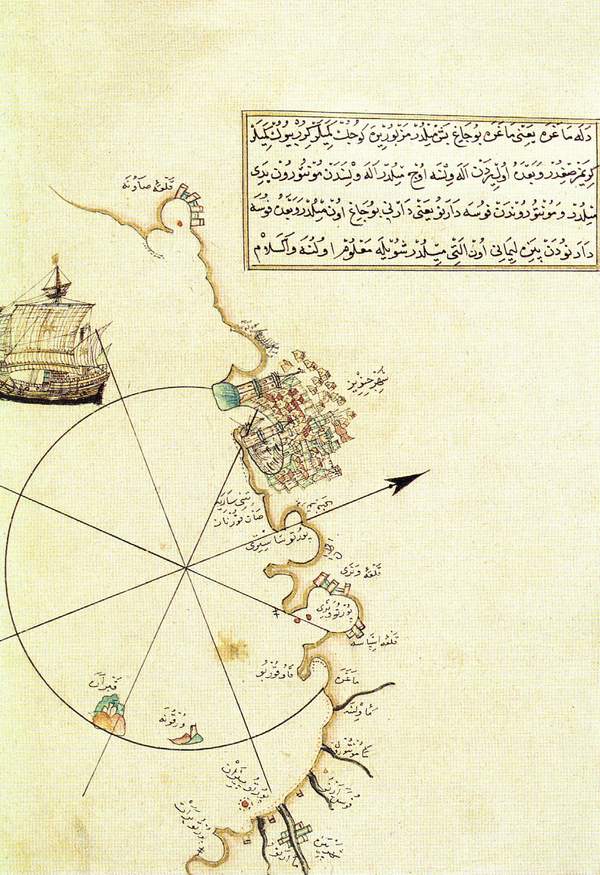 Ancona (Italy)
Brindisi (Italy)
Otranto (Italy)
Sicily (Italy)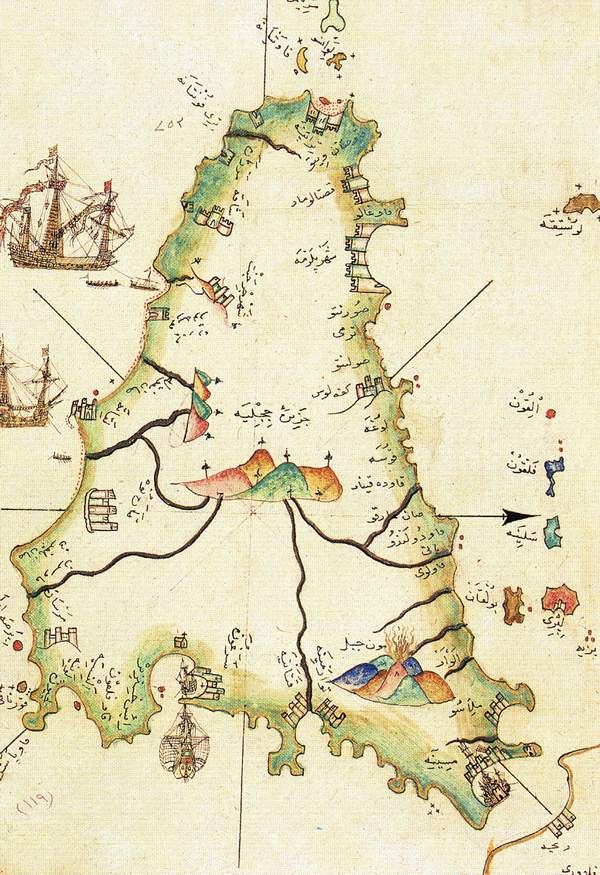 Sardegna (Italy)
Malta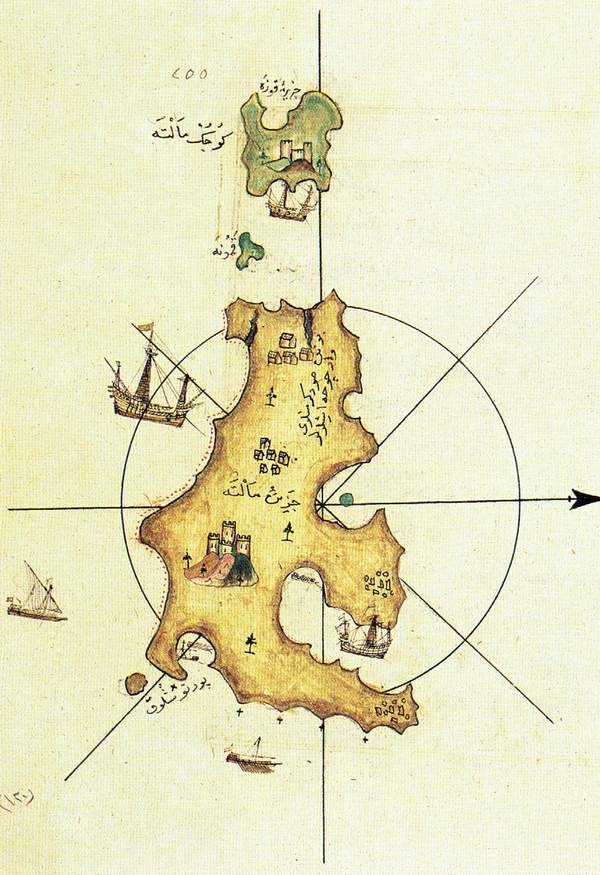 Cyprus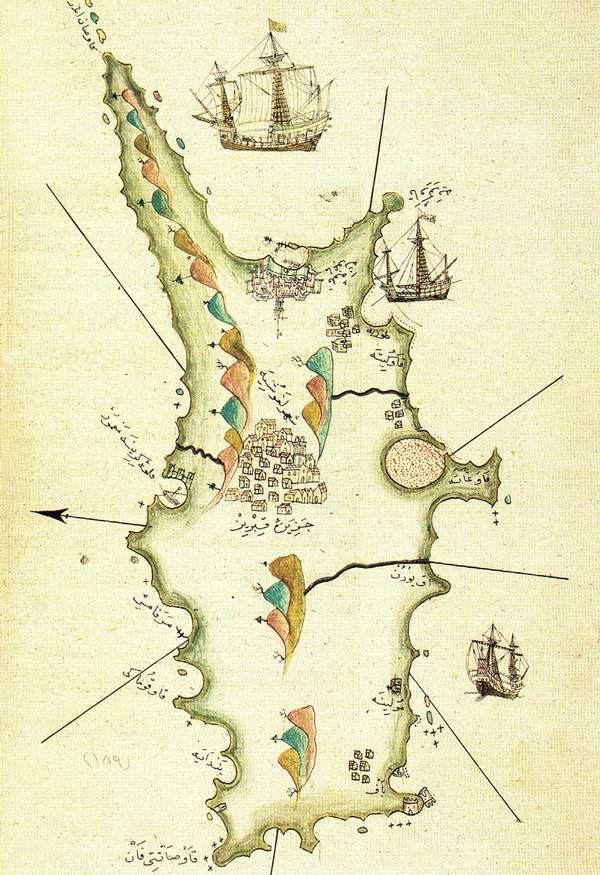 Athens (Greece)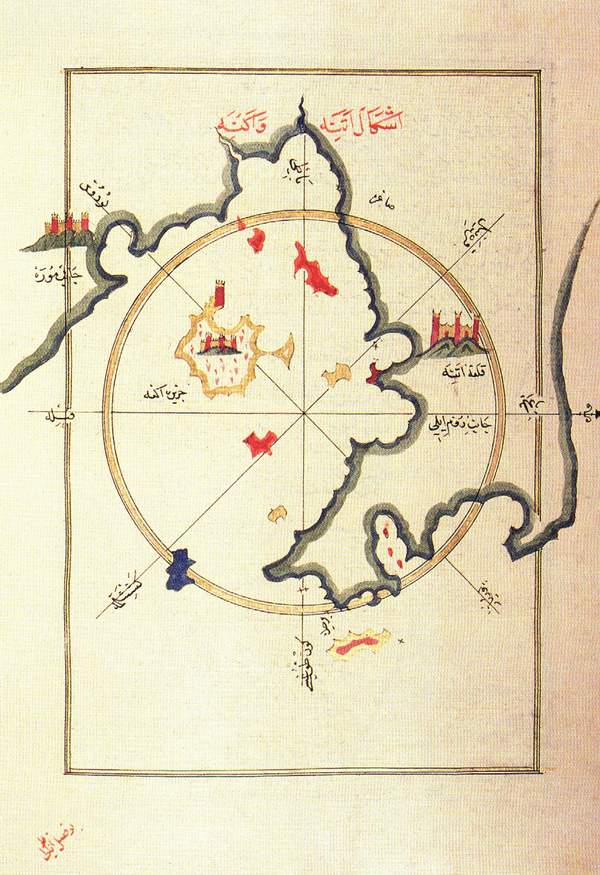 Thessaloniki (Greece)
Lesbos (Greece) and Gulf of Edremit (Turkey)
Crete (Greece)
Rhodes (Greece)
Chios (Greece)
Samos (Greece)
Izmir (Turkey)
Dardanelles Strait (Turkey)
Alexandria (Egypt)
River Nile and the city of Bulak (Egypt)
Tunis (Tunisia)
Tripoli (Libya)
Algiers (Algeria)
Nile Delta (Egypt)
Istanbul (Turkey)