Welcome to the new BEOGRAD - Construction Update III (Beograd - praćenje gradilišta) now powered by
BeoBuild
.
The main core of this construction thread is a map indicating the location of the construction sites. A
green
hexagon is site under construction,
blue
- announced and
red
- on hold. The size of the hexagon indicates the size and importance of the construction site.
Map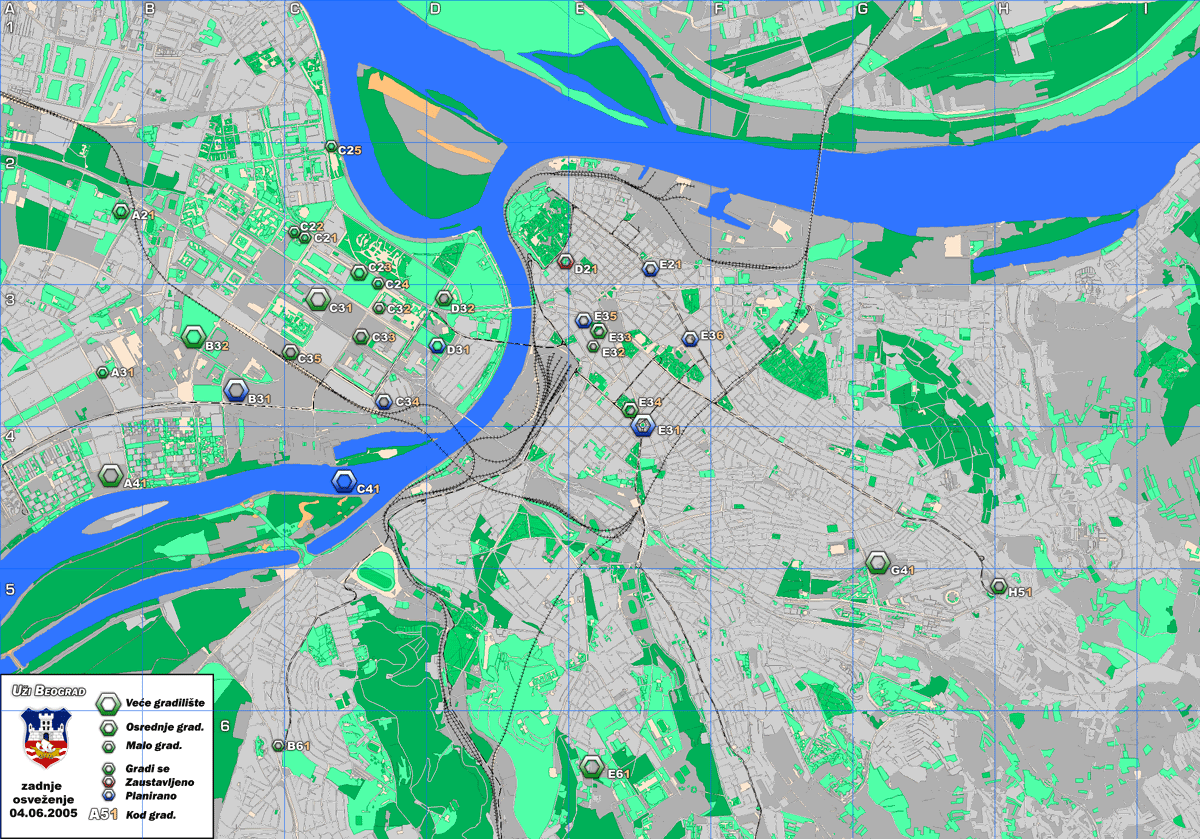 Construction News
Construction news and latest updates on construction sites can be found on
BeoBuild
.
Summary of Construction Sites
CC B32 | Airport City Belgrade | Business
---
Under Construction
---
link
CC H51 | Forum Bulevar Kralja Aleksandra | Residential
---
Under Construction
---
link
CC E32 | TC & Hotel Ivanijum | Business
---
Under Construction
---
link
CC A21 | Blok 51 | Commercial, Residential
---
Under Construction
---
link
CC E33 | B2 Balkanska 2 | Business/Residential
---
Under Construction
---
link
CC C22 | Atrium Belgrade Offices | Business
---
Under Construction
---
link
CC C33 | Private Greek Hotel | Hotel
---
Under Construction
---
link
CC C21 | European Business Centre | Business
---
Under Construction
---
link
CC C36 | GTC House | Business
---
Completed
---
link
CC G41 | Denkova Basta | Residential
---
Under Construction
---
link
CC C35 | Expomedia Centre and Hotel | Business/Hotel
---
Under Construction
---
link
CC C32 | Societe General Office Building and Smaller Offices and Residential Buildings | Business/Residential
---
Under Construction
---
link
CC D31 | Sava City | Business/Residential
---
Proposed
---
link
CC C34 | GTC Blok 19a | Business/Residential
---
Proposed
---
link
CC C41 | Ada Ciganlija – Sava River Bridge | Infrastructure
---
Proposed
---
link
CC C42&3 | Energoprojekt and Napred Office Buildings | Business
---
Under Construction
---
link
CC C36 | ComTrade | Business
---
Proposed
---
link
CC D32 | UŠĆE Tower | Business
---
Completed
---
link
CC E34 | National Bank of Serbia Headquarters | Business
---
Under Construction
---
link
CC C31 | Blok 29 Apartments | Residential
---
Under Construction
---
link
CC | Belgrade Light Metro Project
---
Proposed
---
link
CC B31 | Universiade Village | Residential/Commercial/Business
---
Proposed
---
link
CC E61 | Dedinje Panorama | Residential
---
Under Construction
---
link
E31 | Slavija square reconstruction | Public
---
Proposed
---
link
C25 | Megatrend univerzitet | Education
---
Under Construction
---
link
CC A41 | Blok 44 Aqua Park | Fun
---
Under Construction
---
link
CC B61 | TPC Pasarela | Business/Shopping
---
Under Construction
---
link
CC A31 | Blok 64 | Residential/Shopping
---
Proposed
---
link
CC NK1 | Filmski Grad | Residential
---
Proposed
---
link
Powered by: