The Suakin Project was established to create a future for the historic coral port town of Suakin, one of Sudan's most significant cultural heritages and compelling histories. Mallinson Architects have been Co-directors of the project with Sudan's National Corporation for Antiquities and Museums since its creation in 2000. The project's major aim is to provide necessary research and to create a suitable institutional infrastructure to protect and conserve the site, and to help local and government property owners to restore their buildings, following destruction caused by neglect and environmental impact over the last century. As part of this process, efforts continue towards Suakin's application for World Heritage status since Suakin was placed on Sudan's Tentative World Heritage List in 1994. The Suakin Project received the ICCROM-ATHAR Award for Best Conservation in the Arab Region in 2016
According to Sudan's minister for transport, Makkawi Awad, the agreement — which was inked in late March — was signed in order to increase joint co-operation regarding communications and transport between the two countries' administrations, though another objective of the venture is to get the port performing "its vital economic role as a gateway to Africa".The two governments want to twin Suakin with Qatar's main seaport, Hamad Port.
he Turkish Cooperation and Coordination Agency (TIKA) started restoration works on Sudan's Suakin Island after President Recep Tayyip Erdoğan visited the country in December.
The president himself requested an immediate restoration of the historically-significant island. According to TİKA, 30 experts from various fields such as ground drilling, urban planning, geology and geophysics are currently conducting initial research.
The extensive restoration works will be launched after research results of the TIKA technical team are matched with the island's historical and cultural heritage.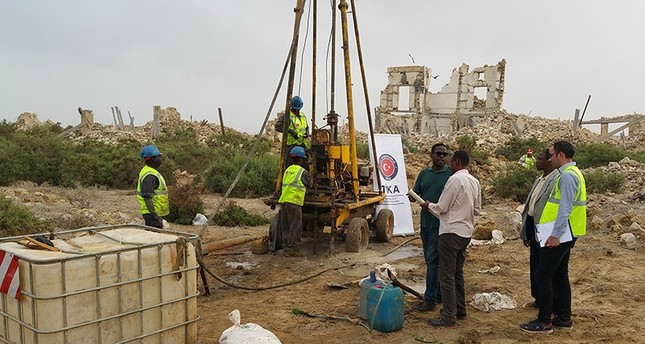 TIKA aims to transform the Suakin Island into a culture tourism hub after completion of the joint Turkish-Sudanese project.
President Erdoğan previously said during his Sudan trip that "seeing the current status of Suakin Island saddened us."
"If you assign this island to us, we will restore it and make it worthy of its historical glory. Sudan will be proud of this and can take new steps in tourism," he added, suggesting that the island, when restored and revived, could be a part of the umrah or hajj route as it once was.
Erdoğan also visited several Ottoman sites, including Al-Hanafi Mosque, Al-Shafei Mosque and an old customs building located on the island, all of which were restored by TIKA