People would normally say when asked about the definition of a Japanese Cable-Stayed Bridge, 90% of Japanese would say that the first thing that comes into their mind is the TATARA BRIDGE:
Tatara Bridge (Seto Inland, Japan)
http://en.wikipedia.org/wiki/Tatara_Bridge
Of course, for those who play Wangan Midnight Maximum Tune 3 (as well as the Tokyo Xtreme Racer game series), this is may not be the case.
Why? Because for them, this would be the Tsurumi Tsubasa Bridge.
Tsurmi Tsubasa Bridge (Yokohama, Kanagawa, Japan)
The "bridge" between Yokohama and Mainland Tokyo and is part of the Metropolitan Expressway(首都高速道路Shuto Kosoku Doro):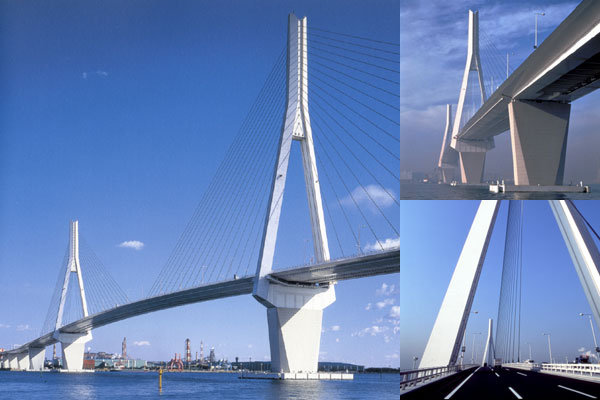 http://www.motomi-kawakami.jp/en/works/works09_01.html
Address:
Ouguishima-Daikoku Wharf, Wangan Line, Tsurumi Area, Yokohama
Official description/definition:
"Spanning the Tsurumi channel between the Daikoku wharf and Ohgishima, the Tsurumi Tsubasa Bridge has a center span of 510m making it the longest single plane cable stay bridge in the world. The slender and delicate shape of this bridge makes it a new symbol of Yokohama along with the Yokohama Bay Bridge."
Access points:
K1 Yokohane Route (Haneda - Ishikawa-cho JCT)
K5 Daikoku Route (Namamugi JCT - Daikoku JCT)
Operator: Metropolitan Expressway Co., Ltd. (首都高速道路株式会社 Shuto Kosoku Doro Kabushiki-Gaisha)
Game pics:
[IMG]http://i12.************/62hl5sn.jpg[/IMG]
[IMG]http://i16.************/4qzpfgh.jpg[/IMG]
Guess that's about it
If you want to add pics as well as details to other cable-stayed bridges in Japan, you may do so in this thread.
Enjoy!!!