Discussion Starter
·
#1
·
I know we have all seen these posted individually but I thought some of you would be interested inseeing all the facilities in one post. I responded with this in another thread so i though it belongs here too:
"This is impressive (Melbourne), but Athens can (and it possibly beats Melbourne). Here is why:"
1) Athens Olympic Stadium:
Capacity: 66,132 (all seated) Used for Athletics, football, auto racing, and concerts.
Location: The stadium is located in Maroussi, a northern suburb of Athens (9 km from the city centre, 22 km from the airport). It is part of the Athens Olympic Sports Complex (AOSC, better known from its Greek initials as OAKA).
The two giant arcs have a total span of 304m and a maximum height of 72m... the roof has a total weight of 19,000 tons... 5,000 polycarbonate panels were used for the roof, which covers an area of 25,000 sq m... the west arc was assembled 72m from its final position and the east 65m - both later slid into place... the roof is designed to withstand winds up to 120 km/h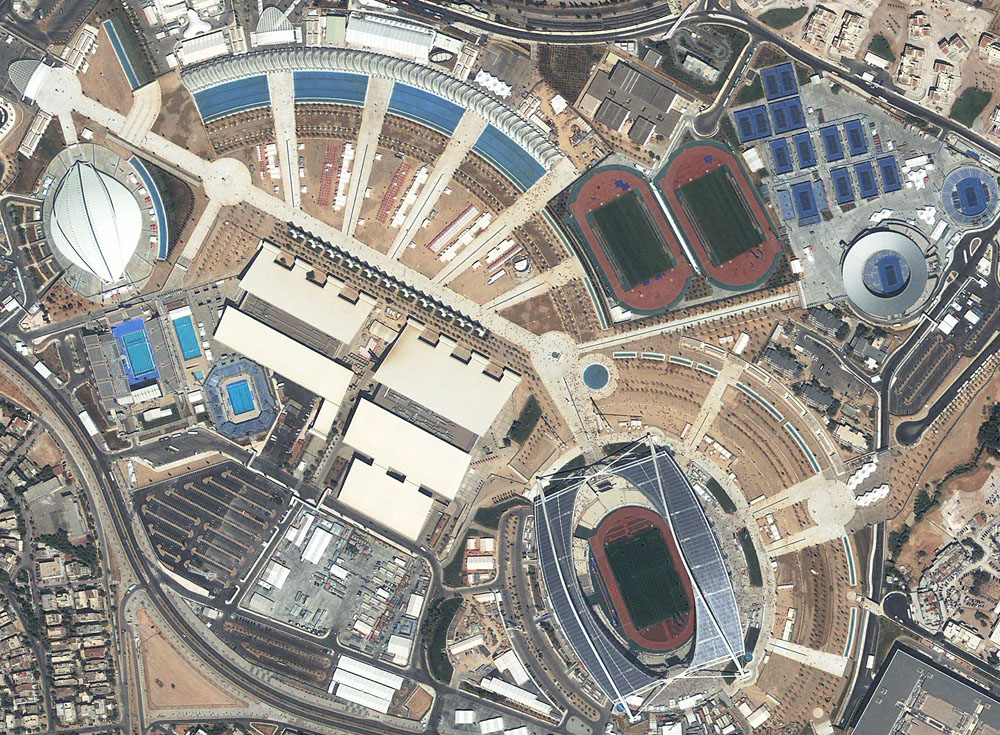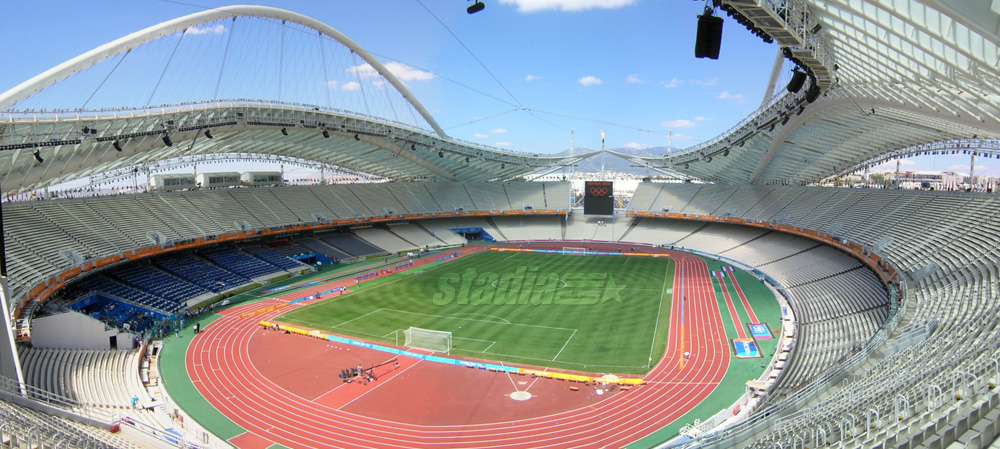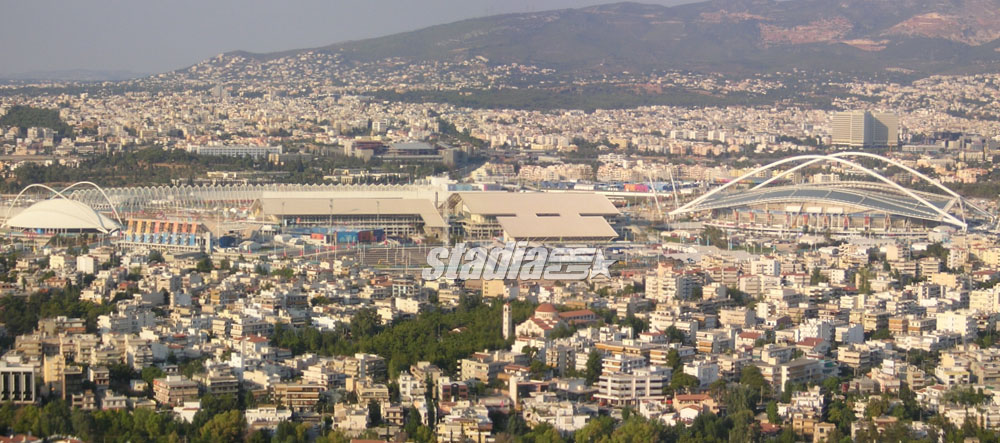 2) Olympic Sports Hall (used for basketball, volleyball, gymnastics)
Capacity: 18,700
The Olympic Sports Hall is one of the biggest and most modern indoor sports arenas in Europe. Greeks call it (and its neighbouring Olympic Stadium) simply "OAKA" - the initials for the Olympic Sports Complex, of which it is part.
The arena features a unique roof, based only on four huge pillars (each being 35m tall and the two pairs 108m apart). It is the largest construction of this
kind in the whole world, according to the Greek Ministry of Sports. The arena is also built in such a way as to provide abundant natural sunlight all day long.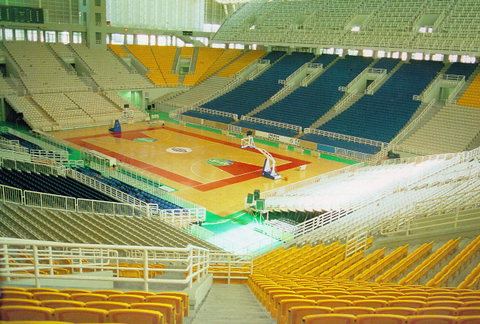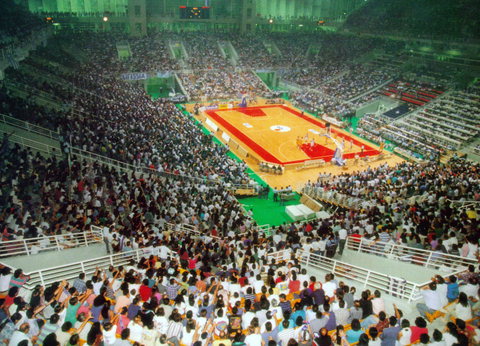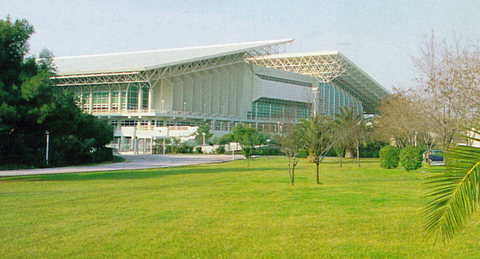 3) Olympic Tennis Center:
Main Court Capacity: 18,000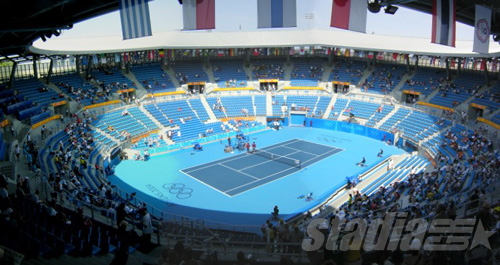 4) Olympic Aquatic Center:
Capacity 12,000-15,000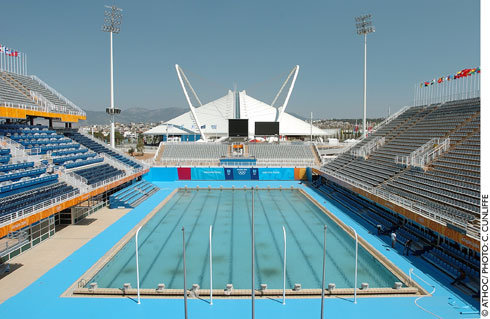 5) Olympic Velodrome:
Unknown Capacity, but huge nonetheless!!!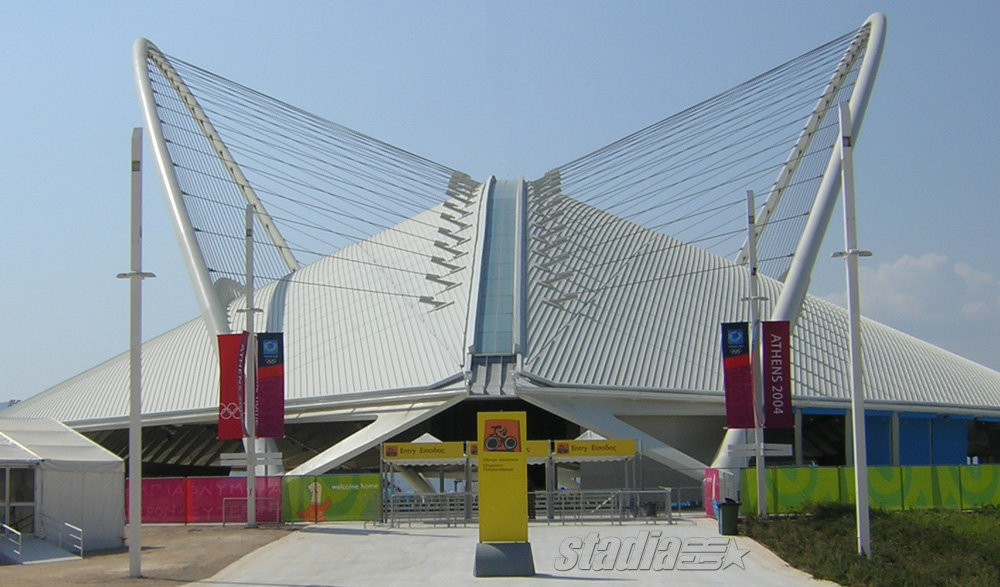 6) Karaiskaki Stadium (for football)
Capacity: 33,334 (seated)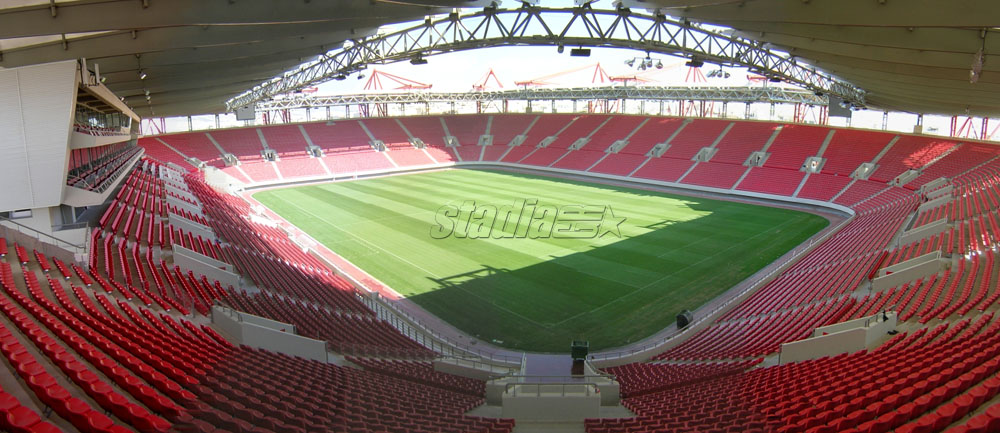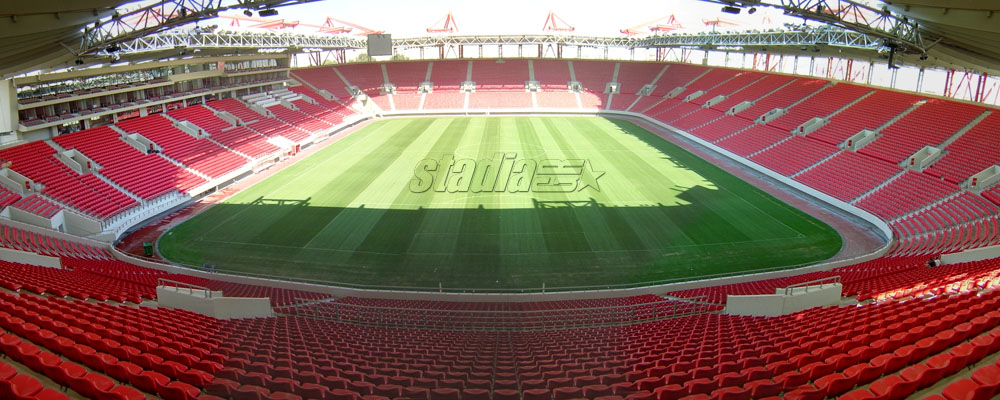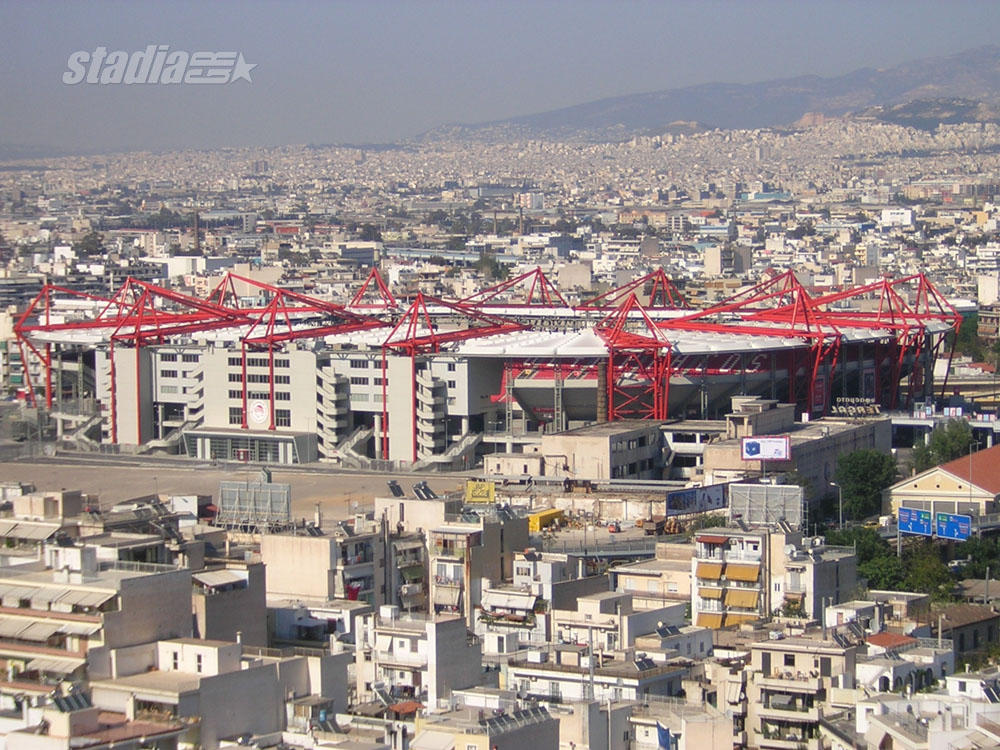 7) Peace and Friendship Stadium (Basketball and Volleyball):
Capacity: 14,095 (for basketball) - 11,750 (for athletics)
The arena was designed by architects "Thymios Papagiannis and associates" at a cost of € 25 million (1983 prices). In 1991 it received the Golden Award by IAKS (International Working Group for the Construction of Sports and Leisure Facilities). Besides basketball, its multi-purpose main arena is also able to host athletics, gymnastics, volleyball, handball, ice skating etc, but also concerts, conventions and exhibitions.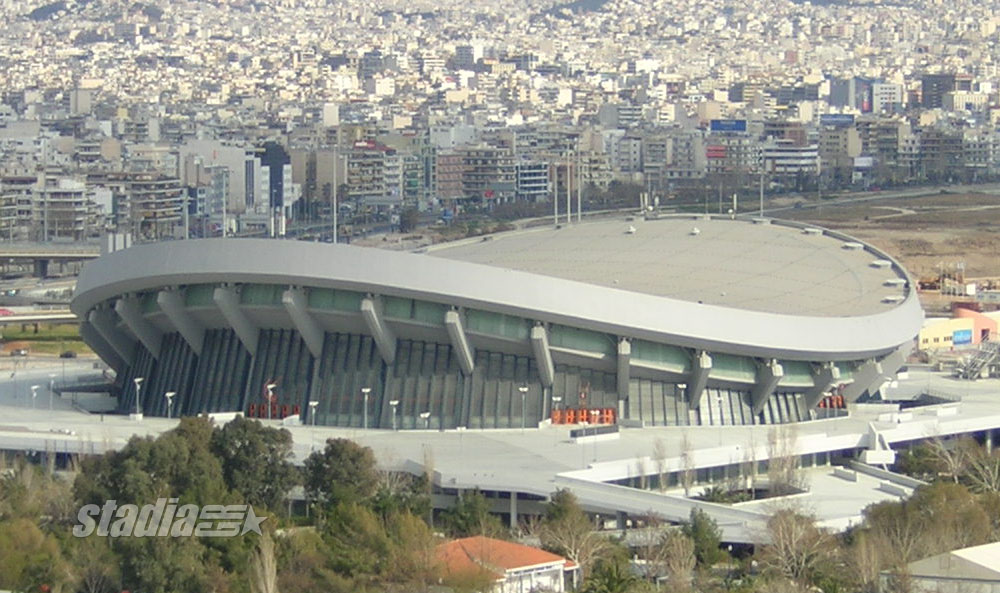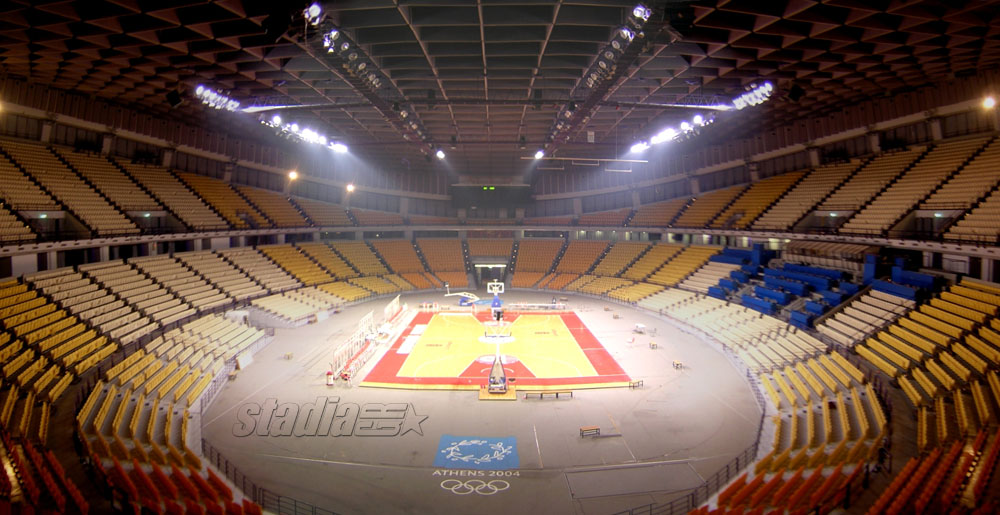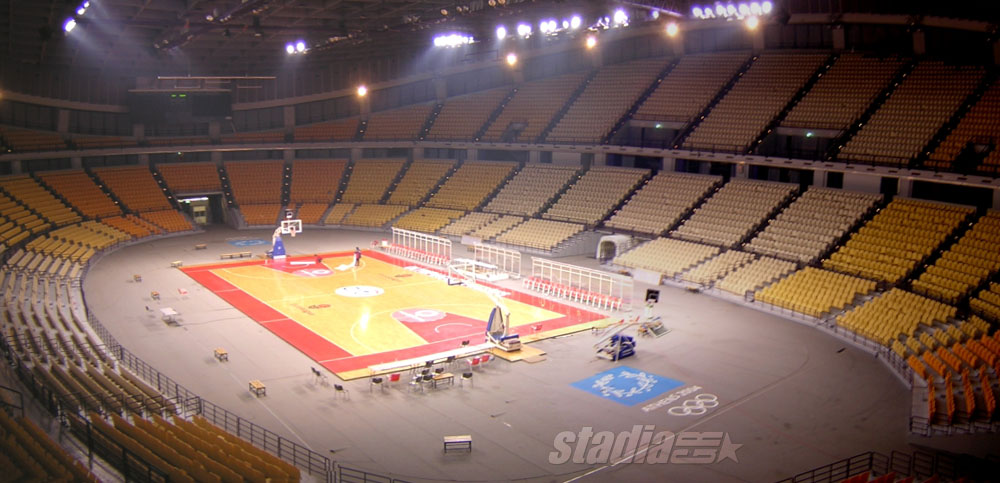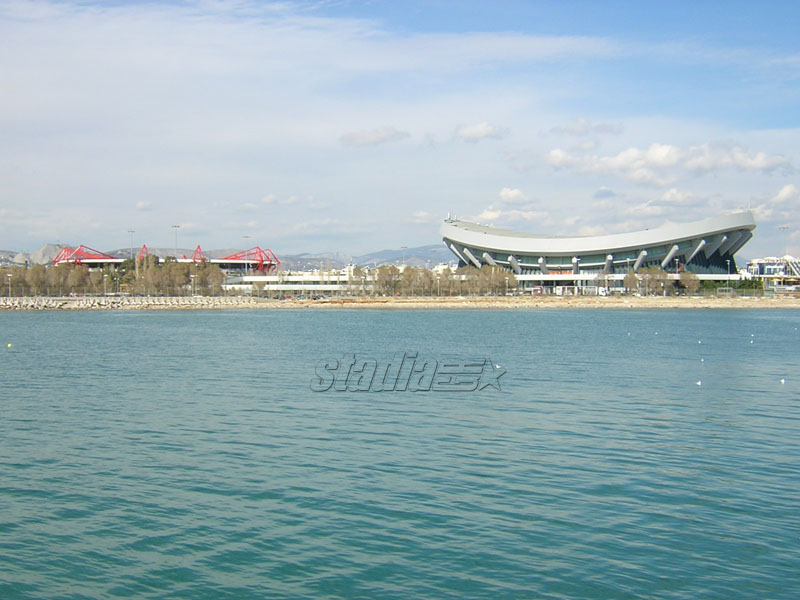 8) Ano Liossia Hall:
This brand new indoor hall will host the sports of wrestling and judo during the Athens 2004 Summer Olympic Games. It has a capacity of 9,300 spectators.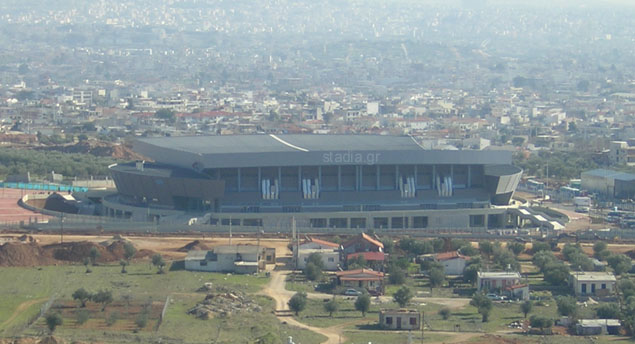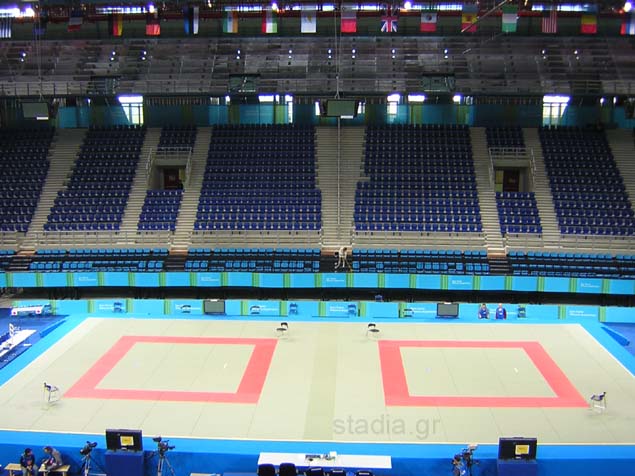 9) Galatsi Arena (used for b-ball):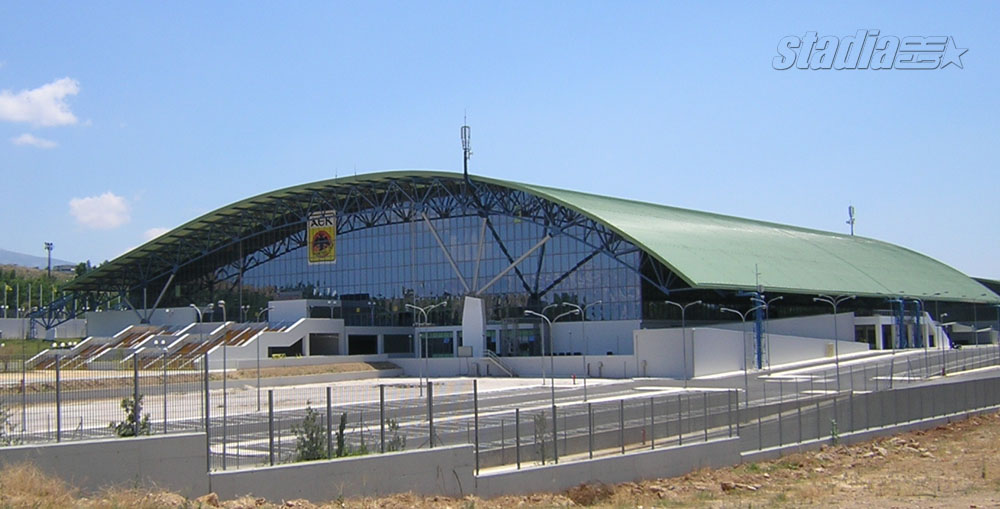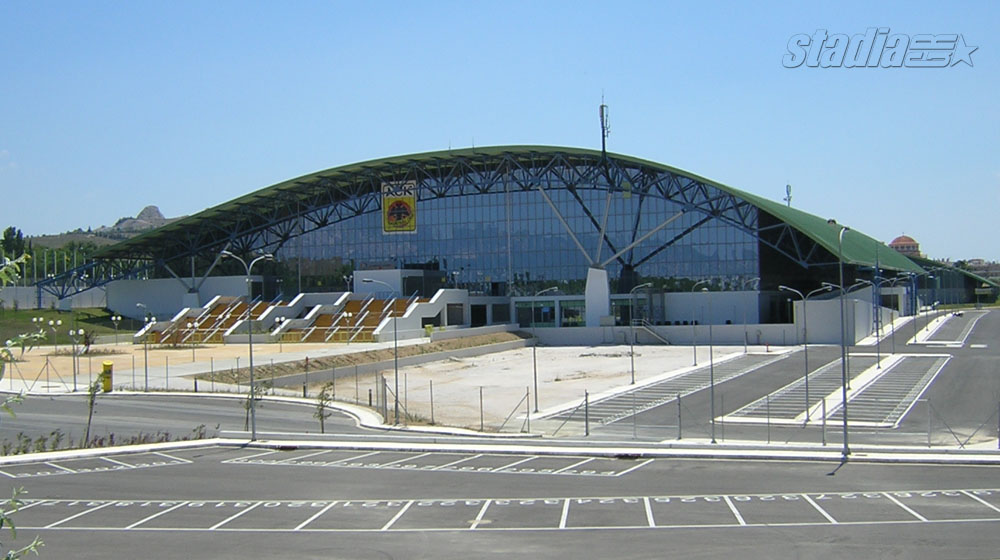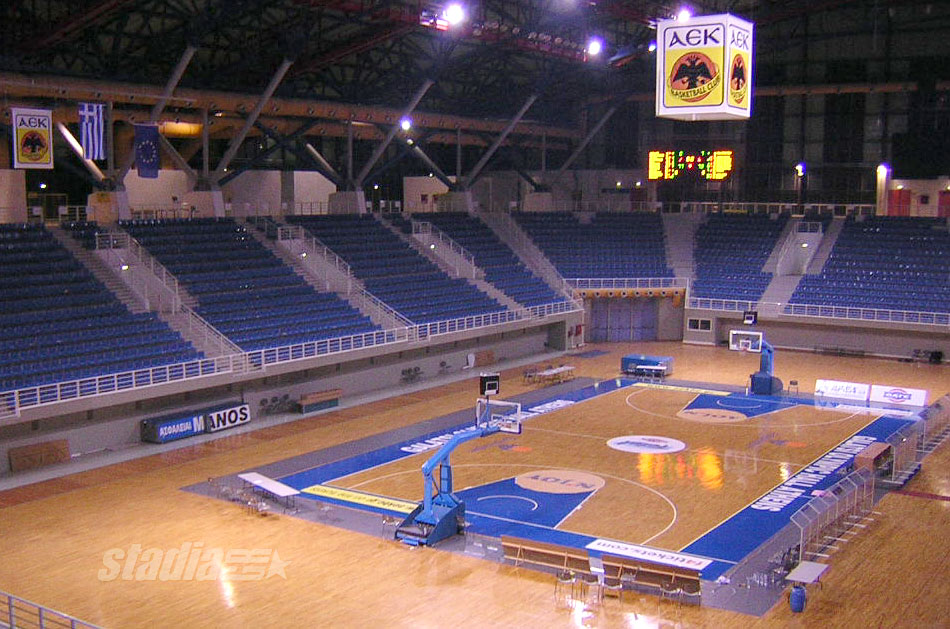 10) Nikea Indoor Hall (was used for weightlifting; is now a theatre):
Apart from being the most complete sports centre for weightlifting in the world, it is also able to host conventions, concerts and similar events. The complex includes the main hall, warm-up and training halls, medical facilities, a press centre, administrative offices and a separate connecting building with guest rooms for 59 athletes, a restaurant etc.
It has a capacity of 5,191 spectators.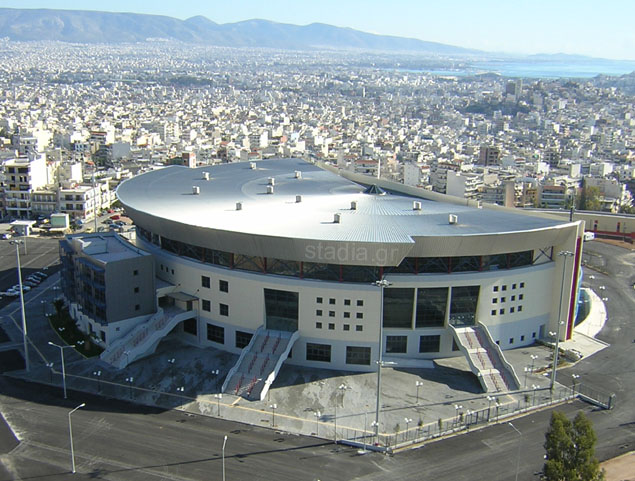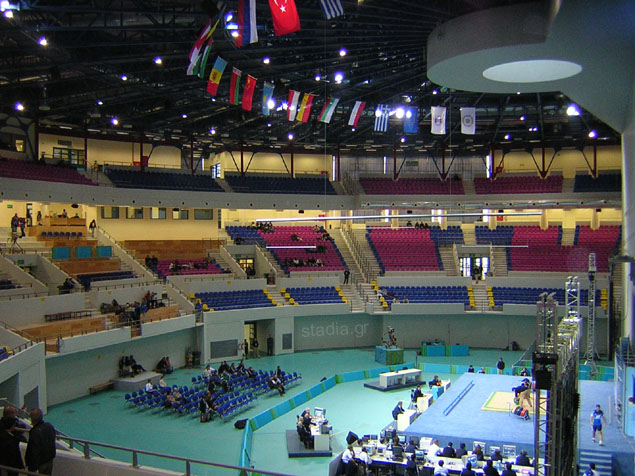 11) Peristeri Indoor Hall (Boxing):
It has a capacity of 8,400.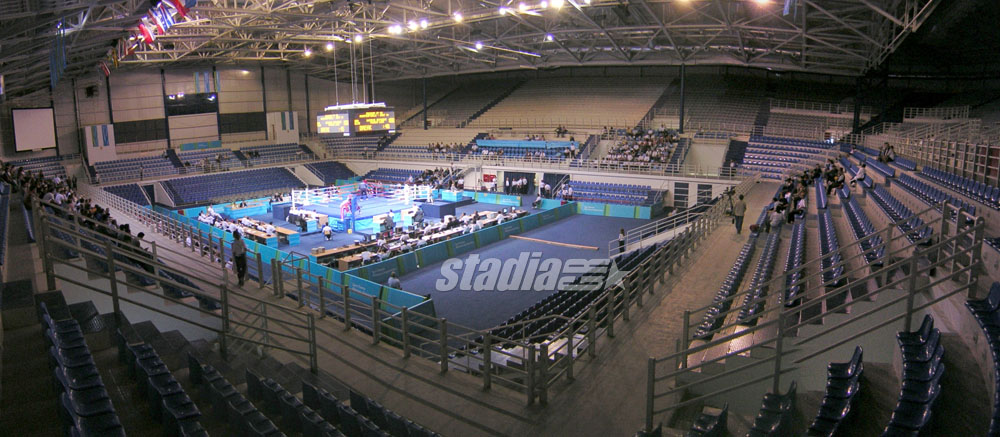 12) Helliniko Arena (Basketball):
It has a capacity of about 14,500 spectators.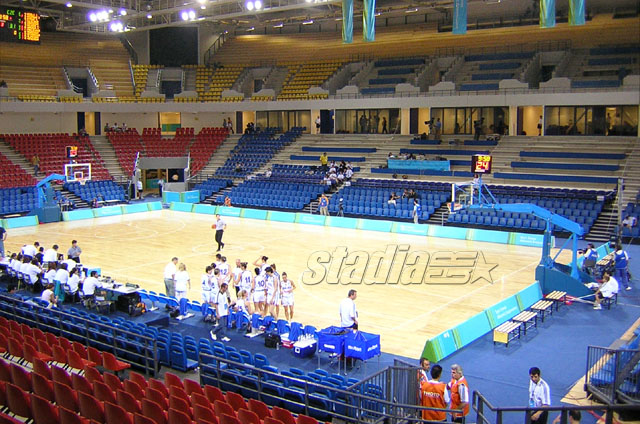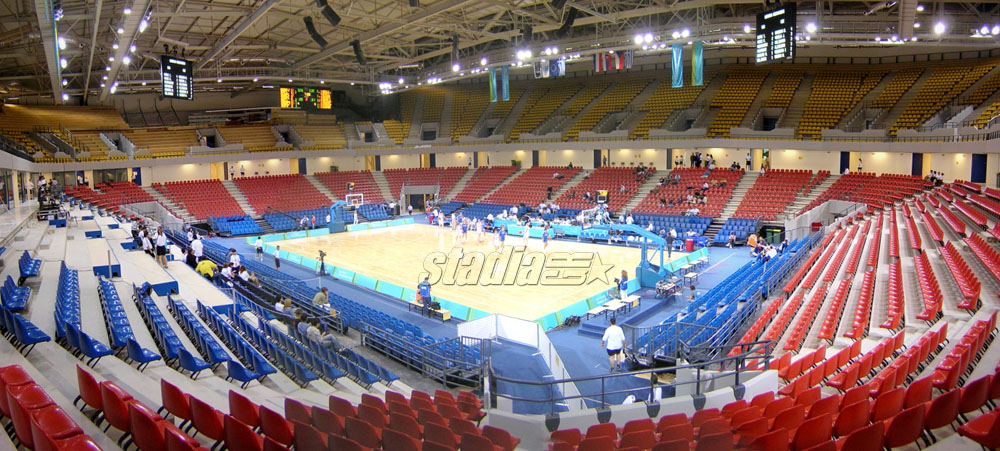 13) Helliniko Baseball and Canoe/Kayak Center: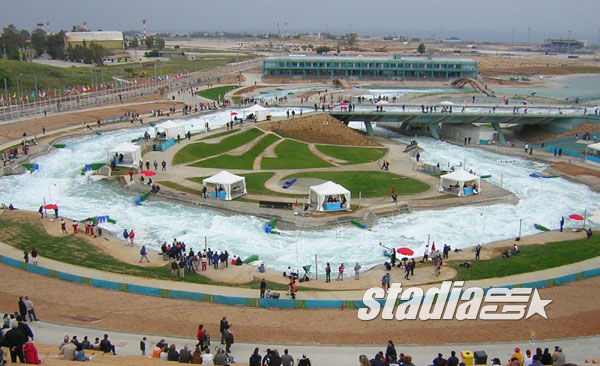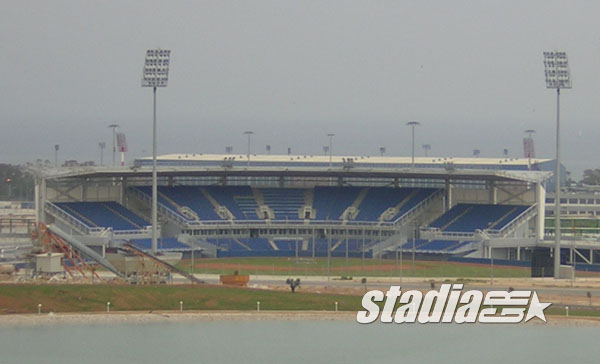 14) Faliro Arena (multi use facility):
It had a capacity of 8,536 spectators, half of the seats being temporary. After the Olympics, capacity was reduced to 3,836.
15) Faliro Beach Voleyball Center (currently being used for FIVA world championships):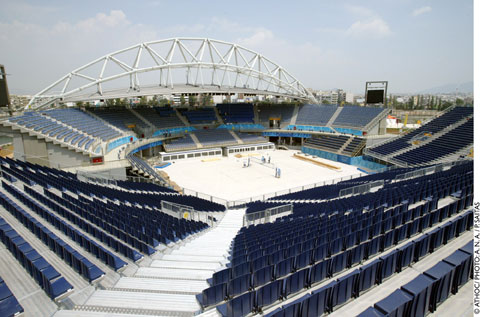 16) Markopoulo Equestrian Center: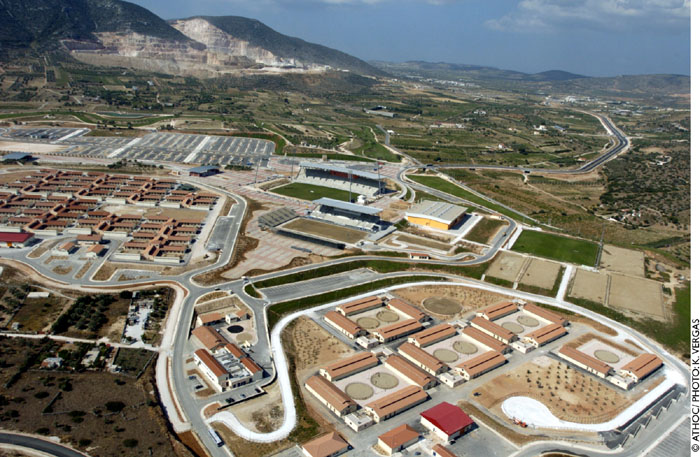 17) Agios Kosmas Sailing Center: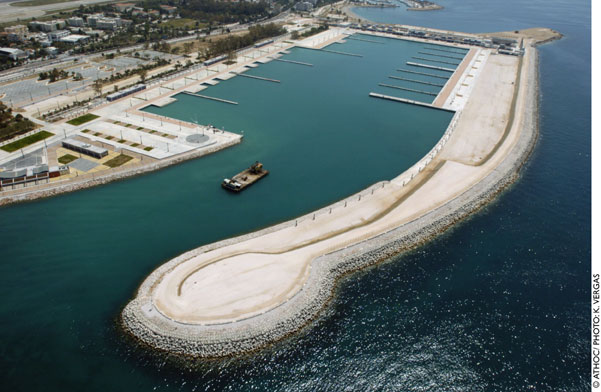 This list excludes "older" football and b-ball arenas that exist (i.e. old Panathinakos stadium and teh stadiums of the smaller Athenian football teams)
Also, yesterday the municipal government approved a brand new football stadium for Panathinaikos seating 40,000 along with a b-ball bvenue that will seat 6,000 to 8,000 people. It is scheduled to be complete by 2008.
all pics courtesy of
stadia.gr