Discussion Starter
·
#1
·
We need a separate thread about this :cheers: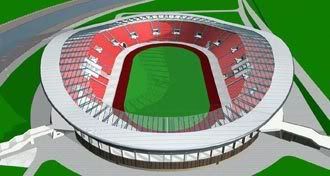 Short info about the project:
The new southern stand was finished long time ago. At the end of the current project it will be throughly renovated and will get a new semi-transparent roof like the rest of the stadium is supposed to get.
The new northern stand is under construction atm. The old northern stand was demolished in January and the deadline for the project is 18 months.
The eastern and the western stands should go under construction immediately after the new northern stand is finished.
The field and the athletic track are not in a good condition right now and they are to be fixed. The stadium will have completely new and expanded athletic facilities, that will allow events of any kind to be hosted.
The infrastructure around the stadium will also be brought up to date. Additionally, a big multilevel parking facility and a new pedestrian bridge over Vardar are to be built as a part of the project to serve the stadium.
In true Macedonian style, we still don't have an precise official information about the exact final capacity, but considering the capacity of the current southern stand, that mysterious number should be in proximity of 35k.