20 Fenchurch Street
City of London
Height:
160m
Floors:
36
Architect:
Rafael Vinoly
Developer:
Land Securities
Links:
http://www.20fenchurchstreet.co.uk/
Previous thread
World forum thread
Notes:
This proposal, already nicknamed the "Walkie Talkie", would be located at the southern end of the cluster,
near the Thames. It would replace an existing 91m building from the 1960s and would significantly bulk out the
skyline when viewed from Waterloo Bridge. If approved, Land Securities plans to start building in the third quarter
of 2007. Opinions are very divided on this tower's unusual design. Following criticism about its height and impact
on the views of St Pauls Cathedral, it has been reduced by 9 floors from 45 to 36. The new height is thought to be 160m.
Current Status:
A revised planning application with a 9 floor height reduction was submitted in July 2006. It was approved in November 2006.
The current site has already been vacated, enabling works are getting underway, and demolition will start in April 2007
(see
notice from Keltbray
). However, the project was called in by the Secretary of State, Ruth Kelly, and is likely to face
a public inquiry. UNESCO have also recommended this building be cancelled, as they feel it would harm the Tower of London.
-----------------------------------------------------------------------------
When I saw the artical in this weeks AJ for a new 45 storey tower in the City resembling the Ericsson Ericofon circa 1954 I had to double check it wasnt April Fools day. In fact, this was no joke and despite a notable lack of renderings, it seems the next tall proposal for the City will be no less adventurous than the others.
I wont retype the whole article but here are the main points:
Designed by Rafael Vinoly, the tower will replace the 91 metre CLRP designed tower at 20 Fenchurch Street built in 1968. The new landmark will resemble a "huge curved television facing the Thames" or the 1950s Ericsson phone design.
The proposals are set to go before corperation planners this summer.
Th scheme was threatened last year when the design ran 35% over budget. Since then Fosters director, John Shaw, has been brought on board and has helped bring the design back in to the black.
The developer for the scheme is Land Securities
The complex structure is synclastic, i.e. curves in two planes providing engineers with the unenviable task of making the building stand up.
The scheme has been designed to comply with the new Part-L regs that are being introduced in April.
According to sources working on the project the design is "deferential" to to the Tower of London and a near by listed church, helping to appease the Heritage bodies.
The scheme is thought to have recieved positive comments from CABE and (wait for it...!) English Heritage.
As I said, unfortunately there were no renders, so to keep you going i give you the Ericofon!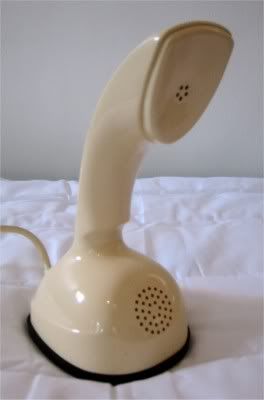 :rofl: