Discussion Starter
•
#1
•
Thanks for Feltip for delivering the details.
Location:
79-84 High Street, Birmingham city centre
Architect:
3D Reid
Developer:
Cushman & Wakefield
Progression of the proposal:
Started with this news article:
Wellcome / Cushman to submit Brum retail plans
Lisa Pilkington 13/06/2008 11:30



The Wellcome Trust and Cushman & Wakefield Investors are to submit plans for a retail development in Birmingham city centre.

They will reconfigure 79-84 High Street – close to the Bullring shopping centre – to provide 43,000 sq ft of new shopping space over four floors.

Stores with floorplates of 11,000 sq ft will be on the ground and first floors, while up to 15,000 sq ft of space will be provided on the upper floors for office or leisure uses.

Work is expected to start later this year.

Churston Heard and Cushman & Wakefield are the agents.
And this render: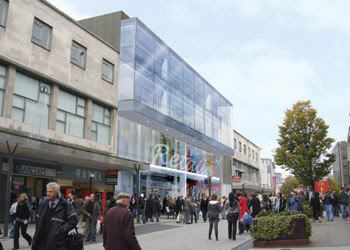 Planning application submitted on July 2nd:
Application number
C/03582/08/FUL

Date application received
02/07/2008

Date application registered
02/07/2008

Status
Under Consultation

Location
79-84 High Street, City, Birmingham, B4 7TE

Proposal
New full height, part projecting facade, removal of external canopy and increased floorspace to incorporate A1 & A2 uses at basement, ground & first floors & A1 - A5, B1(a) & D2 uses at second and third floors

Applicant name and address
Mr Dominic Ward
The Wellcome Trust Ltd
215 Euston Road
London
NW1 2BE

Agent name and address
3D Reid
12 Caroline Street
Birmingham
B3 1TR

Council decision
Under consideration
Decision date

Consultation details
Consultations Help
Start date
02/07/2008
End date
29/07/2008
Images from the planning app: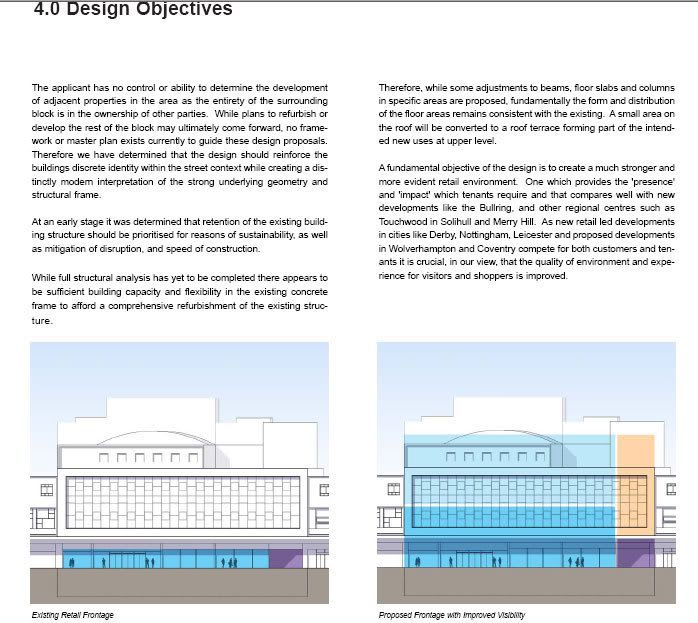 And now the new renders: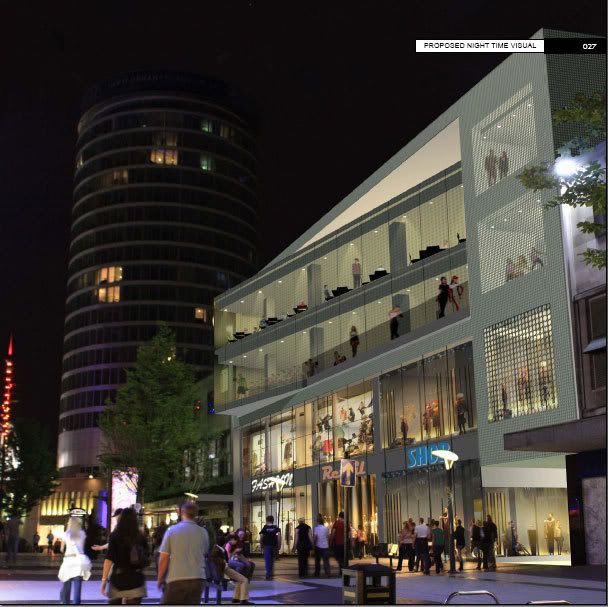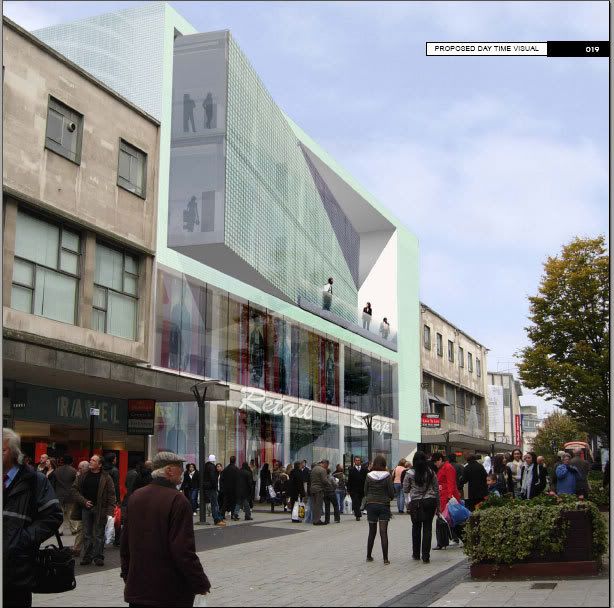 New Retail Development for Key Birmingham Site

08.07.08

Cushman & Wakefield Investors have released details of a new retail development in a 100% prime location on High Street, Birmingham designed by the Midlands office of architects 3DReid.

Located opposite the Pavilions Shopping Centre Entrance and close to the Bullring and intersection with New Street, the development will provide nearly 43,000sqft of flagship retail accommodation over 4 floors with the flexibility to divide into 3 separate units depending on specific requirements. Above the retail, there is again flexibility with the building suitable for both office and leisure uses, including health and fitness and restaurants.

This area has been long over due for a facelift and sits within a large urban block which has not been altered since it was built in the 1960's. The intention is to remove the solid concrete canopy, which runs at low level around the perimeter of large sections of the urban block, the replacement with full height glazing to the retail frontage will substantially improve the visual impact. This prime retail area between the Bullring and Marks & Spencer is perfectly placed to attract either high profile single or multiple tenants as the floor plates are both generous and flexible. The joint letting agents on the development are Churston Heard and Cushman & Wakefield.

Robert Alston from Cushman & Wakefield, said: "The potential development allows up to circa 15,000 sq ft of 2nd/3rd floor space to be potentially used for leisure or restaurant uses, accessed from a designated lift/lobby area, as well as benefitting from prominent signage fronting High Street, which is visible from the Bull Ring entrance".

Damian Sumner, Retail Director at Churston Heard comments: 'Having secured vacant possession of the entire site, we are able to confirm deliverability to potential tenants which is key in the current market. The exciting redevelopment offers retailers with modern, well configured units at a time when there is limited comparable availability elsewhere in the city centre.'

Cushman & Wakefield Investors are looking to start on site towards the end of 2008, with handover proposed for Summer 2009.
http://www.3dreid.com/content/298/view