Xian Lima Luxury City Masterplan
Architect: PTW Architects
Client: Shanxi Sunshine Group
Status: Under development
The project is a middle/upper class mixed-use residential estate that includes residential apartments, serviced apartments, office space and retail. The site is located on the eastern side of Changan Road, with a total site area of 2Ha and a building area of approximately 93,500sqm.
The design unifies the varied shape of the site and presents a unique image and building profile to the city beyond. The masterplan borrows from the traditions of Chinese royal architecture combined with international design and new materials and technologies. The result is a unique residential environment drawn together by the building forms and a series of diverse courtyards, landscaped with local plant material.
Guangzhou Convention and Exhibition Centre
Guangzhou - China
Architect:
PTW Architects
in association with WZMH Partnership.
Client: Guangzhou Planning Bureau.
Status: Unknown.
PTW Architects was part of a joint venture with WZMH Partnership for this invited competition to design the Guangzhou International Convention and Exhibition Centre on Pazhou Island.
The exhibition halls of 250,000m² are disposed on the Pearl River site so that the perimeter of the exhibition centre is always enlivened by the activities and movement of people. In this perimeter zone of foyers, restaurants, meeting rooms and outdoor exhibition areas, people may enjoy the views out to the Pearl River and surrounding parks.
The composition of primary functional areas clearly separates people and servicing. The simple, yet dramatic roof form above directly expresses the functional parameters and structural systems while evoking the large sheltering roof forms found in traditional southern Chinese architecture.
Ningbo Jiang Dong development project
Ningbo - China
SOM was charged with the completion of a master plan for the redevelopment of 22 hectares (55 acres) within the downtown core of Ningbo, in the People's Republic of China. The development plan proposed the connection of the new district to an existing riverfront park system and to a nearby temple, creating an uninterrupted green link that unites the district to other areas of the downtown. Encompassing 6 million square feet of development at a density of 3 Floor/area ratio, SOM's plan features a mix of uses centered around a dynamic new park. Residential, office and commercial functions are intermingled to create a vibrant new live-work environment. Anchoring the project are two landmark buildings: a 180 meter (500') office tower, and a civic building emphasizing media and entertainment uses. A sinuous pedestrian bridge, also designed by SOM, links the project with the commercial core of the city and unites two riverfront parks.
Model.
The 180m tall office tower.
Zhu Bao Yi Tiao Jie (Jewelry Street)
Xi An - China
Architect: Wong Tung Group
Status: Ongoing development project
A 1.5 km long jewelry street with shopping, entertainment and tourist activities.
Fujian Power Headquarters
This is the new headquarter to Fujian Provincial Electric and Power Co. The tower will be 32 stories tall when its completed and features a glass facade with dramatic "fins". The design is made by the american architect firm MulvannyG2 Architect firm which is also behind the proposed headquarter to Shanghai Shidong Power Co.
Chemsunny Plaza
Beijing - China
Current status: Under construction
Construction: 2004 - 2006
Architect: SOM
Homepage: http://www.chemsunny.com/
Chemsunny Plaza is located 2.4 km west of the Forbidden City. The project site is an integral part of the Beijing financial district and the Xidan commercial district. Chemsunny is a 15-story office building with two major atriums and an approximate gross above grade area of 132,000 sm. There are also three basement levels with gross below grade area of 43,084 sm. The ground floor will contain the primary entrance lobbies. Individual lobbies to each elevator core are connected to the base level of each atrium. The ground floor also contains separate office space as well as the entry to the below grade retail area.
Sunshine Residential
Chongqing - China
Currently no further information on this project.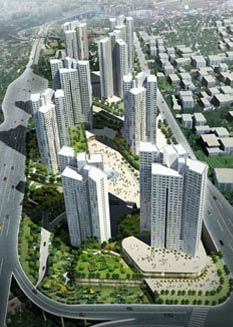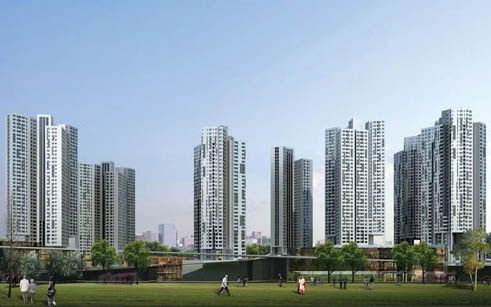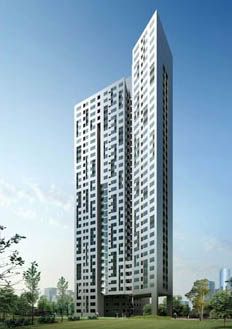 Donghai Jingtian
Donghai Jingtian - Shenzhen
Client : Shenzhen East Pacific Real Estate Dev. Co. Ltd.
Project : Donghai Jingtian Shopping Mall
Location : Shenzhen, PRC
GFA : 9,899m2
Site Area : 4,499.6m2
Completion Year : 2004
Located in Donghai Jingtian, Shenzhen. This is an iconic, distinctive shopping mall comprising 1 storey basement car park, 1 storey ground level shopping mall and 4 storey food mall, with an approximate total of 10,000m2 leasable area. Aedas was Architect from Concept Design to Detail Design and to Tender Documentation.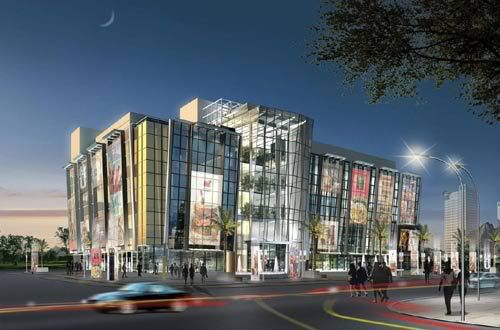 Changfeng Commercial City
Shanghai - China
This 238m, 58 story tower started construction in 2001 and is expected to be completed in 2005.
Development Tower
Shanghai - China
A 265m/55 floor tall tower under construction in Pudong.