Discussion Starter
·
#1
·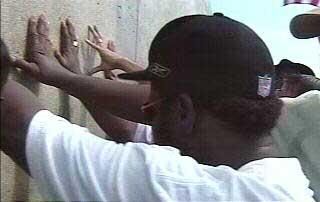 Rev. Marie Galatas and her followers touch the wall of the Industrial Canal in the Lower Ninth Ward.
A man throws one of 1,557 flowers into the 17th Street Canal to memorialize the victims of Hurricane Katrina.
Ceremonies at two canals to honor Katrina victims
07:30 PM CDT on Monday, May 29, 2006
Brett Martel / Associated Press
WWL-TV
Rev. Marie Galatas and her followers touch the wall of the Industrial Canal in the Lower Ninth Ward.
It was one of two Memorial Day ceremonies Monday at canals at opposite ends of New Orleans where high water breached flood-protection barriers, inundating 80 percent of what had been Louisiana's largest city.
The crowd of neatly 100 at the 17th Street Canal breach was mostly white middle-class residents. The lower Ninth Ward crowd of about 150 was mostly black, and few of them have the means to rebuild without help. At both, people sobbed intermittently, and spoke of closure and healing.
He and other ministers praised residents' resilience and dedication to their devastated neighborhood. They also urged them to set aside questions of blame and focus instead on how they might help each other.
"If we can find it in our hearts to say, `Hey, y'all, how ya doin', how's your mama 'n them,' then we've caught the vision," said the Rev. Oliver P. Duvernay, evoking a familiar local greeting that drew out smiles and some light laughter from the crowd in the Ninth Ward.
Some participants carried American flags as organizers also called on the crowd to remember fallen U.S. soldiers. Louisiana has long had a high rate of military service among its residents.
Noting all the state residents who have fought for America, organizers said they now need Americans to fight for south Louisiana against future devastation through a combination of better levees and projects to restore eroding wetlands which act as a buffer against hurricanes.
At a makeshift podium within sight of a handful of workers wearing hardhats and fluorescent yellow vests working on the Industrial Canal, memorial participants somberly read hundreds of names of people who died during and after the storm in Louisiana. As they read, the Treme Brass Band softly and slowly played "A Closer Walk with Thee" and other funeral staples.
Near the 17th Street breach, participants dropped 1,557 carnations of various colors -- one for each Louisiana victim, whether the death was in the state or after evacuation -- into the canal to honor the dead. People sang "God Bless America," then bagpipes played.
Scenes of devastation remain near both canal breaches, where most homes are abandoned.
In the lower Ninth Ward, overgrown weeds do little to obscure contorted tangles of wood that used to be homes or rusting cars that had been deposited by floodwaters, some upside down, against piles of debris where houses once stood.
"From here, it looks hopeless, but we need to learn to transcend what we can see with our eyes," Duvernay said as he looked around after the ceremony.
It remains unclear what exactly will become of New Orleans' worst flooded neighborhoods, but a number of residents and activists with MercyCorps and the Neighborhood Empowerment Network Association have joined to protest any effort at widespread demolitions. They fear that government officials may subscribe to civic planners' suggestions that the worst-flooded neighborhood be cleared either for industrial use or for golf courses and parks that could act as collecting pools during future severe storms.
The Rev. Marie Galatas, a minister whose Ninth Ward church was destroyed, thanked activists who have tirelessly attended city meetings to stick up for displaced residents from her neighborhood.
She said she and her remaining congregation are not ready to give up, even if they are now only five people who gather to pray in a kitchen.
"No green space except for those houses that have fallen flat," Galatas said.
http://www.wwltv.com/local/stories/wwl052906khceremonies.343dd4b5.html
Also: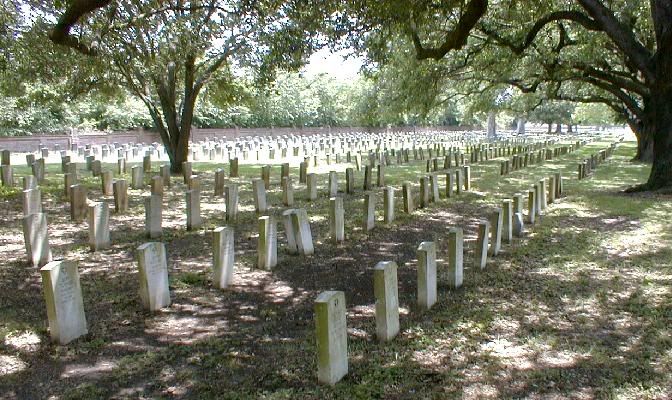 http://www.nps.gov/jela/Chalmettebattlefield.htm
Chalmette Cemetery, Battlefield temporarily reopens for Memorial Day ceremonies
08:34 AM CDT on Monday, May 29, 2006
Ben Lemoine / WWL-TV News Reporter
Memorial Day weekend has always been about paying tribute to local heroes. But like so much else in Louisiana, it's been a different experience this year since Hurricane Katrina, as Chalmette National Cemetery temporarily reopened in time for the nine month anniversary of the storm's landing.
In Remembrance
Among the 13,000 headstones in the cemetery, 12-year-old Joseph Passafume was interested in finding two names in particular: his uncle and grandfather. He caught up with them under the oak trees where they rest as an eternal reminder of their service and sacrifice.
"How these people died and what great people they were to the world and how they served us...because I like to pay my respects to my family members who fought in wars," Passafume said.
Around the old cemetery which still bares scars from the Civil War to wrath of Katrina, memories were marked by stained and slanted concrete, as well as a few dozen people who came out to pay their respects.
For Lt. Nick Lorusso, the cemetery has been a teaching tool for his seven-year-old daughter Sophia, who's beginning to understand the ultimate sacrifice made by so many.
"Every Memorial Day, I try to grab as many of my kids as I can get to come with me, and we come out just to try to instill in my kids what it's all about," Lorusso said.
For the people who came here to remember the fallen, it couldn't be a more appropriate place for a memorial or a more appropriate time, since many of them are still recovering and remembering their own battle.
"It's like a battle, and the casualty rates were very, very high because they were not only those dead, but those that are displaced and are not coming back," said Major Tommy Rigsby, U.S. Marine Corps (retired).
But Rigsby said while some are still suffering, honoring those who suffered for our country can't stop as a result.
"We said we don't care if there's only three or four of us, we're going to do the ceremony, even if we have to jump the fence," Rigsby said. "We've done it all these years without fail, and we weren't going to stop this time."
However, the reopening of the Chalmette Cemetery and Battlefield would only run through Memorial Day, since the facilities still need additional repairs before they can be permanently reopened.
http://www.wwltv.com/local/stories/wwl052906khmemorialday.330439dc.html