·
borjagomezfotografia.com
Discussion Starter
•
#1
•
I hope this is the right way to show u some of the projects from Bilbao. If not, tell me please.
Bilbao Ria 2000
Abandoibarra is the most emblematic of all the projects carried out by BILBAO Ría 2000 in its regeneration of the city of Bilbao. This area at the heart of the city covers 348,500 square metres, and the general public was denied access to it for many years. When the La Ribera promenade was opened over the Evaristo Churruca quays, the people of Bilbao and visitors to the city were able to walk around this area to discover it for the first time.

Abandoibarra is destined to become the nerve centre of the new Bilbao. The city's remodelling process began in 1998 along the lines of the Master Plan for the area drawn up by César Pelli, Diana Balmori and Eugenio Aguinaga.

In the Abandoibarra area, the Avenida de Abandoibarra is now open to the public between the Palacio Euskalduna convention centre & concert hall and Uribitarte walkway. The riverside promenade has also been completed with the addition of a children's play area and the new cybernetic fountain. It provides a large, tree-lined, mainly pedestrian area with broad pavements, a cycle path and three tram stops. The promenade is linked to the Deusto bridge via a spiral stairway and the newly opened Calle Lehendakari Leizaola provides a thoroughfare for vehicles between the avenue and the bridge.

115,714 square metres of the total 348,507 square metres will be areas of greenery.
80's:
1992:
2005:
2010-2012:
Satelite View, 5 years ago:
In some years:
Lets go with the new buildings:
13) Biblioteca Universidad de Deusto (Rafael Moneo)
14) Paraninfo UPV (Alvaro Siza)
We'll know the design of this building in few months
10) New housings (Aguinaga, Ganchegui, Ferrater, etc)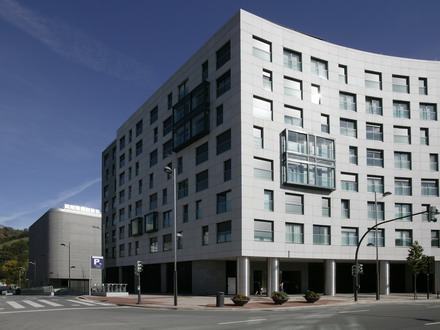 15) Zubiarte Shopping Centre (Robert Stern, 2004)
16) Sheraton Hotel 5* (Ricardo Legorreta, 2004)
11) Iberdrola Tower (Cesar Pelli, 165 metres)
Works starts this year, here u can see with Ferrater's housings:
8) Euskadi Square (Diana Balmori)
8) 9) 4) New Green Areas
Pedro Arrupe Footbridge (José Antonio Fernández Ordoñez)
Deusto Bridge (Remodelation)
More photos of Abandoibarra nowadays:
The Tram in Abandoibarra
Under the Guggenheim Museum: