DOWNTOWN ABU DHABI


Abu Dhabi's downtown is very modern with supertall skyscrapers, palaces, luxury hotels, malls and restaurant. Corniche Road is a long and beautiful road parallel to downtown situated along the shoreline of Corniche Lake. Our small tour bus from Dubai drew fastly through Cornjche Road without stopping, so I tried to make as many snapshots as possible to capture streets and architecture, but without really doing downtown justice.
Corniche Park, The Landmark (324m, 2013), WTC (background), Baynunah Hilton Tower (165m, tallest 1994-2002), seen from Corniche Road.
Capital Plaza from 2011 is a mixed use complex with offices, hotel (Sofitel) and residences. The postmodern/art deco architecture of the tallest tower resembles Empire State Building in New York.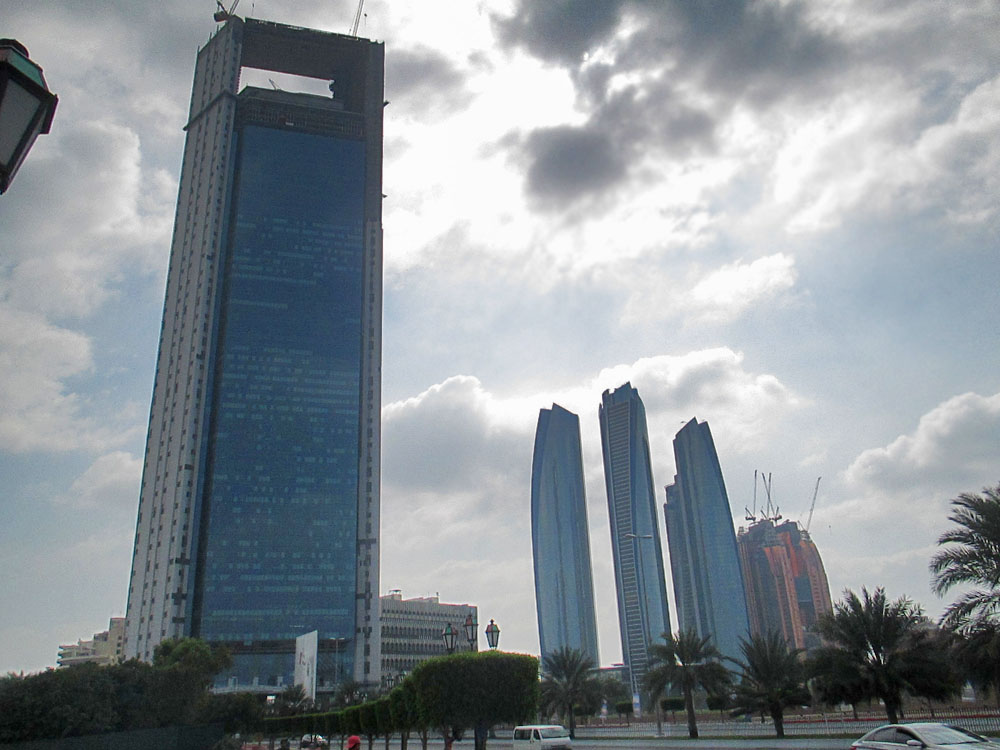 ADNOC Headquarters (342m, u/c, expected completion in 2014) Etihad Towers (five towers from 2011 up to 305m)
Etihad Towers, five glass towers from 2011 with hotels and offices. The tallest one is Tower2, 305m tall with 77 floors and an observation deck on the 75th floor. Tower 1 has a Jumeirah hotel. The bronze glass highrise to the right is Bab Al Qasr Hotel, under construction.
Nation Towers has the world's highest pedestrian bridge, even higher then the one at Petronas Towers, our guide told us. There is also a helicopter platform on the top of one of the towers. To the right is Hilton hotel, today one of the oldest modern buildings in Abu Dhabi.
You can read more and watch tons of pics from Downtown Abu Dhabi on the link below:
http://www.worldtravelimages.net/Abu_Dhabi.html