Discussion Starter
·
#1
·
Zingerman's looks to expand original deli site, but faces hurdle on Ann Arbor Historic District Commission
Posted by Judy McGovern | The Ann Arbor News June 11, 2008 08:04AM
Photo credit to ELIYAHU GURFINKEL, THE ANN ARBOR NEWS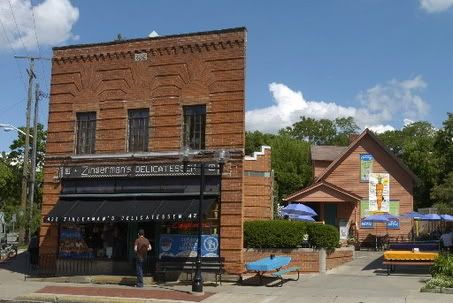 The last time Paul Saginaw took a plan for expanding Zingerman's to the City of Ann Arbor's Historic District Commission was 1990.
Today, Saginaw, a founding partner in the Zingerman's family of businesses, knows that the scope of the commission's authority has changed. "We know there's a good possibility our request will be turned down," he said.
The rules
"The historic district commission can issue a notice to proceed for demolition of a building. However, the commission must find that retaining the resource is a hazard to public safety, will deter a major improvement project of significant benefit to the public, or cause undue financial hardship to the property owner due to an action beyond the owner's control, such as an act of God or a governmental action, created the hardship. A building can also be demolished if it is determined not to be historically significant or if it has lost its historic integrity."
Source:- Source:
www.a2gov.org
So before investing any more in a plan to build a 12,000- to 22,000-square-foot addition to Zingerman's Delicatessen, the Ann Arbor icon on Detroit Street, the company will ask the commission for permission to demolish three adjacent structures:
• A house at 420 Detroit St.
• A garage in the rear of 418 1/2 Detroit St.
• A house at 322 E. Kingsley St.
Like the well-known deli, the three buildings are in the city's Old Fourth Ward Historic District.
"If we can't take those structures down, this doesn't happen," Saginaw said.
Instead, Zingerman's would look for other sites that would accommodate its growth. Those sites would almost certainly be in Ann Arbor, he said.
See the rest of the story at this link:
http://blog.mlive.com/annarbornews/2008/06/zingermans_looks_to_expand_ori.html