Discussion Starter
·
#1
·
Situated on the northern outskirts of Brussels, between the royal estates of Laeken and Stuyvenbergh, and the chaussée romaine, the former Osseghem plateau consisted of meadows and fields during the nineteenth century.

From 1889 onwards, King Léopold II, whose wish it was to enhance the surroundings of the royal palace by the urbanisation of this plateau, undertook a vast program of land purchases, to the point that within twenty years, he had acquired a vast domain of 200 hectares, which he left to the Belgian state on his death in 1909.

While the Atomium remains the main attraction of what is known as the Heysel plateau, a number of other substantial activities have been developed there since 1936: exhibition halls, a congress centre, a leisure and tourist centre, a cinema complex, a planetarium, a stadium, sports grounds, green spaces and restaurants are all there for the greater enjoyment of visitors.

The Universal Exhibition, inaugurated on 27th April 1935, was certainly the starting point for this development. 20 million people visited the 150 hectares of gardens, ponds, buildings and pavilions sponsored by more than twenty different countries. At night, the area was lit up like an illuminated fairyland with the added enchantment of numerous firework displays.

Twenty years later, the International Exhibition of 1958 confirmed the hosting capacity of this site, enabling almost forty million visitors to view the technical and scientific progress of the modern world in an atmosphere of optimism and enjoyment. The general layout of the exhibition centred on the Atomium, an imposing structure, and comprised six separate sectors spread out over 200 hectares.

The Atomium

Designed by the engineer André Waterkeyn for the International Exhibition of Brussels, that took place here in 1958, the Atomium is a structure that is half way between sculpture and architecture, symbolising a crystallised molecule of iron by the scale of its atoms, magnified 150 thousand million times.
Throughout the ages, man has sought to give architectural expression to his desire for height; towers, pyramids, belfries, cathedrals,…
The Atomium, in particular, embodies the audacity of an epoch that seeks to confront the destiny of man with scientific discovery.
The nine large spheres joined by tubes which comprise the Atomium, are arranged in the configuration of a central cubic system. These spheres, with a diameter of 18 metres, were fitted out by the architects André and Jean Polak.
Made entirely of steel clad with aluminium, the structure, at a hight of 102 metres and standing on three enormous bipods, dominates the Heysel plateau.
The Atomium was not intended to survive the Exhibition of 1958. Its popularity and success, however, ensured its place as a major landmark on the Brussels skyline.

Today, the condition of the Atomium requires renovation work. This will start in 2003, thanks to aid from the federal state of Belgium, in collaboration the Region of Brussels Capital and the City of Brussels.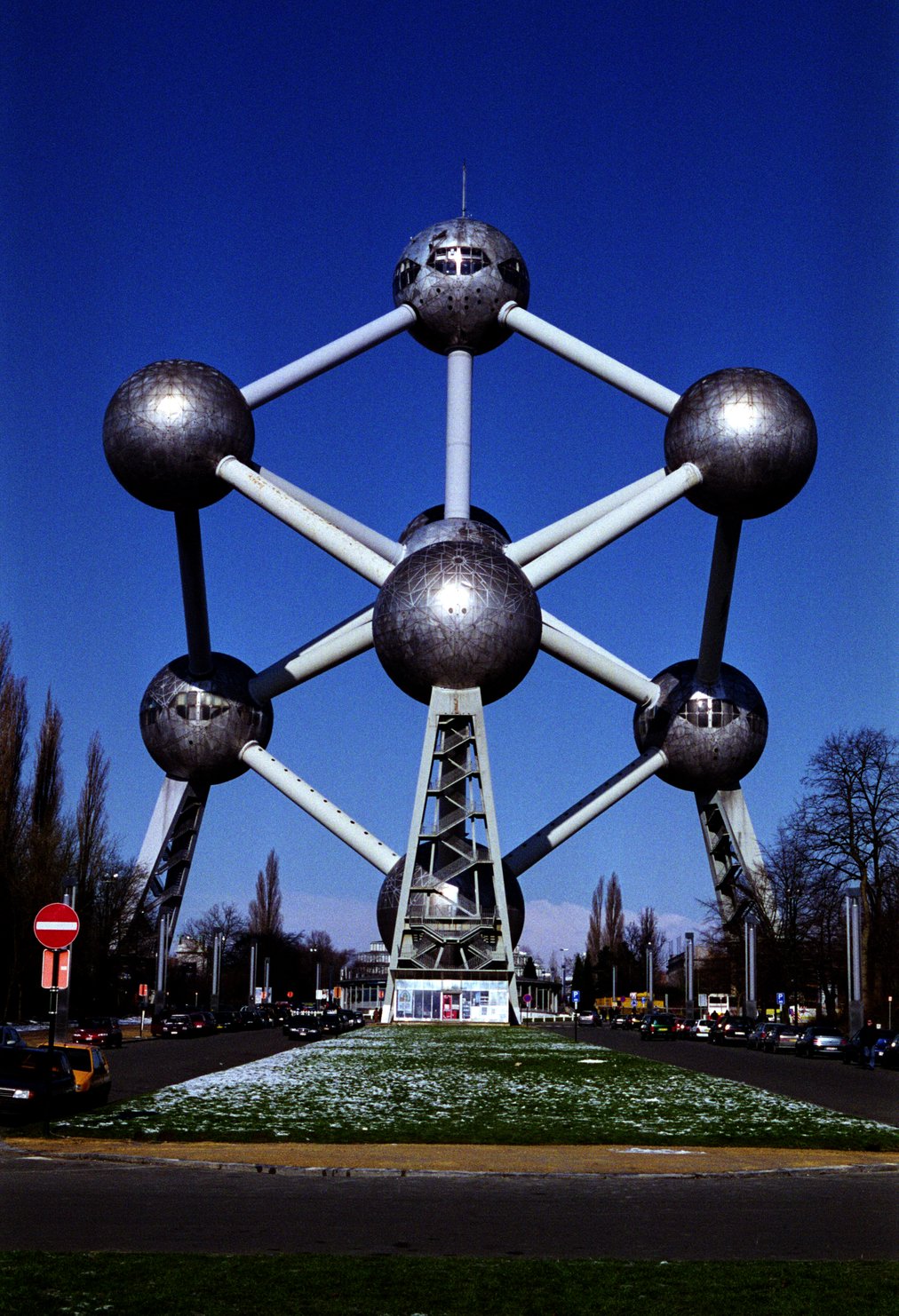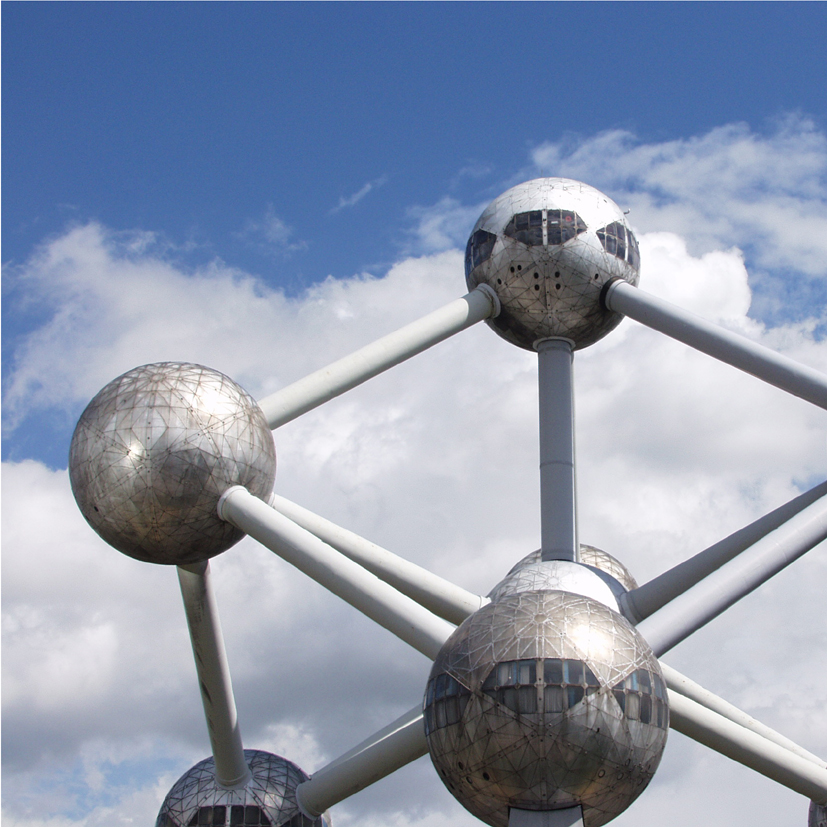 Now the Atomium is under renovation. It will open again on the end of 2005.