Discussion Starter
·
#1
·
MY EXPERIENCE
We visited Brussels for 3 days as a part of a 5 day tour to Belgium and a one day visit to the Graspop rock festival. We arrived at the large Brussels Airport.
Despite the lack of water and a lot of grey EU buildings, I liked Brussels a lot as a tourist attraction; the mix of old buildings and futuristic buildings, the beautiful squares, parks, the magnificent food and drinks and the large number of rare museums make this city unique!
The weather was mixed -grey and sunny, and some heavy showers also occured. Grey weather is very common in Belgium, even summertime.
During our visit in June 2014, World Football Championship was going on, so the streets and pubs were really lively. As a contrast to that, the streets were almost empty on Saturday and Sunday during our visit. It was a bit grey and rainy and we were not in the old town these days, but still strange to see so less people outdoors in central Brussels, especially since this is common weather in Belgium.
The infrastructure of Brussels is good. The city has metro, trams and buses. The trams are modern but we didn't use it since the city center is very pedestrian friendly and we needed the metro to get to the outskirts. The metro system is working good but a bit worn; the underground trains are not very modern and some stations look really bohemic with no escalators. Brussels have several train stations, the central station is not the largest.
Food in Belgium is really good, the meatballs are really tasty for example, and you can find food from Belgian restaurants as well as international kitchen (Italian, Asian, Spanish, French etc). Belgium is also famous for its beer, waffles and chocolate that is in top class, and of course we tried it!
Traffic can be really harsh during rush hours, since there are many cars –Belgium is not by far as bike friendly as the Netherlands- and the streets are really small, so you often see cars stucked in the middle of an intersection. At one occasion, we watched about 10 incident that nearly lead to accidents in just a few minutes! Even if the traffic can be aggressive, motorists generally stop for pedestrians.
It felt pretty safe to walk around in central Brussels, even after dark. The only problems we had were with some Romanian beggars that tried to fool tourists. Don't let them make you sing anything, it's just a scam!
We stayed at the 4 star Renaissance Brussels Hotel at the Rue du Parnasse in the European Quarter, right next to the huge EU Parliament. The location is about 15 minutes walk to the Old town, and even closer to the Royal Palace. The hotel is a modern 7-storey building with elegant but a bit impersonal interior. It has 262 rooms and is part of the Marriott/Renaissance chain. The room was really large and nice with a large flatscreen TV, a large king size bed and a long corridor. It was furnished in earth colours and had views over a small street. The staff were very friendly, but the breakfast is really expensive (25 euro and 15 euro with discount) so it is hardly worth the money, and they made a mistake to charge to much, that was corrected later after many e-mails. But for the hotel over all we got really good value for money. The hotel has a bar, a Starbucks, a restaurant, a gym and a pool in the basement.
I also visited Antwerp and the Graspop festival after Brussels.
Click on the link below to read more and watch the pictures: [/b]
http://www.worldtravelimages.net/Brussels.html
GRAND PLACE:
Hôtel de Ville, Brussels Town Hall.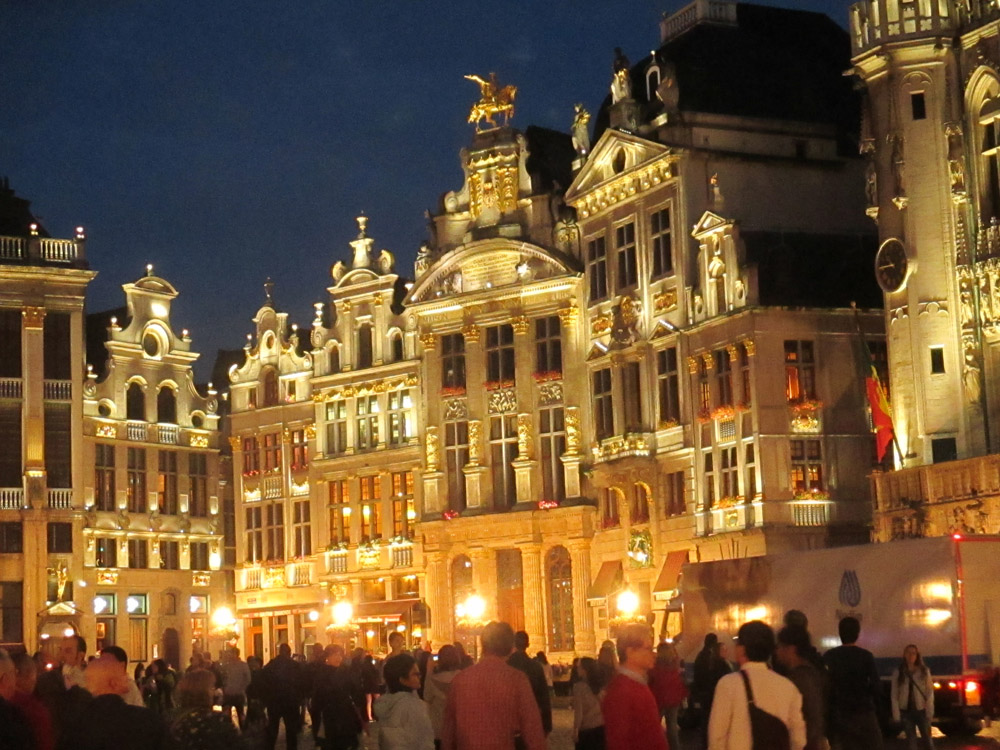 You can watch more photos and read info about the photos on the link now:
http://www.worldtravelimages.net/Brussels_Grandplace.html