·
Azərbaycanlı Moderator
Opened in 1967, the Baku metro has 2 lines, 20 stations and 30.5 km of track, all of which is underground.
MAP OF BAKU METRO
Pictures of Nizami station in Baku: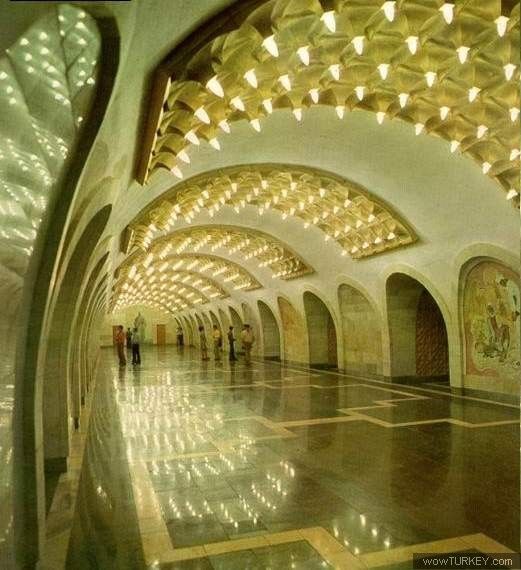 The metro network consists of 2 lines which were planned in the 1960's. The first stretch opened on 6 Nov 1967 between Baki Soveti and Narimanov (6.5 km). In 1968, a 2.4 km stretch from 28 Mai to Khatai was put into service. Currently a new transfer station is being built at 28 Mai to avoid train crossing. The network was expanded gradually and reached its current length of 30.5 km in 2002. Stations have 100 m platforms which allow the use of 5-car-trains in service since 1985. Track gauge is 1524 mm, power supply is via third rail (825 V dc).
Line 2 is currently under construction towards the north although no date for completion is known. It will eventually be extended also towards the east.
History
Some stations were renamed in the 1990-1992, names given in brackets are original names found on older maps:
6/11/67: Baki Soveti - Narimanov (6.5 km)
22/2/68: 28 Mai (28 Aprel) - Khatai (Shaumyan) (2.4 km)
5/5/70: Narimanov - Ulduz (2.7 km)
7/11/72: Ulduz - Neftchilar (4.7 km)
31/12/76: 28 Mai (28 Aprel) - Nizami (2.4 km)
1979: Narimanov - Bakmil
1985: Nizami - Memar Adzhemi (6.7 km)
4/89: Neftchilar - Akhmedly (3 km)
10/12/2002: Akhmedly - Hazi Aslanov (1.5km)
- other renamed station: 20 January (XI Gysyl Ordu Mejdany), Kara Karayev (Avrora), Sahil (Baky Komissary)
PROJECTS
Currently under construction (though suspended):
Memar Adzhemi - Darnagul (4.1 km - 3 stations)
Khatai - Güneshli (10.2 km - 5 stations)
Approved:
Hazi Aslanov - Airport(5 stations)
Links
Baku Metropoliten (Official Page)