Discussion Starter
·
#1
·
I was looking for the older thread that was created, it has somehow vanished...Maybe someone else can find it...in the meantime, here is a new one
Bata - country´s second biggest city (70 000 inhabitants)
See map for location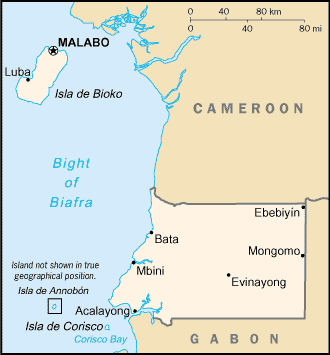 Bata is the second largest city of Equatorial Guinea with a population of around 70,000 people. It lies on the Atlantic Ocean coast of Rio Muni. Bata was formerlly capital of Equatorial Guinea. The city is a transport hub and port, from which ferries sail to Malabo and Douala, and fliers can land at Bata Airport. It is also known for its small nightlife, its market and its airport.

The recent oil boom of the country has boosted the development of the city with more than 20 major infrastructure projects underway.
Bata looks a lot better than Malabo and it is surprsingly clean, I wouldn´t have expected this from a city in Equatorial Guinea considering the mess in Malabo which is the capital....but surprise surprise

All pics were taken in June 2007
what a great church, it even looks renovated

the enlarged new "el paseo"
:cheers:
Couldn´t refrain from posting those nice Bata Girls
Old post-office
it is said that this is a road within Bata´s city centre

Centro Cultural Espanol
This is Abayak (taken in 2007)
new things around Bata
another street scene , btw, the building you see is a Gabonese bank