Name of project:
Pangu Plaza 盤古大觀 (former name: Morgan Centre)
(Pangu is a figure in a Chinese myth who separated heaven and earth)
Location:
beside "Water Cube" and "Bird Nest", Olympic zone, Beijing
Height:
191.65m (office tower: 4.6m per storey)
Floor count:
39 above ground, 5 under ground
Utility:
office space, apartments, hotel, shopping, club
Architect:
Li Zuyuan, Taiwan (architect of
Taipei 101
)
Implied meaning of external form:
a dragon (head, trunk and tail) (NOT AN OLYMPIC TORCH, AS MOST OF YOU MAY HAVE THOUHT IT TO BE! )
Other:
1. Seven huge LED screens on wall
, 3400 square metres in all. The biggest one, as well as China's biggest, is 900 square metres. They will present live broadcast of the Olympic Games in August.
2. white granite wall
, made of high-quality stones from China's Shandong Province.
1
2
3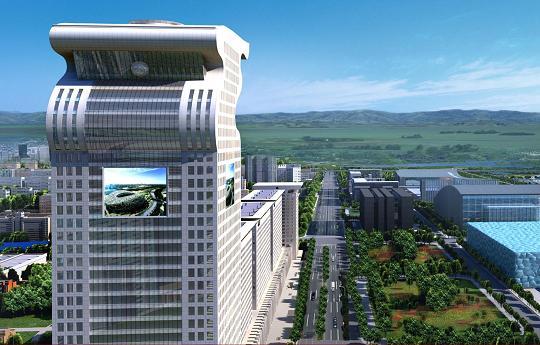 3
4
5
6
7
8
9
10
11