Discussion Starter
•
#1
•
Casement Park
(Irish: Páirc Mhic Easmainn) is the principal Gaelic Athletic Association stadium in Belfast, Northern Ireland, home to the Antrim football and hurling teams. Located on the Andersonstown Road in the west of the city, and named after the Republican revolutionary Sir Roger Casement (1864-1916), the ground has a capacity of 32,600.
Casement Park, one of the largest stadia in Ulster, opened in June 1953, with Armagh Harps defeating St John's of Antrim in the final of the inaugural Ulster Senior Club Football Championship. The newly opened Casement Park hosted the Ulster Championship final less than a month later, which saw Armagh overcome reigning All-Ireland champions Cavan.
In 2006, proposals were raised to build a new multi-purpose stadium on the site of the old Maze prison near Lisburn, which was intended to host soccer, rugby union and Gaelic games. However, opposition to the idea led to it being dropped in favour of a new venue in the Sydenham area of East Belfast. This led to Ulster GAA, which was one of the partners in the Maze project, to pull out in favour of remaining at Casement Park.
In 2011, the Northern Ireland Executive announced that it had granted £138m for various stadium redevelopment projects throughout Northern Ireland. Ulster GAA would receive £61.4m of this, which was to be used to redevelop Casement Park into a 40,000 all-seated stadium with £15 million of partnership investment from the Central Council of the GAA, making it the largest stadium in Ulster.
In early 2012 it was announced that the redevelopment work would start at the end of 2013; this was expected to last two years with a view to having the new stadium open by September 2015. It was expected that, after its completion, Ulster GAA would move its headquarters from St Tiernach's Park in Clones to Casement Park,which would then have a seating capacity of about 40,000.
The planning application was lodged on June 19th 2013
The re-development of Casement Park to provide a 38,000 seated capacity GAA Stadium, comprising: demolition of the existing facilities; construction of new pitch and stands, incorporating bar/restaurant and ancillary kitchen areas, conference, training and community facilities, including handball courts, ancillary offices, player accommodation and welfare facilities, press/media and broadcast facilities; replacement floodlighting, stadium/event management suite, ground support facilities including electronic display installations, facilities associated with ground maintenance; enhanced access arrangements; coach parking; underground car parking; remediation/replacement of site boundaries; hard and soft landscaping.

http://epicpublic.planningni.gov.uk...lication_detailview.aspx?caseno=MOOUH6SV30000
Current stadium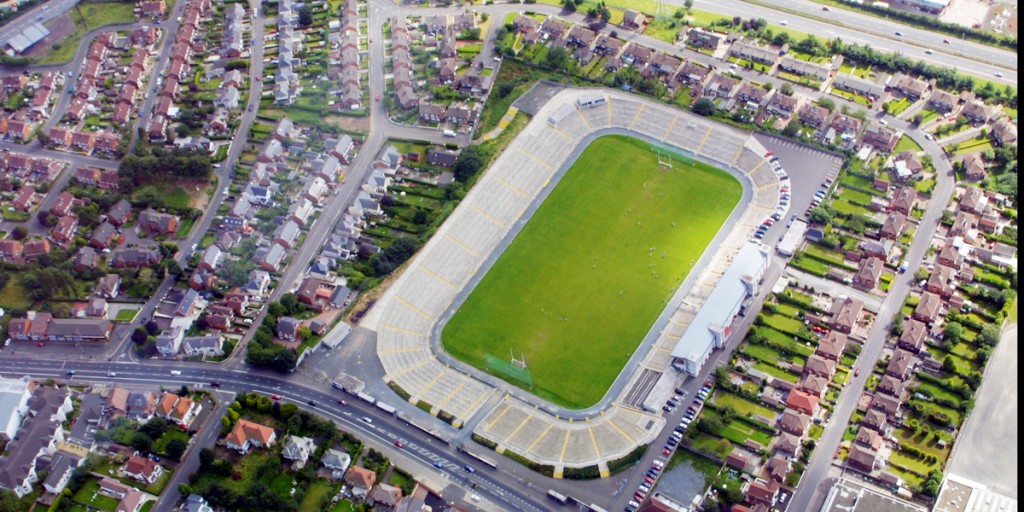 Proposal