This is intended to act a summary page for all of the various developments taking place and planned for Queen's.
International and Postgraduate Student Centre
Approved and under construction
Refurbishment of Lynn Building including reorganising entrance with reduced ground floor level, new ramp to south elevation and new void to first floor.
Work is due to start on the refurbishment of the Lynn Library to create a new International and Postgraduate Student Centre offering teaching, quiet study, group study and social spaces. The project is part of the University's Capital Development Plan for the next ten years which will see £350 million invested in a number of transformational projects which will underpin our drive to attract global talent to Queen's and to Belfast.
The works commence today, Tuesday 18 March 2014, with the erection of hoarding around the building. Works which will be completed by Easter 2015.
School of Law and Peter Froggatt Centre
Approved and under construction
Queen's University Belfast main site tower redevelopment to provide a new School of Law and student cafe/amenity area incorporating the partial demolition, extension and remodelling of the former Library Stack, the recladding of the Peter Froggartt Centre, the linking of the two buildings to each other and to the Lanyon Building, associated landscaping and revised access arrangements.
School of Biological Sciences/Institute for Global Food Security
Approved and under construction
Demolition of Science Library, 14a Lennoxvale, sub-station, associated steps and ramp and Science Library boundary wall on St Ives Gardens, relocation of external fire access from side to rear elevation of Architecture Building and development of new School of Biological Sciences Building (providing 11,165m2 of floorspce on 3-5 levels for teaching, research, offices, study areas and laboratories), landscaped pedestrian link between Chlorine Gardens and Lennoxvale, new, relocated service access to basement level from Lennoxvale and associated operational development including cycle parking, lighting, CCTV and landscaping
Centre for Experimental Medicine
Approved and under construction
Work is underway at Queen's £32m Centre for Experimental Medicine (CEM) with the appointment of O'Hare & McGovern as the main contractor. CEM is being built on Queen's Institute of Health Sciences campus on Jubilee Road (opposite Belfast City Hospital) where several dedicated, high quality research centres focused on cancer, infectious disease, public health and population genetics are already based.
The facility will eventually provide accommodation for some 330 members of staff specialising in research into finding cures for eye disease and diabetes, and the development of a global programme to aid understanding of the genetics of complex chronic diseases.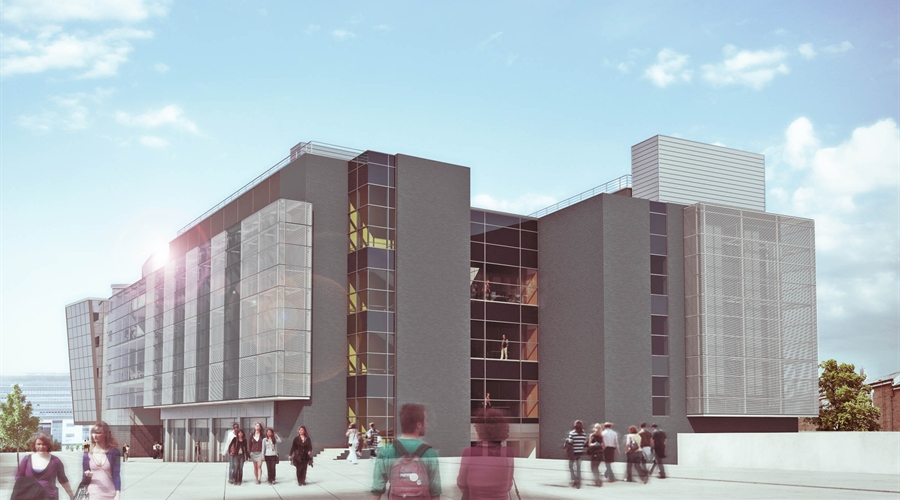 Lennoxvale International Student Accommodation
Application submitted
Demolition of 3 and 5a Lennoxvale the conversion and extension of 5 and 7 Lennoxvale and construction of 5 blocks for 54 apartments (of which 40 apartments are HMOs) providing 226 beds of purpose built student accommodation refreshment and conversion of 1 Lennoxvale to be a student common room and support accommodation temporary plant unit car parking landscaping and associated operational development including lighting and CCTV.
Bernard Crossland Building redevelopment
Approved and under construction
Extension and refurbishment of existing higher level education computer science 'Bernard Crossland Building' (BCB) at 18 Malone Road to provide additional space for computer science education. Removal of 1st floor link from 'BCB' to David Keir Building, new pedestrian access from public footpath and refacing of existing retaining wall along footpath. Refurbishment of 14 and 16 Malone Road, removal of ground floor link to 16 Malone Road, demolition of freestanding wall to rear of 16 Malone Road, new 3 storey glazed link to 16 Malone Road from 'BCB', new ground floor glazed link between rear returns of 14 and 16 Malone Road and associated operational development.