Bremen is redeveloping its old port area which suffered from the typical loss of traffic due to a lack of water depth and the trend towards containerisation from the late 60ies onwards. Also, a lot of the shipbuilding facilities faced a decline. It is basically the same story everywhere in the western world, be it Baltimore, London or Hamburg. After quite a bit of struggle within the city council the decision for a thorough redevelopment was made in the late nineties, though the whole thing didn´t really kick off until late 2000´s.
This is a photo of the situation in the early nineties:
(Source: SUBV Bremen)
The first major change was the filling of the "Überseehafen" ("Overseas Harbour") to gain space for the move of the wholesale market from the airport area, a decision that is now seen as being a mistake. But we´ll come to that later.
Here is a very early version of a visualisation: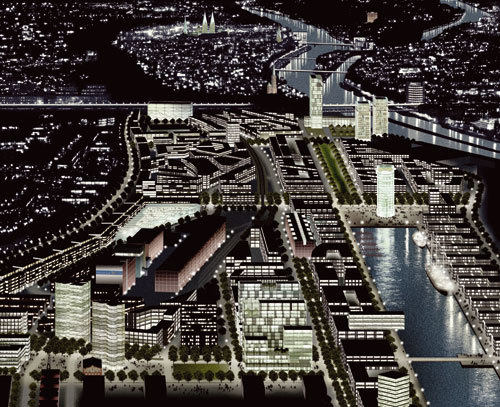 Or this one:
The current version of the master plan looks like this:
Bremen is quite proud of the new area and claims it being the largest redevelopment area in Europe at the moment with an area of almost 3,000,000 square meters, but that is of course marketing, because a huge amount of the area is still in industrial use with port activities going on.
This thread is to inform you about recent and current projects in the Überseestadt which for some reason has not had a thread by its own in this part of the forum until now.