Bristol Developments
Overview - Updated 28/08/07 but not completed - still many more projects to list - just look through this thread for them all
City Centre(ish)
1) Avon Gorge Hotel (+possible reopening of Clifton Rocks Railway) - still being planned
2) Bristol University Masterplan (at least 1 major iconic tower included in Masterplan) - masterplan approved, individual planning applications still to be submitted
3) SS Great Britain dock redevelopment - planning approved and construction started
4) Harbourside - under construction - should finish this year
5) Museum of Bristol - Approved and construction about to start
6) Old Bristol and West Tower reclad - Under construction - completion 2008.
7) Redcliffe Wharf - Partner still being sought by Bristol City Council. Temporary beach on site at moment.
8) Cabot Circus/Broadmead Expansion - major expansion under construction - opening 2008
9) OneDoveStreet - Still being planned.
10) Temple Quay 1 - Virtually finished
11) Temple Quay 2 - Construction started
12) Bristol Arena - still being finalised
13) Finzells Reach - Construction/demolition started
14) St Mary le Port - back to the drawing board. New plans later this year
15) Bridewell Island - Urban Splash named development partner Bristol City Council. In planning
16) Conversion of old offices into new Hotel.
Under Construction
Cabot Circus
500m pound redevelopment of the main shopping centre to now be called - work well underway to be finished in 2008. Includes new 2nd tallest tower in city above the new Harvey Nichols store in the Quaker Friars development area
http://www.bristolcitycentre.com
Finzels Reach
Redevelopmend of the old Courage Brewery in the City Centre - including a new footbridge over the harbour between the site and the shopping centre. Work has started on site with demolition.
http://www.finzelsreach.com/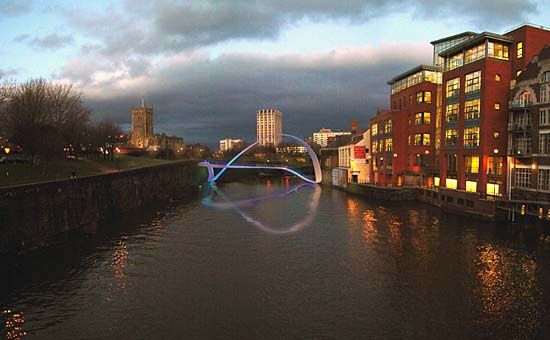 Harbourside
Controversial Wholesale redevelopment of the harbourside of Bristol. Phases 1 and 2 completed with the final phase 3 due for completion in 2 years time
http://www.bristol-harbourside.co.uk/
Colston Hall
Work has started on the new foyer building for Colston Hall. The art-deco Colston House building next to the hall has already been demolised and construction of the new foyer started in July 2007. Whilst the foyer building is being constructed, the council are looking for further funds (around £20m) to refurbish the hall itself.
http://www.colstonhall.org/redevelopment
Museum of Bristol
New £20m Museum for Bristol replacing the old Industrial Museum on the Floating Harbour. The Industrial Museum closed it's door in Oct 2006 and the new Museum should open in the summer of 2009.
http://www.bristol.gov.uk/ccm/content/Leisure-Culture/Museums-Galleries/the-museum-of-bristol.en
Paintworks Bristol
New 'Creative Corner' in south east Bristol includes TV studios (home of Deal or No Deal!).
http://www.paintworksbristol.co.uk/

The Radisson Hotel, Broad Quay Tower
Recladding of the old Bristol and West Building Society HQ building and refit into a new 4 star hotel for the Radisson Hotel Group. Due to open late 2008
Temple Quay 2
Temple Quay 2 is now under construction as Temple Quay 1 is finished and the majority of the office space within it let.
http://www.templequay2.co.uk
Symes Avenue South Bristol
£20m complete reconstruction of the shopping arcade in a very run down area of South Bristol.
New supermarket is moving to the site and the existing shops are being replaces plus a new library/community building. Shops in the new arcade have already opened, the supermarket and community building should open by the end of 2007.
http://www.symesavenue.com/
In Planning
St Bridewells Island
Urban Splash have been selected as preferred developer of this site on the west side of Broadmead. Initial plans were received much more warmly than the plans that Deelay Freed came up with for the St Mary-le-Port redevelopment nearby.
St Mary-le-Port redevelopment
£150m redevelopment of the western end of Castle Park in the city centre. Developer Deeley Freed has been chosen by the council but their original plans to create a food-market based on the successful one at Borough Market in London. The plan took too much of the current green space in Castle Park so was very unpopular. Developer is now working on new plans.
http://www.stmaryleport.com/
Cattlemarket Road
Mixed use development comprising office, retail, residential, leisure and student accommodation in new and the refurbished former Post Office Sorting Office, adjacent to Temple Meads station. The 'creative quarter' for Cattlemarket Road proposes a series of new mixed use buildings that compliment and enhance the regeneration of the existing Post Office Sorting Depot buildings and their setting. Building on the positive aspects of the site, the design will increase the number and intensity of uses helping to create a vibrant sustainable development. The new buildings will provide Student Housing, Flexible Office Space and Studio Workspaces.
One Dove Street
Just outside the City Centre along the M32 motorway in the St Pauls area of the city. Initial consultation with locals done in spring 2007 and 3 different scenerios were put forward with one of them, the developers preferred scenerio include a very tall (for Bristol) tower at between 20-40 storeys.
http://www.onedovelane.co.uk/
Bristol University Masterplan
£250m masterplan announced and outline planning permission awarded in 2006. Detailed planning underway with a landmark tower included in phase 2 of the masterplan.
http://www.bristol.ac.uk/Depts/Bursar/masterplan.html
Bristol Arena
The never ended saga of the proposed 10,000 capacity Bristol Arena at Temple Meads. Final design originally due to to be announced by the end of 2005, to be completed by 2009. It's now 2007, with no design and stories of no money. May appear at some point.
http://www.templequarter.com/bristol-arena/
Football Stadiums
Both football clubs are planning on redeveloping their grounds (Bristol City to rebuild their East End stand, Bristol Rovers doing lots more to their ground because the Memorial Ground really needs it).
Bristol Rovers have announced that redevelopment of the Memorial Ground will start in 2008 and they've already announced they'll be playing their home matches at Cheltenham Town ground during the rebuilding.
Bristol City have announced they're planning on starting work on the East End in Summer 2008. But they said the same thing about the summer of 2005 and 2006. It all depends on how well they do in the football league.
Bristol Rovers Proposals for Memorial Ground
http://www.bristolrovers.premiumtv.co.uk/page/StadiumRegenerationIndex/0,,10328,00.html
Bristol City Proposal for Ashton Gate
St Marys Redcliffe
The Council have also announced a consultation on the environment around St Mary Redcliffe church which, at the moment is being choked by a dual carriageway outside it, but changes to the roads around the centre mean that this road doesn't need to be quite so major.
Lakeshore South Bristol
New apartments and offices on the site of the old Wills Tobaco offices near Hartcliffe being planned by Urban Splash
http://www.lakeshorebristol.co.uk/
Wildlife Conservation Park North Bristol
Bristol Zoo has £50m plans for a new Wildlife Conservation Park near Cribbs Causeway
http://www.conservationpark.org.uk/
Concorde Museum North Bristol
New Museum for Concorde to be built at Cribbs Causeway. Concorde was partly built in Bristol and the very last flight of any of them was coming back to the city. Since then, it's been temporary housed in Filton with a temporary visitors centre. Money is still being raised to build a new permanent museum for it at Cribbs Causeway, a major shopping/leisure centre near the M5.
Southmead 'Superhospital' North Bristol
£374m reconstruction of Southmead Hospital in North Bristol followed by a downgrading of the other main North Bristol Hospital (Frenchay) afterwards. Not sure of the status of this - planning was approved early 2007 for completion in 2009.