A lot of people seemed to want a Bristol transport thread - apologies for any mistakes or omissions, I'll try to correct any howlers you point out.
Development
: Great Western mainline electrification
Value:
£5 bn including rolling stock, signalling and station upgrades
Developer:
Network Rail
Completion:
2017
Designed to improve reliability, capacity, frequency and journey times. This huge project will involve new Hitachi trains being serviced in a new depot at Stoke Gifford, the possibilty of the Digby Wyatt shed at Bristol TM being re-opened for trains to Paddington via Parkway and a possible fourth platform at Parkway. A new eastern entrance to link with the enterprise zone and an extended subway under the forecourt, are also mooted for Temple Meads.
The government is to fund the restoration of four tracks at Filton Bank, to ensure room for improved local services and potential traffic from the proposed deep water terminal at Avonmouth.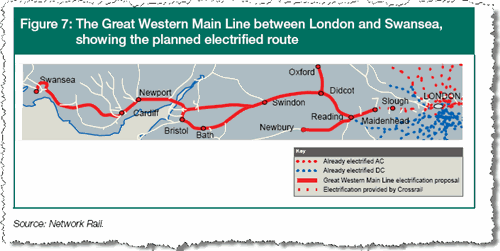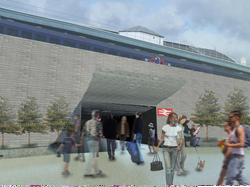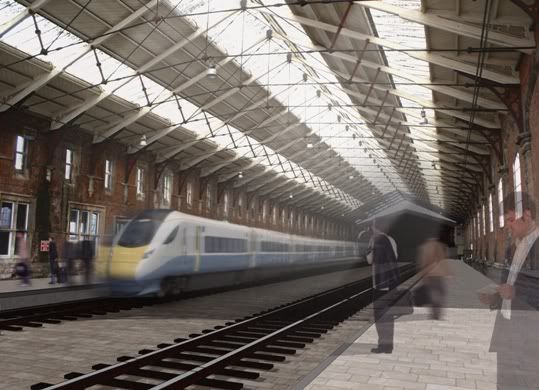 Development:
Greater Bristol Metro
Value:
?
Developer:
Local authorities and franchise holder
Completion:
2015 onwards
A scheme designed to maximise the use of the existing rail infrastructure, then expand it as the latent demand requires. Largely dependent on the government funding four tracks at Filton Bank or there is unlikely to be enough capacity to reach the target of at least one train every 30 minutes. An early aim will be to re-open the Portishead line followed by new/re-opened stations as passenger numbers build. This could be followed by the re-introduction of passenger traffic to the Henbury loop.
Development:
Bus Rapid Transit
Value:
£195m
Developer:
Former Avon authorities
Completion:
2015-2016
In the absence of money for tram schemes, the local authorities have obtained funding from the goverment for a bus rapid transit scheme. This will involve a limited amount of guided busway, some new bus lanes and bus priority measures which will involve some road building and widening. The vehicles to be used have yet to be chosen, but will not be diesel powered and may be bendy buses because of their capacity and embarkation times. A smart card system (similar to London's Oyster card) will be introduced and all stops will have real time information and CCTV.
The scheme has three sections.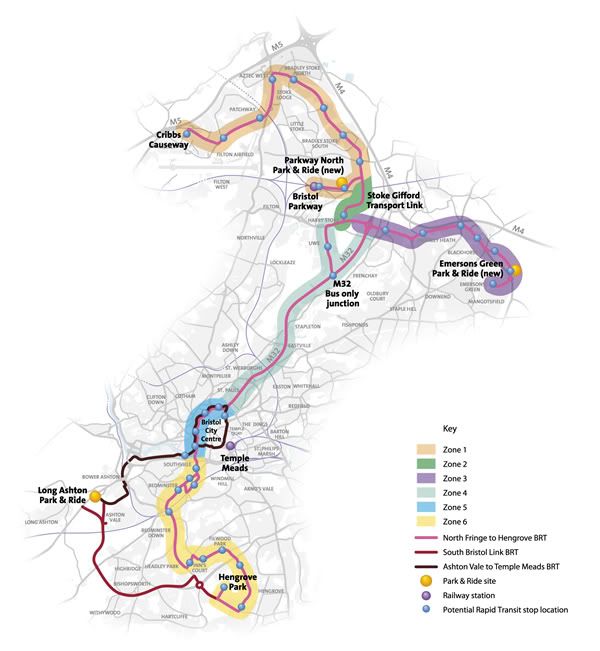 Ashton Vale to the centre (£49.6m) - which is joined by the South Bristol Link (£50.4m) to the North Fringe-Hengrove route (£95m).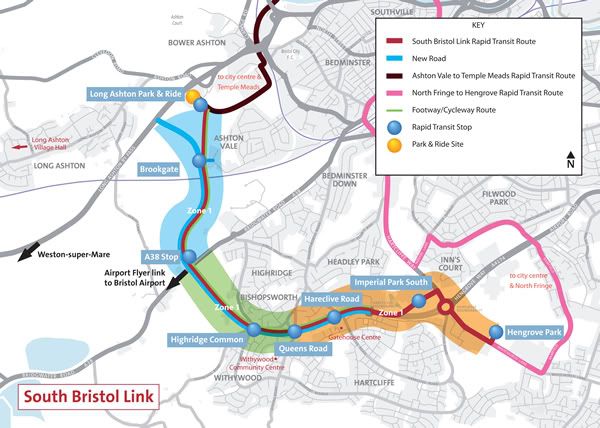 The North Fringe to Hengrove will involve a bus only junction on the M32 (a future park and ride is planned at Stapleton allotments), a new bridge over the New Cut and some re-modelling of the city centre.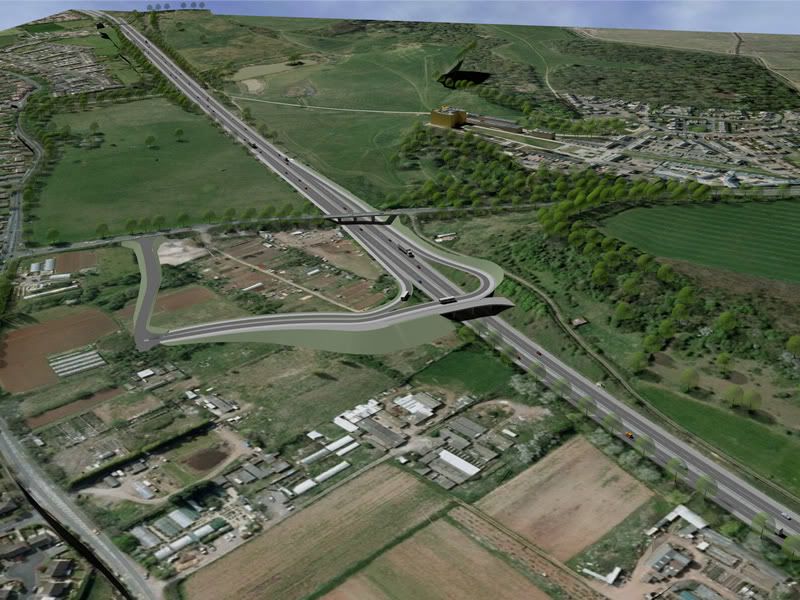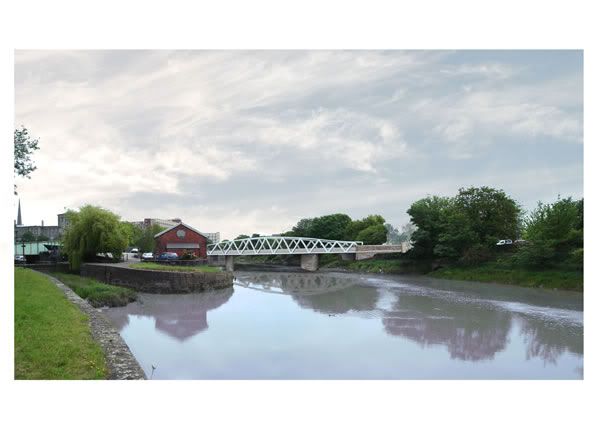 Development:
Bristol Airport expansion
Value:
?
Devleloper:
Bristol Airport
Completion:
2012 onwards
The airport has a phased devlopment plan to allow it to cope with up to 10 million passengers a year.
From the airport's website;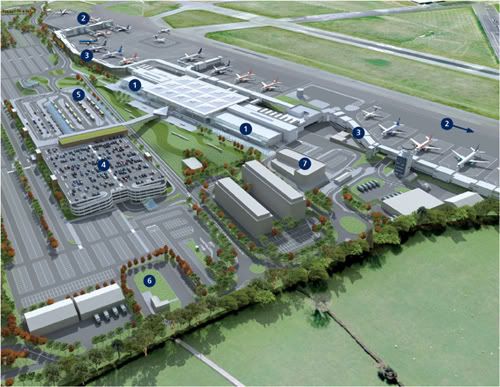 1
Expansion of the Passenger Terminal
The existing terminal will be extended to the east and west, doubling the size of the building and delivering increased capacity at security and immigration, and improving passenger comfort levels
2
Aircraft Parking
Additional space will be required to accommodate aircraft, so the existing apron (the area on which aircraft are parked) will be extended to the east and west.
3
Walkways
Two walkways (or piers) will serve the extended aprons, enabling passengers to walk between aircraft and the terminal building and reducing the use of buses to board and disembark flights.
4
Additional Car Parking
Alongside challenging targets for increased public transport use, some new car parking facilities will be required. Development will be concentrated on the north side of the airport.
5
Public Transport Interchange
Using the top level of the multi-storey car park, a new public transport interchange will provide convenient pick and drop off facilities for buses and coaches.
6
Fuel Storage
A new underground storage facility for aviation fuel will be located in the north west corner of the long stay car park.
7
Office Building
Located to the east of the existing control tower, office space will be used by airport and airline staff.
Development:
Deep Sea Container Terminal
Value:
£500m
Developer:
Bristol Port Company
Completion:
Awaiting improved economic conditions. Build time should be three years from commencement.
A new terminal designed to take the largest of the next generation of container ships. It will be constructed on a brown field site alongside the Royal Edward Dock and will have new railway sidings and a dual carriageway to the M5 junction.