This 1001m skyscraper will be part of the proposed urban project "Silk City".
Rendering:
Full resolution
. Source:
http://foro.capitalsim.net/viewtopic.php?f=1&t=24582
Comparison diagram with Burj Dubai / Burj Khalifa:
Source:
http://foro.capitalsim.net/viewtopic.php?f=1&t=24582
Artistic renderings:
http://www.behance.net/gallery/1-km-high/306058
Whole City of Silk:
http://image42.webshots.com/42/8/46/77/2289846770039296599YShDAY_fs.jpg
---------------------------------------------------------------------
Initial post:
The "City Of Silk" project presented by a number of Kuwaiti private sector companies based on directions of the Amir of Kuwait.
A number of experts and specialists from international consultation offices made a detailed presentation of the project's aims; a multi-purpose city accommodating aspects of economy, commerce, culture, residence, and entertainment and built over 250 square kilometers in Subbiya.
The city would include a resort, a 200 hectare desert preserve, and linked to Kuwait City by the Sheikh Jaber Al-Ahmad Al-Sabah Bridge, as well as holding a free zone near a new international airport that would be linked by a new railway line and road and air networks extending to Central Asia.
The city would also hold a business city and an area for forums and exhibition, as well as cities dedicated for sports, culture, environment, media, industry, education and health.
Furthermore, it would include tourism centers, hotels, resorts, public gardens, spacious residential areas and a 1,001m-tall tower ( Mubarak Tower ).
The construction of "Silk City", as well as the construction and management phases that would extend over 25 years. They also discussed guarantees for total transparency so as to ensure equal opportunities for all and allow for the participation of the private sector within regulations.
Investments in the city were estimated at KD 25 billion, which would reflect positively on national economy and help diversity income, as well as creating 430,000 new jobs for national workers.
The project would also serve to create investment opportunities and attract both local and foreign investors, while creating an effective strategic partnership between the public and private sectors, as well as contributing to the architectural boom with a city designed to house over 700,000 people.
The city will be composed of 4 main districts which are:
1) The Financial District: will be located on the new coastal road and will be facing Kuwait City. This will be the CBD of the City of Silk and will be next to a new International Airport. The distrcit will of course contain the centrepiece tower, Mubarak Tower.
Mubarak Tower will be 1001 m high and will form the landmark for this new city. The tower was inspired by the 1001 nights story and the desert plant life. The tower will be composed of 7 vertical villages which will consist of hotels, offices, residences and entertainment facilities.
2) The Entertainment District: will be facing a channel connecting the Euphrates and Tigris Rivers with the gulf. This district will contain resorts, hotels and entertainment villages.
The district will also contain a sports complex, a centre for sports medicine, a sports academy and water sports which will be found all along the channel.
3) The Cultural District: will be located on the peninsula of the northern shore of Kuwait Bay. Over here there will be a centre for research and studies of ancient artefacts, a historical museum and an arts centre.
This district will be subdivided into 3 areas for academic, diplomatic and political studies.
4) The Enivronmental District: will be located at the heart of the city with an area of 45 km2. This district will be part of the Bird Reserve for migrating birds from Africa to Central Asia. There will also be an Environmental Research Centre for the scientific research of plant life and animal life of the region. It will also include an extended network of a university and a health resort.
The entire city will be surrounded by an emerald belt which will contain ponds, lakes and parks which will ensure that no one is except a couple of steps away from the emerald belt.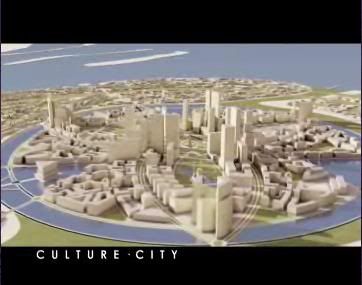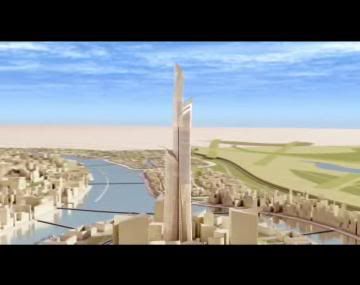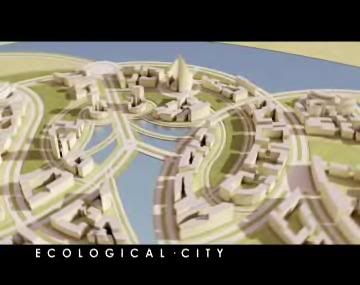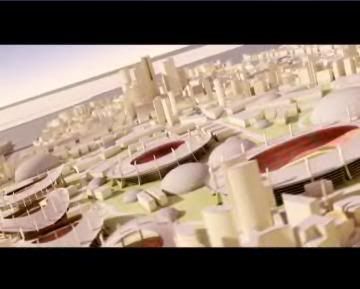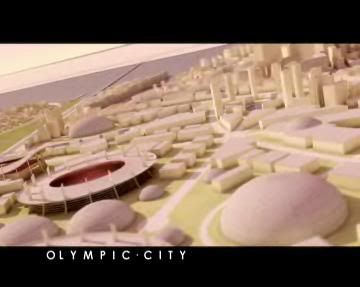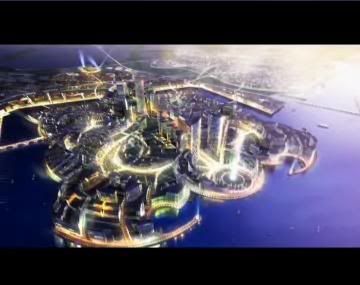 Madinat Al Hareer English Press Release
http://file007.mylivepage.com/chunk7/52938/22/MadinatAlHareer_English.pdf
Vision Statement by Eric Kuhne ( The Designer )
http://file007.mylivepage.com/chunk7/52938/22/MadinatAlHareer_Vision.pdf