Central Station
- One of the largest developments in Chicago. The first phase of construction consisted of rows of luxury townhouses with the first tower being finished in 2002. Ten towers have been completed since then.
Once completed this massive community will help define the southern portion of Grant Park as well as extend Chicago's skyline southward.
Named after the former demolished station sitting on its plot.
Area map showing it's proximity to Grant Park, Lake Michigan, and the Museum Campus (after which many towers are named for).
Existing area (I will not post individual buildings mainly for the fact that the first towers are all rather plain by most standards but will be overshadowed by taller and glassier buildings)
Six Month Time Lapse photo by Jaroslaw and Dan in Chicago:
One Museum Park (left), One Museum Park West (right) - taken by jc5680: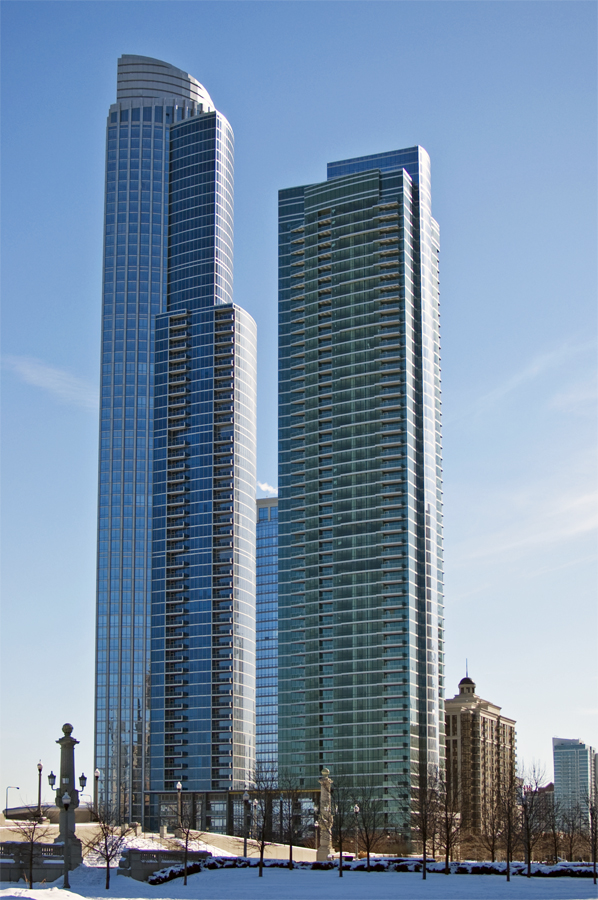 Taken by i_am_hydrogen:
Tower Name/ Height/ Floors/ Completion Date
One Museum Park 221 m 62 2010
One Museum Park West 181 m 54 2010
Sky55 129 m 40 2005
Museum Tower 125 m 38 2006
1400 Museum Park 114 m 34 2008
1600 Museum Park 109 m 32 2009
Museum Park Place 2 100 m 30 2009
Museum Pointe 88 m 26 2005
Museum Park Tower 1 85 m 20 2002
Prairie Pointe 83 m 24 2006
Prairie District Tower 80 m 23 2003
The Lofts at Museum Park II 80 m 21 2006
Museum Park Place 79 m 23 2007
Lakeside Tower 73 m 19 2006
Museum Park Tower 2 72 m 21 2003
The Lofts at Museum Park I 57 m 15 2004
Lakeside on the Park 53 m 14 2005
Prairie House 52 m 14 2003
Grant Park Tower III 241 m 73
Grant Park Tower IV 274 m 83
Completed
Under Construction
Approved
Proposed
Completed
One Museum Park
One Museum Park West
Sky55
Museum Tower
1400 Museum Park
1600 Museum Park
Museum Park Place 2
Prairie Pointe
The Lofts at Museum Park II
Museum Park Place
Lakeside Tower
Under Construction:
Approved:
Grant Park Tower III
(second from the right)
Grant Park Tower IV (no design as yet)
(far right)
Proposed: