-------------------------------------------------------------------------------------------------------------------------------------------------------------
The tower has been shortened to a 12 story stump.
Previously:
From three finalists, Perkins + Will has been chosen to design the new Northwestern University Feinberg School of Medicine's Biomedical Research Building that will be constructed at the site of the Prentice Women's Hospital, a Brutalist masterpiece designed by Bertrand Goldberg which is currently being demolished.
http://www.archdaily.com/153733/
Depending on demanded improvements to the design, the new tower could be as tall as 45 stories.
=============================================================================================
3 Finalists Chosen For Northwestern U.'s Biomedical Research Center That Will Replace Prentice Hospital
Northwestern University has selected three architectural firms as finalists in a competition to design a new Biomedical Research Building for the Feinberg School of Medicine on the University's Chicago campus. Now we'd like to get your input on the proposed designs.

Northwestern's Board of Trustees will make the final selection of the winning design, with a decision expected this year.

The new Biomedical Research Building will be located immediately east of the Lurie Medical Research Center on the site of the former Prentice Women's Hospital. Northwestern plans to construct approximately 600,000 square feet of research space starting in 2015 with eventual buildout of approximately 1.2 million square feet.

The new Biomedical Research Building will anchor the University's research facilities and be the hub of a world-class research and development enterprise that attracts innovation and entrepreneurship. Construction of the new state-of-the-art center will create thousands of jobs, help find tomorrow's cures and generate approximately $3.9 billion in economic activity in Chicago in the coming decade.
The three finalists in the design competition for the new Biomedical Research Building are:
(all images:
http://www.northwestern.edu/biomedical-research-building-competition/index.html
)
Goettsch Partners and Ballinger: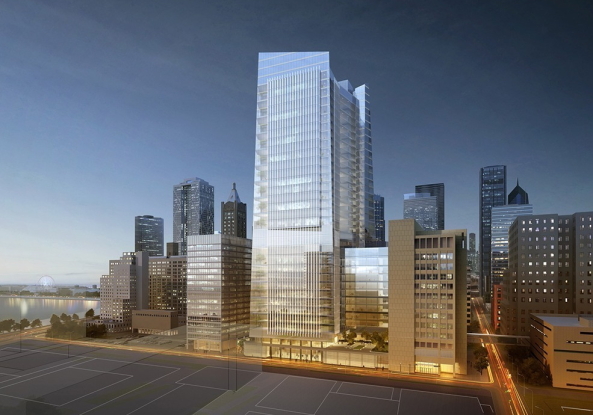 Perkins+Will (the eventual winner):



Curbed



Adrian Smith + Gordon Gill Architecture and Payette:
http://chicago.cbslocal.com/tag/northwestern-university/