Discussion Starter
•
#1
•
Legoland will open a new amusement park in Chuncheon, Gangwon province.
Legoland to break ground in Korea

International amusement park expected to draw more than 1 million tourists and create up to 1,600 jobs

Legoland, a Lego-themed amusement park, will be established in Chuncheon, Gangwon Province, in 2016 to become the first of its kind in Northeast Asia, according to government officials on Friday.

The seventh Legoland worldwide is expected to attract more than 1 million visitors and create more than 1,600 jobs, generating a positive economic effect for the Gangwon region, they said.

The plans will go forward as the Foreign Investment Committee under the Ministry of Trade, Industry and Energy has designated the 1.29-square-kilometer site for Legoland to be built on Jungdo Island as a Foreign Investment Zone.

Visitors take photographs at the entrance to Legoland Malaysia, operated by Themed Attractions and Resorts Sdn., in Kota Iskandar, Johor, Malaysia, in 2012. (Bloomberg)

Under the deal, Legoland Korea will receive a five-year corporation tax exemption with an additional 50 percent discount for another two years, and a 50-year free lease of the real estate on top of a 15-year property tax exemption.

British-based Merlin Entertainment, which owns the operating rights for Legoland, will invest 100 billion won while the remaining 387 billion won will be provided by LL Development, a special-purpose corporation for Legoland Korea.

"This will be the first Legoland in Northeast Asia. It will boost tourism," said Min Gun-hong, a representative of LL Development.

Legoland Korea will be composed of a 280,000-square-meter amusement park, a hotel, an outlet shopping mall, a water park, a history museum, a spa and other facilities. The amusement park, which targets children aged 2 to 12, will be filled with devices and facilities made with Lego blocks. While the amusement park is slated to open in late 2016, the other facilities will open no later than 2018.

"Given the fact that Legoland in Gunzberg, Germany, attracts more than a million visitors a year, we are expecting similar success in Korea," Min said.

The fact that Jungdo is an island within Chuncheon ― an area accessible via high-speed train and expressways from Seoul ― has attracted investors hoping that the facility will draw both Koreans and foreigners.

The local government has decided to set aside 95.4 billion won to build a bridge linking the island with the mainland.

The Legoland project was first conceived in 1996 but has been at a halt for over a decade. Gangwon Province revived the plan in 2010 and Peter Lysholt, ambassador of Denmark, the birthplace of Lego, became an honorary governor of Gangwon Province to forge ties.

By Bae Ji-sook (

[email protected]

)
http://www.koreaherald.com/view.php?ud=20140425000802
This is actually an old article but it sums up the project pretty well, and in English.
More renders and updates below:
http://www.screamscape.com/html/legoland_south_korea.htm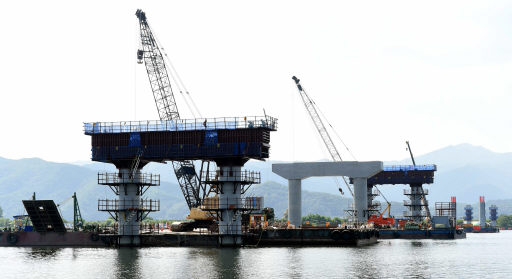 http://news.naver.com/main/read.nhn?mode=LSD&mid=sec&sid1=102&oid=087&aid=0000616770
Excavation work is almost complete and they are now building the bridge to reach the island where the park will be located. Actual construction should start next month.