Discussion Starter
•
#1
•
A sample of churches in Singapore. I've featured mostly the historical churches, most of them are now national monuments.
St Andrews Cathedral
Saint Andrew's Cathedral at 11 St Andrew's Road, is an Anglican Cathedral, located next to the City Hall MRT. Named after the Patron Saint of Scotland, it is the oldest Anglican House of worship in Singapore. It was designed by Lt-Col. Ronald Macpherson, with detailed work done by John Bennet and construction by Indian convict labourers.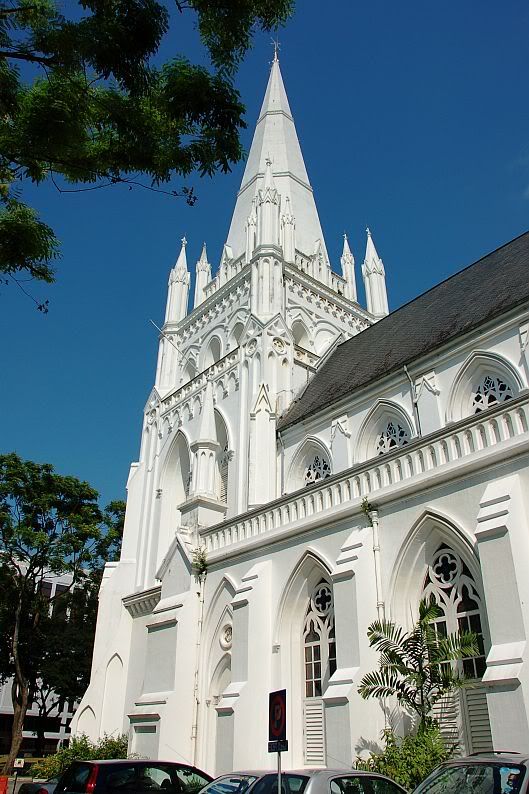 by RafflesCity
Saint Andrew's Cathedral is the second church building on the site of the original Church of St. Andrew, a location selected by Sir Stamford Raffles, in 1823. Many books indicate that there were three church buildings, and this arose from the confusion of two different illustrations of the original building, the first without a tower and spire, and the same structure with a tower and spire later added by John T. Thomson.
by Cliff
The foundation stone of the original church was laid on 9 November 1834. The building was designed by George D. Coleman, in his trademark Palladian style, and constructed between 1834 and 1836. It was named after the patron Saint of Scotland because initial financial support came from the local Scottish community. The first church service was held on 18 June 1837 and was conducted by the first Chaplain Reverend Edmund White. The building was subsequently consecrated on 10 September 1838 by Bishop Daniel Wilson of Calcutta. It had a unique church bell with the words, donated by Mrs Maria Revere Balestier, wife of American Consul Joseph Balestier. Carved on the bell were the words "Revere Boston 1843" and thus it came to be known as "The Revere Bell". A tower and spire designed by John Turnbull Thomson was added between 1841 and 1844. It was struck twice by lightning - first on 25 August 1845 and again in 1849. By 1852, the building was considered unsafe and was closed and eventually demolished.
On 4 March 1856, the foundation stone of the present building was laid by the Right Reverend Daniel Wilson, Lord Bishop of Calcutta. Built between 1856 and 1864 using industrial-trained Indian convict-labourers, construction was supervised by Major J. F. A. McNair. The building's English Gothic influence was designed by Lt-Col. Ronald Macpherson, Executive Engineer and Superintendent Public Works Department with the detailed work by a civil and mechanical engineer, Mr. John Bennet (who also designed the Raffles Lighthouse). Mr. W. D. Bayliss was the superintendent. The structure, 68.58 m (225 ft) long and 35.052 m (115 ft) wide, has a nave, side aisles, a north and south porch, and a roof made of teak and slates. The first service was held on 1 October 1861 and this church building was consecrated on 25 January 1862 by the Right Reverend George E. L. Cotton. In 1870, with the growth of the congregation, the church was elevated to the status of 'Cathedral Church of the United Diocese' by Archdeacon John Alleyne Beckles. On 6 February 1889, a peal of eight bells, named St. Matthew, St. James, St. Paul, St. Peter, St. Thomas, St. Bartholomew and St. Andrew was installed as a gift from the heirs of Captain J. F. Fraser. On 20 June 1891, St. Andrew's Cathedral was struck again by lightning, but no serious damage was noted. The north transept, known as the 'War Memorial Wing', was added in 1952 with the generous donation by the late Mrs Loke Yew. The south transept was added on 1983. On 28 June 1973, St Andrew's Cathedral became a preserved national monument.
Church Dedications and Memorials
Stained Glass windows in the apse are dedicated to Sir Stamford Raffles, John Crawford, and Maj-Gen. W. B. Butterworth
Window at the Cathedral entrance erected in memory of its designer and architect, Lt. Colonel Ronald MacPherson. The MacPherson Monument stands outside, within the church grounds.
Tablets on the north wall, and on one of the pillars on the left aisle, remember victims of the 1915 Sepoy Mutiny in Singapore.
War Memorial Wing dedicated to those who died in World War II, added in 1952, was opened by Mr. Malcolm MacDonald, Commissioner General in South East Asia
A memorial plaque unveiled in 1988, commemorates Malayan Civil Service officials who died.