Vijay's Kutti Kathai: Coimbatore's Realworks Studios animate latest 'Master' film single
https://simplicity.in/news-detail.php?id=62185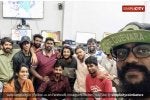 Coimbatore: As actor Vijay's fans relish in the release of the single song of his latest movie, "Master", a team from Coimbatore has just breathed a sigh of relief after completing a marathon stint to animate the Kutti Kathai song in just under 6 days which was released on February 14, 2020.
Coimbatore's very own, Realwork Studios in Vadavalli have been involved in many niche animation projects from the Tamil Movie industry recently. Realworks Studios have already worked with director of the film Master, Lokesh Kanagaraj earlier in his first movie, Maanagaram.
The Master film crew announcement that the first single will be released on February 14, 2020 created widespread expectations among the fans.
"It was just ten days back, Director Lokesh approached us with an idea of making the entire Kutti Kadhai song in an animated style. From then till today, it has been a roller coaster experience for the team. Yet we enjoyed every bit of our work and gave the best shot", recalls Sivaprasad Velayuthan, Founder of Realworks studios.
Speaking about the project to SimpliCity, Sivaprasad Velayuthan said that, "The Master film team approached us with a brief stating that the song has to be given a lyric animation with college life and youthful scenes, as the backdrop. Though the subject sounded very interesting, we were skeptical about the limited timeline. We pooled in all our resources to accomplish the project within the stipulated timeline."
"Twenty animators and creative directors worked on this project round the clock to upload the work, today. We just breathed a sigh of relief as the single is now live and it's already become viral", added Sivaprasad.
This is the team's 8th Kollywood project. The team has worked in films like Maanagaram, Urumeen, Puli, Kashmora, Pokkiri Raja, Thittam Pottu Thirudura Koottam and commercials like Dindugul Thalapakatti Restaurant.
Ironically, the director of the movie Lokesh Kanagaraj is also an alumni of PSG Arts and Science College. So, its double celebration for Vijay fans in Coimbatore who are over-joyed with the fully animated Kutti Kadhai song.
Founded in the year 2009 by Sivaprasad Velayuthan from Coimbatore, Realworks Studios is a 3D visualisation company working with a fully open-sourced pipeline specialising in movie animation, architectural, product and creative visualisation.
https://youtu.be/gjnrtCKZqYg