Light Rail project to kick off in December 2018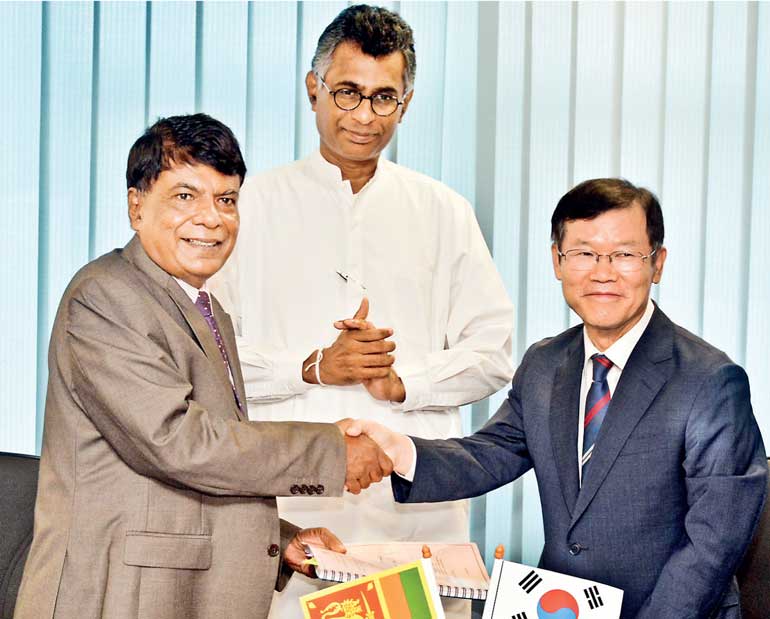 The construction of the Light Rail system to be introduced to Colombo City and its suburbs will commence at the end of 2018, Megapolis and Western Development Minister Champika Ranawaka revealed yesterday.
Ministry Secretary Nihal Rupasinghe, signed the agreement with South Korean company Sen Young Vice President Kim Nam Seol last morning. The company will carry out the feasibility study on the project, which will commence within seven days of signing the agreement.
Addressing a press briefing soon after signing the agreement, the Minister said that project would be carried out in seven phases. Accordingly, the first phase would see the Light Rail system running from Malabe to Fort.
"The feasibility study along with an environmental impact assessment report as well as a social impact assessment report would take around a year to complete. As the rail system will through Colombo City and its suburbs, many homes, business and establishments would be affected and compensation will be paid," the Minister said, adding that the Light Rail system would be elevated above Colombo City and set on columns to traverse unhindered.
Phase 1 will begin from Fort Station and have stations near the Western Province Transport Centre, St. Joseph's College, National Hospital, Borella, Cotta Road, Welikada, Rajagiriya, Sethsiripaya, Battaramulla, Palan Thuna, Robert Gunawardana Mawatha, Lumbini Temple, Talahena, Malabe, and the IT park; a total of 15.3 km with 16 stops along the route.
"The entire journey is estimated to take just 27 minutes whereas at present if you travel the same route by bus it would take close to two hours," the Minister said.
The remaining six phases would see the Light Rail system extending further within Colombo and into the Colombo District as far as Kottawa, Kadawatha and Peliyagoda.
The proposed Light Rail system will be powered solely by electricity and will initially consist of four compartments, allowing a single train to carry up to 165 passengers at once.
"By 2035 we hope to add to more carriages to each train so that it reaches a total six compartments per train. It has been calculated that thereafter some 30,000 people can be transported within an hour by Light Rail," Ranawaka said.
The Colombo Light Rail project is a Public-Private-Partnership and the first phase of the project will be funded by a low interest Japanese loan. The procurement process will be twofold; selection of international organisations for feasibility and project planning reports while tenders will also be called to select foreign investors for maintenance depot for the Light Rail system.
"By mid next year we will call for tenders for the remaining phases. We will carry out the work of the remaining six phases simultaneously so the pace of the project could be fast-tracked. All tenders called for this project have been carried out in a transparent manner," Minister Ranawaka noted, adding that the entire project was slated to be completed by 2023 at a cost of $ 6 billion.
Once completed in 2023, the rail system would be further extended to reach the towns of Homagama, Horana and Mirigama, the Minister said. Ranawaka pointed out that traffic congestion in Colombo had become a tedious problem, causing an economic loss of Rs. 1 billion on a daily basis.
"Successive governments have failed to address the issue of traffic congestion and advance the public transport network. The Light Rail system will significantly help with this problem. It will be the largest public transport project carried out in the country, second only to the existing conventional railway system."
http://www.ft.lk/business/Light-Rail-project-to-kick-off-in-December-2018/34-643868