This is another Columbus condo tower that has been announced...
A 20 story tower is just being completed along the river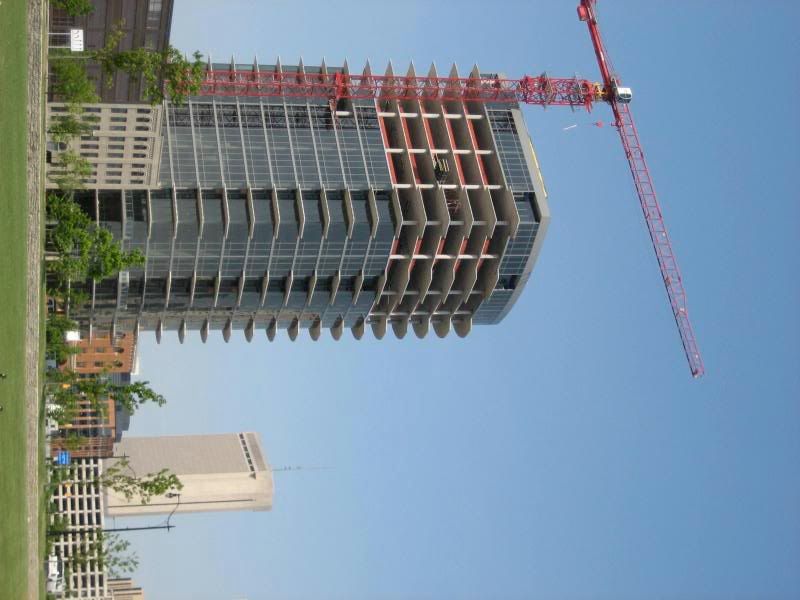 Columbus
Developer sets plan for condo tower on E. Main
Heres the article and rendering of the new tower that would sit along E. Main St., about 3 blocks from High. Not bad for a midrise...
Land developer Mark W. Jones has considered but ultimately rejected various plans to redevelop a pair of 19th-century buildings at 220 and 226 E. Main St., which he has owned for 10 years.
But the World Furniture building, vacated a dozen years ago, could aspire to lofty living after serving as storage space, artist studios and a temporary gallery.
"We just couldn't make the numbers work," Jones said of earlier efforts to convert the property into condominiums. "So we decided to go up."
Jones said plans call for incorporating the facades of the buildings into his proposed Time Tower, which will have eight-, 10-, 12- and 15-story-high sections. Parking would be provided in a two-level automated garage under the building.
The planned building's staggered heights, Jones said, would offer more and better views of the downtown skyline for residents.
"It gives us three rooftops for terraces and more balcony units," he said.
The three- and four-story buildings were joined in 1910, when the property was the first downtown general store for the F.W. Woolworth Co.
Catering to the market
Jones expects Time Tower to join an expansion of housing in the Market Mohawk neighborhood. His plans are to be reviewed May 24 by the Downtown Commission.
In the neighborhood, Plaza Properties Inc. has redeveloped the historic Hartman Hotel into condo units and built the Renaissance condos. Columbus architect George Berardi also built the Terraces on Grant and developer J. Daniel Schmidt has tentative plans to expand housing development at his collection of properties on East Main.
Jones, whose Blue Heron Land Co. focuses on residential land development, has dabbled in downtown housing development. In the mid-1990s, he converted a building at 261-267 S. Fifth St., next to Time Tower site, into four townhouses. He has another 23-condo conversion at 199 S. Fifth St. nearing completion.
Hitting the mark
If approved, Time Tower would have some company on the high side. A few other midrise buildings were built in a section of downtown redeveloped in the mid-1960s through the early 1980s under the federal Market Mohawk urban renewal program.
Designers at Meyers Welsh Architecture & Design Ltd. expect the varied heights of Time Tower to improve its visual appeal.
"By breaking up the mass and having a 15-story tower, we think the overall building will have a more appropriate scale for the street," said Tim Welsh, the design firm principal overseeing the project.
If the planning panel OKs the proposal, Jones expects to move forward with the project this fall after he completes the condos at 199 S. Fifth St.
Time Tower could be ready by late 2008.
Jones said the project is designed to offer smaller units at about $170,000, while the higher-end residences would cost $250,000.
Rob Vogt, a principal at Vogt Williams & Bowen LLC, a Columbus real estate consulting firm, said more developers have moved toward downtown condos priced at or below $200,000 after years of targeting higher-end projects.
"That's really where the meat of the market is," Vogt said.