Hello everybody, I'm opening this thread to have a look and discussions on the overall "types" of commie blocks existing (or appartment buildings in general), types meaning here how the flat are arranged and accessed in the building.
Seems to me that the most common are :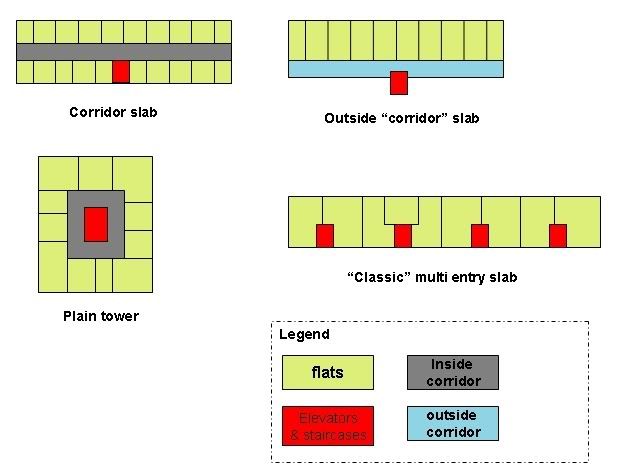 This is a quick "power point" and far from complete (for instance there isn't the stacked traversing duplexes with interior corridor every three floor type of Le Corbusier), will try to complete it further, what key types do you see missing ?
So here the types are :
"classic" multi entry commie block :
This is an extansion of traditional city buildings with two or more flats per entry/floor, what qualifies the type is that most (or at least two per entry/floor) flats are "traversing flats" ie light from two opposite sides.
Interior corridor commie block :
A big interior corridor at each floor, flats on two sides, one or a few entries. So here what qualifies the type is the internal corridor and the fact most flats have a single exterior/light side
Exterior corridor commie block :
An exterior "corridor" (what is the exact name in English ? "coursive" in French) runs along one side of the building, so most flats have two natural lighted sides, one being on this exterior corridor.
Plain tower type commie block
A big elevator/staircases shaft, and flats around the elevators, accessed by an interior corridor.
Which types would you say are more common in your area/country, which are considered good/bad ? for what reasons, etc