Discussion Starter
·
#1
·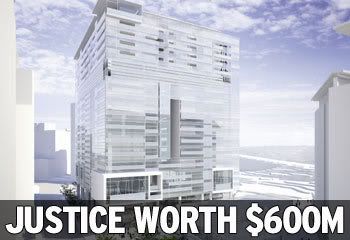 $600m for new 19-storey Brisbane courthouse
Christine Kellett | June 1, 2007 - 3:58PM
The State Government has unveiled plans for a new 19-storey courts complex in Brisbane's CBD that is expected to cost taxpayers $600 million.
The building, earmarked for a site at the corner of George, Herschel and Roma streets, will replace the aging Supreme, District and Appeals court complex at the corner of George and Ann streets.
Premier Peter Beattie said the new facility would feature an additional 15 court rooms to free up the justice system and increase the number of trials that could be held each year.
Eleven million dollars will be set aside in next week's budget to kick off the project, with construction set to begin soon.
"The new complex will transform the capacity of our courts to meet the special needs of children, vulnerable witnesses, victims of crime and other Queenslanders who deserve our support, in a way that just isn't possible with the current facilities," Mr Beattie said.
At full capacity, the new building will have 47 court rooms divided into dedicated wings for civil and criminal trials, and will include special security measures to protect judges, jurors, prisoners and the public.
A "state-of-the-art" recording suite will also allow vulnerable witnesses to give evidence via CCTV.
"The current courts were built almost 40 years ago and don't meet the needs of the modern justice system which puts a heavier emphasis on victims of crime," Mr Beattie said.
"The (new building's) design also allows sufficient structural capacity to accommodate further technical advances during the life of the building over the next half-century.
The winning design by Architectus Brisbane and Guymer Bailey Architects was announced today and has been given the thumbs up by Queensland's top judge.
Chief Justice Paul de Jersey said the unique glass design reflected "the transparency of contemporary justice."
I am confident Queenslanders will be enthralled and inspired by a new metropolitan courthouse to this unique design. I certainly am," Justice de Jersey said.
"This will establish an inspiring and reassuring new legal precinct, a counter poise, at the other end of George Street, to the grace of Parliament House."
The complex will link the Tank Street pedestrian and bicycle bridge with the Roma Street Parklands and has been given a four and a half-star energy efficiency rating.
It will feature water reharvesting and recycling technology - unlike the current complex, which still uses full-flush toilets.
Architectus designed the Queensland Gallery of Modern Art (GoMA) an its other projects include the Commonwealth Law Courts building on North Quay.
The new complex is expected to be complete by 2011.