Cuisine of Barawa
:drool::
Lamb Shanks (Duubi)
Tender meat cooked to perfection and served with Somali rice. You can cook this dish either with lamb shanks or goat shanks. Goat meat has a milder taste than lamb.
Corn Grits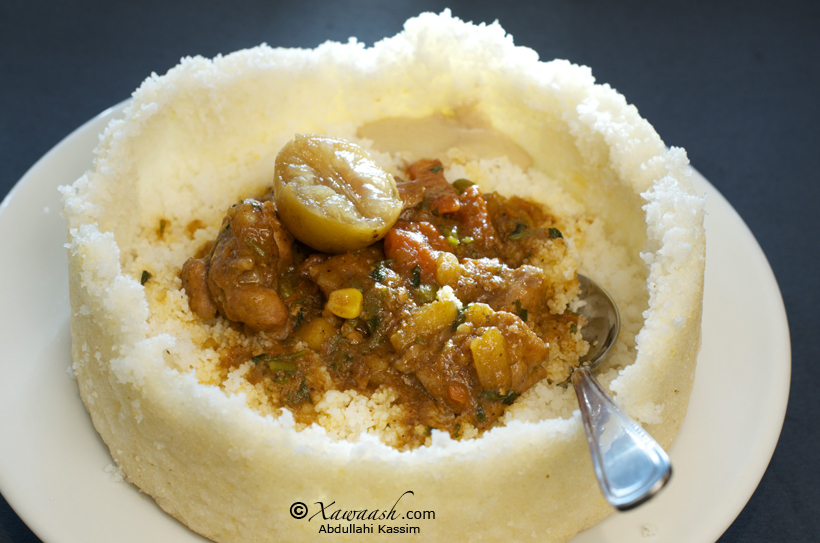 Zijjo zaa Gelle (Corn Grits) is a staple in Brava, Somalia. The Bravanese are known for maanda or muufo Baraawe (Bravanese bread), but this is the main dish served for the midday meal. Unlike soor (polenta-style grits) that is popular in other parts of Somalia, these grits are light and fluffy just like couscous. However, unlike couscous the corn grits are gluten-free.
Rice Cake
This is the Bravanese (Brava, Somalia) take on the honeycomb rice cake that has different versions that are made all over Asia. It is sweet, soft and springy. The yeast gives it a spongy texture that lends it the ability to soak sauces.
Pound Cake
Pound cakes were some of the few cakes that were popular in Somalia. They were second in popularity to sponge cakes. Pound cakes were sold in teashops but they were not baked there. They were sold to the teashops by ladies who baked them at home and the recipes were closely guarded secrets.
Eid Cookies
We call these Eid cookies because my mother used to bake them every Eid back home in Mogadishu, Somalia. On the night before Eid, we would be sent to the neighbourhood bakery to bring a dozen or so cookie sheets. My mother would mix the cookie dough and we would help pressing the cookies
--
Source