OFFICIAL RENDER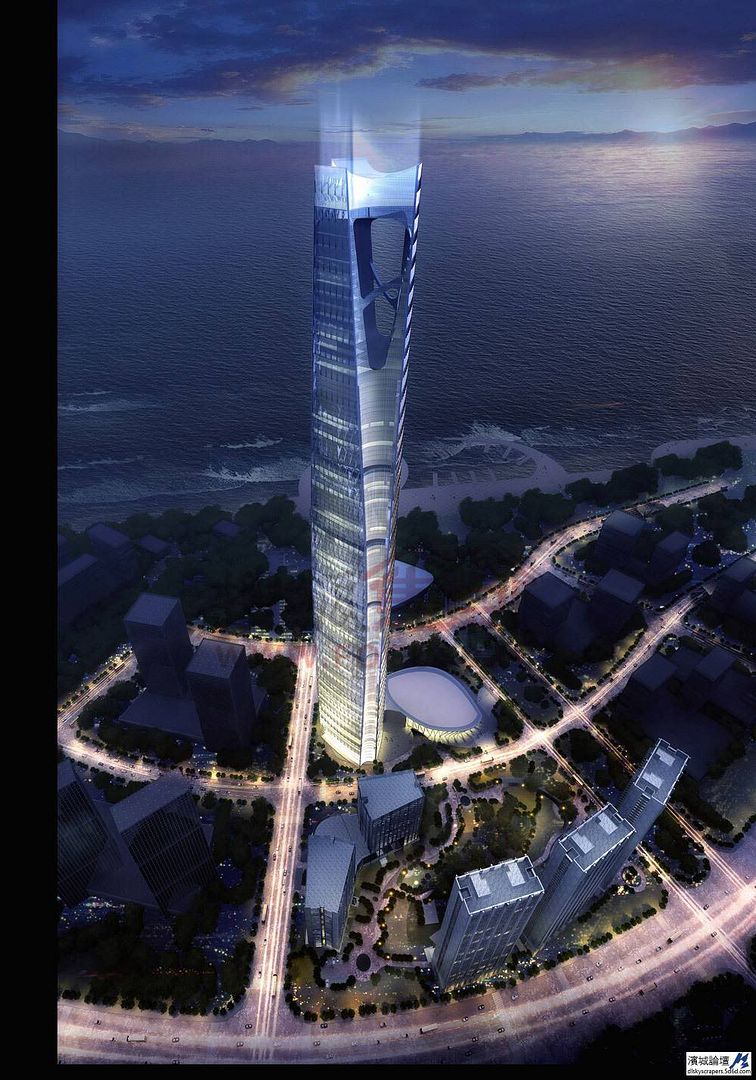 Developer: Greenland Group
Architect: To be unveiled
Construction start: 2010
Renders from the local TV
You can see the Wanda project on the left, whose tallest tower has 220m. Greenland's secondary towers are likely to be 2x240m~ and 2x160m~ according to this render.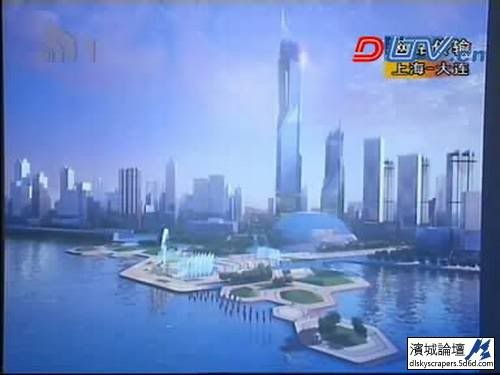 Press releases:
2010年5月30日《大连新闻》报道:
昨天,我市与上海绿地集团签署合作协议,绿地集团将在东港商务区建大连第一高楼。
省长陈政高,省委常委、常务副省长许卫国,上海市副市长胡延照,大连市市长李万才,副市长、普兰店湾新区党工委书记、管委会主任张军,上海绿地集团董事长张玉良等出席签字仪式。
根据协议,绿地集团将在东港商务区规划建设甲级写字楼、顶级商场、白金五星级酒店和高端海景公寓,主体建筑高度达到518米。同时,该集团还将在大连体育新城建设一个集商业、办公、居住于一体的高标准、示范性的大型城市综合体,两个项目将于年内开工建设。
绿地集团是国内综合性地产领军企业,在2009中国企业500强中位列第169位,中国房地产企业中位居第2位,其以城市综合体为代表的大型现代服务业建设处于国内领先地位。
Google translation:
May 30, 2010, "Dalian News" reported:
Yesterday, the city with Shanghai Greenland Group signed a cooperation agreement, green group Hong Kong business district in the east of Dalian's tallest building.
Governor Chen Gao, Provincial Committee and Vice Governor Xu Weiguo, Vice Mayor of Shanghai, Hu Yanzhao, Mayor of Dalian Lee Wan was the Deputy Mayor, Pulandian Bay New Party Work Committee, the CMC director Zhang Jun, Shanghai Greenland Group Zhang Yuliang, chairman, attended the signing ceremony.
Under the agreement, green group Hong Kong business district in the Eastern Class A office space planning and construction, the top shopping malls, five-star hotels and high-end Platinum Seaview apartment, the main building height to 518 meters. Meanwhile, the group will also build a set of Dalian Metro Sports commercial, office, living in one of the high standards, demonstration of large urban complexes, the two projects will start construction during the year.
Green Group is the leading integrated real estate company, 500 Chinese enterprises in 2009 ranked No. 169, Chinese real estate enterprises, ranked No. 2, which represented urban complex large-scale construction of modern service industry in the domestic leading status.
http://www.yicai.com/news/2010/05/355724.html
http://finance.sina.com.cn/roll/20100530/19258026626.shtml
http://www.dltv.cn/xinwen/2010-05/30/cms32608article.shtml