DERBY | Bold Lane Regeneration | Approved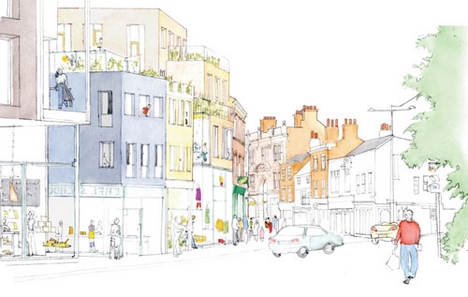 From the same people behind Nottingham's Science Park, Blueprint Regeneration, Bold Lane is currently a fragmented 'row' of buildings dating back to the 19th century between the Joseph Wright Centre and the Art Gallery and Museum.
The plan is to link these older buildings with modern buildings which include new ground floor retail units, offices and apartments. The tallest building is five storeys which is understandable due to the close proximity to the Cathedral and the project has been masterminded by London architect Ash Sakula. This is part of a much larger development.
Regarding the photo above - the development is left of centre, the large building above that is an existing council office building which I think the council will probably vacate
Project Information
http://www.blueprintregeneration.com/project/boldlanederby
More project information
http://www.blueprintregeneration.com/derby/
Architect's Website
http://www.ashsak.com/