Des Moines is the state capital and economic hub of Iowa. It has a metro population of 600,000 and a city population of 206,000. The metro has strong financial and biosciences industries that have propped up a very healthy economy, and have helped make the metro one of the fastest growing per capita in the Midwest.
I plan to gradually add information until the thread is current with all the projects that have been announced.
Mods, can you please make this thread a sticky?
*I am the administrator and co-owner of
www.absolutedsm.com
. All images that may have a website logo or watermark for this site are property of absolutedsm.com
Downtown New Construction
Downtown Core
Iowa Events Center Convention Hotel
17 story, 450 convention hotel
7th & Grand Redevelopment Site
New hotel, parking ramp, mixed-use residential and retail project
Walnut Street Streetscape
Overhaul of downtown's former prominent retail street
Wellmark YMCA
Renovation of former convention center for new downtown YMCA, major addition for new Olympic-sized pool.
Cowles Commons
Overhauled downtown civic square with interactive fountains and artwork
Court Avenue/South Downtown
4th & Court Avenue Development
New construction of 35,000 sq. ft. downtown grocery store, 60+ apartment units
Hampton Inn & Residence Inn Hotels
Two new hotels located on city's riverwalk
Cityville Apartments
New construction of 288 apartment units
Madison Flats
27 unit apartment building
Brownstones on 7th
34 new rowhome townhome units
Nexus Apartments
145 unit apartment complex with first floor retail
Brownstones on 5th
28 new rowhome townhomes
Holiday Inn Express
100 room limited service hotel
East Village Downtown Neighborhood
201 E. Locust Mixed-Use Project
134 room extended stay hotel, 124 apartments, 7,600 sq. ft. of retail
Marriott AC Hotel
100 room contemporary luxury hotel with rooftop lounge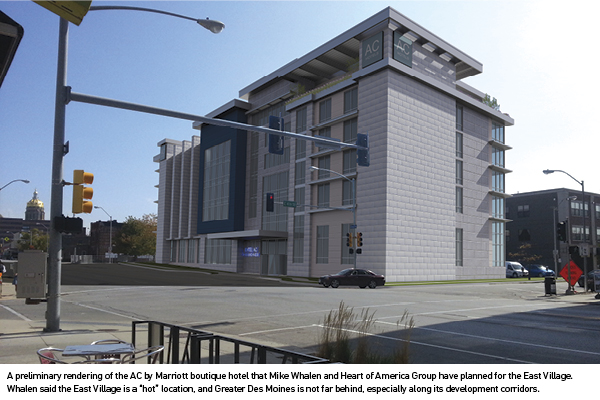 350 E. Locust Street
21 apartment units, retail, office space
505 E. Grand Commercial Project
New retail and office space project
West End/Western Gateway
Ingersoll Square Phase III
44 apartment units with first floor commercial
Artisan Row Lofts
27 rowhome townhomes
Downtown Renovations & Conversions
Downtown Core
Equitable Building Renovation
Conversion of Insurance office tower into 124 apartments with office and first floor retail
Des Moines Building Renovation
Renovation of historic highrise into 136 apartments with first floor commercial
Photo courtesy of DM Register
Fleming Building Conversion
Renovation and conversion of historic Daniel Burnham designed highrise for 96 apartment units.
Younkers Building Renovation
Conversion of former department store to 120 apartments, first and second floor commercial.
*An unfortunate update, this building was nearly destroyed by fire in March 2014 and will likely be partially demolished for a future project.
Des Moines Social Club
Conversion of former Central Fire Station to new entertainment, arts, and theater project with restaurant and coffee shop
Polk County Courthouse Improvements
Restoration of historic courthouse, renovation of vacant department store and former jailhouse to additional courthouse space
Court Avenue/South Downtown
Randolph Hotel
Renovation of former hotel into 55 apartment units with first floor retail
Ballyard Lofts
Conversion of warehouse building to 44 loft apartments
Rocket Transfer Lofts
Conversion of Rocket Transfer Warehouses to 141 apartments
East Village Downtown Neighborhood
East Village Tower
Renovation of former teacher's retirement home to 103 apartments.
Market One
Renovation of warehouse to sustainable office space
West End/Western Gateway
14Forty Lofts
Renovation of building for 37 apartments with 1st floor commercial
Locust Plaza
Renovation of buildings to high end tenant space
Crane Building Renovation
Conversion of vacant warehouse to 36 apartments for artisans