Discussion Starter
•
#1
•
One-North is a masterplan development located at Bouna Vista.
www.one-north.com
Introduction
our aspiration is to create
an exciting place of vision and inspiration.
Imagine an environment bounded only by imagination itself. Where you can live, work and be inspired by leading scientists, researchers and technopreneurs from around the world. Where groundbreaking ideas are born from a stroll in the park and conventions challenged over coffee at a sidewalk cafe. Where anything is possible. Welcome to one-north - a vibrant place and a lifestyle choice for the most creative minds of the new economy. A small piece of Singapore with a big part to play in shaping the future.
one-north
Located next to Singapore's acclaimed Science Parks and close to the National University of Singapore (NUS), the National University Hospital (NUH), Singapore Polytechnic, Holland Village and the Warren Golf Course, the one-north zone exists as part of a larger community.
one-north zone, the 200ha development, will be the epicentre of one-north.The many communities in one-north will benefit from the core development of the one-north zone. Research collaborations with NUS and NUH will be complemented with sports activities, entertainment, recreation and student exhibitions.
Concept
an idea
of what we are and what we can be
High-rise office space and business class hotels will sit next to conference facilities, green spaces, corporate retreats, dining and entertainment. These are conveniently integrated with a new style living environment that will create a DoBe (live-work) and play lifestyle unique to one-north. one-north is a meeting place of minds. It is also a way of life. An exceptional place for exceptional people to live and work, relax and learn. Where you can inspire and be inspired to push the boundaries of knowledge and turn ideas into groundbreaking innovations.
with space
to live our lives in harmony, with energy, time for thought and time for being.
one-north has been designed to stimulate your senses as well as your imagination. Green spaces, mature trees and winding roads have been preserved to allow pause for thought and quiet contemplation in the midst of technology and commerce.Old buildings and other heritage sites stand where they always have. Only now they take their place proudly alongside striking new developments, lending contrast, character and a sense of continuity to the environment.
to realise
the potential of what we do and can achieve in our work and play, in what we will learn and how we live.
Youthful and dynamic, today's technology leaders live near their work and relax when it suits them. one-north will be a new community for this new generation. A place where homes, offices, parks, playgrounds and commerce are mixed into a vibrant social melting pot. Somewhere you can walk to work, see a friend at lunchtime and share a meal. A fun place that is always pulsating, never dull and never short of ideas.
Masterplan
building a community
bringing the best to the best in an open and unrestricted space, within a new spirit of achievement and progress.
one-north zone comprises an area of about 200 hectares in central Singapore, developed in phases over the next 15-20 years. The purpose is to create a vibrant mix of commercial, residential and recreational environments in which you can find conditions that are conducive for success and the achievement of outstanding results.
The master planner for one-north is Zaha Hadid Architects, a leading London-based practice whose work pushes the boundaries of architecture, extending and intensifying existing landscapes in the pursuit of a visionary aesthetic. The firm was appointed as a result of an international selection process.
phasing
There are three distinct phases in the development of the one-north master plan and these will take place over the next twenty years. The three Xchanges in the first phase allow for the development of the dynamic core of one-north, creating a platform for the roll-out of phases two and three.
The integration of the industry clusters and their neighbourhoods will allow them to grow organically without compromising the spatial mix that makes one-north special. As innovation in one area fuels ideas in another, new linkages and synergies develop.
Community
inclusive community
communities will emerge around the new opportunities.
one-north is set to become a breakthrough community for the new economy. Availability of talent is the key issue and one-north will help companies attract the best talent by offering an excellent location and new opportunities. Backed by Singapore's long-standing reputation for excellence, one-north will provide the world-class facilities, communications and commercial environment that researchers and technopreneurs are looking for.
living
Chic apartments and affordable DoBe (live-work) Lofts above an unfolded retail plaza, tropical retail Xchanges near open green spaces, arts and culture, sports and recreation, food for brains and souls - a creative atmosphere to fuel sustainable and dynamic development.
With world-class biomedical sciences, infocomm technology (ICT) and media facilities next to green open spaces, private homes, a lively culture and community spirit, one-north provides something far more than mere bricks and mortar. It offers an open and stimulating atmosphere where you can work, meet and share ideas at the very frontiers of science and technology within five minutes of where you live - not only as colleagues, but as friends and neighbours.
connectivity
Researchers form part of a global community, sharing information and knowledge with colleagues at other centres of excellence both in Singapore and around the world. This means communicating seamlessly, 24/7, whether by simply catching a ride on a state-of-the-art People Mover System (PMS) or connecting through the latest communications technology. one-north offers immediate broadband internet access and a commitment to future advances in connectivity such as wireless broadband, smart card activated networks and other leading-edge technologies.
growing around centres of excellence
Investment invariably goes to where the talent is. As one-north grows into a world-class centre for research and development, it will attract corporations, venture capitalists and individuals at the leading edge of the knowledge business. Focussing on the biomedical sciences, infocomm technology (ICT) and media industries and providing growth areas between the industries, one-north will enhance their search for the next breakthrough. Where they meet and interact, synergies between the three industry clusters will create more opportunities to stimulate and feed their fusion, inspiring a new generation of visionaries from around the world to greater achievements.
Housing
JTC Corporation has been appointed the master tenant of Chip Bee Gardens with effect from 1 July 2002. Chip Bee Gardens is a landed housing development strategically located just opposite the vibrant Holland Village. The wide range of affordable housing developments planned includes Black & White bungalows, private housing, Pocket Homes etc.
Chip Bee Gardens provides an immediate landed housing option for both locals and foreigners and is available for rental immediately.
In addition to the residential units, we are also refurbishing 20 apartment units to work-lofts (Phase 1). The work-lofts will be retro-fitted to encourage flexible integration of working & living space. There will also be a landscape plaza that allows tenants to relax among the greenery or enjoy a cup of coffee at the restaurants and retail shops at the ground floor. Located just opposite Holland Village yet amidst the quiet greenery of Chip Bee Gardens, these work-lofts will allow tenants to work, live, play and create their own space in this unique environment.
Vista Xchange:
Offices, hotels, shops, entertainment, convention facilities, corporate retreat villas, artists village – you will find them all at Vista Xchange where they combine to create the buzz and excitement of 24/7 city centre living. Dynamic mixed use creates a melting pot of talent, ideas and business opportunities a stone's throw from Biopolis and the Life Xchange.
Vista Xchange is the one-north business district where high-rise office buildings stand shoulder to shoulder with world-class hotels and public institutions collaborate with private companies. Facilities for conferences and corporate retreats complement first class dining. Arts and entertainment will flourish in Rochester Park, where green space meets urban space in an eclectic mix of styles.
Characteristics
• Vista Xchange will be a gateway to one-north zone.
• An Xchange for transportation - Buona Vista MRT station, future tram or Light Rail Transit (LRT) station, future Circle Line MRT station and future bus interchange.
• Interesting mix of future high-rise development (near MRT station) and existing low-rise black and white bungalows.
• The epicentre is a well-shaded green canopy congregation space.
• A landscaped "river" that runs through parts of the site and joins the park connector on the northern side of the development.
• Adaptive reuse of black and white bungalows as retail, food and beverage, corporate retreats, artist enclaves (galleries, museums) and creative workspaces.
• Public wildcard building on western edge encourages diversity.
• Pedestrian bridges link business blocks on both sides of North Buona Vista Road.
Target programmes:
business services
• Funding services
• Legal services
• HR/talent services
• Service offices
• Tele/video conference centre
housing services for the transient community:
• Service apartments
• Business hotel
entertainment programmes:
• Retail
• Food and Beverage
• Corporate retreat
• Urban entertainment centre
• Conference/exhibition services
proposed programmes:
• Cineplex
• Best-of-trade hawker centre
• Mobile gourmet dining
• Gymnasium (world class fitness centre)
• Music/arts and crafts showcase for children
Status: To be completed
Life Xchange
Life Xchange will have 580,000 sqm of space set aside for biomedical R&D laboratories, residential units, retail and commercial activities. The first development in Life Xchange is Biopolis, a 185,000 sqm research complex housing key biomedical research institutes and biotech companies.
• Biopolis is only 5 minutes away from the Buona Vista MRT Station which is located along the East-West line of Singapore's subway system.
• Only 20 minutes' drive away from the financial and business district.
• Eight shops
• Four restaurants
• Four cafes and beverage outlets
• A 300-seater food court serving a variety of Asian and International cuisine
• A fast-food restaurant
• A pub
• A childcare centre
Biopolis - a centre for biomedical sciences in Asia and the world
Located within one-north and in close proximity to the National University of Singapore, National University Hospital and the Singapore Science Parks, Biopolis is envisioned to be a world-class biomedical sciences research and development (R&D) hub in Asia. This campus is dedicated to providing space for biomedical R&D activities and it is an environment that fosters a collaborative culture among the private and public research community.
Biopolis Phase 1 is a 185,000 sqm (2.0 million sq ft) biomedical complex of 7 buildings slated for completion from June 2003 to March 2004. Several key government agencies, publicly-funded research institutes and R&D labs of pharmaceutical and biotech companies will be located here.
Phase I Completed: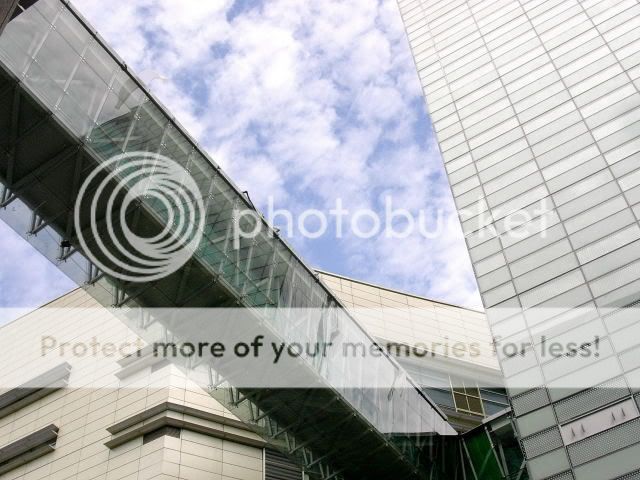 Pics by babystan03
Central Xchange
• ICT and Media related companies
• 33,500sqm of public research institutes:
- Agency for Science, Technology and Research (A*STAR)
- Institute For Infocomm Research
- Institute of High Performance Computing
• Housing: work-live serviced apartments
• Support Facilities: amenity clubhouse, 400 seater auditorium, exhibition area
• Entertainment and retail outlets, food and beverage outlets
• Round the clock urban vitality
• Platform for test-bedding new technologies
• Seamless connectivity with MRT station and People Mover System
• Significant residential population
Fusionpolis
Fusionpolis will be the choice location for world-class
infocomms and media enterprises to work, live, play, learn and experiment. It will be a playground for the Creative, Innovative and Visionary.
Phase I of Fusionpolis will comprise a two-tower cum podium development designed by renowned architect, Dr Kisho Kurokawa. Target to be completed by 3rd Qtr 2005, the state of the art development provides the following advantages:
• Shared Facilities
Shared facilities such as conference room, meeting rooms, seminar rooms, auditorium, production and audio studios, rendering farm etc will be made available on a pay-to-use basis.
• Satellite Access
Uplink and downlink will be catered for media companies as direct satellite access is made available at the roof top.
• Cheaper Computing Power & Bandwidth
A multi-million dollar IT infrastructure would be put in place to provide broadband connectivity within one-north and to support intensive computing needs. This will translate to affordable Internet bandwidth and computing power, and thus savings in business cost and time.
• Seamless Connectivity
With the implementation of a state-of-the-art IT infrastructure in one-north, one will be able to work anywhere, anytime and with any devices - a seamless connectivity one will enjoy unlike anywhere else.
• Mixed-use Typology
Besides business space, there will be a fairly large area set aside for residential, retail and entertainment uses. Essential amenities will be easily available under one roof.