·
Who'd sit in THAT chair..
Discussion Starter
·
#1
·
Bit late on this one since it's now nearly completed, so really its for those interested...
From
http://www.frenchgateinterchange.co.uk
Historically, Doncaster is a strong shopping town with a loyal customer base. It is a desirable location because of its wide catchment area but a lack of appropriate shop unit space has meant that some retailers have been unable to pursue their interest in the town. The Frenchgate development will include 350,000 sq ft of prime new retail space allowing Doncaster to compete, once again, with other shopping destinations in the region.
Upon completion some of the benefits will include:
* 18th largest Shopping Centre in Britain
* Accessible, clean shopping environment
* 24 hour access through the centre
* 24 hour Customer Service Operators and CCTV
* A complete refurbishment of the existing Frenchgate Centre
* 900 new car parking spaces for shoppers
Two 'anchor' tenants have been signed up since the scheme began; Debenhams will take a 100,000 sq ft store and Next will take a 20,000 sq ft store. Now, more retailers have stated their desire to come to Frenchgate and Doncaster. These include:
* Ottakar's
* H&M
* USC
* Republic
* Topman
* Clarks
* Game
Work includes a total refurbishment of the existing Frenchgate Centre (completed Nov 2005) refurbishment of the Rail Station, and the creation of the Frenchgate Interchange with additional retail space above, due for completion and opening June 8th 2006...
Area of construction, everything on the lower right, between the rails and the dual carriageway is new.
Live webcam is at
http://www.frenchgateinterchange.co.uk/webcam.htm
Doncaster Station Refurb.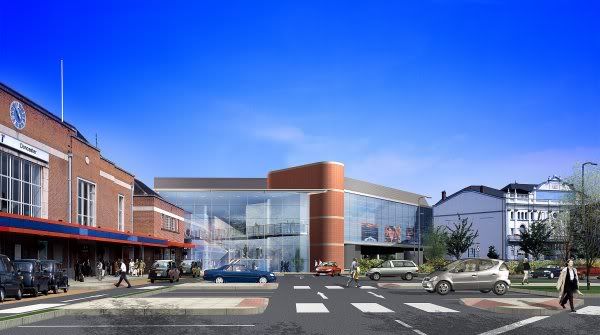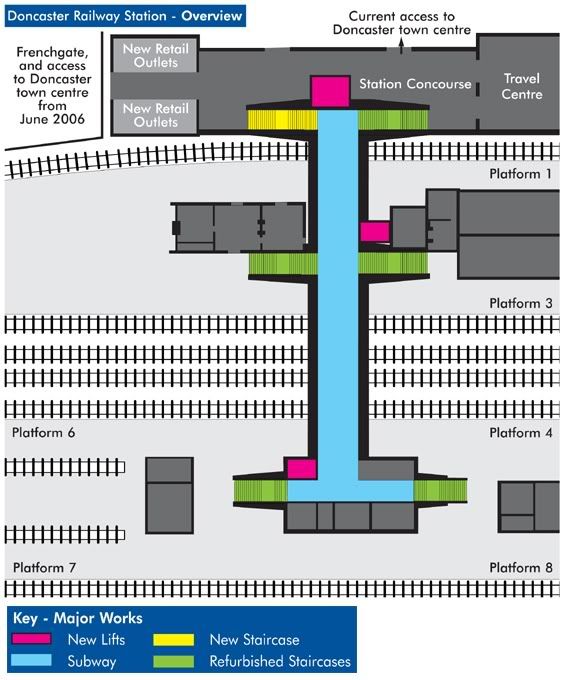 Frenchgate Centre Refurb (anyone remember the mirrors and neon?)